Nautical decor allows for so much creativity and unique accents to your home. The pieces add eye-catching detail to your space. Here are some ideas we think are stylish and give your home that breezy nautical flair. Some you can purchase from retailers or artisans and others, if you're feeling crafty, you can make on your own!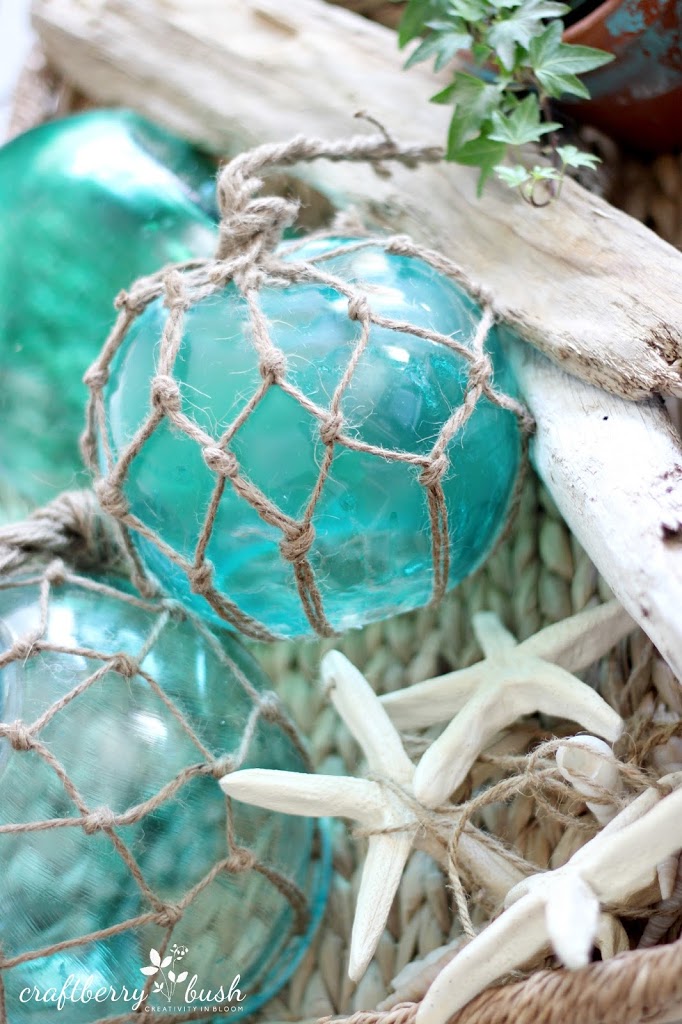 Image from Craftberry Bush
These glass buoys add a pretty sea-inspired touch to your decor. You can try this project yourself by following Craftberry Bush's tutorial (linked above).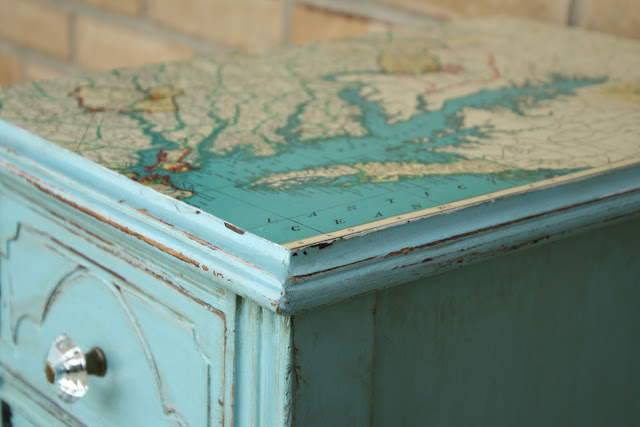 Image from Cassie Bustamante's Blog
Maps bring something both vintage and nautical to a room. This DIY project guides you through creating such a one-of-a-kind piece of your own.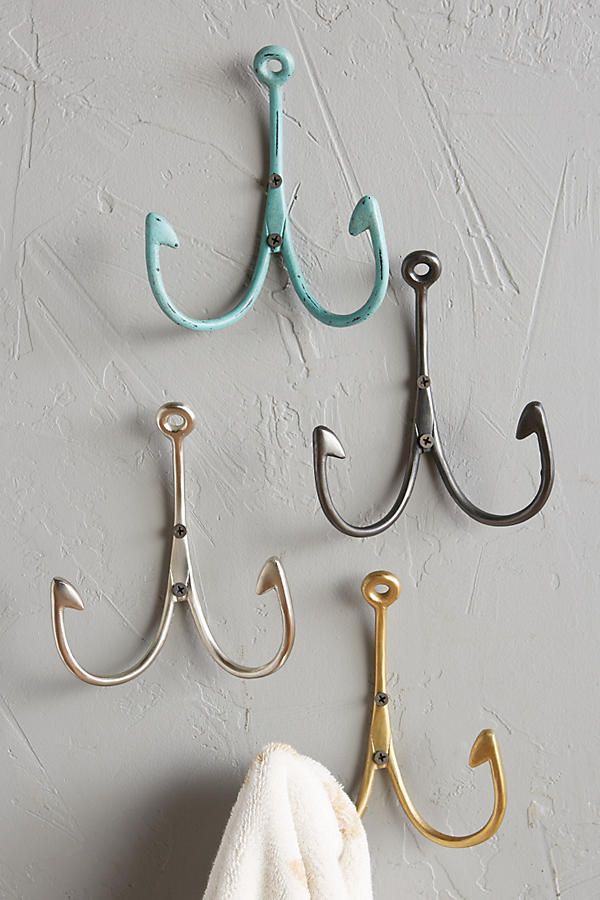 Image from Anthropologie
Fishhooks as wall hooks are a subtle accent you can add to your space to give it a coastal feel.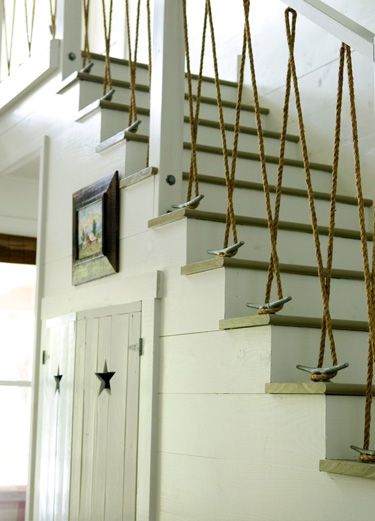 Image from Pinterest
Boat cleats are so versatile- they can be used on walls, on racks, or here they are used to decorate a staircase. Paired with rope, they make a unique alternative to a stair railing.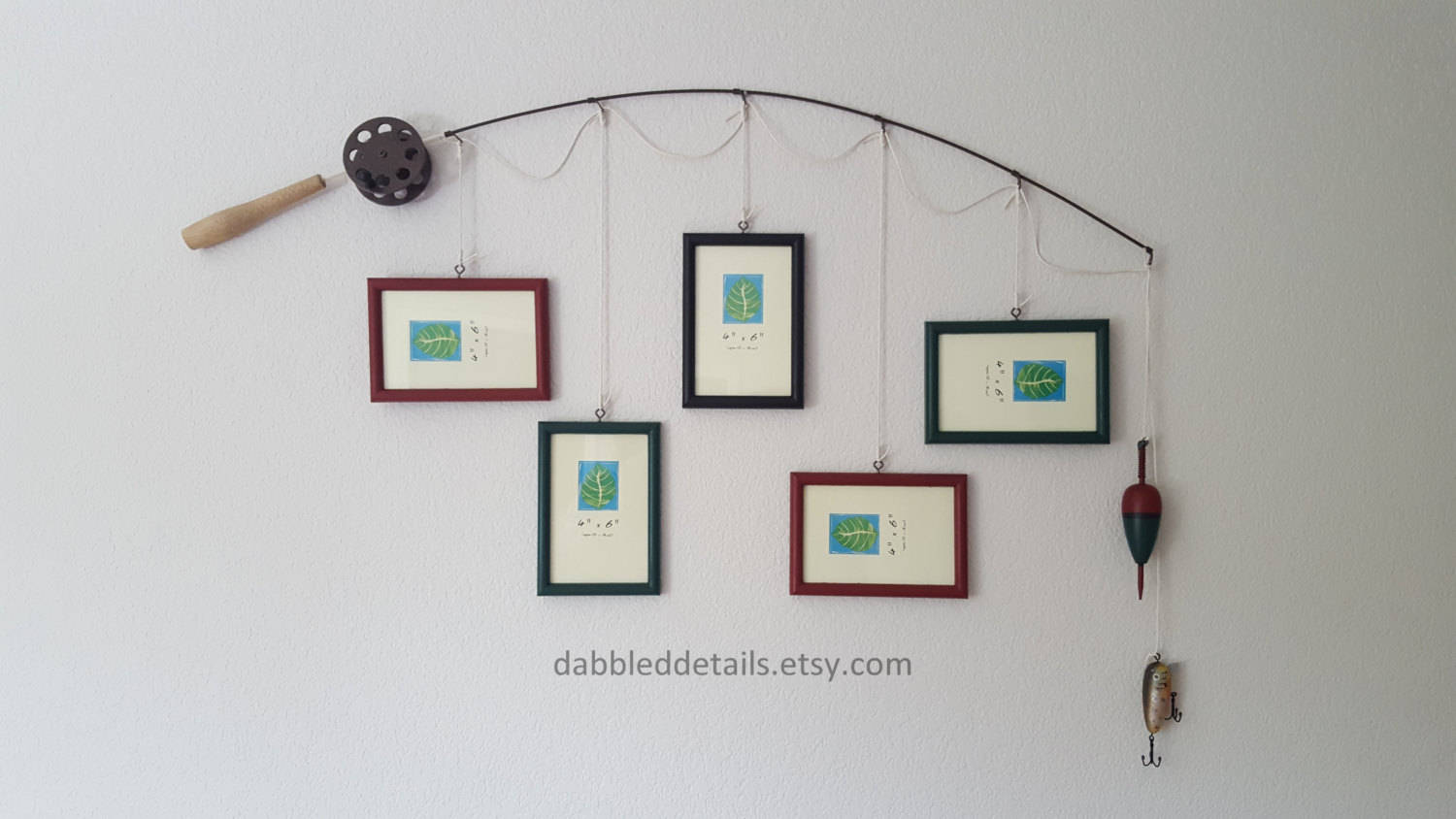 Image from Dabble Details
What an interesting way to hang photos! This fishing pole wall piece creates an eye-catching display in your home.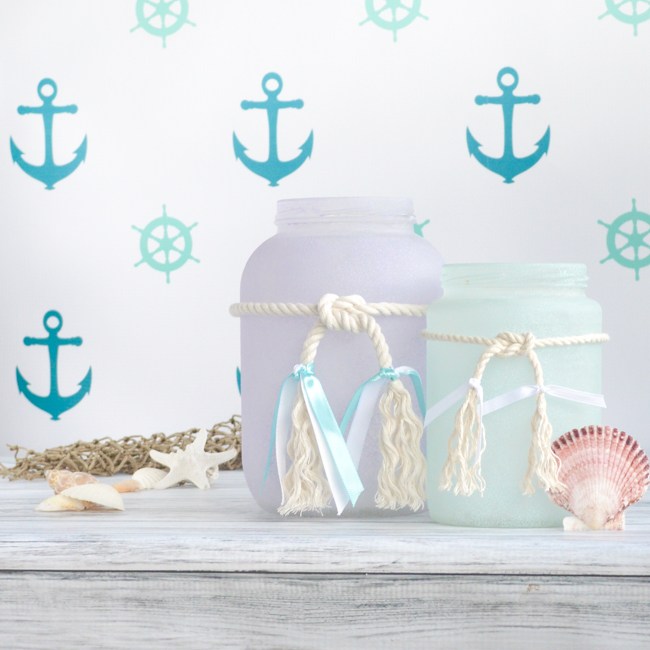 Image from The Artisan Life
These jars look just like sea glass with their soft, frosted finish. Another project you can DIY, these are sure to add some coastal charm to your surroundings.
This nautical bulkhead light, we are so excited to say, are now available in our own store! These twentieth century styles are inspired by maritime lighting and add vintage modernity to a design scheme.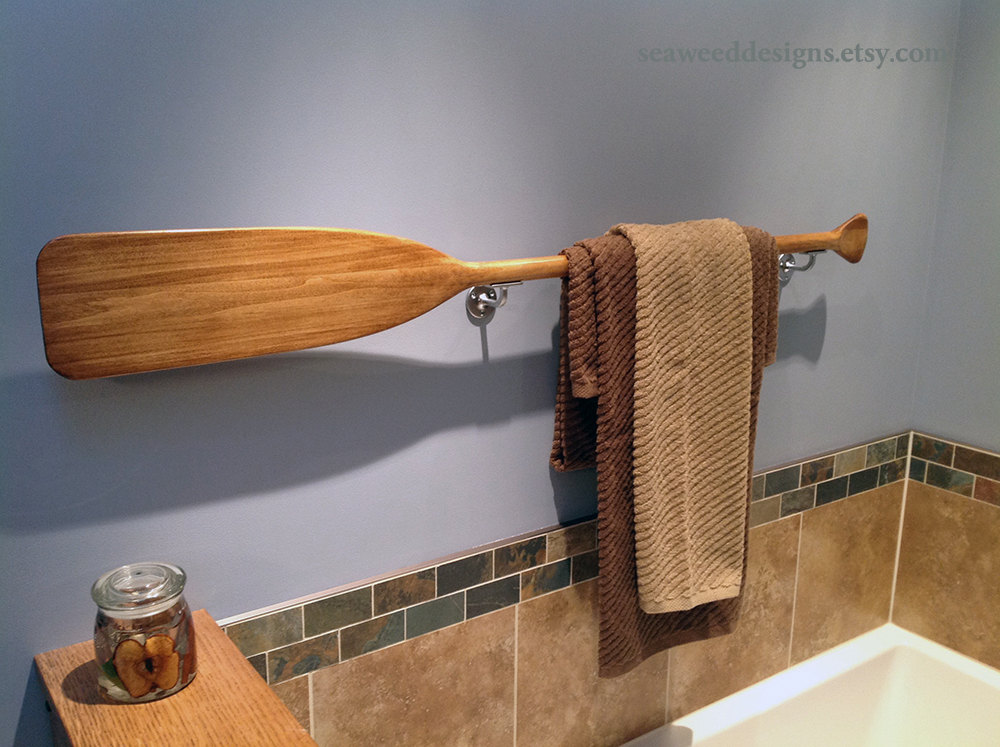 Image from seaweeddesigns
This paddle towel hanger gives this bathroom a unique touch, complementary to a nautical theme.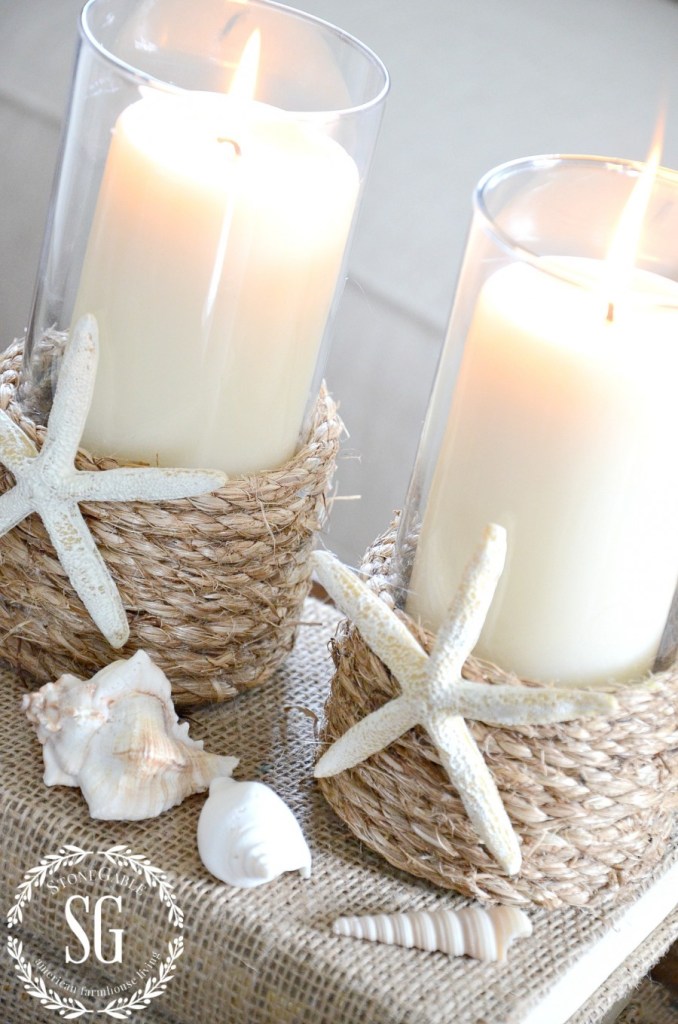 Image from Stone Gable
Another pretty DIY, these candle holders are subtle enough to complement many decor schemes, even if the dominant them isn't nautical.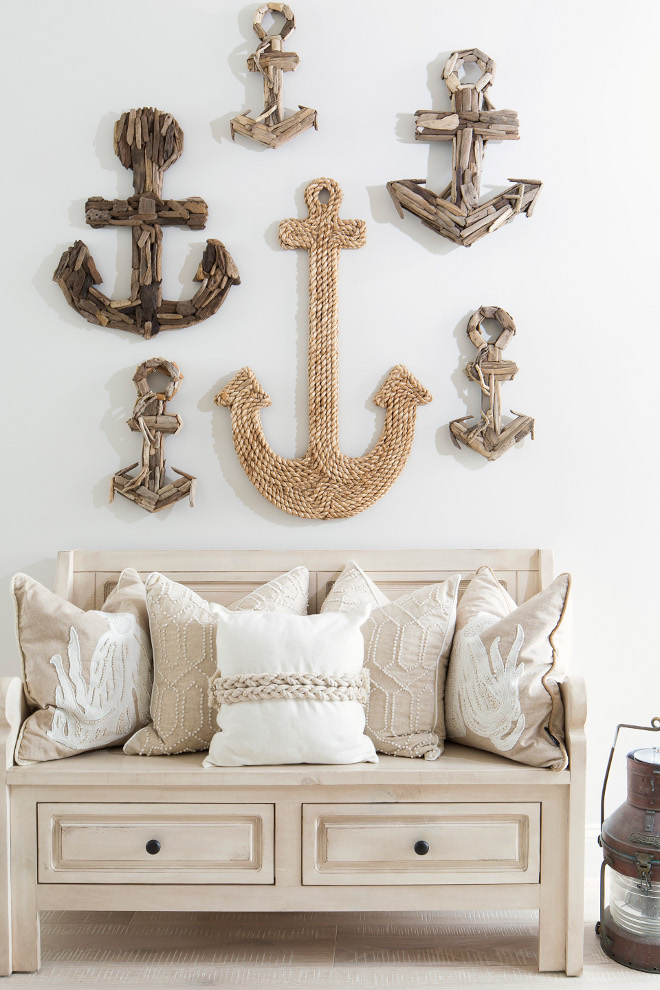 Image from Home Bunch
The mix of textures in this display of anchor shapes adds design flair to your space. The ocean-inspired pillows add to this mix and the overall soft and neutral color scheme pulls everything together for a calming look.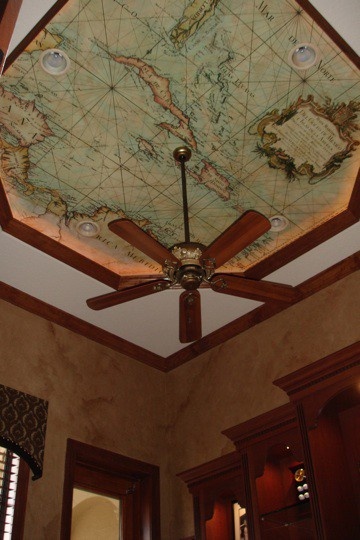 Image from Go Nautical Decor
You've surely thought out the elements of your interiors that line the walls or stand on the floor, but have you considered your ceilings? This map-covered ceiling with wood crown molding adds an extra touch that gives this room a personality all its own.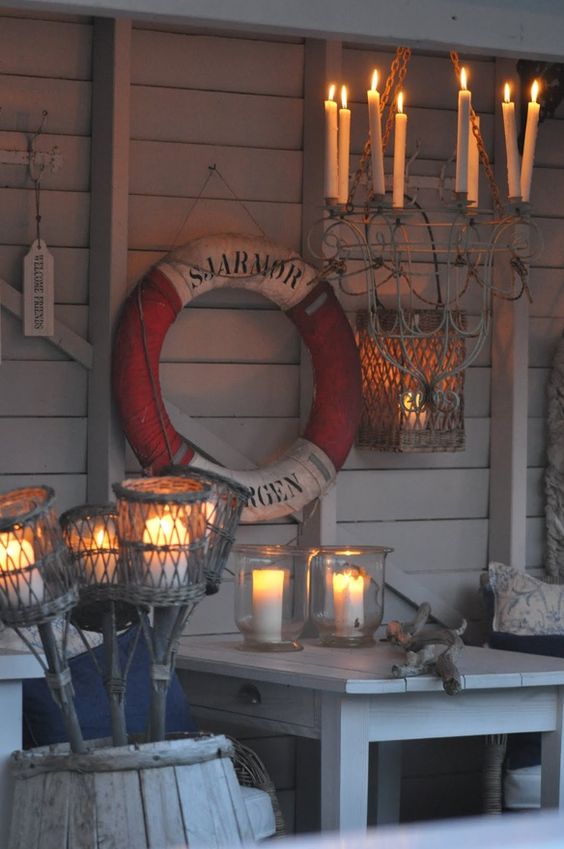 Image from Pinterest
Candles give this coastal setting a warm glow as the sun sets. The blend of wood and rope details accents the life buoy in this patio.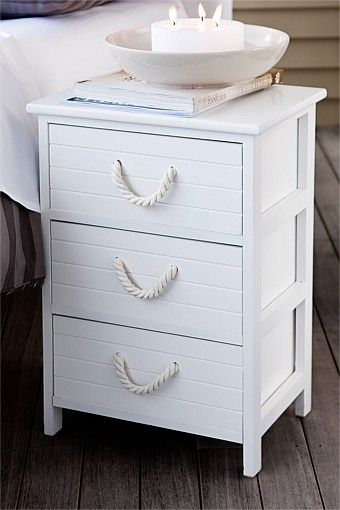 Image from Pinterest
For a subtle hint of easy nautical style, try using rope in place of drawer handles. Details like this put a unique spin on an everyday item.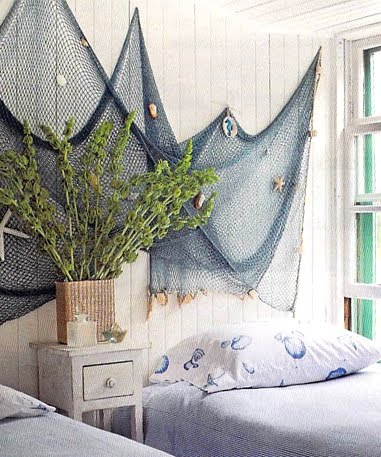 Image from Ocean Offerings
Fishnets can be used as statement pieces on walls and, especially paired with seashells as in this bedroom, they bring a coastal feel to your space.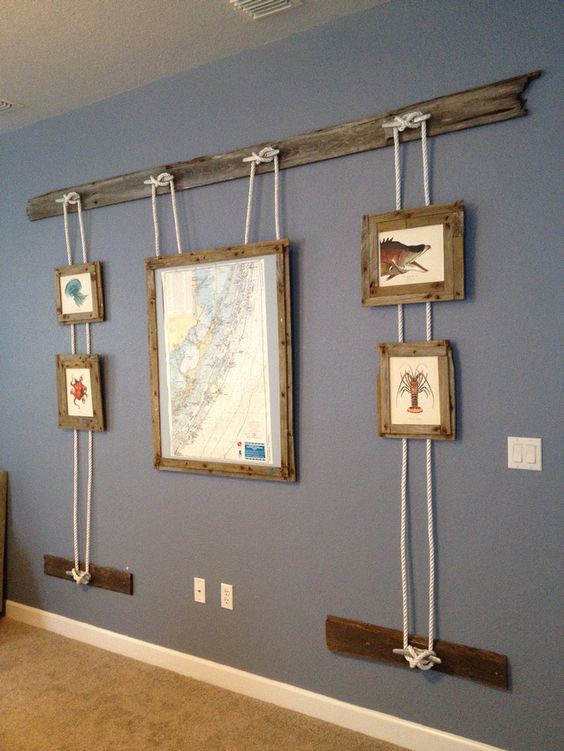 Image from Pinterest
Here is another example using boat cleats for home decor. The blend of materials gives this wall display an ocean-inspired look. The nautical themed images are decorative, but you could also use this is a photo frame for your own pictures.
The sea can bring a sense of calm, a sense of adventure, and a sense of wonder. With nautical decor, you can blend these qualities into your own home!
Recent Posts
The Romantic Era, spanning roughly from the late 18th century to the late 19th century, was a period …

There's something magical about the way outdoor lighting transforms a space after the sun sets. From …

Music has always held a special place in the hearts of people worldwide, captivating minds and emoti …