When one needs something a little more to finish off their design and fill up a pinch more space, what do they usually go for? A nice rug! Apart from the latter, adding a rug to an interior design can also add texture, comfort, color, and pattern. In fact, there's a perfect rug out there for any interior space whether the room is formal or casual.
With thousands of rug options at hand, however, it can be tough determining which will be the best fit for a certain room. Different colors, shapes, sizes, textures, patterns, and materials make it virtually impossible to just be happy with one rug. If you have already been through the process before, perhaps you know how difficult it can be.
Instead of diving right into shopping for the best rug, take a few steps back as we help narrow things down for you and teach you how to thinker deeper and more strategically about the rug you actually end up picking out.
1 - Large Luxurious Sheepskin Rug – Light Grey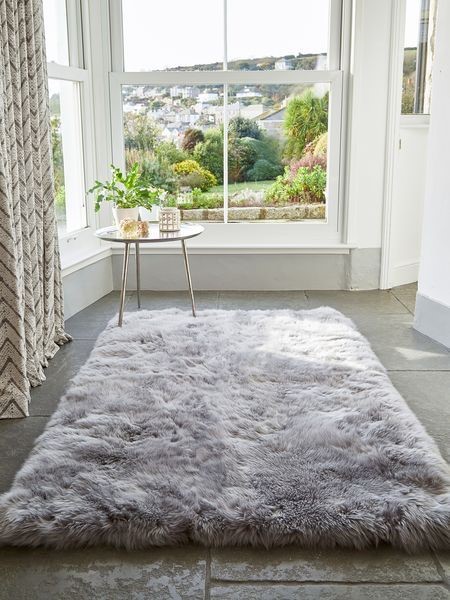 3 Reasons to Say Yes:
It can add visual and physical warmth.
For an interior design mainly composed of cool colors (e.g., blue, purple, green) or cool-toned neutrals, materials that are cold to the touch (e.g., tile, glass, metal), or furniture and décor pieces that can be considered cold or rough rather than cozy, adding a fluffy rug into the space can be a great way to counterbalance all of the latter to bring warmth, security, and togetherness in a design. Even the color of this rug, being a medium gray, can contribute to the visual warmth to a design.
It features three-dimensional texture that may be lacking in your design.
Designs that are very flat often do well with the addition of fur or faux fur as these textures tend to add a three-dimensional feel to the space. If your current space features solid and flat floors, lots of clean lines, lack of curved furniture or décor pieces, and plenty of other flat or linear objects throughout the design, you might need a little fluff to essentially "plump" the flatness up in your design and add necessary variety into the space.
It can bring femininity to your room.
When designing their space, some people may accidentally create a design that is too masculine or too feminine. In the case that your design is too masculine, a fluffy rug can add a delicate, soft, innocent, feminine touch. Masculinity in an interior design tends to be defined by harder, rougher textures, solid or geometric prints – as opposed to "feminine" prints like floral or polka dots, and "masculine" colors – as opposed to soft pastels and "girly" colors such as pinks and purples. But a healthy balance of the two is needed in many designs.
2 - Hand Tufted Alex Rug – Denim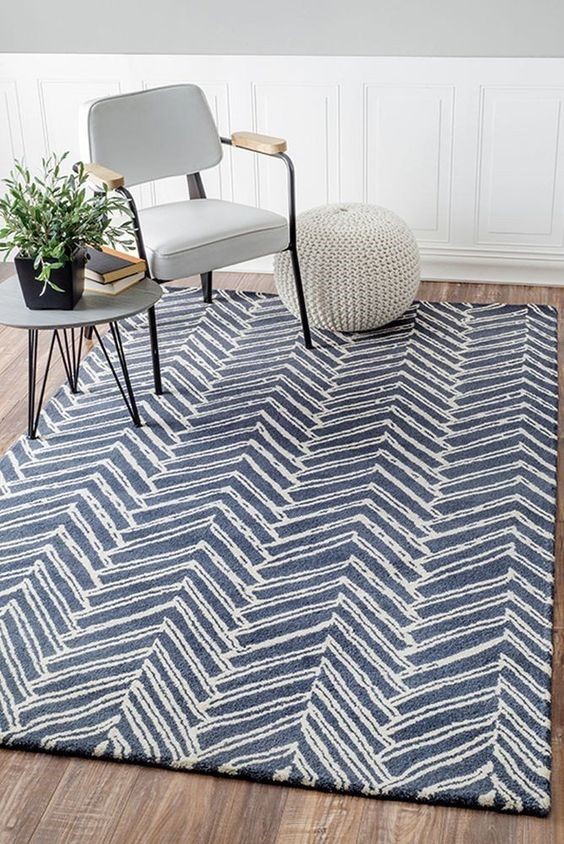 3 Reasons to Say Yes:
It can add texture to a bland space.
Adding too much texture to an interior design can seem risky. In turn, many intentionally adding not enough to avoid providing too much texture. After all, a lot of texture can be an eyesore. With a texture like on this rug, the balance of the lighter and darker lights provides balance. At the same time, this rug can add a great deal of texture to a space and can act as the dominant print. Add milder prints via couch pillows, a vase, and/or curtains alongside this rug, and you'll have enough texture in your space in no time.
It features contrast that your space may need.
Interior designs that either feature too dark of colors or too bright of colors need balance. Providing a balance between dark and light in a design can be partially achieved with a rug like this that features both. You don't always have to add contrast through black and white alone but even something like through the blue-gray and white featured on this rug. A contrasting rug can look nice even on a floor that is either deep and dark or is very pale in color.
It's both masculine and feminine.
If you're worried that the rug you may end up picking out may appear to feminine, no worries. The print on this particular rug is gender neutral. Very straight, harsh lines may be considered "masculine." Thinner, softer lines are often deemed "feminine." But notice how the lines on this rug offer both harsh and softer lines with a slightly messy, scribbled appearance, providing masculinity, femininity, and general neutralism at once.
3 - Traditional Vintage Tribal Diamond Solid Medallion Grey Rug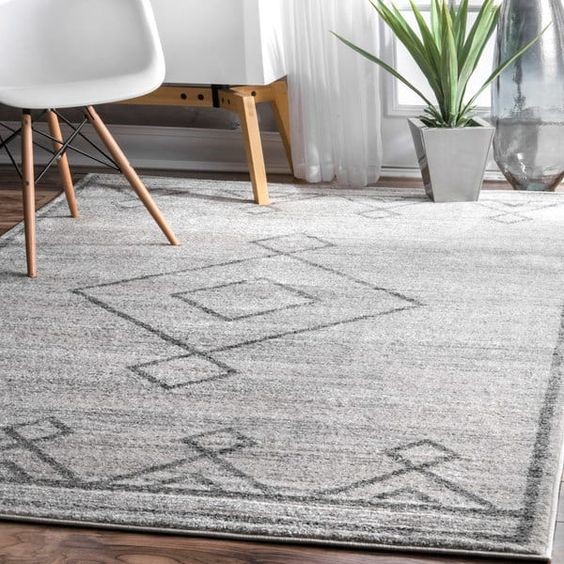 3 Reasons to Say Yes:
It can add simple lines and geometric prints to a space lacking such.
Not only do many spaces have too many straight line and geometric prints, but there are also spaces out there that lack such. If your design meets the second criteria, adding a rug with a simple, geometric print like the above can add just enough lines to your space without going overboard. Typically, lines symbolize neatness, formality, and precision. With a conservative amount of lines and geometric print apart of this particular rug, it can add turn a casual space into something a bit more put together without completely transforming the intent of the room.
It's neither too formal nor too casual.
Even though, as mentioned, lines tend to be considered formal at times, the simplicity of this rug ensures that it is neither too formal nor too casual. In turn, this means a rug like this can be suitable for just about any design. It also means that it won't be "too much" for any single design. Even the material and textural aspects of this rug aren't dominantly formal nor casual, sticking somewhere right in the middle, perhaps leaning slightly more casual.
It can help tone down a colorful design.
In a loud, colorful room, it makes sense to tone things done with a neutral-colored rug like the one featured. Even the mild texture and print alone can ensure that color is less focused on when others enter the space. When a room has an appropriate balance between color, texture, and print, the space will neither be too uptight nor too relaxing, which should be the goal with just about any interior design.
Conclusion
It's apparent that there is never a single rug designed for every space, but rather, many rugs that may be appropriate for any given space depending on what the design needs in terms of color, mood, texture, size, and style.
Regardless of what you want to add to your interior design, chances are, you can do it with a rug. When searching for a rug, make sure to think of why that very rug would be suitable for your interior design and what it can bring for your space. Never select a rug merely because you like the way it looks or feels. Instead, imagine what it can do for not just your empty floor but also for the rest of your design.
If you need more interior or exterior design-related tips and tricks, check out the rest of our blog posts .
Recent Posts
Modern farmhouse decor is becoming widely popular across the world and is loved for its versatility …

Summertime is going strong and the heat is most certainly upon us. With triple-digit temperatures, k …

You may or may not know, Cocoweb started its roots in lighting. With LED lighting being our specialt …