Most are aware that Italy is known for great pastas, wines, luxury vehicles, purses, and shoes. On top of that, Italian interior design is remarkable in the eyes of many from the frequent use of stone, tile, and brick to the darker, Earthier color schemes that the designs often present. Many may find this style romantic, fancy, and overall attractive.
In case you're looking for a bit of design inspiration, particularly when it comes to an Italian design, you've come to the right place as we're about to show you some incredible Italian-inspired rooms. Be sure that as we show you each design that you take note of what you personally love about the design and what you could do without. This can help you to brainstorm what you may want in your own home.
1-Contemporary-Rustic Italian Master Bedroom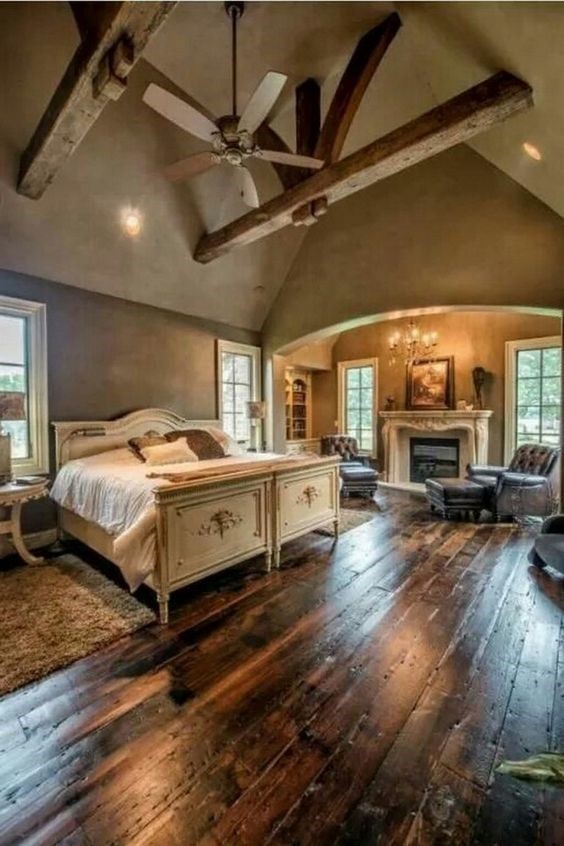 Let's start off with something simple: a contemporary-rustic Italian master bedroom. Before we delve into this design, let's look at the design overall. Notice how it provides luxury without being over-the-top and still providing aspects that are more on the casual end of interior design. Additionally, one may notice that this design has Italian inspirations, yet it is still completely relevant for the average American home. It has that proper balance that many may be looking for.
Now looking at the specifics, focus on these key elements of the featured design: use of muted hues throughout the entire space, farmhouse-styled bedframe, distressed wooden floors, and strategically placed lighting so that some areas are well-lit and others focus on setting the mood. In turn, there is plenty of balance as well as variation going on in this design.
Creating a design such as this in your own master bedroom, apply similar techniques. Add gray-green, tan, beige, and browns. Go for a slightly distressed yet still luxurious and comfort feel in your bedroom. Add just enough lighting without taking away from the romantic aspects of the Italian design. You may even want to add dimmable light fixtures to achieve the perfect mood in your Italian bedroom.
2-Tuscan En Suite Bathroom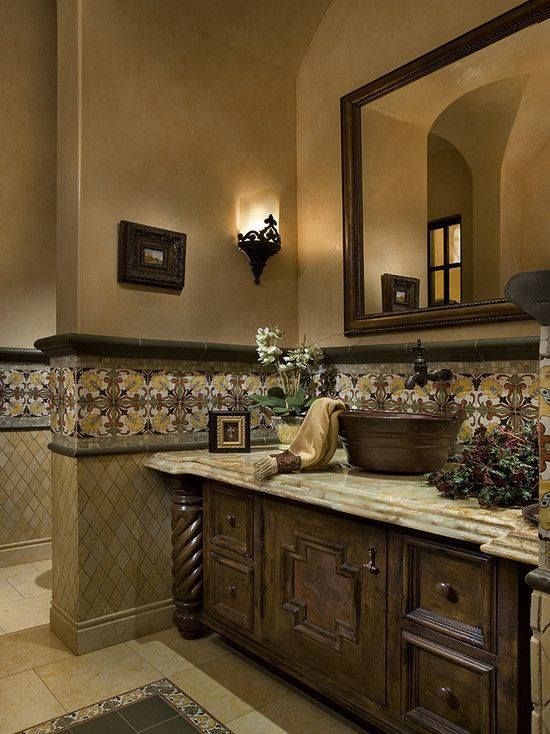 This next interior design we'll cover is fancier than the last but nonetheless is still important to look at to gain inspiration for tackling your own Italian design. Notice how like the last design we looked at, this on offers muted colors and Earthy tones including olive and other greens along with beige and browns.
The texture in this design is particularly prevalent. Through the use of patterns on the lower halves of the wall and tiles on the wall and floor to the twisted effect on the left of the bathroom cabinets, there are a lot of visual and perceived patterns and textures going on in this design that partially make it as luxurious as it truly is. Even the inset design on the center bathroom cabinet adds charm to the space.
But even with all of the texture, prints, and patterns present in this space, notice that it is isn't eye-straining. This is partially due to the fact that the elements in this design complement one another and partially due to the fact that the muted colors help tone things down in the space overall.
There are also many rustic effects provided in this design including a hose faucet for the sink, a vessel sink, an antique-looking picture frame hung on the wall, and so on. Generally, there appear to be elements in this design that are both "perfect" and "imperfect," but together, they make for a lovely Italian design.
3-Italian Villa Dining Room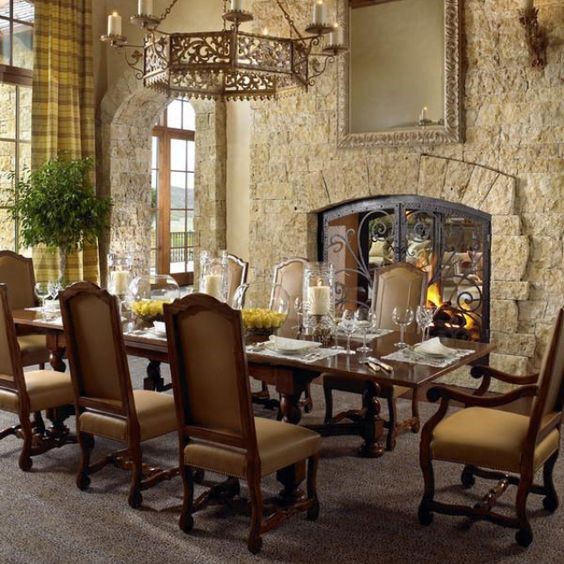 As with the previous design, this next one is more on the luxurious side. Thus, it isn't going to be feasible for most people when considering the amount of space, time and effort, and money that would be going into this design. But the point isn't to copy the design piece by piece but instead to come to understand Italian design, so it can be something you can achieve in your own home if you'd like.
Obviously, there are, as with the first design, gorgeous arches (the doorway, arch around the fireplace) used as well as lots of rustic stone present as architectural components of the design, but let's set those aside to focus more on the actual objects in the room.
There are lots of neutrals in this design, particularly tan to keep the design upbeat and not too dreary. Like the other designs, there are traditional parts of the space that are more rustic and appear older (e.g., the mirror, the fireplace) while also parts that are more clean-cut (e.g., the dining table, the table's centerpieces). The large, rustic chandelier puts the cherry on top with its older yet trendy style, which goes perfectly with Italian décor.
All in all, what one can learn from this Italian interior design in particular is that it is important to mix older antique items with less antique objects in an Italian design to keep it both relevant to Italian design as well as relevant for a design in the 21 st-century. Remember that there is a different between old-fashioned and outdated: one of them is suitable for this day in age, and one of them used to be but no longer is.
4-Luxurious Mediterranean Living Room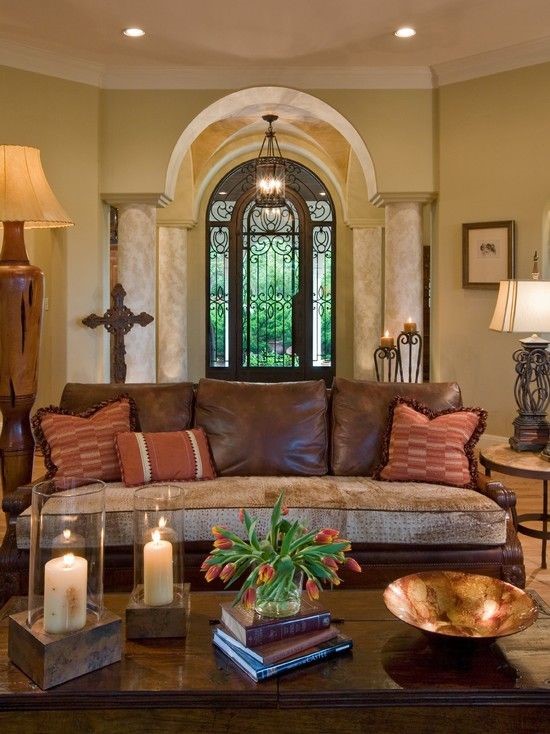 Let's take a peak at just one more Italian interior design, this time a living room. Again as with all of the designs we already looked at, there are plenty of neutrals and other muted colors present. The walls even offer a pale, lighter olive tone that would otherwise appear tan if it weren't for the white trim and ceiling. But instead of adding mostly greens, the design provides browns and reds here and there.
A key takeaway from this design, apart from the latter, is the fact that there is a healthy mix of grand and comfortable elements in this space. This is important for living rooms as there is a level of comfort that is important to feature as the living room should be a place of relaxation and gathering. The arches and columns along with the wrought iron door can be considered luxurious while the lit candles, books, and flowers on the coffee table along with the saggy and soft aspects of the couch and pillows provide optimal comfort.
But before we conclude, let's also talk about the use of light fixtures in this design, which are particularly interesting. There is a luxurious pendant light in the entry way, candles of course, and two different styled and sized table lamps. The beautiful variation provided by these fixtures keeps the eyes moving for all the right reasons.
Conclusion
Implementing Italian touches in your own interior design consists of adding the right colors, textures, and general style. Start by adding muted, Earth-toned colors; romantic lighting such as a chandelier or fixtures with a dimmable function; stone or brick elements; and distressed flooring, furniture, or décor alongside ones that are more elegant. Italian interior design overall offers a rustic-chic or farmhouse design that many love.
Since it is your design, aim to add other elements to make your space yours. If you desire, don't be afraid to fuse multiple cultures in the same design. Particularly, Spanish and Italian meld together beautifully. Be creative, don't overthink your design, and enjoy the process!
If you need more interior or exterior design-related tips and tricks, check out the rest of our blog posts .
Recent Posts
Summertime is going strong and the heat is most certainly upon us. With triple-digit temperatures, k …

You may or may not know, Cocoweb started its roots in lighting. With LED lighting being our specialt …

Picture Perfect:The Art of Lighting Your GalleryWhen entering someone's home, your eyes are immediat …