4 European Exterior Designs to Gain Inspiration From
One of the greatest things about living in America is the many cultural infusions that are present in architecture and design. In one neighborhood alone, you may witness homes with Mediterranean landscaping, English cottage construction, and Italian stone masonry. That's the beauty of it.
When working on your own exterior – whether that be your front yard or backyard – finding inspirations from another country or culture can give your home the extra kick you may be looking for to make it uniquely yours and stand out from other landscapes, patios, or porches.
That said, here are four European exterior designs you can become inspired from:
French Country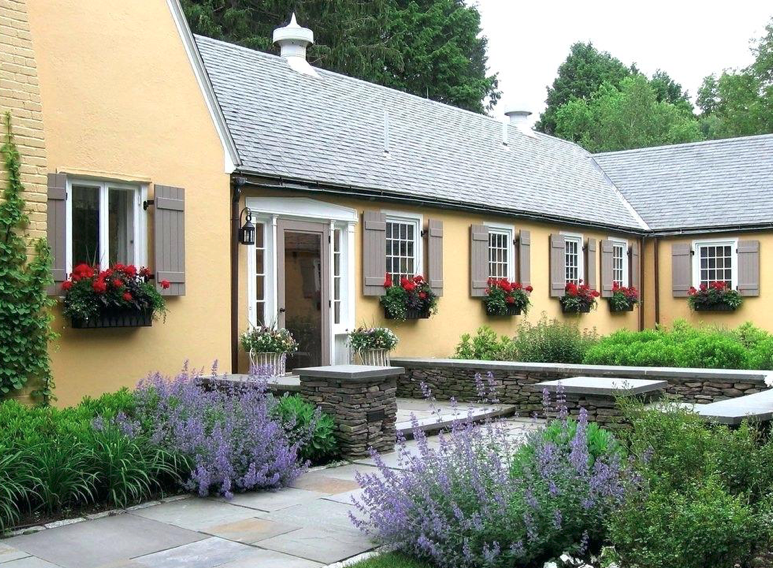 Let's start off with a French exterior design. Notice that there are a few key inspirations to gain from this image: barn door shutters, window boxes stuffed generously with flowers, and large shrubs along the pathway to the home. The simple design of French country can provide a lot without having a lot. That's what country in general is all about; sometimes less is more.
Also from the above design, notice the pots of flowers on each side of the door and the single wall lantern hanging from one side of the door. Now notice how the purple-flowered shrubs on each side of the flagstone pathway are right across from one another. Now draw your attention towards the windows themselves: some have have muntins while one of them doesn't. Additionally, notice how some of the colors are muted (the shutters, paint color of the house, flagstone) while other aspects of the home and landscaping are vivid (the flowers). That said, it's apparent that symmetry and consistency do not have to be available in a French country design; yet, one can pull it off perfectly without needing to do so.
In your own French country design, aim to provide farmhouse inspirations; lots of blossoms within your yard itself, in pots, and in window boxes; and calm, vintage colors alongside a pop of some color here and there to give your exterior design a boost of life. If you aren't interested in adding lanterns in your exterior French design, you may wish to instead implement barn lights which can have a similar old-fashioned, barn-styled approach. Be sure to add French flowers and herbs including lavender, rosemary, iris (the national flower of France), lilies, roses, and gerberas for beautiful curb appeal.
English Garden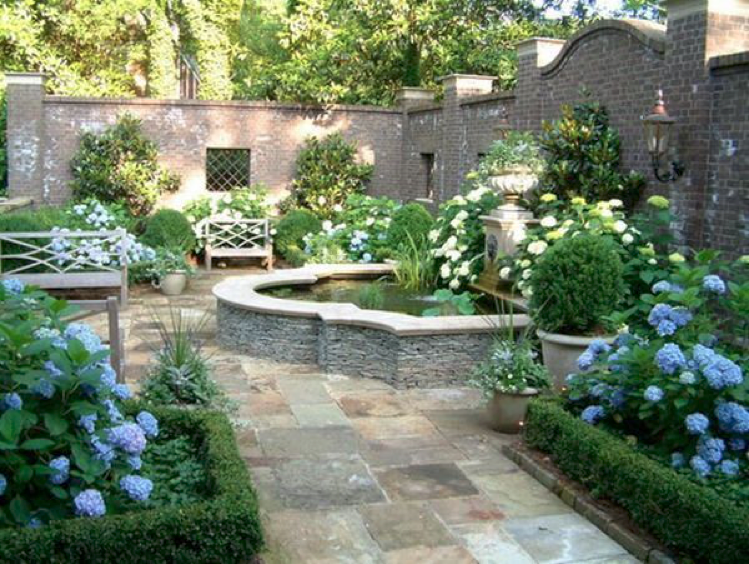 If you want an incredible garden but aren't fond of a French design, you can still achieve a delicate, romantic exterior design with inspirations from the English. In this design in particular, it's similar to the French design we've just looked at in that it has brick and stone that are very faint and vintage in color, yet through the landscaping itself, there's a lot of lush greenery, neatly-trimmed shrubs both in pots and in the ground, and vibrant blossoms.
You may also notice that there are a lot of different materials used in this particular design including different types of bricks and stones. There are also random, vintage-style fences and a random rusty lantern to make the space looker older and a pinch country overall.
To achieve this design for yourself, make plants and blossoms the star of the show with vivid colors while muting out other architectural features and materials in your design by picking paler colors. Add English flowers such as lupine, lavender, lily of the valley, columbine, chrysanthemum, different types of daisies, and hydrangeas. While there are plenty of blossom colors to pick from, aim for simple blue, purple, and/or white. Also emphasize lots of green shrubs and trees. Like a French design, English designs tend to be fairly vintage in style overall, yet the heirloom plants seem to help give the vintage style balance in a modern world.
Italian Pergola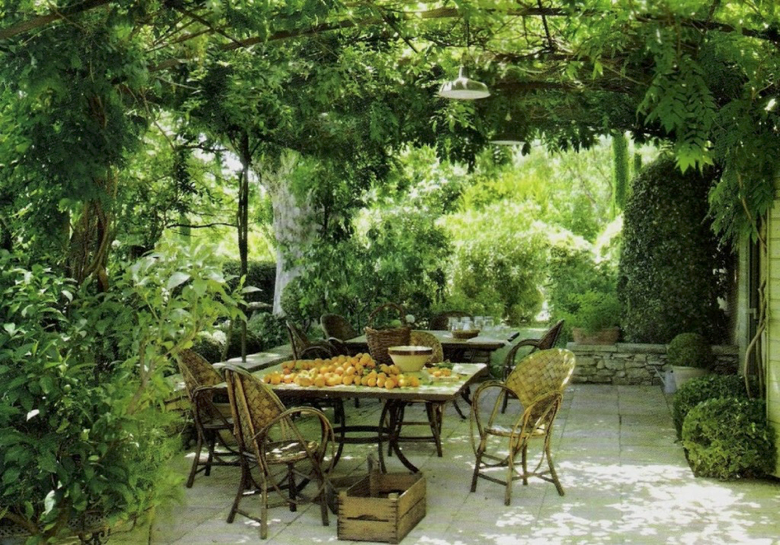 Now we come to a lush, peaceful Italian outdoor eating area. Unlike both the French and English outdoor designs we've looked at, notice how color is primarily achieved in this Italian design by deep shades of green, brown, and green-browns. The pergola appears very natural as it has a plethora of greenery thriving along and up it, catching everyone's eyes in the process. There are also trees and shrubs mixed throughout the yard.
Then there are two large tables for dining with the chairs presenting a woven design to add texture to the outdoor scene overall, along with the tiny brick wall. But in general, the leaves of the different plants alone – both ones that are perfectly trimmed and ones that are essentially sprung out in every direction – provide plenty of texture to pull the design together.
If you wish to achieve a similar Italian landscape and eating area in your own backyard, start by making greens and browns the most common colors of your design. Also make green plants a major component of your space. Plants including ferns, grapes, cypress, olive trees, and agave or aloe. Add a few flowering plants such as jasmine, dahlias, azaleas, or geraniums. Be sure to add rustic materials and texture while you're at it from rugged brick to dry, woven designs.
Spanish Oasis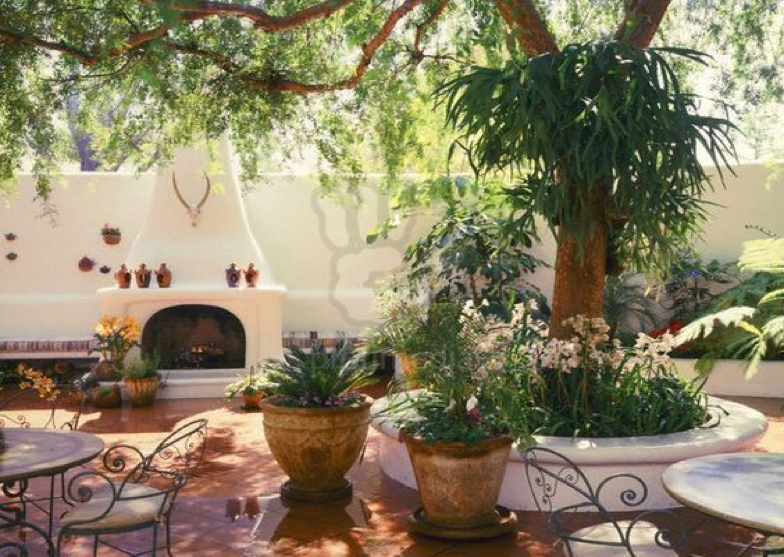 Quite different from all of the designs we've checked out thus far, this Spanish design is much more vivid in color. From the polished floor, to the dark pots, to the choice of dark greenery, there are many deeper colors that are nevertheless cheerful with the perfect variation of traditional and modern. On top of that, Spanish design isn't as delicate or even as feminine as some of the other designs we've viewed.
Of this design, let's emphasize the incredible Spanish fireplaces, the inclusion of pottery, and the touches of tile here and there throughout the design. These are all strong cultural aspects of the design that make it, well, Spanish. Notice how even with bold colors and strong use of culture, this design is still clean thanks to cream-colored walls and delicate seating areas. Balance is definitely there in this design in particular.
If you feel Spanish design is something you want to implement in your own backyard or front yard, you can do so with use of harder materials such as clay, tile, and concrete; curved or rounded-off features, and heat-loving plants. Specifically for plants, include succulents and cacti, hibiscus, lantana, maple or hazelnut trees, and lavender. Aim to add dark green plants and flowers of colors such as yellow, vibrant pink, reds, and clean white.
Conclusion
While not everyone is going to enjoy having a European-inspired yard, many are still intrigued by it whether because they simply love the inspirations or because they want to bring their own culture or ethnicity into the outside of their home. Best of all through this process is getting to celebrate other nations via design. Something as simple as this can connect out world as one.
Overall, you are never obligated to add influences from Europe into neither your interior nor exterior design. Doing what you love and know will make your home look its best is key to having the interior and exterior design of your dreams.
If you need more interior or exterior design-related tips and tricks, check out the rest of our blog posts.
Recent Posts
Summertime is going strong and the heat is most certainly upon us. With triple-digit temperatures, k …

You may or may not know, Cocoweb started its roots in lighting. With LED lighting being our specialt …

Picture Perfect:The Art of Lighting Your GalleryWhen entering someone's home, your eyes are immediat …