For some, reading is a way to learn, be entertained, and just escape from the real world for a while. Some bibliophiles are completely content with heading down the local library every so often to engage in a reading session. Others prefer to read outside, on lunch breaks, in a coffee shop or restaurant, or within the comfort of their own homes.
If you like the idea of having a cozy, comfortable place to read, then you may be interested in having your own special reading room or even a little reading nook somewhere in your home for you to fully enjoy your books.
Let's talk about how you can best create your new reading nook:
1-Find a quiet room or part of a room.
First things first: find where you are going to have your reading room or nook. Maybe you have a spare room or have a corner in your bedroom or office that you think would be perfect. It's truly up to you!
When finding the right spot, there are some things to keep in mind:
Is it quiet? Is there a noisy television near by or some other source of noise that may distract you?
How much space do you think you'll be needing? Keep in mind any couches, chairs, shelves, or other furniture you may consider adding to your reading area. Also consider if there will be any other people in your reading room/nook with you.
Do you have the amount of privacy you want?
Is there a certain aspect you're hoping your room or nook will have that only some parts of your home may offer (e.g., windows, hardwood flooring)?
Is the space or room where you wish to have your reading nook/room already preoccupied for other purposes – and are those purposes going to detract from your time spent winding down in your reading area?
2-Add cozy aspects to your space.
When one reads, they shouldn't feel stressed or impatient; they should feel like they can relax and unwind for a few hours with a good book in their hands. That said, make your reading area as cozy as possible. Think about for a minute what cozy means to you. Is it a certain color or scent? Is it a specific object? Brainstorm for a bit before you decide what your plans will be.
Considering adding these cozy things to your reading room or nook:
A comfy couch or cushioned chair
A large, fuzzy rug
Candles (scented or non-scented)
Curtains
Artwork or posters
Flowers or plants
Soft blankets and fluffy pillows (and lots of them)
An essential oil diffuser
A stereo to play soft, slow music
What may be deemed as cozy and calming will vary from one person to the next, but try to focus on relaxing colors, cozy furniture, and anything else that stands out to you personally. While reading nooks tend to be on the smaller side, still ensure that your nook isn't too cramped to where it feels stressful.
When it comes to making your reading nook cozy, you can even go the extra mile and add a portable fireplace, a cheap coffee maker, or a little snacking area with comforting snacks (e.g., chocolates, popcorn, pretzels, anything you like).
3-Install plenty of lighting.
Of course, any reading area requires enough lighting. After all, it can be difficult to read with poor-quality lighting, and not to mention, straining on the eyes. That said, if you don't already have adequate natural lighting in your reading area and/or plan to read at night when no natural lighting will be present, it is important to opt for quality light fixtures in your space. Try opting for a mix of warmer and cooler fixtures. Keep in mind that cooler light tends to be more awakening for us while warmer lighting is more relaxing.
Consider adding both ambient (overall) lighting as well as task lighting. Fixtures relevant to a reading nook can include special book lights that clip directly onto a book, floor lamps, barn lights that hang from walls or ceilings, or fun-colored pendant lights that extend down from the ceiling. Any candles you may plan on lighting in your reading nook can also count as illumination depending on the lighting effect that you'd like your space to have.
But if you're the type of person that prefers more relaxing lighting while reading, consider adding dimmable lights to your reading nook or room that can be adjusted according to your liking. This is a great idea for nighttime when your eyes are heavier, and you begin to grow more tired as the night goes on.
4-Decide how you'll organize your books.
Now here's one of the funnest parts: deciding where and how you will organize your books. The thing is, you don't even have to use traditional book shelves if you don't want to. You can instead opt for cubbies or bins of some sort, freestanding wall shelves, a table with your books propped up, built-in wall shelves, the options are endless. What you plan to do not only depends on what you like and how you wish to organize things but also on what your budget is.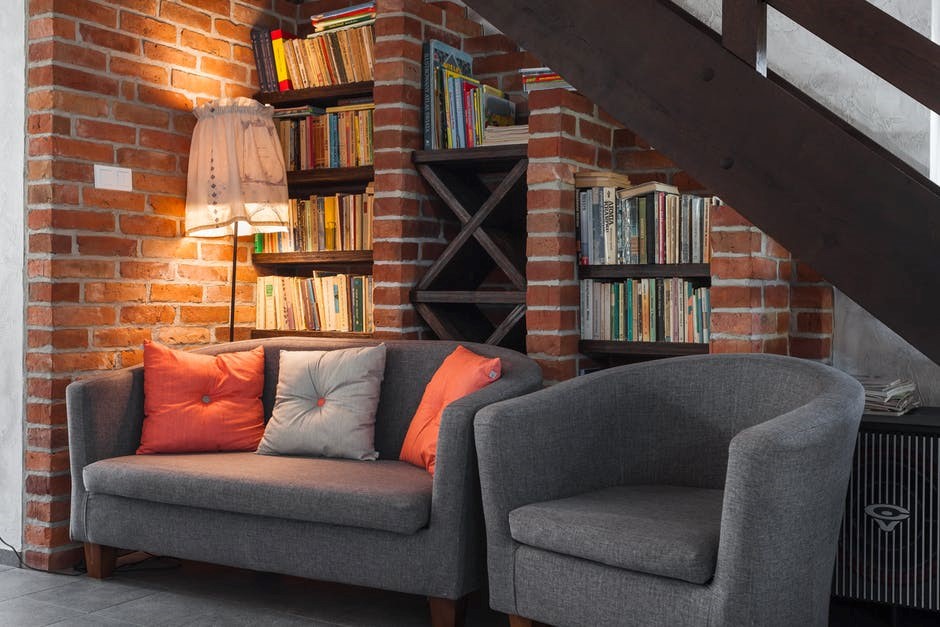 But say you do want to place your books on a shelf. You still have many options at hand. You may end up purchasing a tall and skinny bookshelf, opting for a long and short bookshelf, or even designing your very own bookshelf to save money or give you the creativity to play with your own design. You may want one or five bookshelves. Go for traditional, wooden bookshelves or even rustic, metal ones. Find the style, color, size, and amount of shelves you like when picking out your bookshelf.
After picking out your bookshelf, it's time to place your books on it. You may decide to use one bookshelf for non-fiction books and another for fiction novels. Maybe you'll instead just place your books on one bookshelf, organizing them by authors' last names or by the books' titles or dividing them up by genre (e.g., drama, religion, comedy, etc.). You may even like the idea of organizing your books by size or color or in the order that you received them. Some like to use labels to help them identify where to place their books back when they're finished reading.
You can do it however you'd like because guess what? It's YOUR space! You can make it as simple or as complex as you'd like it to be.
Conclusion
Whether you read every day or just whenever you can, having a reading nook can be relaxing, a great place to study, and may even encourage you to read more often. But knowing how to design your reading nook is important to ensure you can get the most out of it. When creating your reading area, make sure to make it yours most of all, something that you love and can appreciate for many years to come.
Checking out Cocoweb.com, you can come across thousands of floor lamps, wall sconces, and other light fixtures ready to place in your new reading nook, allowing you to read at any time of day. Come see what our website has to offer!
Recent Posts
Summertime is going strong and the heat is most certainly upon us. With triple-digit temperatures, k …

You may or may not know, Cocoweb started its roots in lighting. With LED lighting being our specialt …

Picture Perfect:The Art of Lighting Your GalleryWhen entering someone's home, your eyes are immediat …