While it is not excessively used in interior designs today, milk glass make for great pieces to add to your home as a form of decoration, especially during the months of spring. The crisp, shiny white hue these decorative pieces feature along with their simple yet intricate designs have the delicacy and beauty we want our homes to acquire this time of year.
In fact, milk glass has an interesting history that dates back to the 16 th century in Venice, Italy. At this time, milk glass wasn't merely restricted in the color white; these pieces could also be found in yellow, pink, blue, brown, and black. While not white, these color alternatives still presented a "milky," opaque finish.
However, milk glass wasn't widely popular until towards the end of the 19 th century in France. This was also when milk glass was finally given a proper reference: "opaque glass." Then it in the 20 th century, "milk glass" finally became its official name.
Today, milk glass is a gorgeous, more affordable alternative to porcelain. These pieces can be found in the form of vases, bowls, cups, plates, lanterns, lamps, candleholders, and the like. 17 th century milk glass makes for the best collection pieces while milk glass from the 1930s when the Great Depression was present was not as luxurious and has lesser quality.
Regardless of the form, color, or age of the milk glass you opt for, know that there are many beautiful ways to include them in your interior design apart from merely storing them on a high shelf for safekeeping.
1 - Use milk glass vases as centerpieces featuring colorful flowers.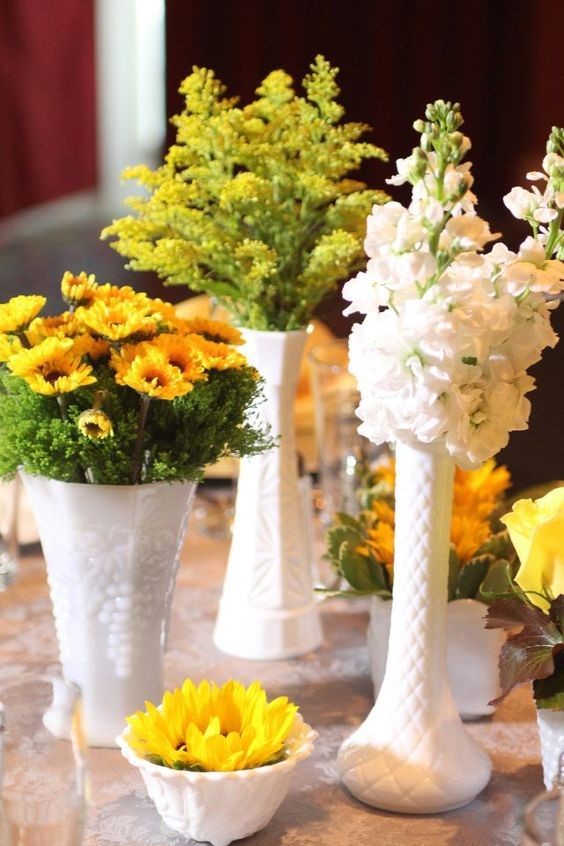 An easy-peasy way to utilize your milk glass vases or dishes is to place fresh cut flowers in them (or faux flowers if you wish) to use as a centerpiece for a dining or breakfast nook table. Like in the image featured above, you may wish to place different flowers of different colors in multiple vases and/or bowls. Or, however, you may instead decide to create just one giant bouquet of various flowers in a larger milk glass container or vase. Opt for any color or type of flowers as you wish. However, seek to select flowers that either feature a complementary color or texture to your design, or pull out accent colors or textures from your space.
If winter is in session at the time you're reading this, or you'd rather not add flowers to your milk glass pieces, you may also wish to display fake greenery or beautiful branches in them. These can still add beauty to any interior design.
2 - Create an elegant nightstand.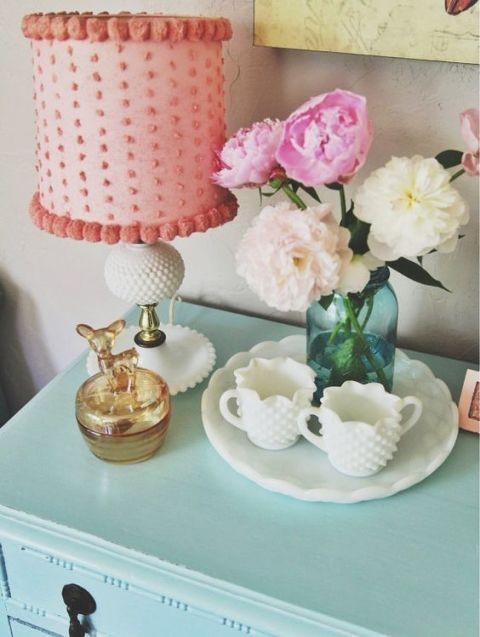 If you want to bring luxury to your bedroom, adding milk glass to your nightstand can quickly do the trick. Adding milk glass to your nightstand in the form of a lamp, tiny bowl for holding jewelry or other tiny trinkets, or even a gorgeous tray or plate for holding cups or a vase of fresh flowers (as presented in the above picture) can definitely bring formality to your bedroom in a heartbeat. If none of the latter nightstand ideas are peaking your interest, do a little brainstorming to find out what might work best for you.
Is your nightstand already full, or are you afraid you'll accidentally knock your milk glass pieces over when you aggressively reach over to hit the snooze button on your alarm clock in the morning? No worries! You might like the idea of instead adding milk glass on top of a bookcase or dresser in your bedroom.
3 - Raise houseplants.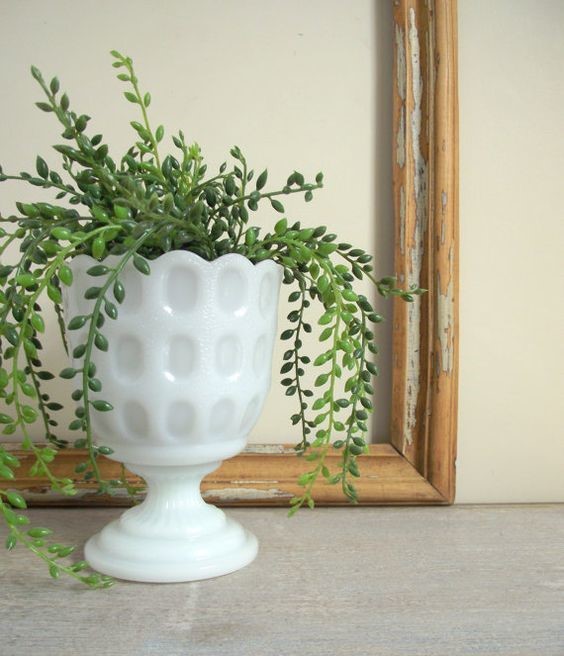 Gardeners are always looking for fun pots and containers to raise their favorite plants in. Especially when it comes to flowering plants, succulents, or houseplants, it's critical that they are planted in nicer containers that feature a bit of a wow factor. While you might choose a fun plastic pot, colorful ceramic container, or a clay or concrete planter showcasing detailed carvings, utilizing a milk glass vase or other milk glass container is another great idea to add to your list of possibilities for raising indoor plants.
Keep in mind that milk glass, because these pieces are not intended for raising plants, do not have drainage holes. That said, make sure to place moss, peat moss, or small rocks at the bottom of your milk glass container (a few inches will do) before transplanting live plants into them. That way, when you water them, any excess water will easily drain towards the bottom of the container rather than settle and rot your plant's roots. Utilizing soil with good draining will also help, along with ensuring you don't overwater your plants or water them too frequently.
4 - Light up the room.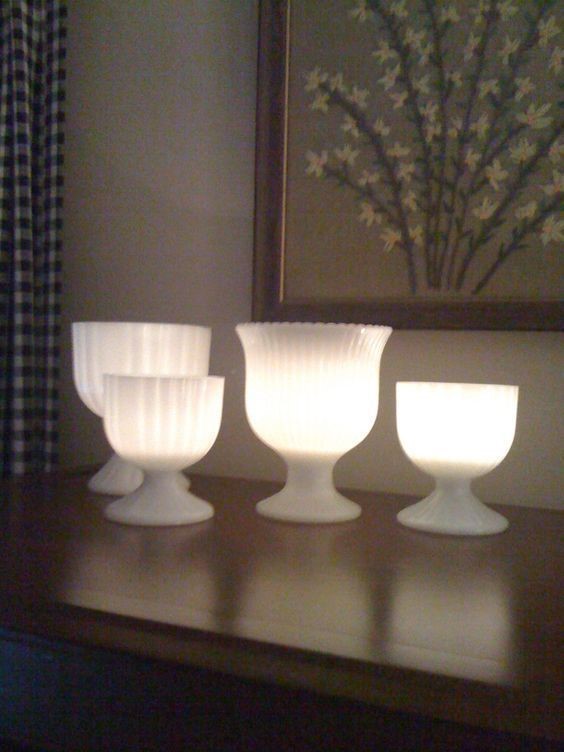 There are many ways to add more lighting to an interior design: installing various light fixtures or recessed lighting, adding candles to your space, or even utilizing natural light. But there's another beautiful, romantic way to provide illumination for any room: add tiny candles (real or fake) or small, battery-powered lights to milk glass containers of your choice. Although there are milk glass candle holders available, placing lights or candles in milk glass bowls or vases takes advantage of the opaqueness these containers offer and certainly is more of a unique way to use milk glass to obtain accent lighting.
Milk glass containers featuring lights or candles are especially stunning when placed on a fireplace mantel, on a side table or coffee table, in the center of a dining table or breakfast nook table, on a nightstand, along a kitchen or bathroom counter, on a bookcase or wall shelf, or even on a windowsill.
5 - Display kitchen utensils.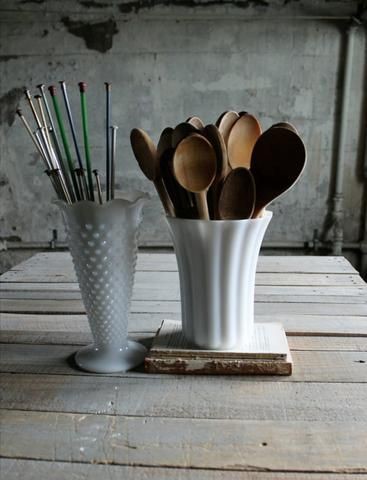 Especially if you don't have a lot of room in your interior design to place milk glass throughout your home, you might wish to utilize them as holders for kitchen utensils. After all, most of us have too many utensils and never enough storage for them! Even for those of us who have adequate storage space in the form of cabinets and drawers, there are some utensils that we want to display out in the open whether it be for convenience or merely because they can add beauty to our interior design.
Either way, we recommend opting for different-sized, -colored, -styled, and/or -shaped milk glass vases to hold items like wooden spoons, spatulas, and the like. For milk glass plates or trays, you might use them to hold/display paper or cloth napkins for when guests come over. As for smaller, shorter milk glass cups or vases, you may even wish to display silverware or plasticware when you're having a dinner party.
Conclusion
Although today milk glass pieces are mainly considered collector's items, these elegant works are no doubt stunning to place in the home setting as a form of décor. Especially if one comes across antique milk glass, they may consider placing these pieces on the top shelf of a locked, clear-glass cabinet. However, storing your milk glass away defeats the whole purpose of these beauties and the detail and sophistication they can offer an interior design when they are directly present in your space.
While they came about in the 16th century, it's clear that milk glass can have its place in both older and more modern interior designs. Some great ways to incorporate milk glass into your interior design include using milk glass vases as floral centerpieces, using them to create an elegant nightstand, raising houseplants in them, using them to light up a dark room, or even opting to store and display kitchen utensils in them.
If you need more interior or exterior design-related tips and tricks, check out the rest of our blog posts.
Recent Posts
Throughout history, before the advent of electric piano lights, pianists would practice and perform …

Outdoor illumination keeps homes and businesses visible at night, while helping to dissuade crime …

Sign Lights, with their classic gooseneck design, differ from traditional wall mounted lights, in …