Even if you don't have an IKEA in your town or city, you probably still have an idea what this furniture store is all about. This Swedish-founded, world's largest furniture retailer offers a wide selection of home furniture, décor, and kitchen appliances. In exchange of lower costs, furniture assembly is left to the customer themselves – which is part of IKEA's infamous business model
Due to a wide variety of home goods for affordable prices, it makes perfect sense for many to furnish their home corner-to-corner with IKEA furniture. After all, furniture can be expensive; even just furnishing one room can cost over a thousand dollars. But spending less on your furniture doesn't necessarily mean less quality or suffering with plain, boring pieces.
If you're an IKEA shopper or love shopping at discount furniture stores, you can make your furniture go from good to phenomenal, all while having the exact function you're looking for, with the help from a DIY project. Consider the latter IKEA furniture transformations:
1 - Turn your IKEA dresser into a rustic kitchen island.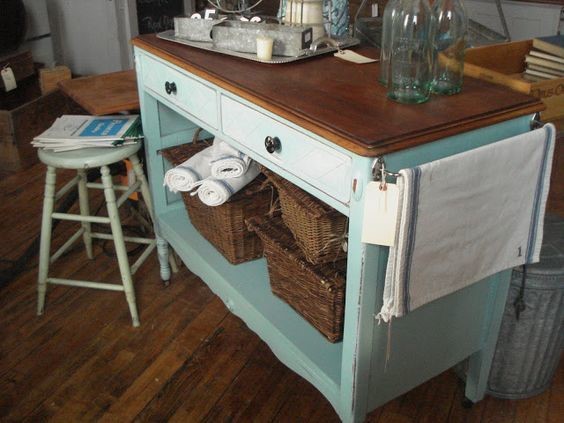 If you're wanting a simple way to repurpose an IKEA dresser for something other than storing clothes, you might like the idea of using it as a kitchen island. It's a very affordable and attractive way to add more storage and tabletop space to your kitchen. Yet, if you were to have a "real" kitchen island installed, you'd easily be paying $3,000 to $5,000. Some kitchen islands even cost five figures. But using a dresser, you'll spend a mere fraction of the latter costs, probably within the $200 to $300-ish range at IKEA.
One of the best parts about opting for an IKEA dresser as your kitchen island is that it can be removed if you're currently renting, frequently move home-to-home, or simply want to move or remove your island from time to time. Thus, dressers as a kitchen island are a wise idea and are much more versatile than an actual kitchen island.
2 - Transform your convertible IKEA crib into a desk.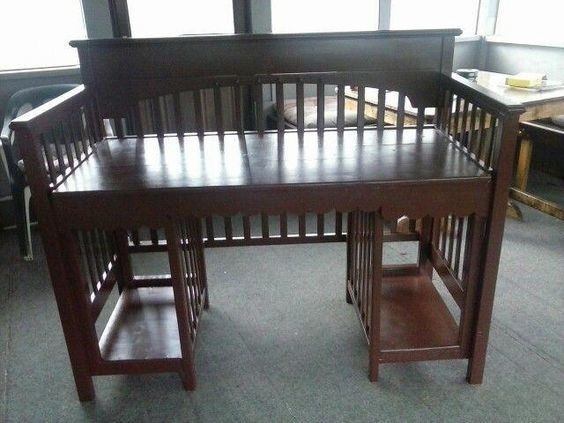 Whether you simply want a cool desk like no other or already have a crib at home that your child outgrew, turning it into a nifty desk is a great idea. With a modification or few here and there, you can have a sturdy office desk or study table in a jiffy.
Cribs come in all shapes, colors, and styles. Some feature built-in shelves or draws. Some cribs showcase a headboard while others don't. There are cribs that are equipped with wheels, legs, or sit directly on the ground. That said, if you have yet to purchase a crib at IKEA or another furniture store for this DIY project, you have a wide selection to pick from.
The most important thing about selecting a crib to turn into a desk is selecting one with good bones: the size, shape, and possible storage space that you want. While anything can typically be altered, the color of all things is typically the easiest to change. You may even wish to install a pullout keyboard tray if you're aiming for a computer desk.
3 - Make your IKEA dresser into a laundry hamper cabinet instead.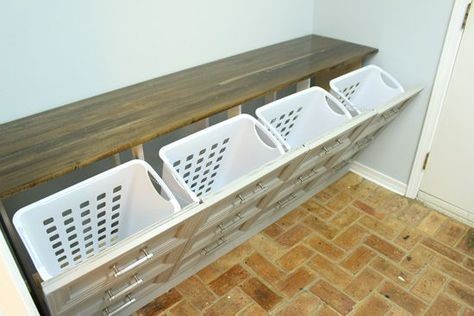 If you hate the smell and look of dirty laundry as much as we do, you might love the idea of transforming your entire – or part of – a dresser into an enclosed laundry hamper. (Hey, who said dressers were only for clean clothes anyway?!) This is especially a great DIY project for big families or those who generally dirty a lot of clothes. Nobody likes dirty clothes piling up in the corner!
While the laundry hamper dresser pictured above features an excellent design, you can also try this DIY project with one hamper / laundry basket on a smaller dresser – not just a dresser that is horizontal one but also one that is vertical or square depending on your tastes. The door of your dresser leading to the hamper(s) or basket(s) can pull/roll out, lift up, open up, or it can be tilted out like in the above photograph. The decision is all yours! As long as you still remember to do the laundry, a dresser-hamper is a genius idea.
4 - Amp up your boring IKEA daybed with a fancy headboard.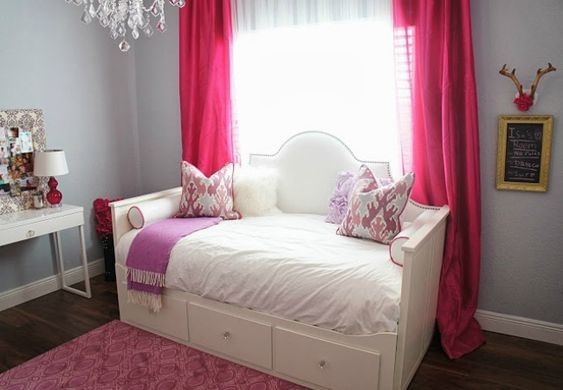 It's not always easy finding an attractive daybed when shopping for furniture. Some of them are quite boring if and when you do come across a daybed at all. But on the bright side, a little headboard DIY can dramatically change your IKEA daybed, instantly making it seem you paid twice as much for it, when really, you got it for a bargain.
Depending on who the daybed is for, you can ensure the headboard you make for it fits their style – and the interior design of their room – perfectly. Decide among different colors, shapes, textures, and materials. Go for a simple, rectangular headboard that features a stained wood. You might instead like a shape like the headboard feature above that features plush padding and a soft texture. For added detail, you can bedazzle, paint designs, or add rivets to sections of your headboard. The options are truly limitless. It's amazing what the addition of a headboard can do for a daybed's comfort and aesethetics!
5 - Change your closet into a built-in with the help of IKEA cabinets or dressers.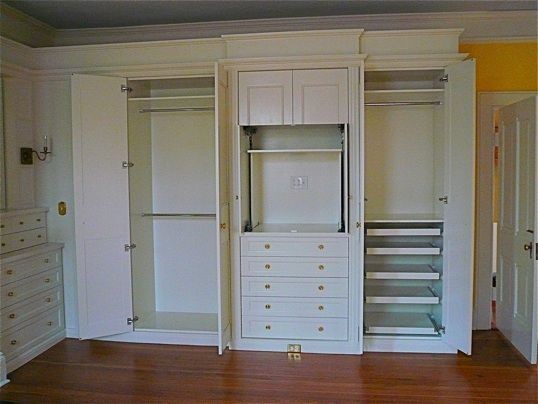 If you aren't fond of your current closet design or want to add drawer space or more shelves, you can absolutely do it. Simply replace the door(s) and integrated shelving/racks of your current closet and then install cabinets and/or dressers in the space where your closet would be. The type of cabinets and dressers you select to add to your closet space depends on the type and amount of storage you're hoping for.
If you want something a little playful, you might consider selecting some cabinets and dressers that are of different colors. For instance, you might select two cabinet units that are dark brown and a tall dresser that's a lighter brown or white. The best part about this IKEA DIY project is that you can always remove cabinets or dressers you use for your closet space and even switch them out from time to time if the current type of storage is not well-suited for the amount of clothing you own.
Conclusion
No matter your furniture budget nor where you shop – a high-end furniture store, IKEA, or at a discount home goods store – you can transform any piece of furniture into something new with a different purpose from what it was intended to provide. That said, the power is in your hands to make a boring piece of furniture into something luxurious if that is your goal.
Whether you transform your IKEA crib into a computer desk or turn your dresser into a kitchen island, for instance, there are endless ways to make your furniture suit your design best. Thinking outside the box is what will allow you to break free from the interior design norms.
If you need more interior or exterior design-related tips and tricks, check out the rest of our blog posts.
Recent Posts
Summertime is going strong and the heat is most certainly upon us. With triple-digit temperatures, k …

You may or may not know, Cocoweb started its roots in lighting. With LED lighting being our specialt …

Picture Perfect:The Art of Lighting Your GalleryWhen entering someone's home, your eyes are immediat …