While a majority of homes lack one, a sunroom can be a great addition to your property. Simply stated, a sunroom is exactly what it sounds like: a room with plenty of windows to allow the natural beauty of the sunlight to peep in. Thus, these rooms are excellent for basking in the sun without going outdoors and for growing sun-loving plants.
However, not everyone designs their sunroom to its best capability. For instance, some may leave their sunroom bare if they don't intend on using the space. Others might throw in a simple couch and call it "finished." In reality, the sunroom is a remarkable part of your interior design and should be treated as such. It's until you amp it up that you don't realize the potential it possess.
Here are some design ideas for your sunroom you might want to try:
1 - Pop Of Color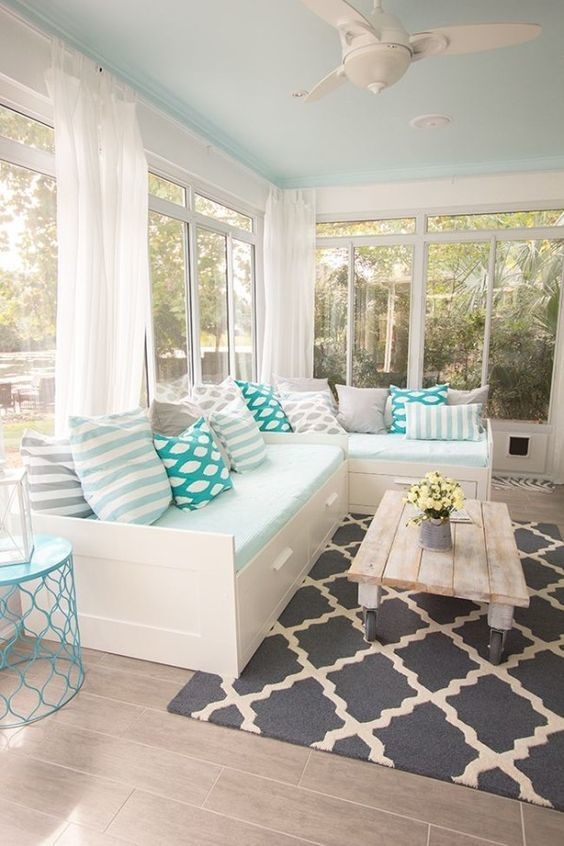 Who said sunrooms had to be bland, boring, and stark white? While people typically select light and airy colors for their sunroom to allow the natural light to really flow in, utilizing deep, vibrant colors can't hurt. The beautiful use of ocean blue, gray, and seafoam blue in the featured sunroom design above prove the latter.
However, when it comes to using pops of color in your sunroom, keep in mind that the sunnier your space gets, the more likely the vibrant colors will fade overtime. This is true even outdoor furniture is used in your design. However, color in general is known to fade in sunny places – artwork included.
For the latter reason, investing in blinds or curtains to block out intense sunlight during the summer in your sunroom might be important. Or, opting for furniture covers; varnish, wax or oil finishes, shellac, polyurethane, or lacquer to apply directly to your furniture; or even protective glass or sprays for artwork can also keep the vivid hues in your sunny interior design stronger for longer.
2 - Cozy Nook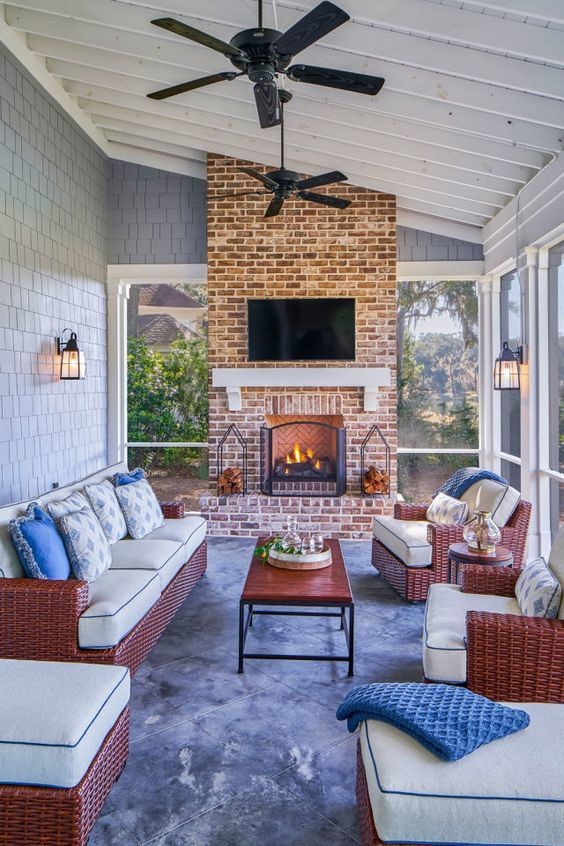 We tend to think of sunrooms as places we go to enjoy the sunshine. Our pets especially love the sunroom as it's a place to warm their coats and perhaps even watch birds or squirrels go by outside. But indulging in sunshine and intaking our daily source of vitamin D is not all sunrooms are good for. Sometimes the sunroom can be the best place to unwind after a long day. Heck, even in the wintertime, we should be able to find comfort in our sunroom, that is, if it is designed properly.
Particularly for those who live in regions where it rains or snows a lot and the winters are harsh, transforming your sunroom into a cozy nook is a splendid idea. Like in this example, adding a nice fireplace, soothing colors, and warm-toned lighting to your space can give your sunroom the relaxing factors it needs to ensure you and your household can relieve unnecessary tension and stress. Whether you aim to snuggle up with a good book or take a brief nap mid-day, a cozy sunroom can be the perfect place to do such.
3 - Living Room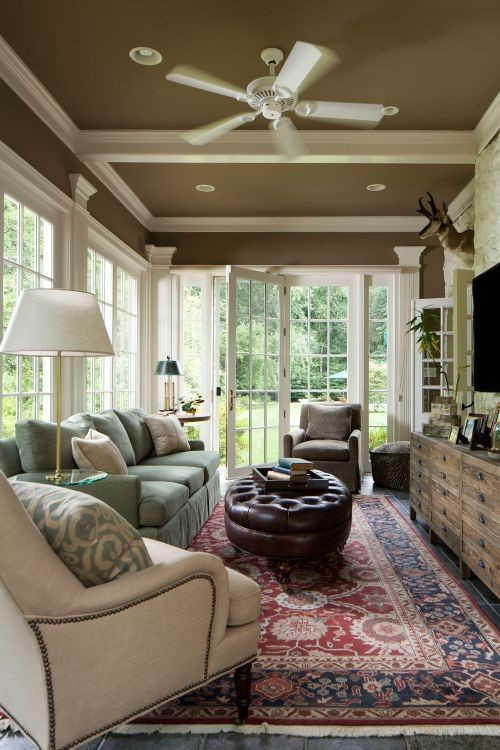 As many know, some homes contain both a family room and living room. While the terms are often used interchangeably, the two spaces are actually intended to have distinct purposes. For instance, living rooms are generally spaces where social activities take place between family members and/or guests. However, family rooms are more casual and are typically used for families to relax – watch a movie, play video games, play games, or watch the children play.
If you've always wanted a family room (or living room) but lack one, your sunroom can essentially be transformed into the one you've been wanting. From the featured design in this section, you can see that a sunroom can absolutely be transformed into a general living space, set with a television, a comfy couch and set of chairs, and the like. Adding elements like a large rug, throw pillows and blankets, and a ceiling fan can give your sunroom that added comfort you might want your family or living room to have. Opting for this design idea is particularly a plus if you don't usually like a traditional sunroom design.
4 - Boho Vibes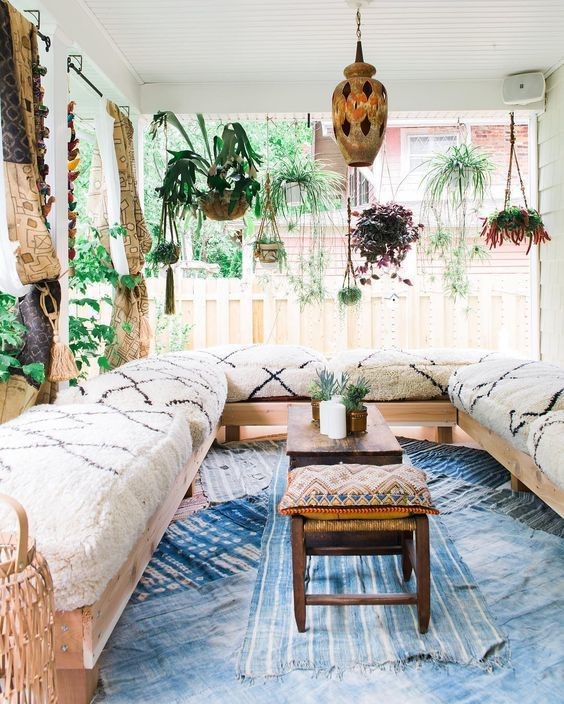 If you prefer your sunroom to look a little more traditional, a bohemian-inspired sunroom might be something you'll lean towards. A boho design makes perfect sense for a sunroom considering both traditional sunrooms and bohemian interior designs often contain plenty of plants and other natural elements. But why not combine both for the ultimate sunroom space like in the above example?
For your boho sunroom – part from adding a variation of hanging and non-hanging plants and succulents (with maybe a fruit tree or two as well, if you prefer) – add an array of mixed-and-matched patterns, bright colors, and Earthy tones. Opt for furniture and décor with materials like contrasting woods, hemp, wicker, clay, silk, burlap, and chenille. Keep your future low, and add cushions or pillows on the floor for added seating in your bohemian sunroom. The more rugged and relaxed, the better!
5 - A Modern Touch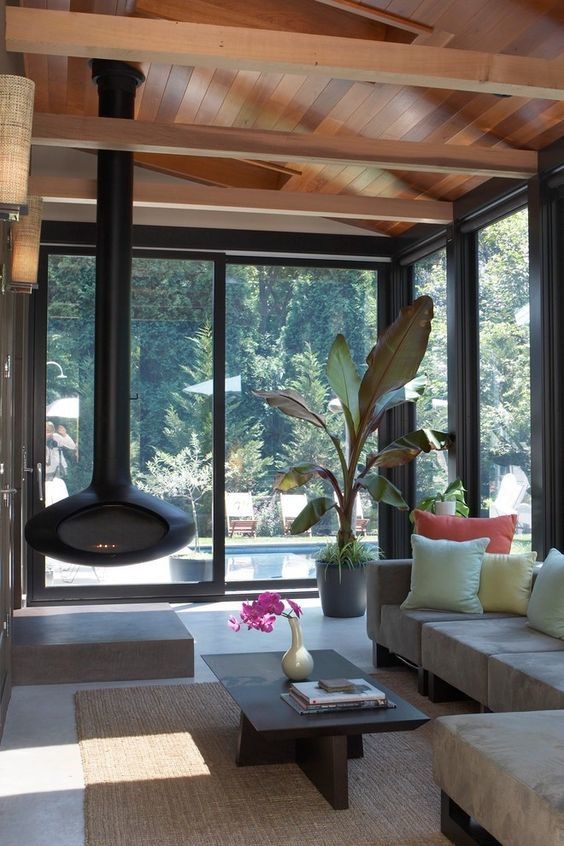 It's okay if you want to refrain from that traditional-styled sunroom style. Traditional is not for everybody. Fortunately, one can easily make modern design work in their sunroom, as shown in the design above. The above design's use of straight, sleek lines; conservative colors; and minimal clutter work surprisingly well for a sunroom. While this space looks stunningly sophisticated, it is kept simple at the same time, making it quite calming and as minimally chaotic as possible.
But before you modernize your sunroom, keep in mind that there are different types of modern design and different magnitudes of such. There's a difference between going for space age aesthetics and going for a conservative style of modern that was deemed futuristic in the past (mid-century modern). One might even opt for a modern-farmhouse design style. Generally, if you have a specific interior design style apart from modern – whether it be French country, industrial, or even Scandinavian – chances are, there is a way to give that style the modern touch you're looking for.
Conclusion
While we typically think of sunrooms as spaces with traditional, plain furniture – usually made with wicker or basic fabric – there are many ways to tackle your sunroom design that will make it stand out beautifully from the rest. Of course, with the design implemented of your choice, you can also give your sunroom a function other than just a sitting room or a place to grow plants.
From the latter design examples, it's clear that there are a plethora of ways the sunroom can appear and function differently from a traditional sunroom. Being creative with how you design your space as well as taking inspiration from other sunroom designs will be key to creating the sunroom of your dreams – even under a budget. It may seem chaotic designing your sunroom, but in the end, it's how you enjoy your space that makes all the hard work worth it in the end.
If you need more interior or exterior design-related tips and tricks, check out the rest of our blog posts .
Recent Posts
Summertime is going strong and the heat is most certainly upon us. With triple-digit temperatures, k …

You may or may not know, Cocoweb started its roots in lighting. With LED lighting being our specialt …

Picture Perfect:The Art of Lighting Your GalleryWhen entering someone's home, your eyes are immediat …