Even though interior design trends phase out, there's always a chance that they'll later reappear and once be loved again. Social media is similar; there's always something new or resurfacing that's currently buzzing. With light fixtures, the same applies. It seems that once just about everyone has incorporated the current light fixture trends into their own home or place of business, it's already time to move onto something new. Sound familiar?
While it may seem annoying how quickly we move onto the "next best things" in interior design, sometimes moving onto new trends is exactly what we need to fully realize our love and dedication for the old trends we once took part of. After all, they often say that you don't realize what you have until you lose it.
Let's check out what lighting trends are making a coming in 2019:
1 - Edison-Style Lighting

Since the farmhouse and industrial interior design movements, Edison-style lighting has been a peak of interest, most popular in the form of string lighting. However, Edison lighting hasn't perhaps been as popular as other trendy forms of lighting. Some consider Edison-styled light fixtures – which feature an antique bulb suspended from a cable – too old-fashioned for their tastes, which may be why they might be unsure whether or not they should add it to their home.
However, Edison lighting is looking hot for 2019 – particularly in warm-toned metallic finishes such as brass. Although industrial interior design is being to take its course, Edison lighting lives on. If you find it too industrial for the home, consider incorporating it outdoors, whether it be in the form of a pendant light or string lighting. Also be on the lookout for Edison light fixtures that feature a retro-modern twist rather than a traditional-industrial appearance.
However, if you already have an Edison-friendly light fixture that you already love, you can consider purchasing an Edison bulb to place in it to give it the full Edison, industrial appeal. Depending on the shape, style, wattage, color, brand, how many are included in the pack, and other aspects of the bulb, a single Edison bulb can run anywhere from about $3.50 to approximately $10.00.
2 - Mid-century Modern Lighting
The truth is, modern interior design is beating out mid-century modern design in 2019; however, many are still holding on tightly to mid-century modern décor, still making it trendy in the New Year. Mid-century modern lighting in particular is appearing to be of interest once again.
If you do a search engine image search on "mid century modern lighting," you'll discover that many of the fixtures feature organic shapes or Sputnik-styled designs. Mid-century modern generally appears modern and clean while still offering complexities, yet this type of lighting still gives off a blast to the past.
Having a relevant fixture in your space with historical significance can be a great way to add both aesthetic and emotional value to your interior design. In 2019, emotional value, historical remembrance, and personal touches are projected to be huge in interior design.
3 - Larger Fixtures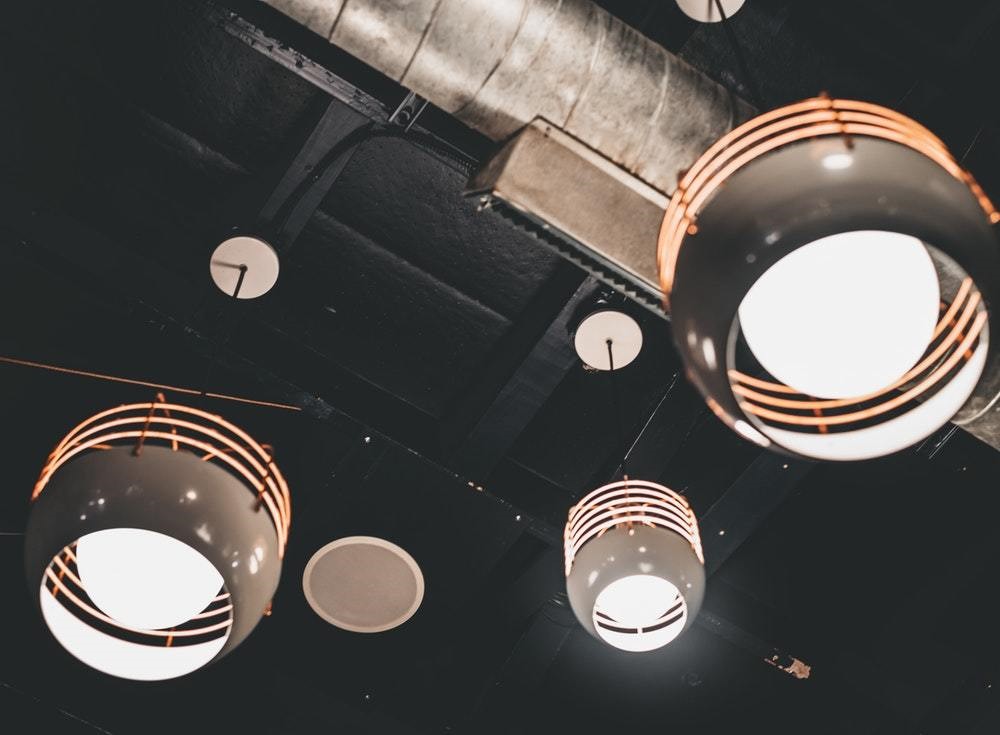 For a while, we were opening our eyes to smaller, skinnier, more minimalistic forms of lighting. Many were interested in lighting that appeared that it wasn't there. While in 2019, virtually non-existent fixtures (e.g., recessed lighting) is one trend – particularly in larger interior designs where having too many ceiling or wall fixtures would be overwhelming and clutter-y – maximalism is going strong this year.
Maximalism tends to use means of exaggeration and décor in excess. As for lighting in particular, one maximalism trend interior design experts are noticing are larger fixtures. For instance, instead of hanging a few pendant lights above their kitchen island, some might instead install one large chandelier or a couple of big fixtures.
Larger fixtures work well in many spaces but are especially suitable for bigger rooms that may feature taller ceilings. Depending on the general layout of the space, exaggerated fixtures can also be beautiful in smaller designs, allowing you to install less fixtures overall in your space once the larger fixture is incorporated.
4 - LED Lighting
When LED first came out, it was essentially the talk of the town, and everybody wanted it. Unfortunately, everyone also knew that jumping on the LED bandwagon would mean having to pay a higher price. While LED lighting perhaps never truly "phased out" and is technically more common, and thus more popular, than ever before, the average folk began to talk about it less, and if they hadn't already made the switch to LED, they were less intrigued by the new technology the longer LED has been out.
However, because LED lighting is finally getting more affordable, it's also a trend that is essentially being resurfaced. In fact, many bulb and lighting companies are introducing LED as if it's unheard of, and many businesses and home owners alike are barely making the switch. So, if you have yet to try LED lighting, let 2019 be your year to do it.
The great thing about going on the LED route is having bulbs with longer life spans, paying less for your lighting long-term (as bulbs last longer and lighting bills cost less), and getting the luxury of having a bright bulb without significant heat and little to no UV radiation.
5 - Gold or Brass Light Fixtures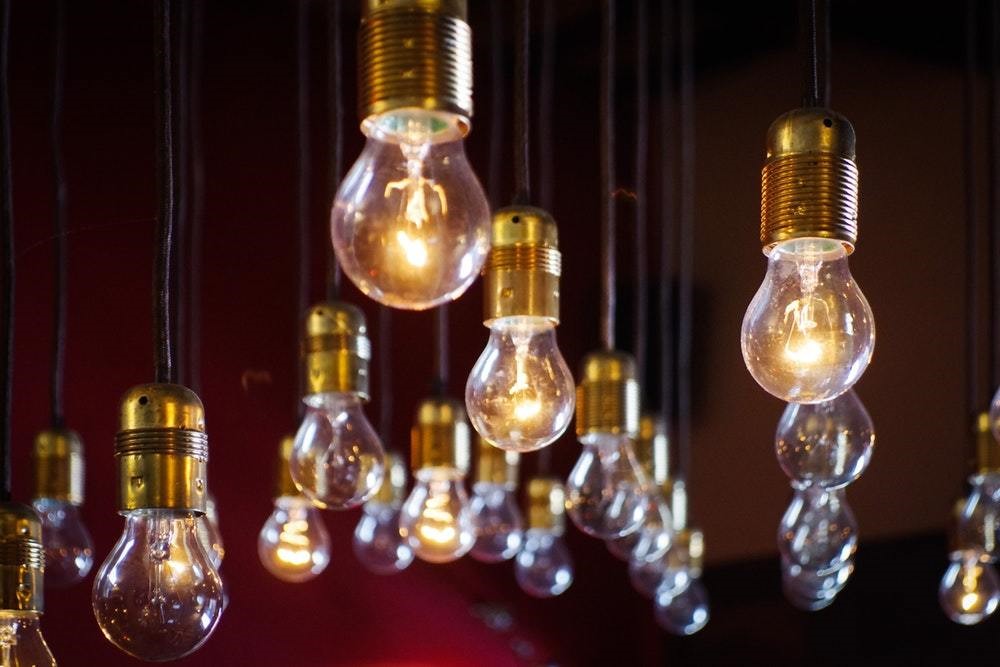 Although silver and other calmer-colored metallics are generally considered the most popular for interior design as they can best be incorporated alongside a variety of color palettes while appearing too bold in an interior design, gold and brass are looking like hot metallics for light fixtures in 2019.
But no worries; although brass and gold are typically quite yellow-based and are considered "loud" in some people's opinions, there are a plethora of variations in these metals that might may them more discrete in an interior design. For instance, some brass fixtures might appear darker or mostly brown-based as might some gold-colored fixtures. You'd be shocked to see how many variations of gold, brass, and other metals are out there.
In case you have a more traditional interior design, there are fixtures out there with antique gold or brass that may have an older, more distressed appearance to merge perfectly into your interior design. In modern spaces, a brighter, shinier, cleaner gold or brass might better suffice.
Conclusion
Whether you're trying to confirm that your current light is trendy in 2019 or are trying to decide what light fixtures to incorporate into your space to make them relevant for this year, know that there are many types of lighting that are making a comeback. These include Edison lighting, mid-century modern fixtures, larger light fixtures, LED lighting, and gold or brass fixtures.
In 2019, be prepared to take a little step back to the lighting trends that were once popular but are now back for another round of interest. Don't be shy exploring the lighting trends you may have never incorporated previously. Simply allow 2019 be your year to try different things in your interior design whether it be trying completely new trends or sticking to the trends that have recently resurfaced.
If you need more interior or exterior design-related tips and tricks, check out the rest of our blog posts .
Recent Posts
Summertime is going strong and the heat is most certainly upon us. With triple-digit temperatures, k …

You may or may not know, Cocoweb started its roots in lighting. With LED lighting being our specialt …

Picture Perfect:The Art of Lighting Your GalleryWhen entering someone's home, your eyes are immediat …