Walk-in closets: they're many people's dreams. In fact, when purchasing a new home, it's a deal breaker in some people's eyes if their master bedroom lacks a walk-in closet. The idea of sharing a wardrobe or non-walk-in closet with a partner is not ideal in many cases, especially if one or both partners has a lot of clothes and shoes.
But when your bedroom does offer a walk-in closet, even though it may appear large from the start, it can easily get cramped and messy. You may think that your own walk-in closet will live up to those Pinterest or Instagram walk-in closets you see, but it never seems to end up like that.
That's partly why our Cocoweb.com team is here: to help you give your space its best potential. Adding the features we're about to share, you can achieve not only a beautiful walk-in closet but also a functional one to get the best of both worlds.
1 - Full-length mirror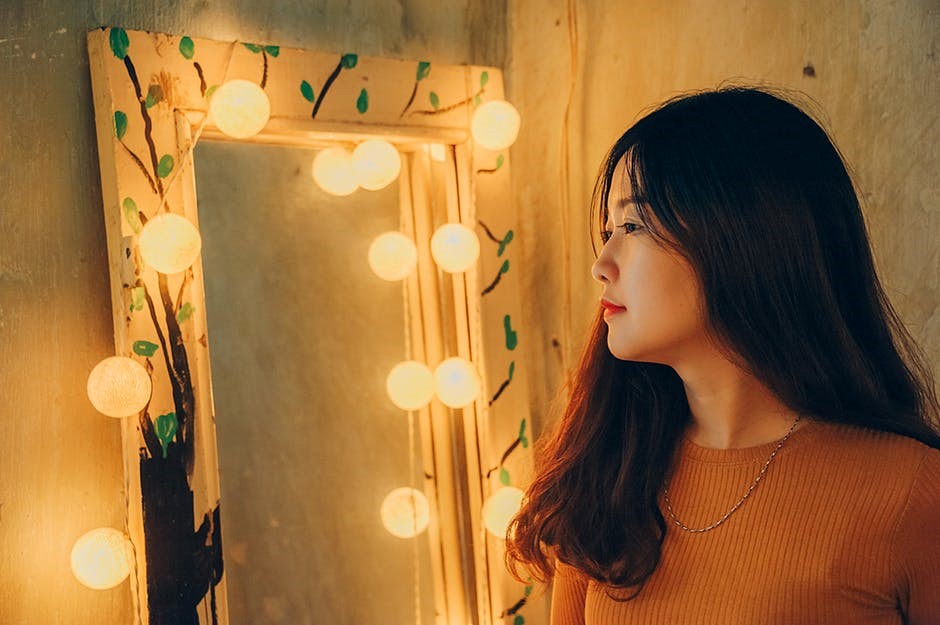 Without compromising a significant amount of space in your design, you can add a beautiful full-length mirror in your walk-in-closet. A full-length mirror is relevant in that you can see how you look in your outfit from head to toe. In addition, a full-length mirror can add dimension and psychologically make your closet appear larger than it really does.
Depending on the space you have present, you may wish to have your mirror installed directly onto the wall, propped against the wall, or may even prefer to purchase an upright mirror that stands straight up. Some upright mirrors may even adjust and open up like cabinet to store jewelry or other tiny items.
But if your space just isn't big enough to accommodate a full-length mirror of any kind, having a mirror – even a tiny one on the wall or a horizontal one – can make a huge difference in your space. Sometimes, any mirror is better than no mirror.
2 - Drawers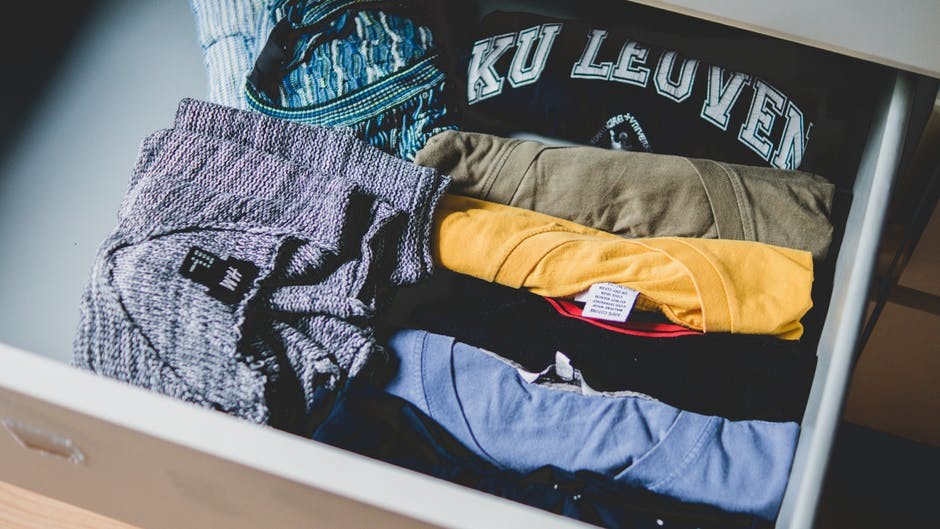 Chances are, you've seen your fair share of walk-in closets, and you've probably noticed that most of them offer both shelving and racks for hangers. But drawers? Not every walk-in closet offers drawers, unfortunately. Yet, having drawers in your walk-in closet can be incredibly useful for many.
Drawers in your closet can add a fun feature that differentiates itself from the out-in-the-openness the rest of your closet may offer. Drawers are especially ideal for smaller items or little trinkets you have a lot of including watches, bracelets, wallets and clutches, undergarments, socks, and other smaller items you'd prefer not to have just lying around on a closet shelf or even shoved in a box. Drawers are also ideal for old t-shirts, pajamas, and other articles of clothing that are deemed "too casual" or rugged to be hung out in the open in your walk-in closet.
If you want to add to the versatility of your design, apart from adding drawers, you may also wish to add doors or even sliding doors on shelves for an added touch. Doing so can both conceal aspects of your closet when it's a bit messier as well as provide a softer, cleaner touch overall as less items are visually available when walking into your closet.
3 - Island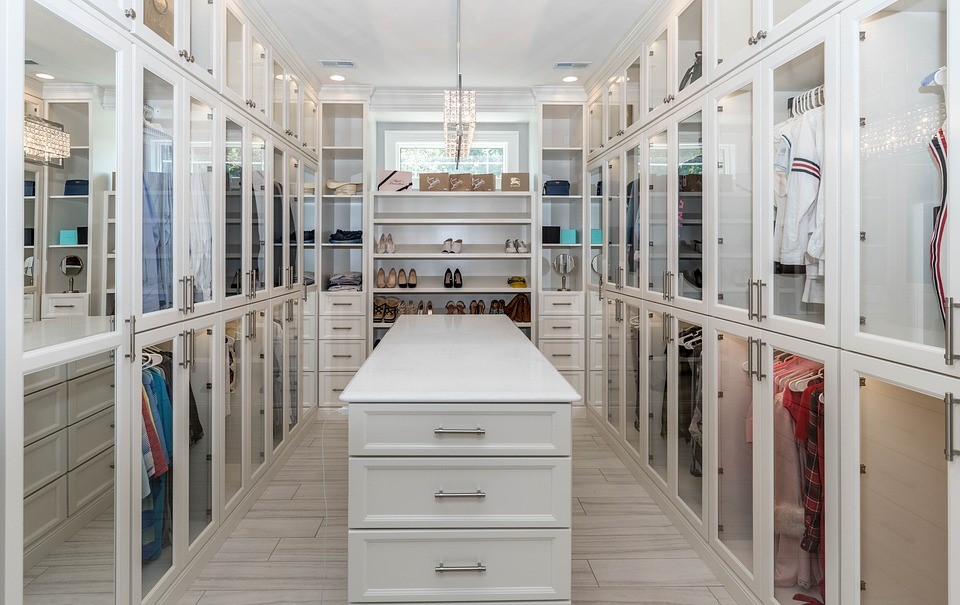 Just like many of us want a kitchen island for kitchen prep and serving, many want an island in their walk-in closet, but the average walk-in closet simply doesn't contain one as budgets tend to fall short, or space becomes an issue. But even if you can have a small island installed, all the better.
Islands may offer shelving, cabinets, or drawers to add to the amount of storage your walk-in closet offers. Some may even like to place a stool or small seat against their walk-in closet's island for both convenience when, say, putting on shoes as well as to offer added luxury to their closet.
An island in a walk-in closet can also provide table-top space to make it convenient if you wish to lay out an outfit when picking out what you're going to wear or even offer room so you can place jewelry boxes or racks, hand-held or upright makeup mirrors, or other items and organizers to add even more storage to your space. Islands can also add division in your design, especially if there is too much space going on that you wish to eliminate.
4 - Hooks
So, you have shelving, racks for hangers, and possibly even drawers and an inland in your walk-in closet. But hooks are also important storage-wise and can provide an added touch to your walk-in closet's design overall.
Best of all, hooks do not have to be permanently install on the walls of your closet. You can find many hook brands out there that simply stick onto your walls or doors. Hooks can also be added to a walk-in closet via a portable device such as a large jewelry box containing hooks. On top of that, there are additionally over-the-door hooks that simply sit on the top of your door for easy, safe removal when and if you no longer wish to utilize them. The latter type of hooks are especially ideal if your walk-in closet lacks space.
Having hooks in your walk-in closet, while not mandatory, can be great for hanging up jackets, pull-overs, jewelry, purses and bags, as well as scarves to keep things well organized to your liking. While everything else is hung or folded in your closet, having items that are hung from hooks provides something a little different for the eyes to feast on.
5 - Grand Lighting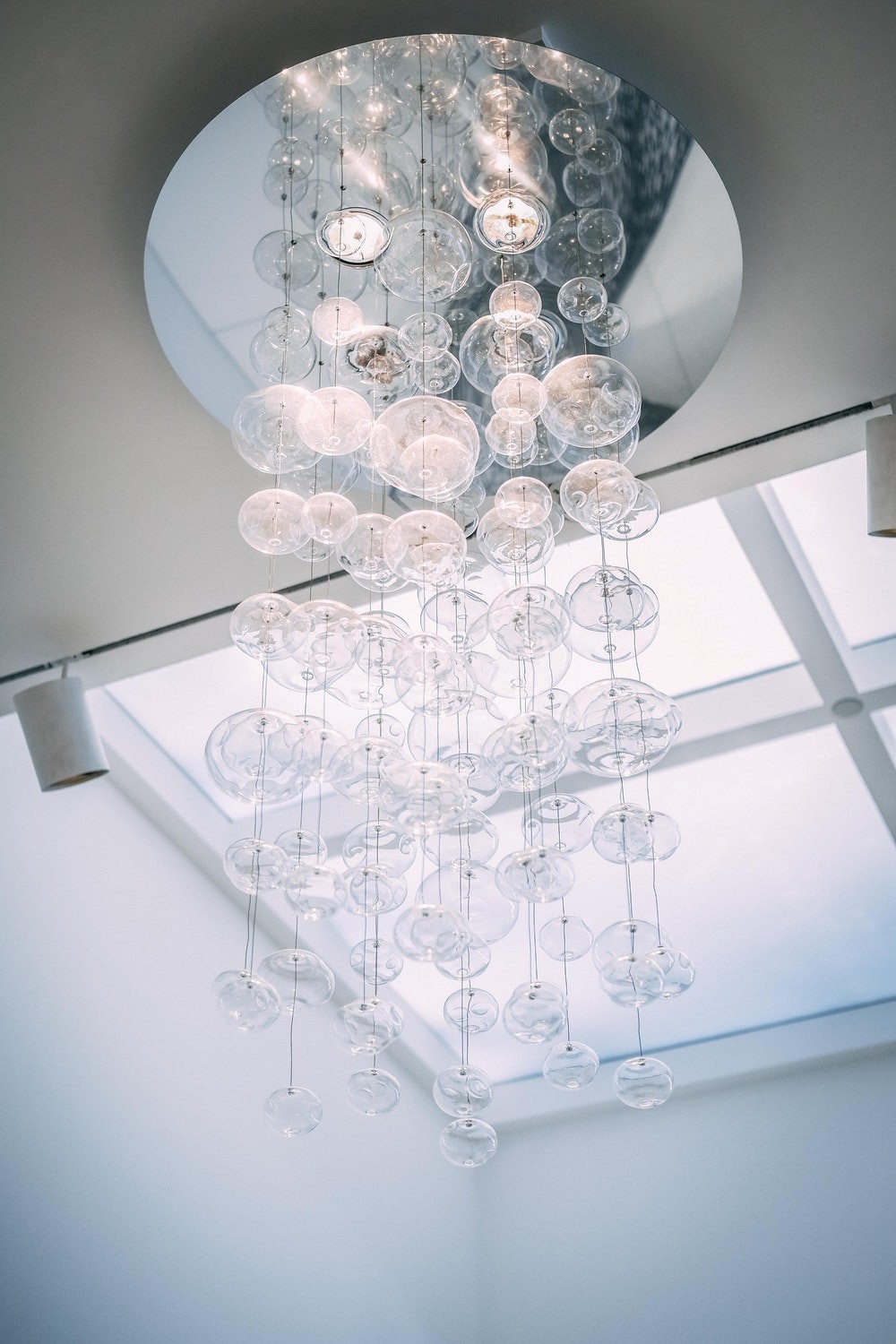 Every picture-perfect walk-in closet offers some sort of grand or luxurious lighting whether that be a massive chandelier or colorful track lighting to add unique accent illumination to the space. However, don't get the idea that what we refer to as grand lighting does not have to have an expensive price tag nor does it need to be completely over-the-top in order to work well.
But apart from the grandness light fixtures such as chandeliers and fancy pendant lights can provide, these fixtures can also offer the proper illumination your closet requires. The right lighting is crucial especially in closets to ensure safety as well as to aid you with picking out the right outfit and getting dressed.
Your lighting doesn't necessarily have to bejeweled with diamonds and decorated with luxurious silver or gold. Instead, the illumination in your space can be as casual as adding farmhouse-styled barn lights. In fact, our online store offers a plethora of light fixtures with both metallics and pops of color depending on the route you're wanting to go.
Conclusion
Creating the most spectacular walk-in closet imaginable can be trickier than it may seem. Not only will you want to make it attractive to the eyes, you'll also want to ensure it's functional and spacious. Mediating the proper balance between the latter is what makes interior design difficult for many.
On the bright side, adding a full-length mirror, drawers, an island, hooks, and grand lighting can help make your walk-in closet picturesque and practical at the same time. This all sounds quite costly, but in the end, if a walk-in closet is something you truly admire, you can find a way to make this all happen.
A walk-in closet renovation does not have to be expensive, especially with a pinch of creativity, nor does it have to all be done at the same time. Many enjoy slowly evolving their interior design to their liking to save on money and time. Overall, it is your choice how luxurious or expensive you'd like your walk-in closet to be or even to appear.
If you need more interior or exterior design-related tips and tricks, check out the rest of our blog posts .
Recent Posts
You may or may not know, Cocoweb started its roots in lighting. With LED lighting being our specialt …

Picture Perfect:The Art of Lighting Your GalleryWhen entering someone's home, your eyes are immediat …

Do you know that your brain sees even when you don't? The unconscious processing abilities of the h …