The man cave, while it's a completely optional addition to a home, is often quite an important one. Man caves are rooms where the men of a household go to unwind, indulge in sports games, hang out or drink with buddies, and just be "men" for a while. Some men choose to have a man cave in their home simply because they like the idea of having a place to get away to and have fun. Other men, however, enjoy having a man cave because it means peace and quiet away from the women and children of the household while they spend time alone or catch up with close friends.
Regardless, a man cave is sometimes an essential in the eyes of many no matter the purpose of the room, how big or small it is, or where it is located. Some are suitable with a tiny spare room featuring nothing more than a sectional and a big television while others want the ultimate, over-the-top, Instagram-worthy man cave.
If you're thinking about having a man cave in your home of some sort, looking at some pre-existing man caves will certainly help you formulate some design ideas. For that reason, we've selected five man caves to show you, and quite honestly, you might be a little jealous of these designs and the men who get to enjoy them!
1 - A Little Country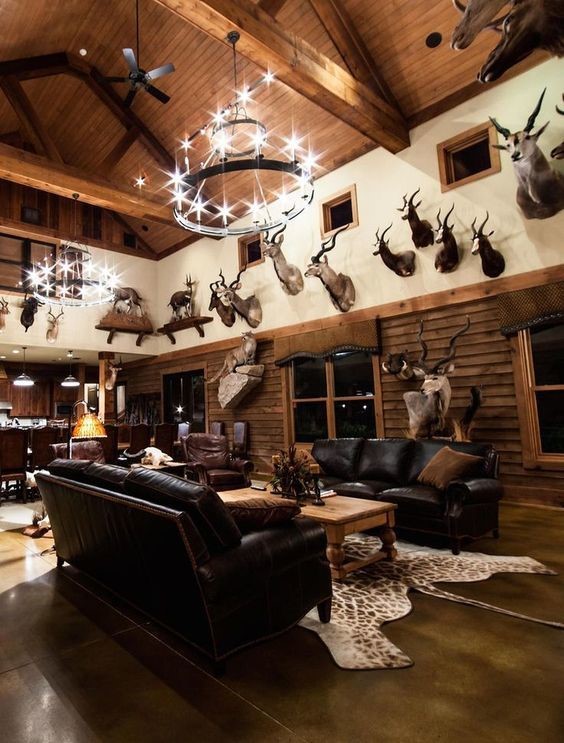 For the men who like all things redneck and country, a man cave like this one would be a dream come true. Exposed beams, wood paneling, mounted animal heads, roadkill that has been preserved and stuffed, animal skin rugs, leather seating, and rustic chandeliers are all nice touches in a country man cave. Can't argue with that!
The best part about opting for a country-styled man cave is that there's no need for perfection. A distressed wooden coffee table and bare concrete flooring are very much suitable for an interior design of this style; no need for fancy tiled floor or an elegant glass coffee table.
The older style presented in this featured man cave may bore some folks. However, for other folks, that means they have the potential to save cash shopping at their favorite antique shops, flea markets, or even yard sales as they search for older items suitable for this design style.
2 - Elegant Modern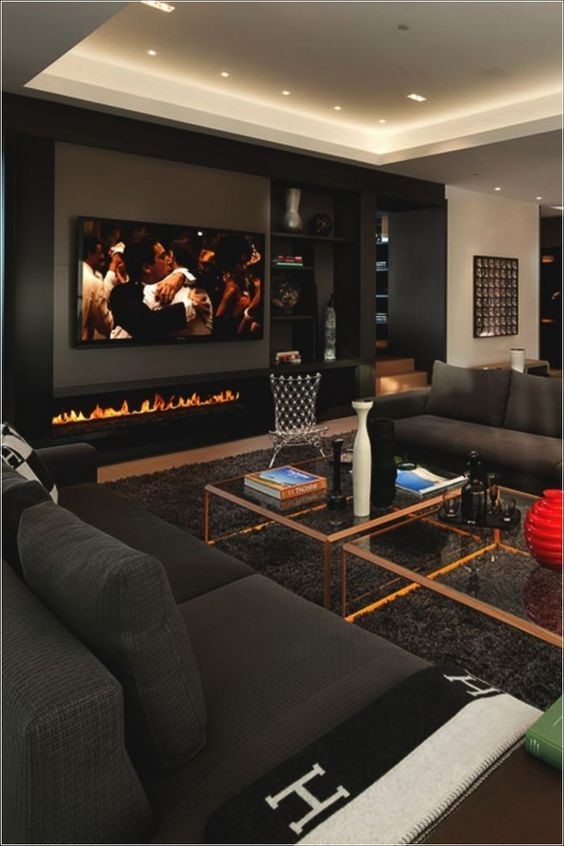 Not all of us like a rustic, older style of interior design. For some folks, something fresh, trendy, and modern is the way to go. If this description fits you, maybe you're drooling over this featured man cave. Lots of lines and sharp corners are present in this interior design. With lower, thinner furniture and minimal décor, you too can achieve a design similar to this one.
Some examples of specific aspects one should feature in a modern man cave include furniture featuring basic geometric shapes, neutral hues and minimal use of color, metallic décor, lack of clutter, and minimalistic lighting.
A modern man cave is especially suitable for those who prefer classy and fancy over casual and playful. Modern man caves are excellent for inviting the guys over to watch thriller or action films as you indulge in a nice dinner or just catch up and talk about life over a glass of wine. Just because things are kept clean and formal doesn't mean it can't be a suitable man cave.
3 - Gaming Nook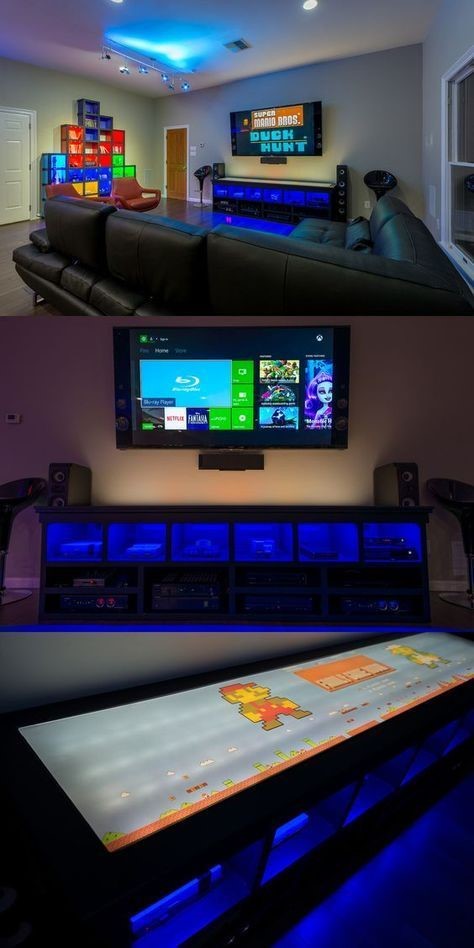 Man caves aren't just limited to watching television and striking up a conversation with good friends. This man cave brings to light one of the most treasured male activities: playing video games. No matter their age, most men would agree that video games are an excellent form of entertainment, and not to mention, are a great way to temporarily escape the stresses life has to offer.
Essentials for gaming man caves are not just limited to gaming consoles, a wide flat screen television, and a surround sound system. One should also include plenty of comfortable seating (a must for hours of long gaming sessions), colorful accent lighting, blackout shades for windows (if you have windows present in your man cave), and décor inspired by your favorite video games from Call of Duty to Super Mario. As a bonus, add a mini fridge to keep fun snacks and beverages cool, so you can engage in long hours of video game-playing with your buddies, or heck, even your children.
4 - Everything Sports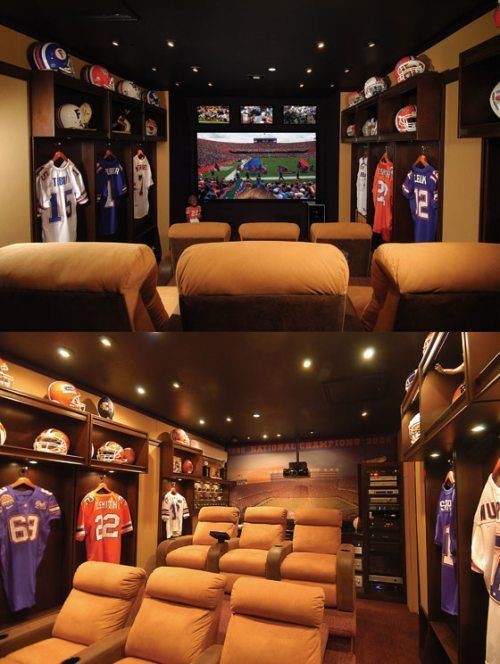 Sports lovers will want nothing more than their man cove flaunting comfortable seating, a large television, and sports-themed décor. This theater-styled man cave makes for a great setup for long hours of watching sports with family or friends while consuming cold beer, wings, or perhaps a simple bowl or potato chips or popcorn – you know, all the typical man cave fixings.
Dimmable theater lighting, framed sports trading cards, hung sports jerseys and helmets, and accent colors of your favorite sports team(s) are all great to include in a sports-themed man cave. Autographs from your favorite athletes, sports equipment, sports-themed art or photographs, or trophies or awards you earned from playing sports yourself are also great to include in a such a space. And best of all for the rest of your household, on family fun night, your sports man cave can certainly double up as a home movie theater for everyone to enjoy.
5 - Home Bar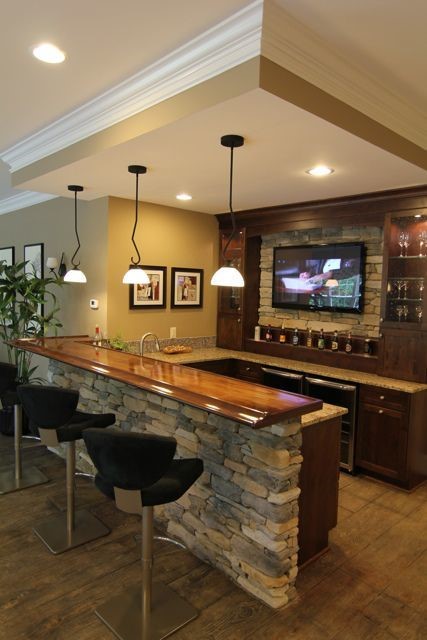 Not all sports lovers are the "kick back and relax with a can of beer" type of folks. If you happen to be a little more energetic in how you enjoy your sports or movies, perhaps a bar-styled man cave would be more fitting. Of course, you can't have a bar-styled man cave without a nice bar countertop, pendant lighting, a flat screen television, bar stool seating, and the ingredients for your favorite alcoholic beverages.
Apart from the latter, consider adding fun accent lighting, a fridge with quick bites to eat, and a stove top or oven to whip up some of your favorite bites to eat for you and your friends. Nothing says a sports bar man cave like fried pickles, marinated olives, sloppy joes, or meaty quesadillas! With these extra, there's no doubt that your man cave will be complete.
Conclusion
For many, the man cave is a critical room in the home with multiple purposes from watching the game, to playing pool, to merely hanging out with good friends. Although not every homeowner will have the space or money to create a stylish man cave, the latter designs will help you brainstorm ways to make your man cave rock if and when you decide to add one to you home.
In reality, man caves are incredibly diverse. They can come in the form of a quiet home office, child-friendly game room, or even a second living room. Regardless of the purpose of your future man cave, there is really no specific color scheme, style, or general design you should be opting for. With a man cave, letting your imagination run wild is always the best approach. As they say, "If you can think it, do it!"
If you need more interior or exterior design-related tips and tricks, check out the rest of our blog posts.
Recent Posts
There's something magical about feasting al fresco under the stars. A romantic dinner on the pati …

Throughout history, before the advent of electric piano lights, pianists would practice and perform …

Outdoor illumination keeps homes and businesses visible at night, while helping to dissuade crime …