Many homes feature home offices, whether or not one of the family members works from home. Having a home office, apart from working, can be a great place for browsing the Web in peace, working on personal projects, reading, or studying. Some might even use their home office space for organizing documents or storing important belongings.
However, most people's home offices are kept fairly simple, typically only offering a desk, chair, computer, and maybe a book shelf. Anything extra added to the home office is typically for decorative purposes rather than for the intent to provide function and boost productivity.
But if you want to have a home office that ensures you can be the most productive as possible, you're going to want more than just the office "basics." Let's talk about some unique things you'll want to add to your home office to boost your productivity, clarity, and even your health and happiness.
1 - A small refrigerator
While surely the kitchen won't be far from one's home office, it makes sense to have a small refrigerator within the office. When spending time on the Internet, people tend to lose track of time quickly, despite the fact that a digital clock is typically located at the bottom right corner of most people's screens. Especially for those who work from home who don't have a boss to tell them when to take a lunch break, having a fridge in a home office is a constant reminder that even when one is busy, eating and staying hydrated are always going to be the most important.
Food and beverages are crucial not just for our overall health and life span but also for our memory, creativity, and general thought process. We've all witnessed our brains running slower after skipping a meal. Get a small refrigerator for your home office, and stock it with healthy snacks and water bottles. Encourage self-care.
Apart from function, mini refrigerators can be attractive and cute in an office. Some fridges might have a fun color like purple or blue. Just make sure to also provide napkins, plasticware, and a trash can if you decide to have food in your home office.
2 - A relaxing nook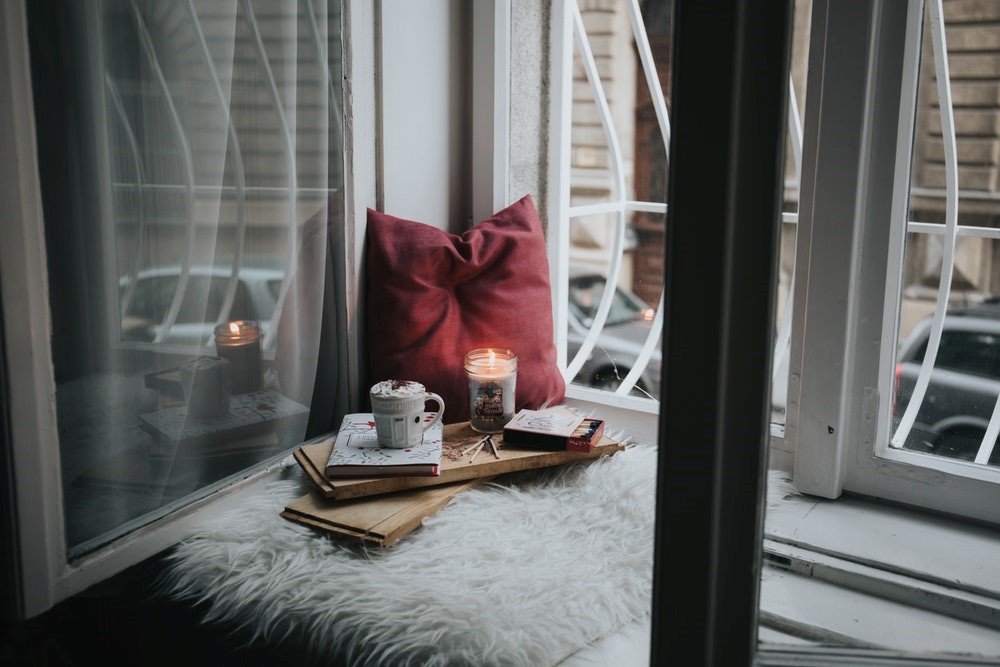 Everyone has their own idea of what is relaxing and what helps them distract from stress. Regardless of what it may be, having a nook or little area within your home office that can provide you the proper relaxation or destress you need to continue working in your office is important for your productivity and emotional and mental wellbeing. This is especially true for those who spend several hours at a time in their office and rarely find the time to unwind and properly reduce their stress level.
A relaxing nook might be having a reading chair in the back of the room with a bookshelf. For others, it might be a small area with exercise equipment. Others might instead like having a small seating area with a coffee maker – somewhere where they can enjoy a cup of joe while reading the newspaper or a magazine as they unwind during a stressful project, assignment, or study session. Your relaxing nook can be something that calms you or can contain things that help keep you entertained or mentally sharp.
When it comes to designing your relaxing nook, make sure to use relaxing colors (e.g., blue, green), incorporate soft textures, and perhaps provide belongings or décor that is personal to you that can help you feel at home. Try to keep this space separate from your work. In other words, only turn to your relaxing nook if you are not working, brainstorming, studying, or the like. Go there to be yourself and refresh.
3 - Plants
While many offices include plants, not all do. Having plants in a home office can not only provide beauty for a space and help bring the outdoors in, they can also provide the relaxation one needs to get through a long, stressful work day or task.
In fact, not just the appearance of plants can bring peace of mind and thus better health for us in the long-run due to their ability to help us shed unnecessary stress, some plants are also known for helping to purify the air. And for those who absolutely love plants, the idea of having plants in their home office – or any space for that matter – is something that can be exciting for a homeowner.
If you don't have a green thumb or lack adequate lighting in your home office, you can always opt for fake plants. They can have similar benefits to actual plants. For best results, place several plants of different sizes in fun pots on your desk itself and throughout other places in the room.
4 - A sound system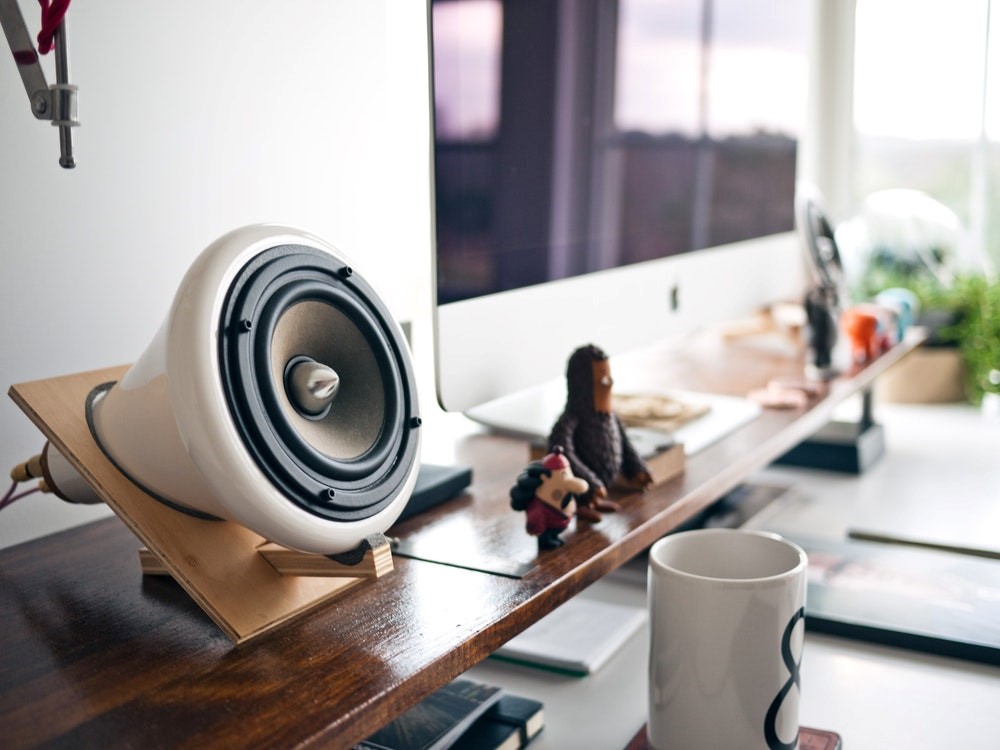 Some people hate distractions while they are working. Others need distractions in order to properly work. Then there are times where one needs to have a distraction to eliminate another distraction as they work. One distraction that may work may be listening to music or the radio. With a sound system in your home office, you can have the distraction you need to keep you focused and/or to eliminate other distracting noises whether it be people talking, sounds of traffic, or loud pets.
Apart from listening to the music or the radio, a sound system in your office can benefit you when you are going through a mentally or emotionally difficult time as you can broadcast the audio of self-help videos, guided meditation or mindfulness exercises, or religious book readings. And of course, a good sound system can also come in handy when it comes to your work or school directly (e.g., playing audiobooks or the audio of inspirational speakers that can help boost your motivation while working).
You can choose to install a surround sound system or just have a pair of attractive speakers right on your desk.
5 - An essential oil diffuser
Those who are high-strung and/or easily distracted when working in an office, having an essential oil diffuser in the home office can provide a plethora of benefits via aromatherapy. For some, aromatherapy is stimulating if they tend to get under-stimulated frequently. Certain essential oil scents may help bring back good memories or evoke positive emotions for some people, helping to improve their work.
Different essential oils can have different benefits. For example, lavender essential oil is relaxing, may alleviate headaches, and can help one to relax their tense muscles. Orange essential oil is refreshing and can provide happiness. As for cinnamon essential oil, this can boost brain function, improve blood circulation, and provide both emotional and spiritual benefits.
Essential oils can be used in a diffuser (most recommended for an office space), can be rubbed onto the skin directly with a carrier oil, or can even be sprayed into the air. Make sure to do your research on different essential oils and their uses. The great thing about using essential oils in a home office setting is that you won't have to worry about bothering others with your scents, that is, unless others use your home office as well. Diffusers can be placed on your desk or on a side table somewhere in the room. Many are quite aesthetic for the space.
Conclusion
Everyone's home office space is going to be unique. Some may have a fully-equipped home office while others may have a basic home office embedded into another room in their home. Regardless, home offices should allow one to flourish mentally, emotionally, and physically no matter what they're doing – working, studying, or working on a project or task.
Adding a mini refrigerator, a little nook for relaxing, plants, a sound system, and an essential oil diffuser are all great things your home office may need to ensure you can be the best employee, student, or whatever your role in the office may be. Going the extra mile to ensure your home office space is relaxing and attentive to your personal needs is key to designing the perfect office.
If you need more interior or exterior design-related tips and tricks, check out the rest of our blog posts.
Recent Posts
If you are a person who has artwork displayed on the wall in your home, you likely chose them bec …

Findings from the Pew Research Center show that 71% of employed adults are working from home a …

Modern farmhouse decor is becoming widely popular across the world and is loved for its versatili …