"Chalk paint" may sound like a generic term, the decorative paint was actually trademarked by Annie Sloan in 1990. Nevertheless, the chalky finish chalk paint provides is ideal in a handful of ways in the home setting. However, the most common reason one might want to use chalk paint in an interior design is to make furniture look old, weathered, and vintage.
Chalk paint is particularly loved by those who favor a rustic farmhouse style of interior design as the paint is easy to distress. Applying the paint is easy. In fact, there is no need for sanding or priming before apply chalk paint to the surface of your choice. Speaking of surfaces, chalk paint can be applied to just about any material from wood to fabric.
If you're wanting to use chalk paint somewhere in your interior design, you'll be glad to know that there are many ways this can be executed:
1 - Distressed Mason Jars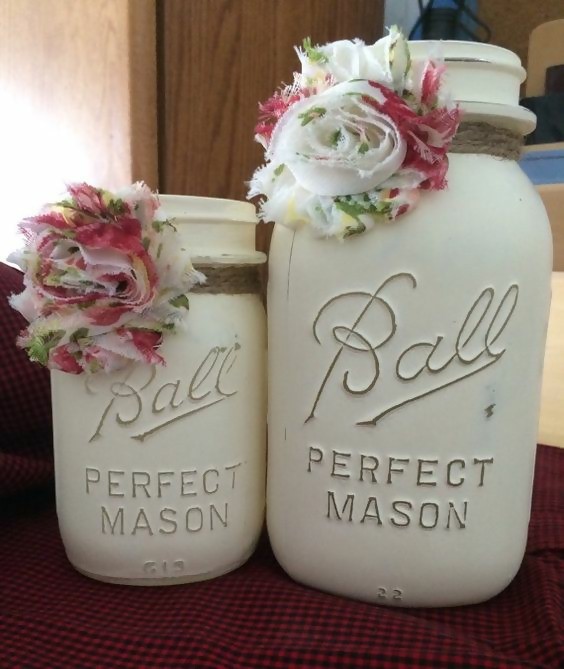 If you're hoping to engage in a quick, simple interior design project, chalk painting mason jars is a great idea. You may just paint a set of mason jars, let them dry, and then incorporate them into your design. Or you might go the extra mile and add twine, burlap, or fake flowers to the outside of your chalk-painted jars. You might also add a faux flower bouquet, decorative interior design light sticks, or sprigs of fake branches to your completed mason jars to step them up even more.
When adding chalk-painted mason jars to your interior design, we recommend adding them in various sizes if you decide to display multiple jars. If you decide to add more than two jars to your design, we suggest displaying your jars in odd numbers in a triangular arrangement. If you prefer them in a linear arrangement, however, you can do so if you decide to add your jars to an elongated, narrow, straight surface like a fireplace mantel, shelf, or an old wooden crate.
2 - Rustic Chairs

When first learning about chalk paint, most don't automatically assume that it can be used on fabric – but it can! In fact, a chalk-painted chair can look simply stunning, even in modern interior designs. When it comes to chalk painting chairs, some just paint the cushion part of the chair; others just paint the bones of the chair. However, you may choose to chalk paint the entire chair in every corner and crevice.
When it comes to chalk painting fabric of your chair, either dampen the fabric of your chair directly with a spray bottle, or dip your paint brush in water prior to dipping it in the chalk paint of your choice, and thus, onto the fabric. Some suggest applying two to three layers of chalk paint to chair cushions. Although, others claim that just one layer was plenty enough. As for painting the bones of your chair, some suggest sanding prior to painting, but others state that sanding is completely optional.
Regardless of what color chalk paint you opt for and what sections you plan to paint on your chair, it's important that you use tape to protect that areas that you don't want to paint/want to paint a different color, just as you would if you were painting a wall.
3 - White-Washed Flooring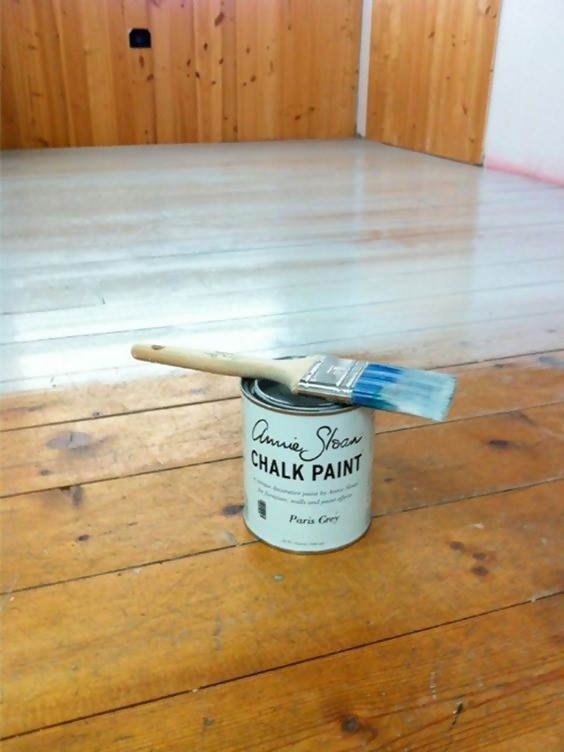 Although you can certainly find ready-made rustic wooden, laminate, and vinyl flooring in stores to add to your farmhouse- or vintage-styled home, a quicker, more convenient, money-savvy way to give your current hard-surface flooring a vintage facelift is to apply chalk paint, especially in white or another lighter color.
If you plan on applying chalk paint to older, wooden floors, the rustic charm will shine through even more. However, chalk paint can certainly be added to newer floorboards as well. If you want a sheer chalk paint finish, apply one thin layer of chalk paint to your floorboards. However, if you like a more solid appearance, adding another layer or two or paint can help you achieve what you're looking for.
Chalk paint can also be applied to tile and concrete, giving it a nice, matte finish. If you're wanting your floors to feature a little design, we recommend using stencils to add flawless, intricate patterns to your floors as you paint them.
4 - Ombre Walls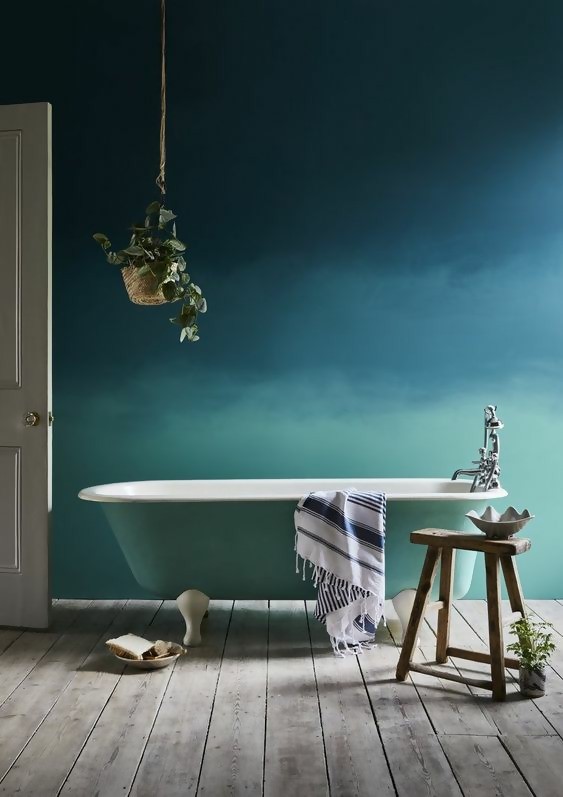 Everyone knows that paint goes on walls. In fact, we've been painting our walls for decades. But guess what? Chalk paint is a great alternative to your traditional wall paint! Those wanting a vintage, matte finish will love what a chalk-painted wall can bring aesthetically. Applying chalk paint with a sponge, you can receive a nice texture on your walls. Or if you're wanting to amp things up a little, you can even ombre your walls with chalk paint like in the featured image above.
Ombreing your walls with chalk paint is easy. According to Heart Home Magazine, "Start with your lightest colour to darken it. Apply the paler colour above your first colour, then use a clean brush to lightly feather the paint while it's still wet, blending each other into the next. Repeat steps two and three until you reach your darkest colour at the top of the wall then seal with wax."
5 - Vintage Tub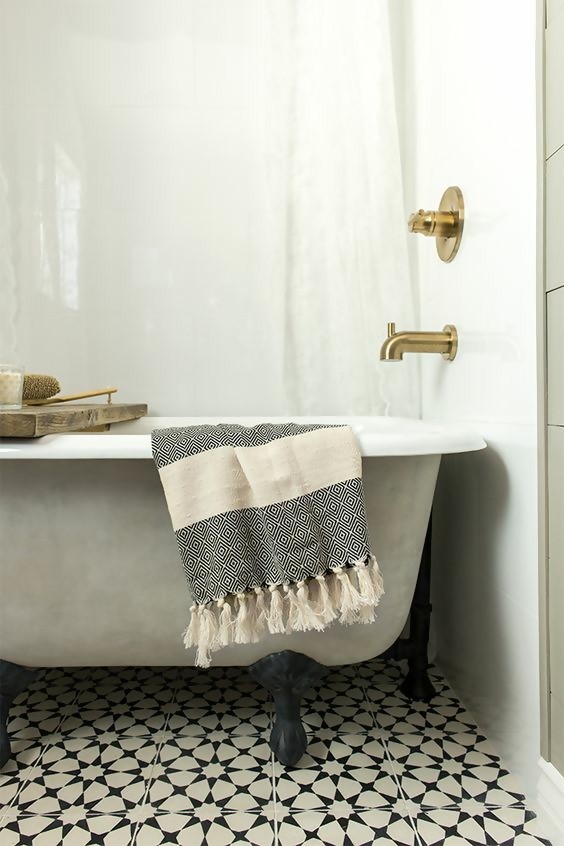 If you love that vintage tub look, you'll be exhilarated when you find out that chalk paint can be used on bathtubs! If you have a clawfoot tub that you wish to chalk-ify, all the better. With a gorgeous, vintage finish, your bathtub will surely be the center of attention in the bathroom, just as it should. With a quick coat of water-based primer like the designer used on the featured tub above along with an application of lime and chalk paint, turning your modern tub into an old-fashioned piece is easy.
You may apply the chalk paint and lime with a brush, or if you aren't fond of the brush-stroked look, applying the ingredients with a microfiber cloth will give you a similar look to the tub featured above. For added protection, we suggest adding a coat of lime wax as a finishing touch. Consider installing classic white wall tiles and brass or gold fixtures to your bathroom to complement your weathered tub, and for a bit of contrast, perhaps paint your tub's clawfeet (if applicable) a darker hue.
Conclusion
Chalk paint has been around for nearly three decades. However, it wasn't until quite recently that it's become a hit in interior design, particularly in farmhouse-styled home settings. From the ease of application to the antique finish it provides after the work is done, many would agree that chalk paint is a genius addition to many interior designs.
In fact, there are many ways chalk paint can be used in an interior design: to create distressed mason jars, rustic chairs, layer-painted cabinetry, white-washed flooring, ombre walls, or even a vintage tub. If you're all about old-fashioned interior design and engaging in DIY projects, using chalk paint in your very own home might be the best thing you do!
If you need more interior or exterior design-related tips and tricks, check out the rest of our blog posts.
Recent Posts
Summertime is going strong and the heat is most certainly upon us. With triple-digit temperatures, k …

You may or may not know, Cocoweb started its roots in lighting. With LED lighting being our specialt …

Picture Perfect:The Art of Lighting Your GalleryWhen entering someone's home, your eyes are immediat …