Have you ever heard of flooring being referred to as a sixth wall? While you may disagree with that terminology, in a way, this makes sense. But instead of just seeing your flooring as any other wall in the room, it's important that you let it stand out as it should be allowed to, to properly differentiate it from the rest of the walls in your interior design.
In order for us to do the latter, what we often do is install dark hardwood or laminate flooring, colorful tile, or fluffy carpet in our rooms. However, one of the interior design trends that's gaining momentum right now is painted floors – no, not stained floors, painted floors.
Unlike stains, paint does not completely penetrate your flooring and acts more like an added layer than as a protector for your floor. The main reason for painting your tile, hardwood, or laminate flooring all comes down to aesthetics. With a can of paint or few, you can dramatically turn boring flooring into a colorful, geometric, matte or sheen, or even detailed masterpiece.
Take note of the following painted floor designs for inspiration:
1 - Glossy Green Chevron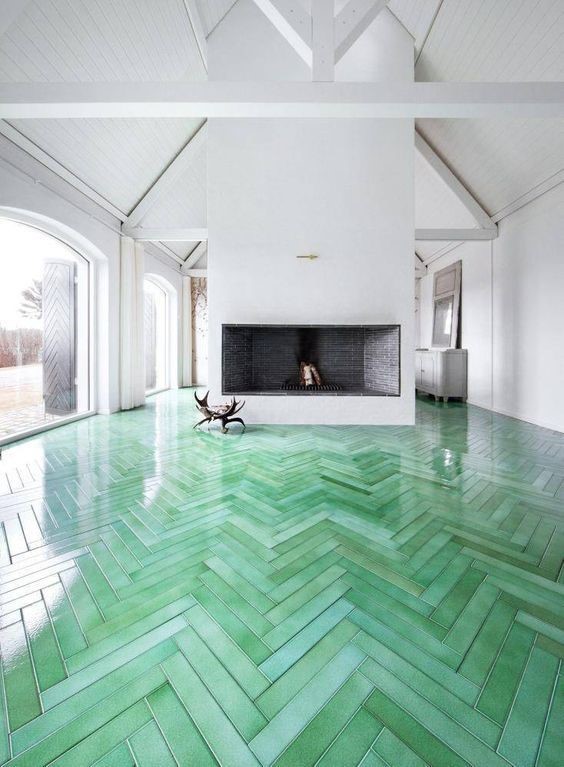 Painted floors aren't just for traditional or contemporary designs; they also look stunning in modern homes. In this particular design, the paint of the flooring adds both sheen and color to a rather dull space. To the eye, the paint of the floor essentially has a watercolor-like finish to add a touch of variation.
While green may not be most people's first color to paint their floors, what it adds is peaceful and serenity to a design as it mimics one of Earth's calmest colors. Green also pairs beautifully with some of our favorite neutrals to add to an interior design: brown and beige.
To top it off, while most people do not have wood or laminate laid out in a chevron pattern, it certainly adds angle, movement, and shape to a space like this one that lacks such.
2 - Stenciled Tile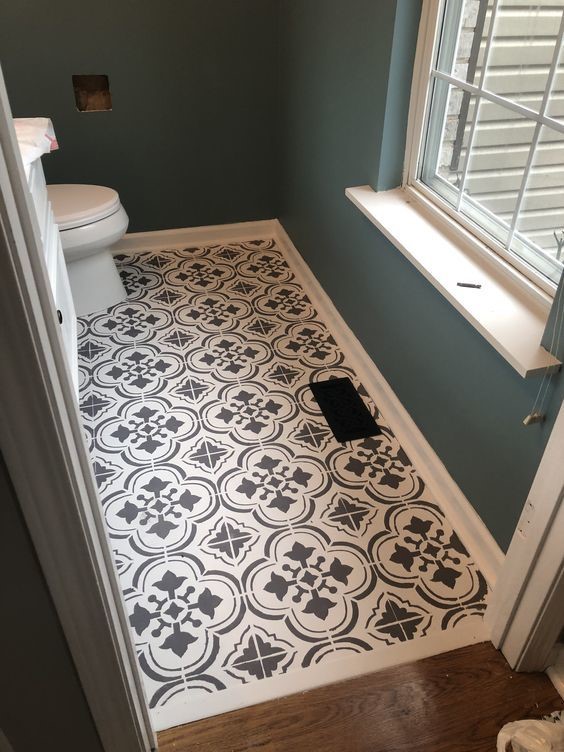 If you have tile you find absolutely boring, you might be intrigued by the stenciled tile trend. With a special tile stencil and paint, you can stencil your own flooring. It might seem tedious, but the best part of engaging in stenciling is, of course, the results! Stenciled flooring can bring beautiful detail to a plain space.
We recommend stenciling flooring in a smaller area like a bathroom or in an entry way to speed up the project. Instead of stenciling the entire surface of your flooring, you might instead only stencil every other tile, the perimeter of your flooring, or even just a strip.
To tone down the contrast of your stenciling on your flooring, you might select a paint color other than black or dark gray. Or you may even liven it up more with a vivid paint color like lime or cherry red.
3 - Distressed Rustic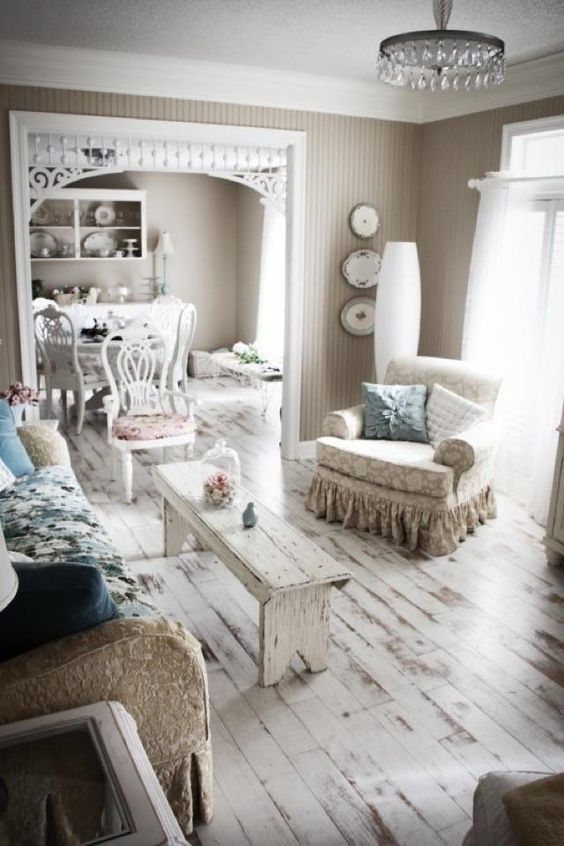 Painted floors don't have to be neat and sweet. And, you can add beautiful detail to your interior design without making things intricate. With rustic painted flooring like the pictured interior design above, it won't take much time, energy, or perfectionism to finish your flooring with a coat or two of paint.
There are two main ways you can achieve a distressed style of flooring with paint. The first way is to paint the entire flooring a solid color of your choice, wait for it to dry, and then go back in with a sanding block or sanding machine to sand away some of the paint. Or, you may create the distressed look by altering the ratio of paint on your paintbrush and manipulating the pressure and strokes of your paintbrush as you're painting. Via the last method, you would apply little paint to your brush and apply soft, fast strokes while other areas would receive harder strokes.
4 - Front and Center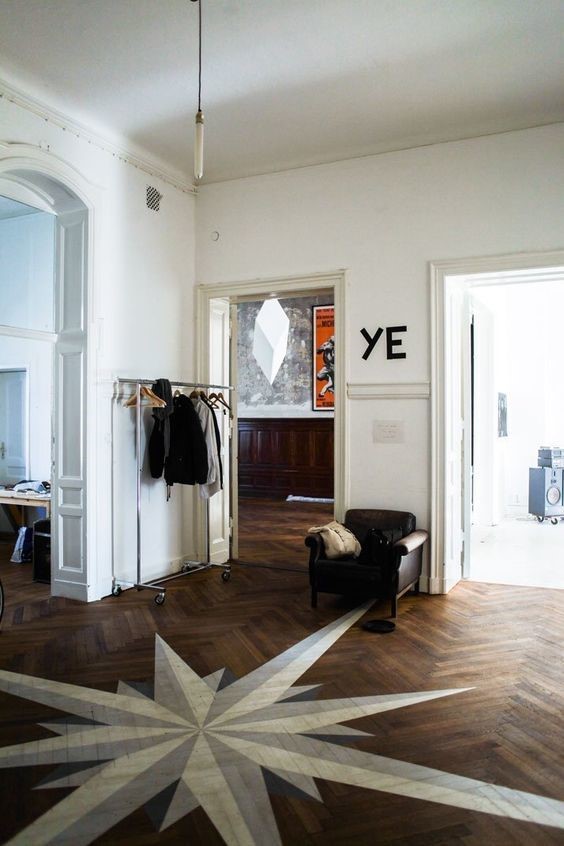 This next painted floor idea is excellent for those who have a spacious room that needs a little pizazz. With a large floor stencil or with the help of tape, you can create a fun design in the center of your flooring. A painted design on this doesn't take as long, or as much resources, as painting the entire surface area of your design.
The great thing about painting a large design on your flooring is that you can psychologically fill up space. Additionally, you can attract the eyes not just to the four walls and the ceiling of your design but also to the floor. Likewise, a design like this can essentially replace a large rug, only that this alternative lines up perfectly with your flooring, doesn't require vacuuming, is completely customizable with the pattern(s) and color(s) you choose, and is pet-friendly.
5 - Geometric wood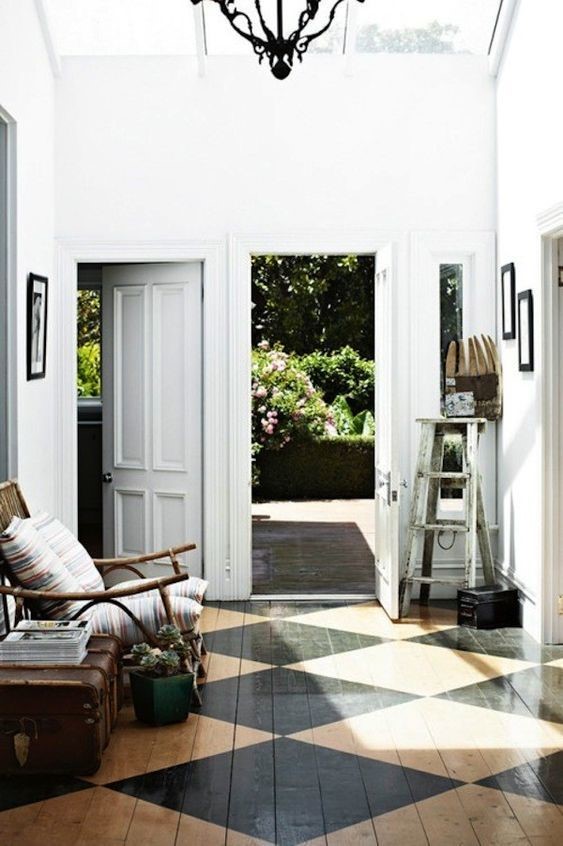 We showed you designs with floors featuring solid paint. We also introduced you to flooring with painted with detailed designs. But how about a simple geometric pattern painted onto your flooring like the one pictured above? In the featured design, the painted diamonds give the wood flooring a fun, tile-like appearance, making this one great alternative for those who like tile but don't like how cold, slippery, and hard most tile tends to be.
In the featured design in particular, take note of how the contrast between the wood and the paint add darkness to an otherwise brightly-illuminated space to create balance. Additionally, the choice of shape on the flooring gives this interior design significant shape and variation that the space lacks – all thanks to just paint, a paint brush, and a stencil or tape.
6 - Marble Epoxy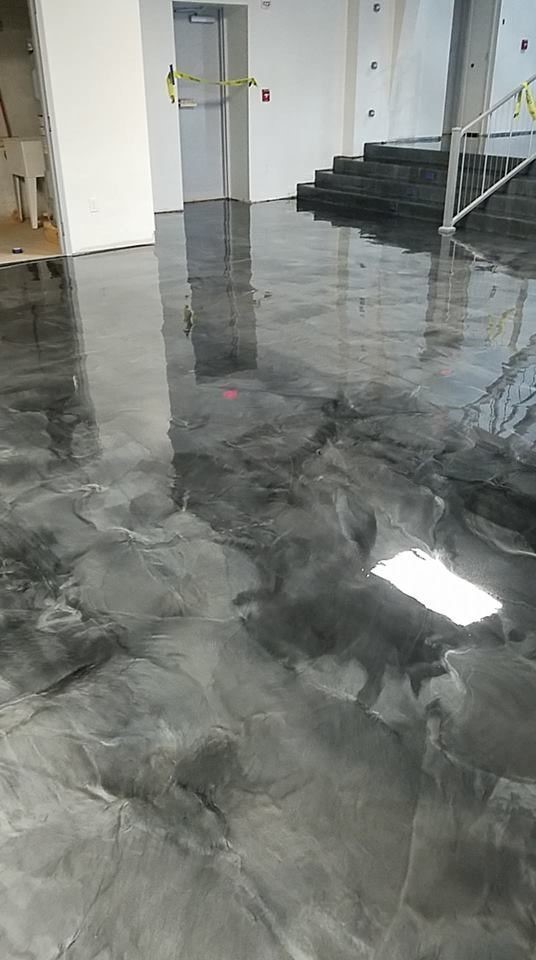 Are you a fan of marble flooring but can't afford it or don't want to go through the trouble and inconvenience of having your preexisting flooring ripped out to have marble flooring installed instead? With different colors of epoxy paint, your flooring can look quite similar to the flooring pictured above!
Marbling concrete flooring with epoxy paint is incredibly simple, although it may seem complex. Pour each epoxy color you're opting for into separate cups. Then, pour streaks from each cup onto your floor one section at a time. With a roller on a pole, spread around the spilt paint until 1) it begins to look marbleized, and 2) the epoxy paint is spread to blank areas of the flooring and not puddled all in one place.
All in all, marbling your floor with epoxy can give your interior design an effortless polish, adding beautiful, sophisticated reflection to your space. Some use epoxy in their garage to give it a nice finish, but nevertheless, epoxy is stunning for interior designs as well.
Conclusion
Not everyone will enjoy painted flooring, but after seeing the latter six designs, it's difficult to resist joining in on the interior design trend. The best part is, you don't have to paint your entire flooring to get the full effect of this unique trend; even just painting a design or two here and there can add big value to your bland design.
When deciding on the right amount of paint and the ideal color(s) to utilize for your own flooring, consider the current colors present in your space and what your space might need more of – shine, matteness, color, contrast, shape, etcetera. Just with one coat of paint on your flooring, you can achieve exactly what your interior design might be lacking to ensure your design is as finished as it possibly can be.
If you need more interior or exterior design-related tips and tricks, check out the rest of our blog posts.
Recent Posts
Summertime is going strong and the heat is most certainly upon us. With triple-digit temperatures, k …

You may or may not know, Cocoweb started its roots in lighting. With LED lighting being our specialt …

Picture Perfect:The Art of Lighting Your GalleryWhen entering someone's home, your eyes are immediat …