One of the best ways to take your outdoor space to the next level – and raise the value of your home – is to have a deck installed. While many homeowners are already lucky enough to have a beautiful deck overlooking a picturesque view, many find that their deck isn't quite finished just yet. Other homeowners without decks may be long dreaming of the days where they enjoy a cup of coffee or glass of wine with good friends on their non-existent deck.
If you're looking to have a deck installed off your home, or fix up your current deck to make it more creative, the best way to get inspiration is to look at pre-existing deck designs. In the following designs, you'll notice that each deck is not only exceptionally beautiful and functional, but they also feature a built-in bonus that set them apparent from the average deck.
1 - Built-In Lap Pool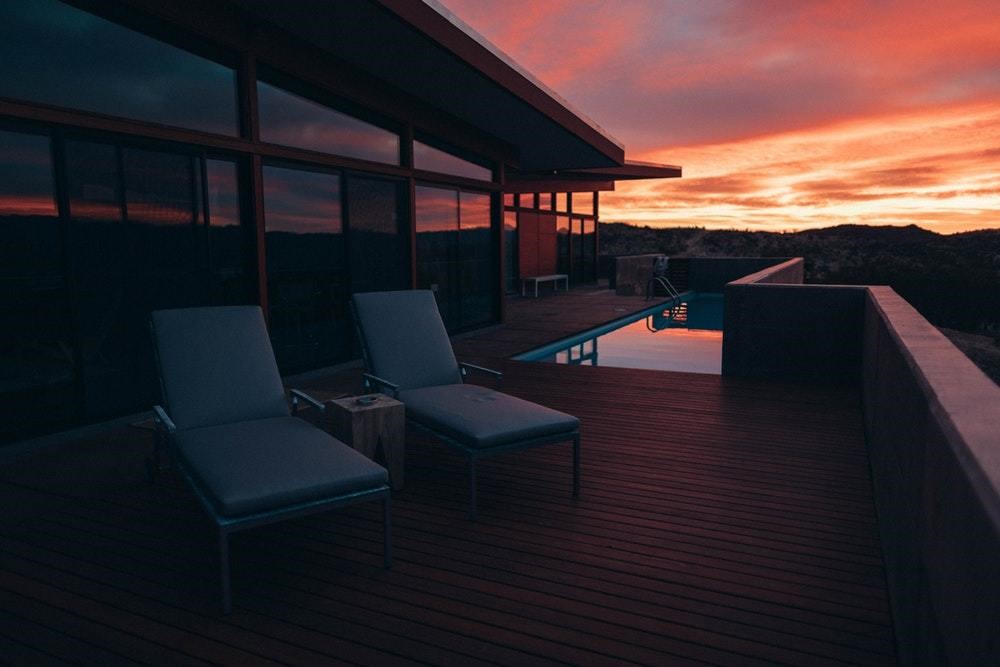 While most homeowners don't wish to have a swimming pool according to surveys – likely due to the maintenance pools require – others enjoy having a pool whether it be to cool off during the heat of the summer, to host swim parties, or even to have another way to keep in shape. Many also admire that pools are relaxing for aching muscles and joints.
If you're hoping to opt for a pool, but your yard isn't quite larger enough, no problem! In this featured deck design, you'll notice that there is a small, built-in lap pool which can surely come in handy during the warmer months. It's conveniently off to the side to ensure there is still plenty of deck space to lounge around or even enjoy a meal with family and friends.
If you're not a big pool person, you may instead wish to have a built-in jacuzzi installed on your deck. Hot tubs fortunately don't have to take up that much space. Yet, a small hot tub can significantly change how you utilize your deck space, allowing you and your loved ones to enjoy the great outdoors even in the midst of winter.
2 - Permanent Wrap-Around Benches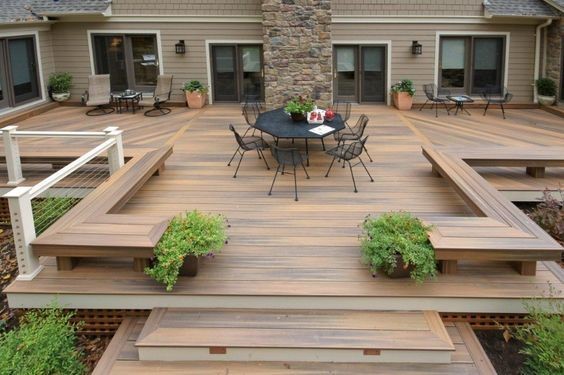 If you're wanting a fairly modern deck, this design might be great to gain inspiration from. From the multi-toned wood used on the deck to the sleek use of lines, simplicity, cleanliness, and contemporary touches are certainly present. Generally, the large amount of deck space in this featured design makes it phenomenal for having a large number of family and friends over at the same time.
As you can see, the built-in feature on this deck are the wrap-around benches. That said, there is more than enough seating for loved ones. With the benches off to the side, there is still a large amount of space to work with. The additional of the built-in stairs allows guests quick access to the rest of the yard.
If you want to achieve something similar to this deck design, another built-in feature you might be interested in adding is an indoor-outdoor fireplace. In this design, you notice that there is in fact an indoor fireplace, but it doesn't feature a door to the outside to allow users to utilize it from the deck. However, many homeowners find that an indoor-outdoor fireplace comes in handy in the winter months, especially when roasting marshmallows.
3 - Wooden Bench-Planter Duo
Even small decks can still be fully-functional for a larger group of people, like in this featured design. If you're all about built-ins, you'll love that this deck design features plenty of built-in bench space that double up as planters. What's especially clever about this deck design is that while the backyard is small and narrow, the built-ins ensure there is still a favorable amount of seating and space for nature to thrive.
If you want to do something similar on your own deck but want even more function, consider having the seat parts of your built-in benches open up to storage space. Consider storing garden supplies or extra outdoor throw pillows, for instance. Additionally, you might wish to add cushions to your built-in deck benches to give them a cozier, more comfortable factor.
4 - Enclosed Deck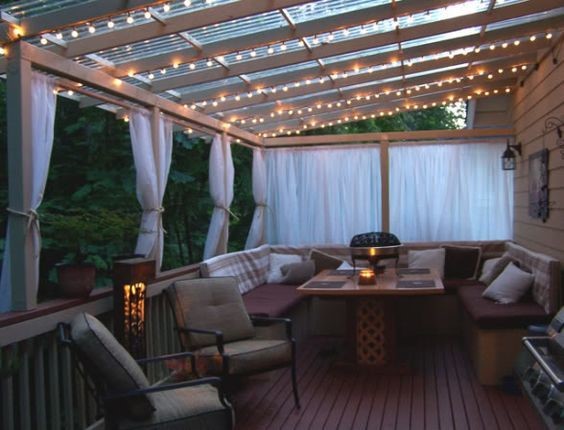 It's completely normal to want your home to have a deck, even if you aren't too fond of spending time outdoors. In that case, you might be interested in having a covered deck space like in this featured design. A roofed-in deck is especially appreciated for those who live in an area that tends to get pretty cold, windy, or very sunny a decent chunk of the year.
However, with slats at the top of the roof and curtains that open up on the "walls" of the deck in this featured design, you can still get plenty of sunshine and brisk breezes flowing through your deck space. Thus, you essentially get the best of both worlds when it comes to indoor and outdoor living.
Notice how the homeowner of this featured deck design took advantage of the fact that there is a roof over their deck and decided to install beautiful string lighting from the ceiling to add a touch of extra illumination. This may be something that you want to do to allow you and your guests to enjoy deck living at any hour of the day, no matter how dark it may be outside.
5 - Deck Pergola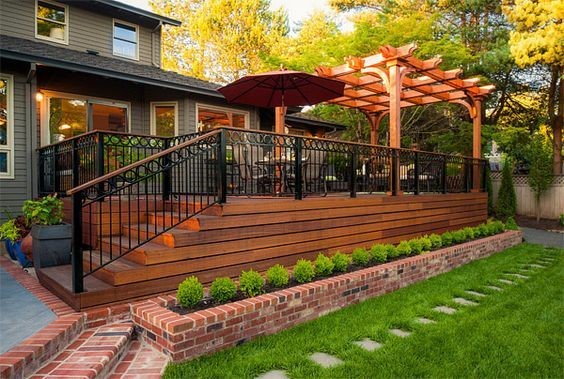 For those who like the idea of an enclosed deck design like the last we've looked at but still want an open deck feel, this next design may be the most relevant option as it features a built-in pergola off to the corner. Yet, if you take the umbrella away, a great chunk of the deck is completely uncovered unlike the latter deck design.
With the latter said, imagine all you could do on this deck: bask in the direct sun, sit in the shade during the hottest parts of the day, stay dry when it's pouring rain, or even eat breakfast in filtered light. In turn, a deck design like this might be most applicable for those who live in regions that get a wide variation of weather and temperatures.
Apart from the built-in pergola, there are also built-in stairs leading to the lush-green backyard with exquisite, wrap-around rails. You'll notice that there is a gate at the top of the staircase, allowing homeowners to limit their young children or pets to the deck itself. A simple feature like this can add a great deal of safety to a deck.
6 - Built-In Deck Planters And Storage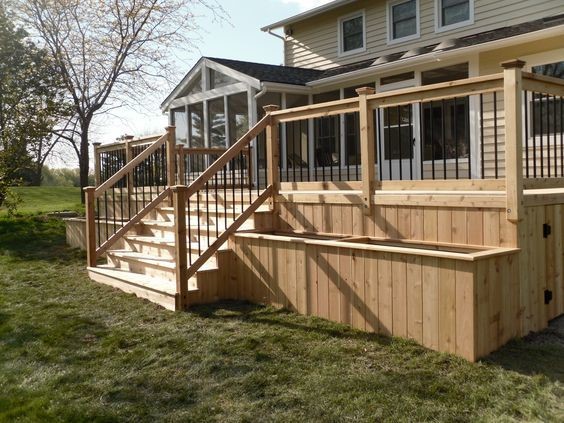 Sometimes, the more built-in features a deck offers, the better. This last deck design we'll look at is essentially a three-in-one. You've got the deck space itself. Leading off of the stairs, you have built in planter beds. Then if you notice off to the right side, there is a little door that leads to storage space. That said, this creative deck design is genius yet quite possible to achieve.
While not everyone will want built-in storage space or planter boxes attached to their deck, the important thing to note is that even with a smaller deck like this one, you can still find ways to maximize the amount of space and function it offers. When deciding on the perfect design for your own deck, it's important to consider how you can best make use of the space that you do have to ensure your deck is as close to your vision as possible.
Conclusion
Decks are undoubtedly one of the most useful exterior features a homeowner could ask for. In fact, many utilize their deck for an array of purposes from hosting dinner parties, to partaking in a quick session of yoga, to sunbathing. That said, if you're thinking about having a deck installed or wish to amp up your current deck, now is the time to do it.
Taking inspiration from the latter deck designs, it's clear that there are dozens of ways to tackle the deck of your dreams. Whether you want a simple deck design with a built-in bench or want a multi-purpose deck featuring built-in planters and storage, you too can have the dream deck you've always wanted – plus more.
If you need more interior or exterior design-related tips and tricks, check out the rest of our blog posts.
Recent Posts
Summertime is going strong and the heat is most certainly upon us. With triple-digit temperatures, k …

You may or may not know, Cocoweb started its roots in lighting. With LED lighting being our specialt …

Picture Perfect:The Art of Lighting Your GalleryWhen entering someone's home, your eyes are immediat …