Just like with other aspects of interior design, trends come and go for lighting. If anything, lighting is one of the most important aspects of a space besides furniture. Without the right illumination, the function, comfort, and mood of a space would be dramatically altered.
But apart from being practical in a home setting, lighting – both in terms of the fixture itself as well as the illumination it gives off – can provide beauty if it is the proper fit for the design. However, aesthetics don't just come with personal preference and taste; something that is aesthetic can also be determined by how the majority feel about it and whether or not it is trendy or outdated.
Get a head start on 2019 by getting acquainted with this soon-to-be-huge lighting trends:
1 - White marble lamp bases
If you're looking for a particular light trend to help accentuate your interior design, opting for a lamp with a white marble base is one of the things you'll be wanting to do in 2019. Lamps like these are deemed clean, simple, yet sophisticated for a space. Best of all, they can merge well in a handful of interior design styles.
White marble lamp bases offer a nice textural touch without being too loud in a space. Thus, they're perfect for a design that needs just a pinch more texture, just something subtle and neat. Also consider a white marble lamp base if your space needs a boost of elegance and charm.
The variation of white marble lamps out there ranges from semi-casual desk lamps to formal table lamps. Some of these lamps are more detailed that others, offering longer, more sculptured bases. Others have more discrete bases with paler marbling.
2 - Discrete lighting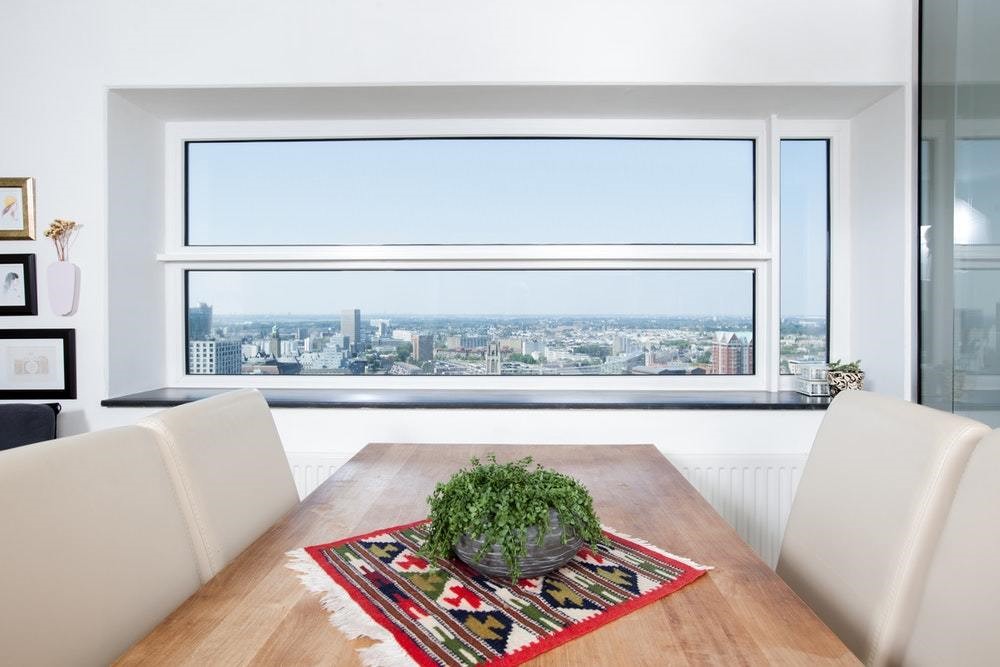 Sometimes the best light fixtures are the ones that you can't see. If the minimalistic design is interesting for you, adding discrete lighting to your home for 2019 will be an excellent decision. Doing so can give your space a cleaner, more open feel – all while still ensuring your space is still properly illuminated.
Discrete lighting can come in many different forms. It may simply mean that the light fixtures you select aren't that visually loud. Selecting fixtures that aren't overly shiny, bright in color, or obnoxious in texture or print would be one way to apply this trend.
However, discrete lighting can also come in the form of installing recessed lighting. These downlights are often leveled exactly or near-exactly to your ceiling. In turn, you get the benefit of lighting without making your ceilings look too busy with hanging lights like chandeliers, pendant lights , and the like.
3 - Fixtures with matte finishes
Many love fixtures that are shiny or reflective. However, in 2019, light fixtures with matte finishes will be all the rage. After all, when it comes to interior design trends, the things that are overdone tend to fizzle out and are often replaced by the things that are minimally incorporated in an interior design.
The great thing about fixtures with matte finishes is that they are not only attractive in many instances but can also tone down a space that has contains a lot of energetic stimuli whether it be sequins or a heavy use of shiny metallics.
4 - Brass light fixtures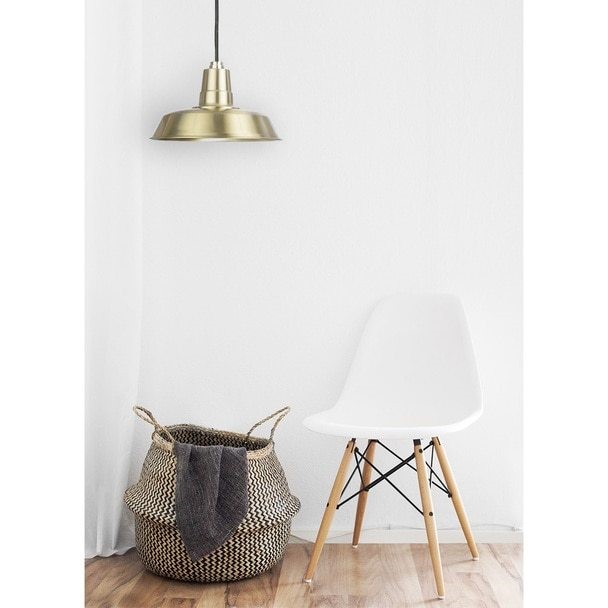 When it comes to picking out the material for light fixtures, some prefer a simple, silvery metallic, or really, any material that is both affordable, attractive, and versatile in a design. But if you want to go just a little more bold in 2019, opting for brass light fixtures would be the thing to do.
Brass, an alloy of zinc and copper, is similar to gold in that it that it is yellow-based, but brass is sometimes browner or even brighter yellow depending on the style of brass you select (e.g., weathered, etc.) and whether it is real or faux.
Some may mind that adding brass to their space can be a bold choice. In fact, many fear adding gold to their design. But brass can offer beautiful color and sheen to a design if you allow it, and with different styles at hand, you can find the perfect brass for your space.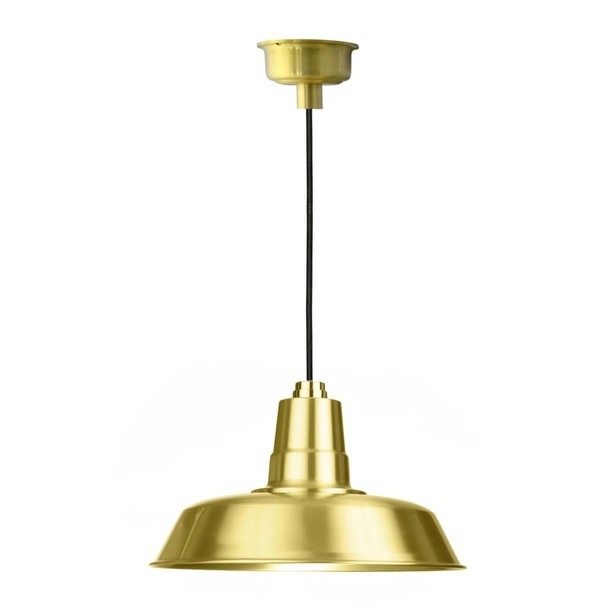 14" Oldage LED Pendant Light in Solid Brass
4 - Natural fiber lamp shades
If you want to make your interior design appear more natural, applying the natural fiber lamp shade trend in your space can do the trick. Natural fiber lamp shades usually range from white to brown but can also come in a variety of colors. Different natural fibers might be used including, but not excluded to, burlap, wicker, cotton, sisal, hemp, bamboo, and more.
Natural fiber lamp shades are beautiful in just about any interior design style but look particularly gorgeous in Bohemian-inspired spaces where botany is a big part of the design. Plus, nature never goes out of style. While having a fixture with a natural fiber lamp shade might no longer be as trendy in the years to come, it certainly won't be appalling.
5 - Drum lights
The thing that many interior designs lack is variation of shape, particularly when it comes to rounded and circular objects. After all, most interior designs feature squares, rectangles, and straight lines and angles. But with the drum light trend for 2019, having a lack of rounded objects in your space shouldn't be an issue.
Drum lights are ceiling light fixtures that have a drum-shaped shade. These shades are usually much wider than they are long, thus making them suitable even for spaces with flatter ceilings. Drum lights are incredibly versatile and come in a variety of sizes, colors, textures, and styles. Whether your home is more traditional, contemporary, or modern, there are relevant drum lights out there just waiting to be added to your space.
6 - Enlarged light fixtures
Go big or go home with the enlarged light fixture trend for 2019! While in interior design, it's important that light fixtures – among other objects in a space – are properly proportioned, sometimes large, exaggerated items become trendy, like in the case of extra-large light fixtures.
Oversized fixtures are especially lovely over dining tables, kitchen islands, and in the center of larger rooms. However, even with intentionally enlarged fixtures, there is still such a thing as "too much." Know what that limit is for your space before you jump on the bandwagon.
Conclusion
While many people don't think to follow the lighting trends as they may not even know such trends exist, incorporating them into a home can make it easier to make an interior design more up-to-date and stylish. It isn't a requirement to carry out the latest illumination trends, but they are fun, relevant, and generally intriguing for many.
As for 2019, since it's literally right around the corner, knowing now what lighting trends are going to be popular can help you prepare early. Lighting trends including white marble lamps, brass light fixtures, discrete lighting, fixtures with matte finishes, natural fiber lamp shades, enlarged light fixtures, and drum lights are going to be things one will want to emphasize in their home for the coming year. Shopping for trendy light fixtures as soon as possible can ensure you get the best deals on the hottest fixtures.
If you need more interior or exterior design-related tips and tricks, check out the rest of our blog posts .
Recent Posts
Summertime is going strong and the heat is most certainly upon us. With triple-digit temperatures, k …

You may or may not know, Cocoweb started its roots in lighting. With LED lighting being our specialt …

Picture Perfect:The Art of Lighting Your GalleryWhen entering someone's home, your eyes are immediat …