As the holidays pop around the corner, millions of homes are adorned with Christmas trees, menorahs, kinaras, and other symbolic decorations depending on the winter holiday(s) a family celebrates. These decorations may be based off of personal, religious, or mandatory traditions or may simply be just for looks. Either way, holiday decorations bring the reason for the season into perspective for many.
While many of these homes sometimes decorate both the inside and outside of their property and offer a touch of the holidays in multiple rooms of their home, others tend to only designate one or a few rooms to hold holiday cheer. But what fun is that when you can properly integrate the holidays in every room in your home without going over-the-top? That's right! Speaking of the latter, let's talk about how this can be done.
1 - Feature holiday colors throughout your home.
While they tend to be versatile, many winter holidays feature their own color scheme. Christmas emphasizes red and green. Kwanzaa colors are red, black, and green. As for Hanukkah (Chanukah), the holiday's official colors are blue and white. However, many like to also incorporate other colors alongside their holiday decorations in accordance with the color scheme their interior design offers.
Regardless of the main colors of the winter holiday(s) you may celebrate, make sure to feature these colors in every room in your home. Even if you don't plan to have actual holiday decorations in every room, these rooms can still feature the appropriate colors.
For instance, if you celebrate Kwanzaa, swap out your blue couch pillows for green. For households celebrating Christmas, eliminate your orange throw blanket for a red one. Switch out your red rug for a blue one if you celebrate Hanukkah (Chanukah). Find elements in every room in the home to eliminate to replace for holiday-friendly hues. This can help integrate the entire home during the holidays.
2 - Bring out the holiday scents.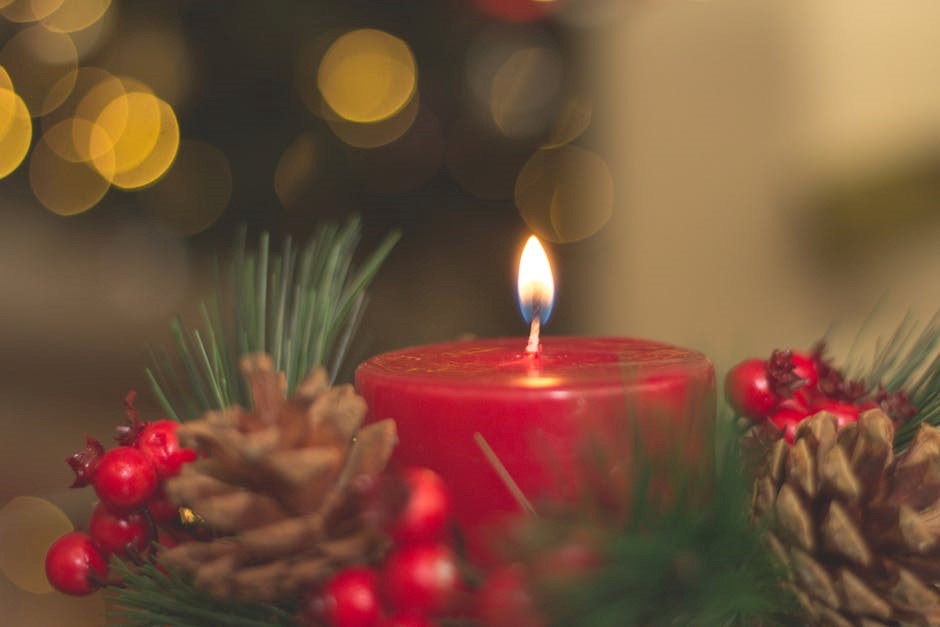 Apart from the visual aspects of the holidays, perhaps the next best way to bring the holidays into your home is with the right scents. Spicy scents fill the air around Kwanzaa, aromas of apples and sweet donuts take over the home around Hanukah (Chanukah), and around Christmas, smells of cinnamon and fresh cookies dominate the space. The scent that one gravitates toward the most may vary from one person to the next as everyone has their own preferences, and every family has their own holiday traditions.
While the latter scents are thoroughly enjoyed around the holidays, unless one is currently cooking, these scents won't naturally fill your home. For that reason, adding scented candles, potpourri, holiday soaps (in the kitchen and bathrooms), disinfectants or other sprays, and other sources of holiday or winter scents is your best bet if you want your entire home to feel like the holidays. You might even like the idea of having different-scented candles placed around the house – scents of cookie crumble in the kitchen, vanilla bean in the bathroom, and wintry pine in the bedrooms, for example.
3 - Get elegant with metallics.
Metallics are highly versatile and can be used all year 'round. However, many holidays, such as Christmas, often make use of metallics – usually silver and/or gold. Metallics are also very easy to find and integrate into a space. Metallics tend to have both a wintry and celebratory element to them, making them suitable for this time of year.
Regardless of the winter holiday(s) you celebrate, adding shiny metallics in the form of little figurines or trinkets, bells, candle holders, lanterns, containers or plant pots, and other pieces can help add the holiday spirit throughout your casa. You might also get your hands on blankets, pillows, rugs, or curtains that feature metallic threads woven into them. Beautiful metallics are elegant, inviting, and can help light up the room due to their shiny, reflective nature.
4 - Add a touch of glitter.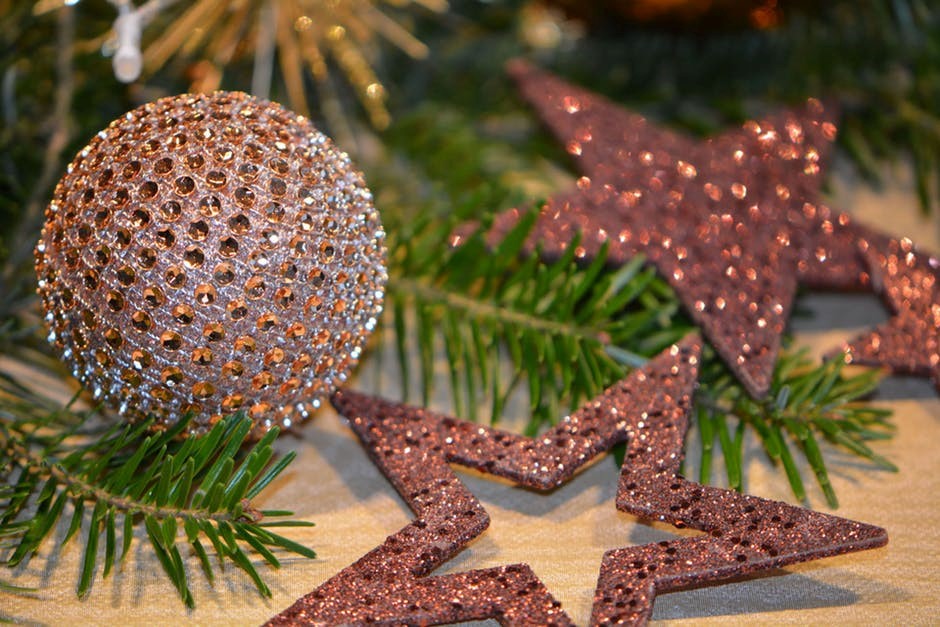 While glitter isn't necessarily a must for any winter holiday, many do in fact have at least something sparkly or shiny in their home around the holidays. For that reason, even subtle glitter can be an easy way to "holidize" any room in the home. It's also easy to add glitter to any décor items you already own.
Just about anything can feature glitter: ornaments, candles, snow globes, baskets, wreaths, tablecloths and runners, bed skirts, blankets and pillows, stockings, curtains, rugs, and so on. Glitter is bright, lively, positive, and often symbolizes celebration. That said, glitter in all forms and colors is a perfect addition to any interior design around the holidays.
5 - Don't forget the festive centerpieces.
Festive centerpieces seem to be apart of just about any winter holiday – but they aren't just limited for decorating the dining table. Festive centerpieces may be placed on kitchen islands or countertops, fireplace mantles, entertainment centers, coffee tables, shelves, windowsills, the list goes on.
You can purchase or create your own centerpiece. It might feature real or fake greenery or may not feature greenery it all. It might be small or large. It may or may not feature glitter, pinecones, snowflakes, dried fruit, or other items depending on your holiday decoration style. You might place candles on each side of your centerpiece or not. Centerpieces are incredibly flexible and can feature any color, style, and the like that you wish.
6 - Be symbolic.
Depending on the winter holiday(s) you celebrate, there are going to be different symbols they feature. Candy canes, crosses, mangers, mistletoe, and angels are important Christmas symbols. Hanukkah symbols include menorahs, dreidels, the Jewish star, oil, and coins. Coming to Kwanzaa, fruits and vegetables, ears of corn, the unity cup, kinaras, and seven candles represent this holiday.
But don't limit the symbolic decorations to just one room. Make sure your home features at least a few decorations in every room. Maybe in the kitchen, you'll have a large fruit and vegetable basket on the island, a Jewish star-printed throw blanket or set of pillows in the living room, or an angel figurine on the bathroom counter.
For any winter holiday(s) you celebrate, you can find (or even make your own) holiday-themed décor items featuring your favorite symbols. Items themselves can be symbolic, or they might feature a symbolic color or even symbol printed onto it.
Conclusion
The holidays, while they can be stressful, are a joyous and relaxing time for many as they wind down toward the end of the year. Christmas, Hanukkah, Kwanzaa, whatever winter holidays one may celebrate each have their own set of activities, customs, symbols, and even decorations – but nevertheless, making the entire home holiday-friendly isn't as difficult as it may seem.
Featuring holiday colors, scents, metallics, glitter, centerpieces, and specific symbols in each room in the home is a great and easy way to really bring the holidays to life in your home. Being creative and engaging in DIY projects can ensure you get the exact decorations you want that are the most relevant for your home within your budget.
If you need more interior or exterior design-related tips and tricks, check out the rest of our blog posts .
Recent Posts
Summertime is going strong and the heat is most certainly upon us. With triple-digit temperatures, k …

You may or may not know, Cocoweb started its roots in lighting. With LED lighting being our specialt …

Picture Perfect:The Art of Lighting Your GalleryWhen entering someone's home, your eyes are immediat …