When working from home, having a separate office space is important in that it helps us mentally and physically divide our work and personal lives to help us create better work-life balance. But creating a home office space is different from a traditional office space because, unless you hire an interior design to do the job for you, it's something that you must design yourself. There's no walking into your home office and already having a desk, chair, computer, and everything else already provided for you.
That all said, how do you design the proper home office to ensure that not only you love the design itself but also that it can be something you can have the proper focus and productivity in?
Scope the below sample office designs to get some ideas to ensure you can create a functional and aesthetic home office:
1 - Clean and Retro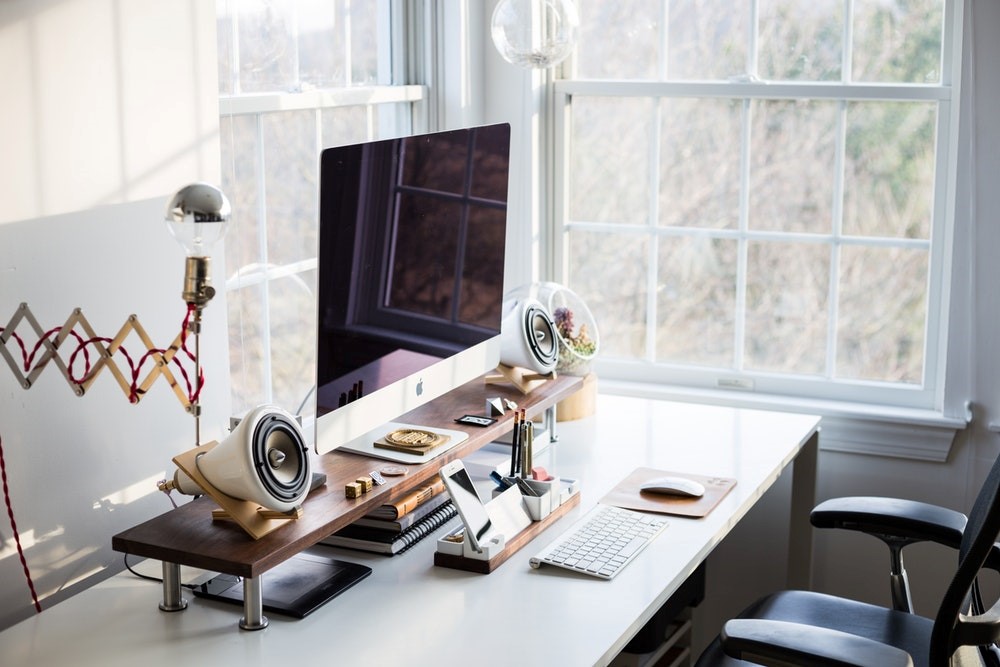 For those who like very clean, white, and simple spaces, this featured retro-inspired home office design may be what one is looking for. It offers a spacious desktop space, a moderately comfortable chair, plenty of natural lighting, and vintage trinkets from a light bulb fixture with a metal arm extension to fun speakers. Organization in this home office is provided on top and below an elongated monitor shelf along with a nifty organization container with various compartments: keeping things fairly simple and exposed.
Accomplish a similar home office space by incorporating plenty of clean white along with a mix of vintage and modern touches. Keep things more on the minimalistic side; don't let clutter get the best of your design.
2 - Duo Workstation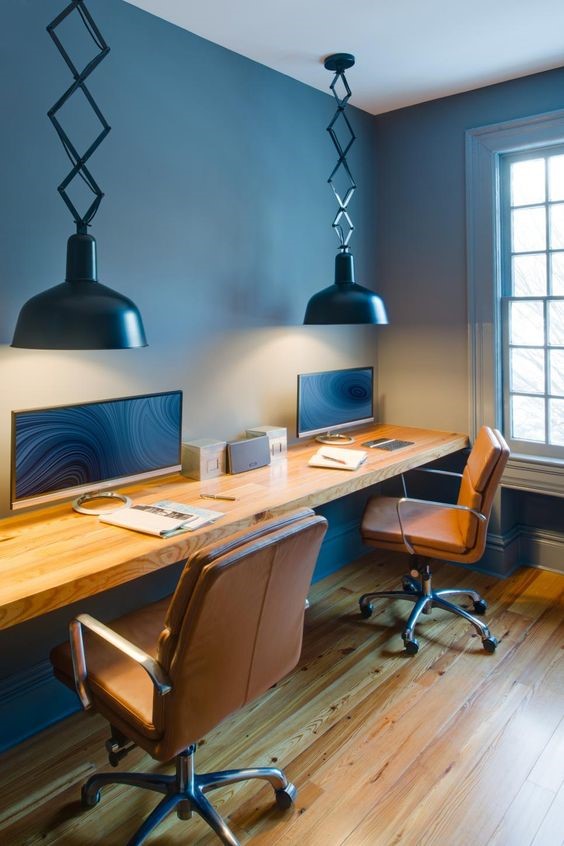 If both you and your spouse, for instance, both require an office space, you can combine the two beautifully and more affordably with this duo office design featuring just one, long table and double of everything – computers, pendant lights, and cozy chairs. This space, given its simplicity and heavy use of neutral colors, is mostly gender neutral to ensure it's relevant for all. While there are spaces for two folks in a single office, productivity can still be gained by working in this design as it's clean-cut and provides blue walls to provide peace and focus. The addition of the natural light flowing in offers extra energy alongside the warmer-colored lighting provided by the pendant lights.
Creating something similar in your space is incredibly easy and straight-forward. Just make sure that when and if you do, make sure that the separate-but-one work areas are combined yet still offer plenty of privacy and the proper comfort zone for each individual working.
3 - Peaceful & Urban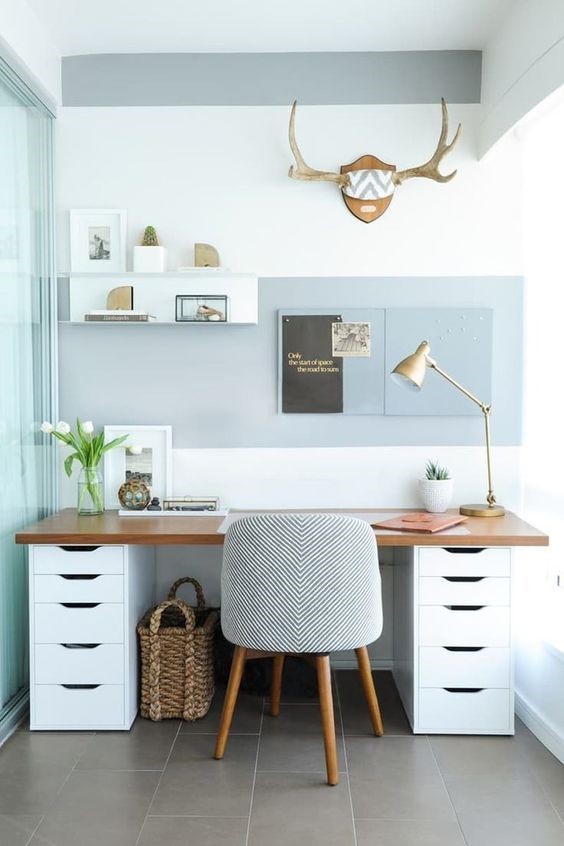 (Image by LED World)
This next office design is more feminine but regardless offers a fun urban feel that sets it apart from a traditional office space. It offers a multi-toned wall, plenty of décor, and a variation of comfort (hence the padded chair) and seriousness (hence plenty of drawers for storage). It may seem that with all of the décor items present in this design that it would be too distracting for optimal productivity; however, many may like the fact that this design doesn't appear uptight and work-related but still has the peaceful color scheme and motivational setting to get work completed. The task lighting in this space is particularly useful for reading or writing.
The featured office space is especially great if you have a tighter office or must combine your office space within another room, as noted by the compactness of this design. However, do not overpack your own urban office design.
4 - Organized Contemporary Comfort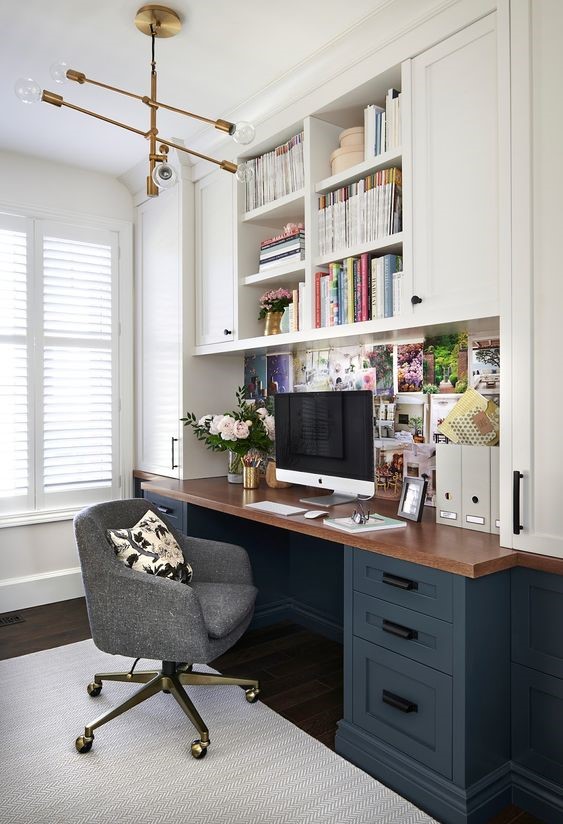 Not everyone likes a super simple office. For some, less is not always more; they tend to appreciate the many fine details of a design. One of the first things that may pop out to someone when looking at this featured design is the many colorful photos pasted behind the monitor and the books and other objects organized on the exposed shelving above the monitor. It may seem like there is a lot of stuff, and while there is, this design has a lot of beautiful color condensed in a cleaner, contemporary design. Notice how there are some industrial aspects of the design such as the light fixture while there is also a homely, comfortable feel as provided by the plush chair, pillow, and vase of beautiful flowers.
5 - Homely & Neutral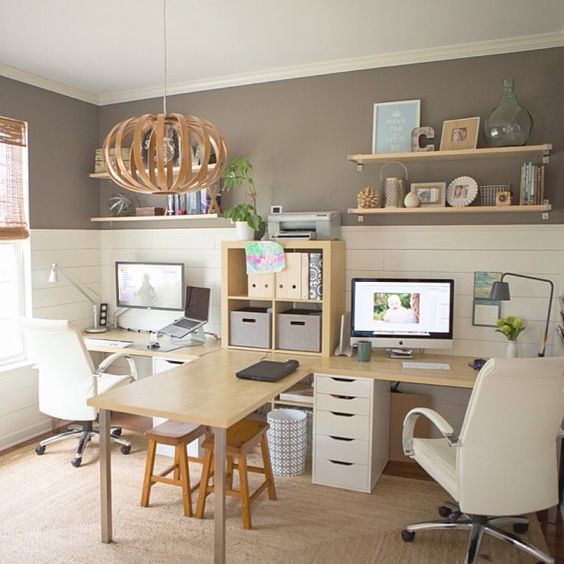 Looking at a bright screen all day can be exhausting. In this interior design, the many softer neutrals present can help combat eye strain as it isn't as harsh on the eyes. It tends to offer more feminine than masculine touches but never fails to make a statement. This dual workspace design offers a table separating the two spaces to provide a bit of a barrier while still allowing two individuals to collaborate when necessary. The desks themselves are kept mostly work-related while shelves above the work area offer personal trinkets and décor items.
You can add a dual desk design to your space similar to this featured design, or you may wish to keep it to just one desk. Play around with different neutrals, separate your personal items from work-related items, and focus on wooden and softer metals in your design to make it similar to this office space.
6 - Nautical Nook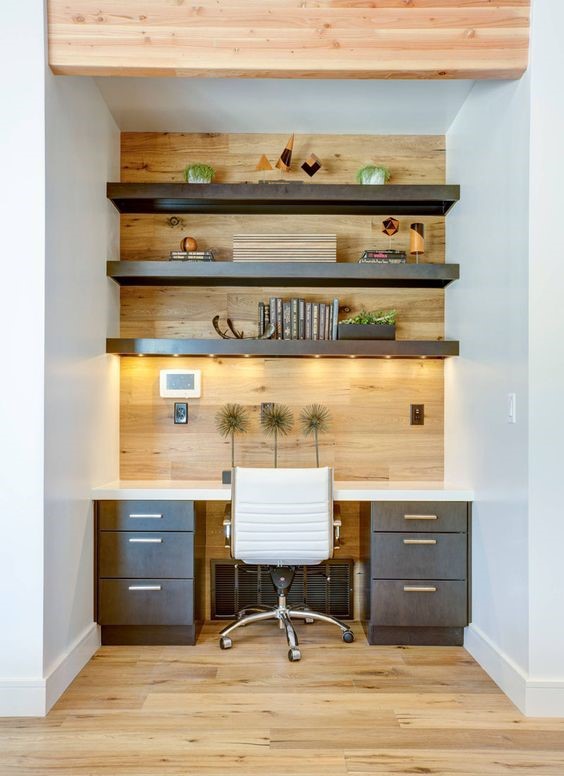 Don't let a smaller, tighter space hold you back from having an organized office space. This little, nautical nook is mindful of space and ensures that productivity and proper organization are still viable options. There's plenty of desk space as it is kept very clean while them majority of décor items are showcased in above shelving to save up on space to ensure one has a clean workspace. Important documents and supplies can be kept in drawers off to either side of the desk to also keep the actual workplace clean. To relax the more serious design, recessed light underneath the bottom shelf provides a pinch of accent lighting to amp up the space. While this office is located within another room, the inset of this office space provides more privacy and separation from the rest of the home.
To create a slightly nautical space, make sure to provide a mix of modern and traditional within the furniture and shelving themselves, a distinction between work and play, and tinier trinkets to make the workspace the star of the show if you wish to achieve a design similar to this one.
Conclusion
When one works from home, having the right home office space is important as a workspace's overall appearance may be correlated with how alert, concentrated, organized, and productive you are. That said, having the appropriate illumination, color scheme, comfort, and inspiration within your home office space are some key components you'll want to emphasize.
While everyone may have a different idea of what a proper home office consists of, hopefully the above featured designs will give you encouragement and inspiration. A home office doesn't have to be extravagant and costly. You can design your office on a budget while still ensuring it features your wants and needs.
If you need more interior or exterior design-related tips and tricks, check out the rest of our blog posts .
Recent Posts
Modern farmhouse decor is becoming widely popular across the world and is loved for its versatility …

Summertime is going strong and the heat is most certainly upon us. With triple-digit temperatures, k …

You may or may not know, Cocoweb started its roots in lighting. With LED lighting being our specialt …