Sea glass blue – which happens to be a trending interior design color right now – comes in a plethora of shades from pastel blue-gray to a deeper aqua or teal. But what makes sea glass blue sea glass? Well, as many know, actual sea glass is weathered glass that can be spotted along salty bodies of waters. The inspiration for sea glass blue comes directly from actual sea glass found along the shorelines of various seas. The many hues of blue and blue-green sea glass come in allow home owners endless shades to pick from to add to their interior design
Best of all, sea glass blue is not strictly limited for beach-y homes; this versatile color can be applied to just about any home of any style from traditional to modern. But out of everything sea glass blue can be used for, this hue looks exceptionally stunning on bath tiles. For that reason, let's take a look at different baths decked out with a shade of sea glass blue tile.
1 - Gray-Based Sea Glass Blue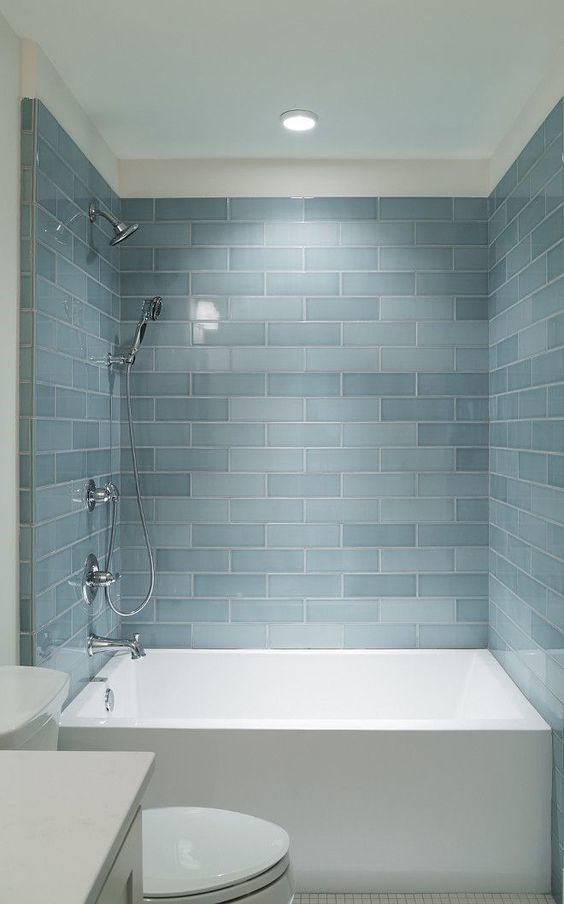 For those who want a relaxing, subtle sea glass blue hue to use for their bath tile, consider a gray-based blue subway tile like in the featured image above. The slight shade variations of the tiles help keep the eyes moving and allow the bathroom to maintain its simplicity without looking too plain in the process. The simple shape of the subway tile helps the design maintain its modern-yet-timeless feel.
Pair a gray-ish sea glass blue hue like the above with lighter, brighter colors like a simple white or more cheerful spring green. For those who want to upkeep a monochromatic color scheme, selecting paler yet more cheerful blues to pair up with the grim blues of the bath tile can certainly help liven up the design a pinch more.
2 - Antique Aquamarine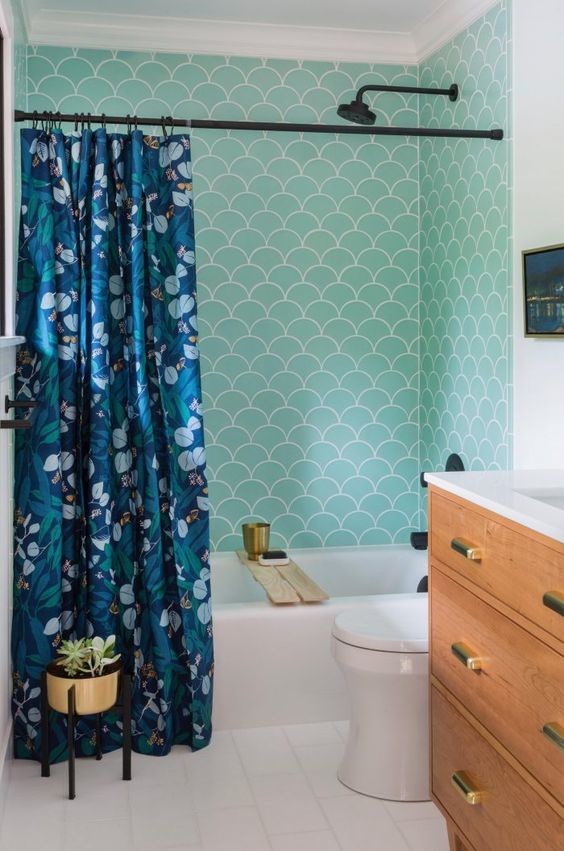 A calmer aquamarine like this hue is the perfect shade of sea glass blue for those who love cheerful colors yet still enjoy hues that are more on the conservative side. The designer took advantage of the fact that the hue they selected offers a beach-y vibe, also selecting a scalloped style of tile that also features such a vibe.
Something interesting that the designer of this bathroom design did was that they toned down the brightness of the aquamarine and the white in this bathroom with a darker bath curtain, less-vibrant bathroom cabinets, and the use of brass and black instead of bright silver for fixtures and drawer handles. Something simple like this also allows the bathroom to have a hefty balance between femininity and masculinity.
3 - Multi-Hued Sea Glass Blue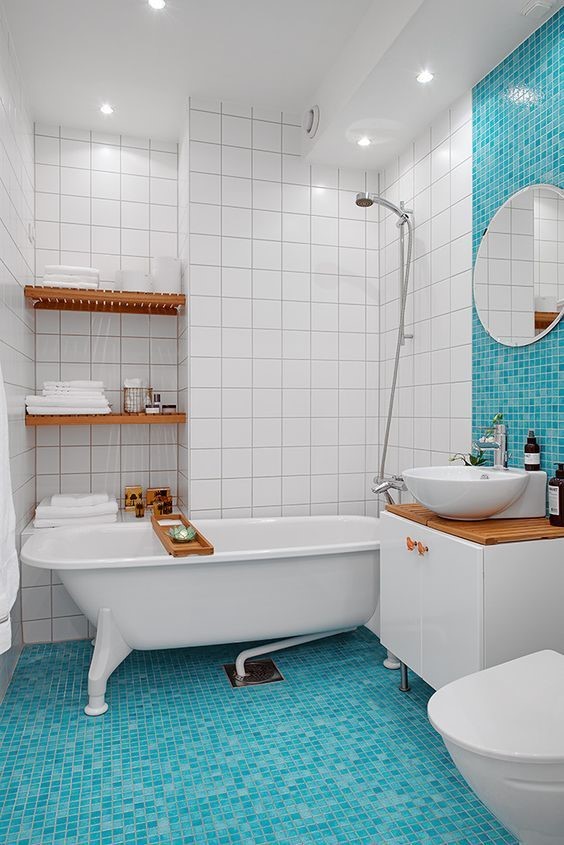 Sometimes it's hard to pick just one shade of sea glass blue; there are just so many shades to pick from! With tiny tiles bath tiles like the featured, you have darker, pastel, and green-ish sea glass blue all featured. The neutrality used in this bathroom design ensures that the multi-colored tile used isn't too loud or obnoxious.
Compared to the last bathrooms we've looked at, you'll notice that the sea glass blue tiles in this particular design are featured behind the sink and on the floor of the bathroom while there are simple, white square tiles featured behind the tub itself. This is essentially the opposite of what most homeowners do as generally, many prefer leaving the boring tile on the floor and the funner tile behind the bathtub. Nevertheless, it still works!
4 - Baby Sea Blue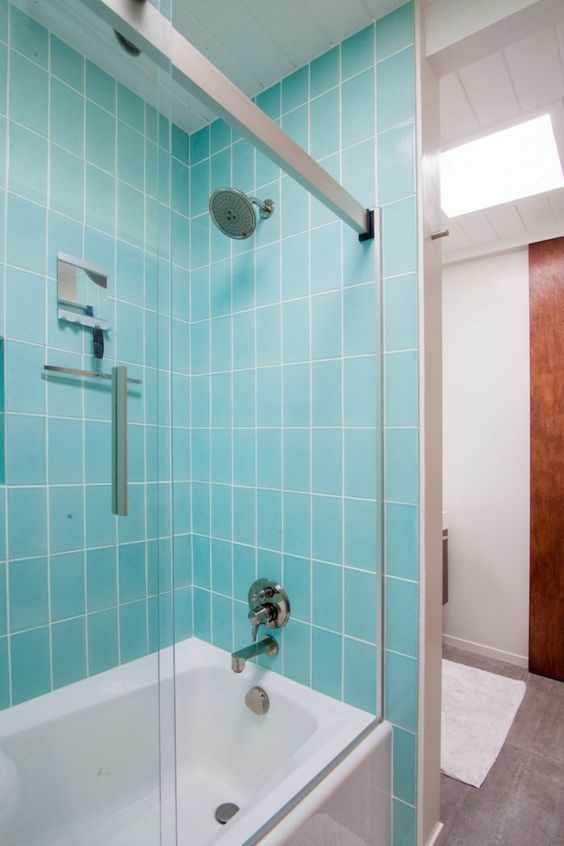 Make a statement with the simple pop-of-color provided by baby sea blue. This shade of sea glass blue is bright enough to be considered lively yet has a calming factor that ensures the white in the design isn't too shocking on the eyes. Thus, baby sea blue is a great contrasting color for a brighter neutral.
Being a bath-shower combo, this bathing unit looks especially stunning with vertically-placed subway tile. In turn, the eyes tend to run upward, ensuring the bathtub doesn't take away from the fact that this unit also doubles up as a shower. The use of vertical subway tile alone – regardless of the color – also helps to add height to the bathroom overall.
5 - Ocean-Washed Turquoise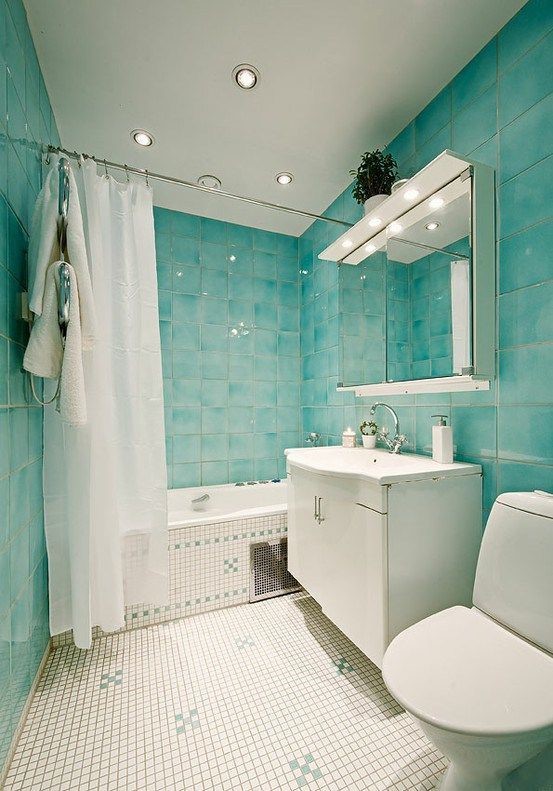 If you're hoping to provide the right amount of contrast in your bathroom design, consider selecting a shade of sea glass blue to use from wall-to-wall in your bathroom while leaving everything or just about everything else white. While not everyone will like tiling their bathroom in this manner, it sure does stand out from a traditional bathroom.
Focusing on this specific shade of sea glass blue, ocean-washed turquoise, this is certainly a color that will give you instant seaside vibes. This particular tile features a "washed ashore" or semi-faded ombre touch that gives it a slight antiqueness. Nevertheless, the bright white in this bathroom provides a less-traditional, timeless balance.
6 - Old-Fashioned Baby Blue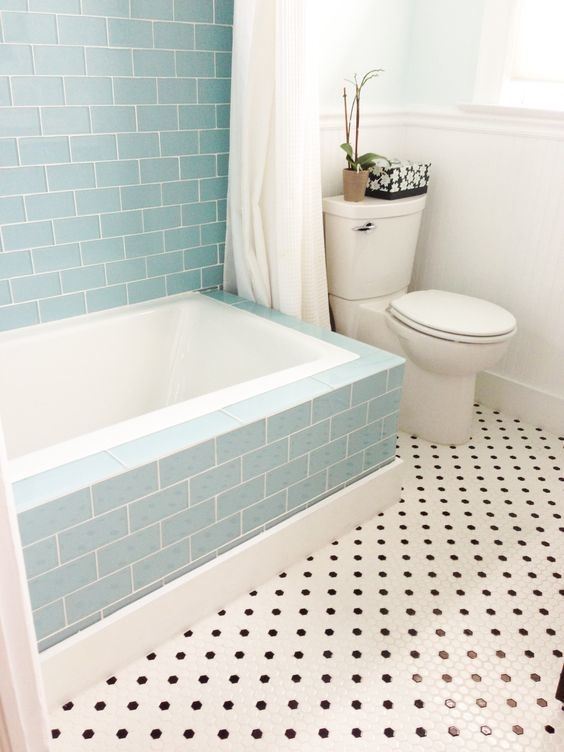 Keep things calm and soft yet fun in your bathroom with bathtub tile featuring a shade of old-fashioned baby blue. If you want to ensure sea glass blue is the star of the show in your interior design, don't just limit your bathtub tile to the area behind your tub but also around your tub as well like as shown in the photo above.
What's amazing is that even with spotted floor tile in this featured design, the addition of the sea glass blue tile around and behind the bathtub only complements rather than adds to the loudness perceived in this space. With everything else in the space stark white, both the design of the floor and the gorgeous color of the bathtub tile instantly pop in this design.
7 - Island Turquoise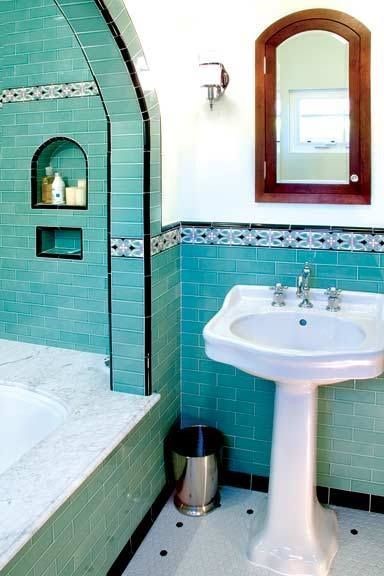 If turquoise is your color, perhaps this vibrant sea glass blue shade will be your go-to color as you select tile for your bathtub. Extending it not just behind the tub but also behind the sink ensures this hue is the center of attention. The use of black and white in this design helps absorb and take a bit of the vibrancy away from the brighter turquoise used.
You might notice that when you look closely, the sea glass blue tiles used in this bathroom design almost has an airbrushed touch, essentially giving them a watercolored look. The variation of color the tiles provide perfectly mimic the variation of blues found in an actual ocean. While not related to the color, the shape of the tile is also important to note. Horizontal subway tile against the rounded mirror and trashcan, hexagon floor tiles, and rounded-off sink provide an ideal variation of shape in the design.
Conclusion
Blue is always a welcoming color to place in interior designs. However, there's something about variant sea glass blue hues that are extra inviting. Maybe it's the way these shades mimic the inviting colors of the sea, or perhaps it's the fact that blue in general is a tranquil color.
From looking at different baths tiled in sea glass blue, it becomes apparent that there are no limitations with sea glass blue. Some offer a muted, gray base while others offer a greener base with greater vibrancy. Regardless, any shade of sea glass blue is the perfect color for bath tile no matter what style your bathroom may feature.
If you need more interior or exterior design-related tips and tricks, check out the rest of our blog posts.
Recent Posts
Throughout history, before the advent of electric piano lights, pianists would practice and perform …

Outdoor illumination keeps homes and businesses visible at night, while helping to dissuade crime …

Sign Lights, with their classic gooseneck design, differ from traditional wall mounted lights, in …