You spend so much time in your work space, it may as well be as reflective of your tastes as the rest of your home. Creating the perfect office can help you feel organized, inspired, focused, relaxed, or anything you want your ideal work environment to be. Maybe you thrive in a space filled with supplies and decor; or maybe you prefer a place that's clean and minimal. Here are some interesting ways people designed their home offices in a way that is as visually cohesive as it is organized.
Corkboard Wall
This corkboard accent wall is both decorative and functional. It adds interest when placed next to solid colored walls and allows you to keep memos, sketches, photos, or even small items within arm's reach.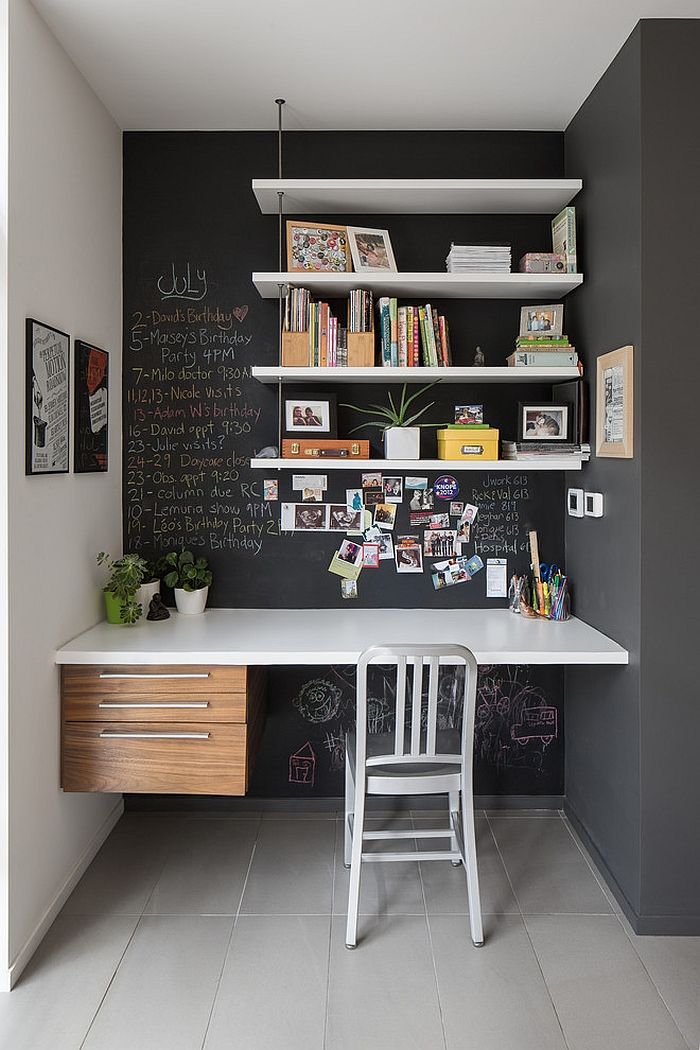 Floating Shelves and Blackboard Paint
These floating shelves offer a unique look for an office space allow you to keep work-related items in one place. The
blackboard paint is perfect for this setting, providing a space to make quick notes and lists that you can easily erase.
Bright Colors and Shapes
For a workspace that feels joyful and inspiring, try putting together some bright colors and fun accessories. Who says work can't be fun? And, the simplistic calendar gives you a space to jot down your agenda for each day.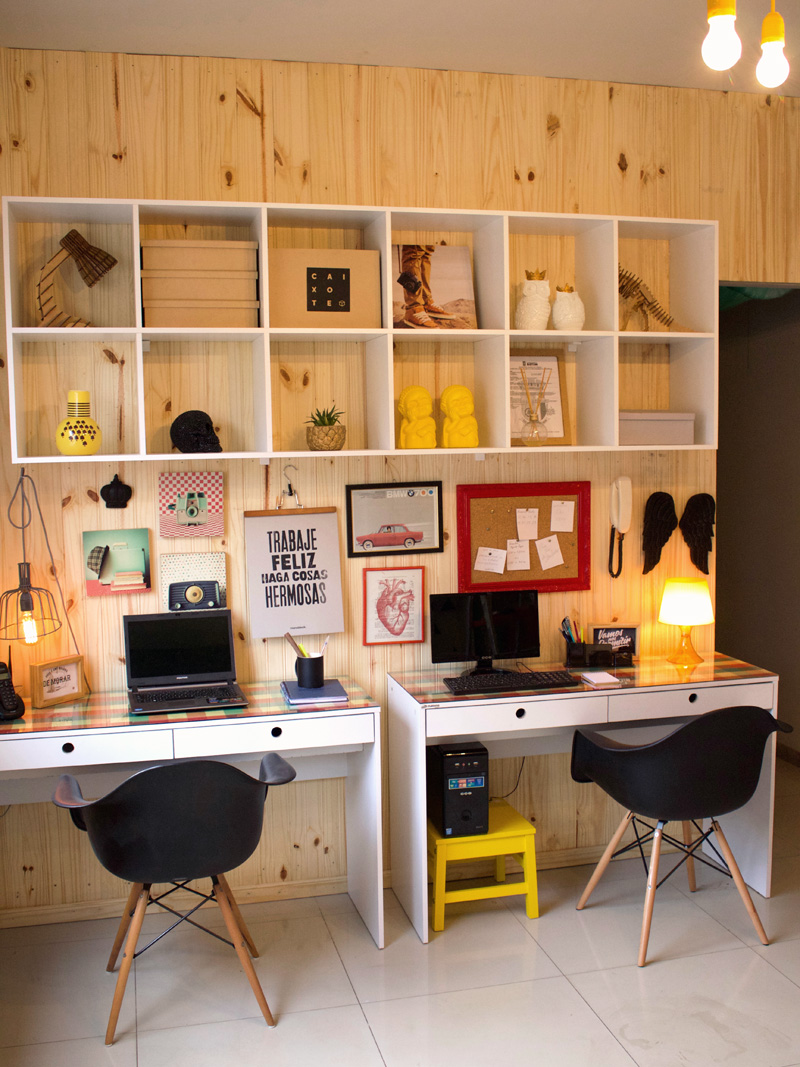 Wooden Wall and Cube Shelves
This wooden wall lined with cube shelves accents the room it is part of and creates plenty of storage space for work items as well as decorative objects. Patterned lining gives the table top a colorful touch.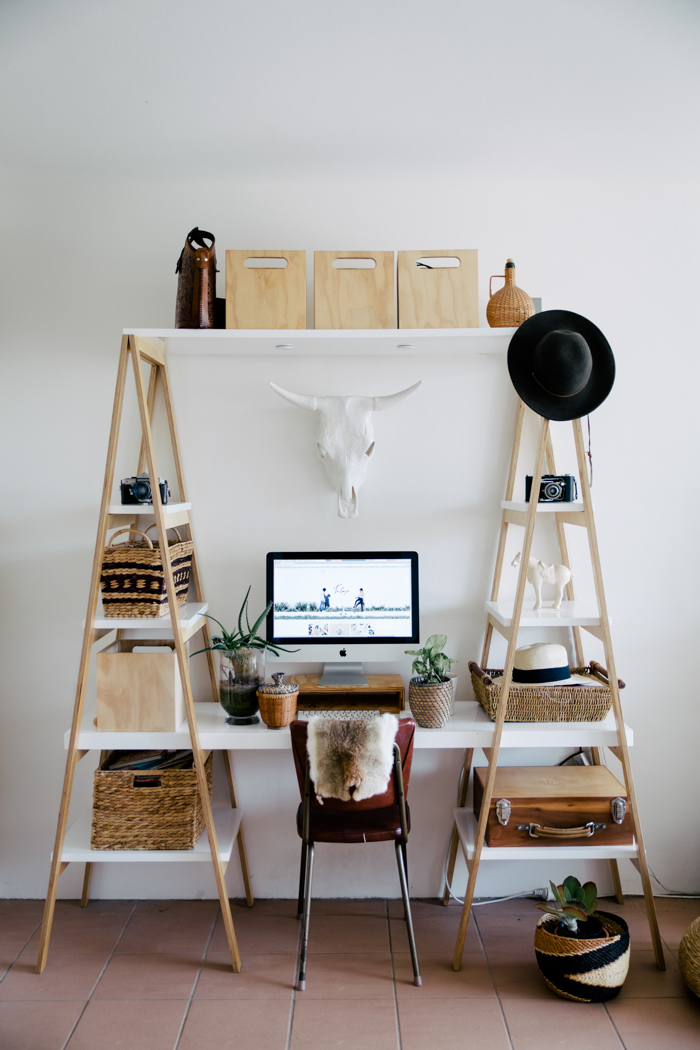 Bohemian
Racks like the one we see here create a unique display and also let you store supplies in a decorative manner. This neutral, bohemian aesthetic creates a calming space to work.

Image from Vintage Industrial Style
Industrial
Hardware details and a mix of different textures give this office a stylish industrial look. Decorative lettering on the walls gives it a fresh and modern twist.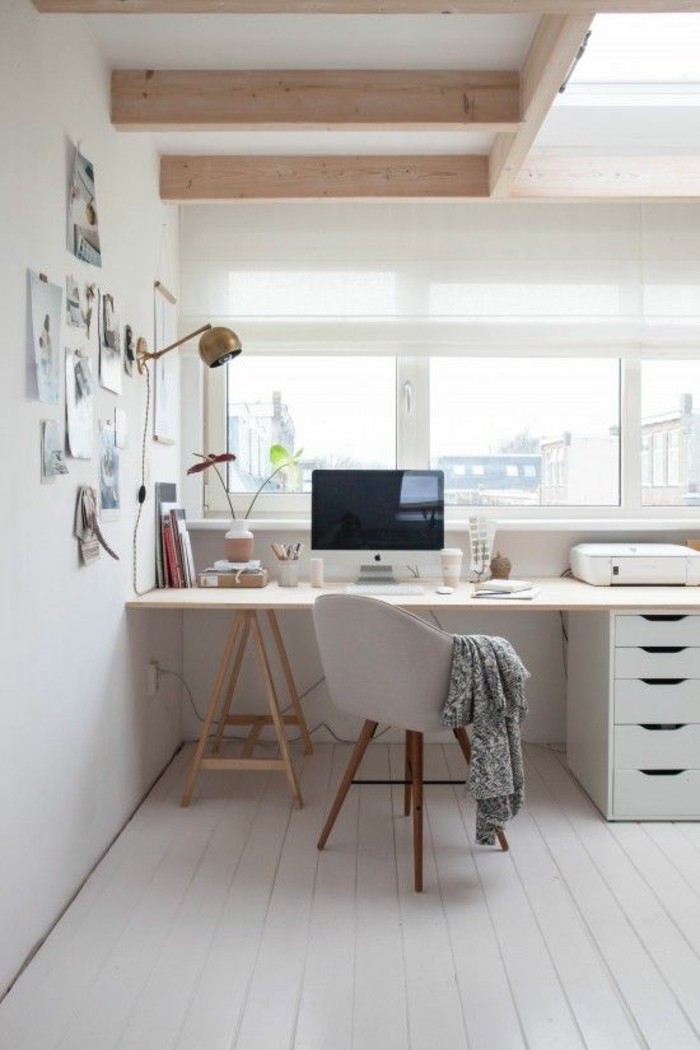 Scandinavian
The minimalist sensibilities of Scandinavian design create an office that is calming to look at and makes you feel like staying organized. A simple, no-fuss desk drawer set is subtly upgraded with angled wooden legs and a light, neutral color scheme creates a soothing environment.
Whatever your style may be and whatever environment you prefer for work, the right office design can help you stay energized and focused. The better you feel in your work space, the more productive your day will be. We hope you found some ideas to bring into your own office or maybe even to create a new look altogether.
Recent Posts
Summertime is going strong and the heat is most certainly upon us. With triple-digit temperatures, k …

You may or may not know, Cocoweb started its roots in lighting. With LED lighting being our specialt …

Picture Perfect:The Art of Lighting Your GalleryWhen entering someone's home, your eyes are immediat …