Mason jars may be used for canning and preserving food; however, these jars are also enjoyed for their versatility when it comes to crafts, DIY projects, and home décor. The many different colors, sizes, and even etched designs on these jars are attractive for a plethora of settings.
If you're looking to add some rustic or country flair into your interior design and are open to engaging yourself with a little DIY project, collect old jelly jars or purchase empty mason jars from your local grocery or general merchandise store, and give some of the following home décor ideas a try!
1 - Candle or candle holder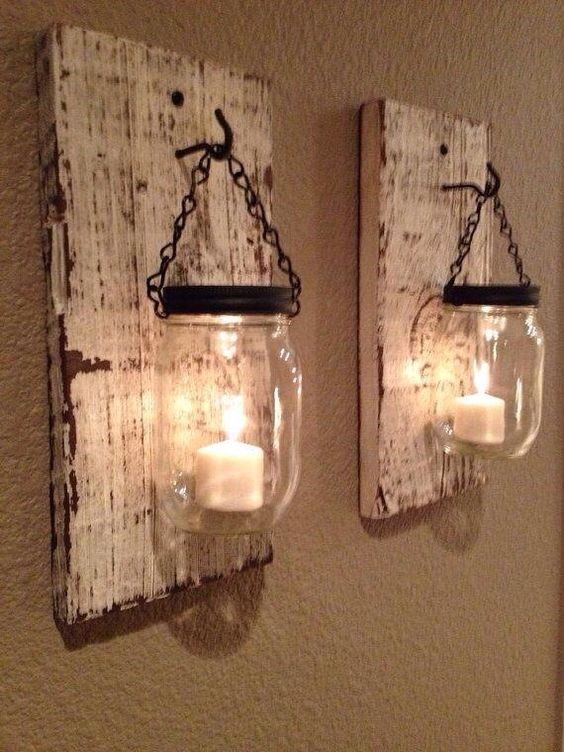 To create a romantic, calming setting in your space, consider using mason jars to create your own candles from scratch with the colors and scents you desire. If you already have candles, particularly tea candles or other shorter candles, that you wish to add to your space, you can use mason jars as candle holders. These can be mounted on a plank to place on the wall, or your candles or candle holders can simply sit on a table or shelf.
In creation of your candle holder, you may wish to add rocks, pebbles, sand, or other features to provide the exact style you want. You can apply a light coating of paint to provide a misty effect. You can also superglue a thin piece of burlap around each mason jar or tie burlap string around the top of the jar for extra pizzazz.
2 - Lantern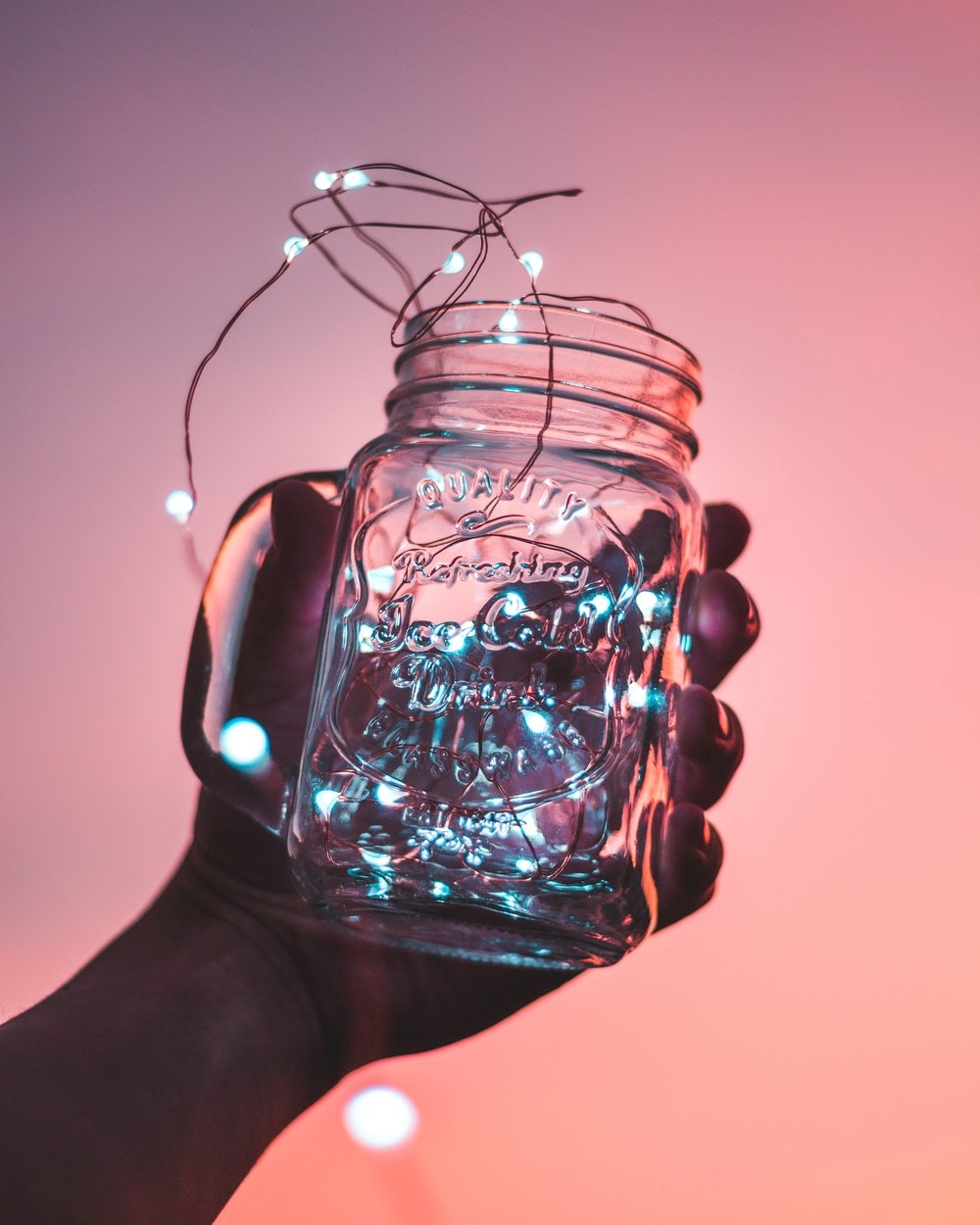 This next DIY project can be used both in interior and exterior designs: mason jar lanterns. Simply place LED fairy lights in the mason jar of your choice, and light it up. This DIY lantern is so simple that anyone could do it. If you can find fairy lights in different colors or even shapes, all the better.
You can place your new mason jar lantern wherever you need light or would like fun accent lighting. These lanterns look best in a bedroom, office space, or other personal room. They also look stunning as a centerpiece on outdoor tables when you have guests over.
3 - Chandelier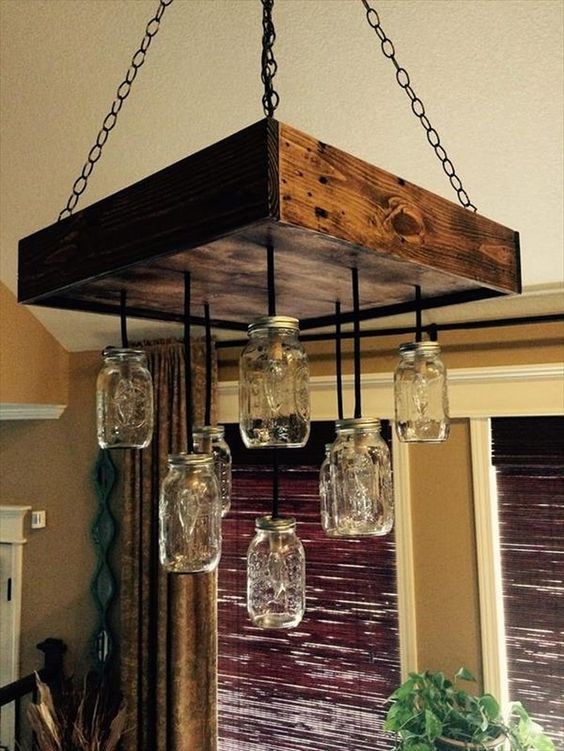 If you have the time and patience to take on a bigger project, a mason jar chandelier DIY similar to the one pictured may be something you're willing to take on. You may even want to play around with mason jars of different sizes and/or colors until you find the right style you're looking for.
Best of all, you don't necessarily need to start from scratch with this project. You may wish to simply replace the lamp shade(s) on an existing chandelier or pendant light, replacing them with a mason jar. Be sure to conduct some research on mason jar chandeliers as there are several different styles out there.
4 - Potpourri jar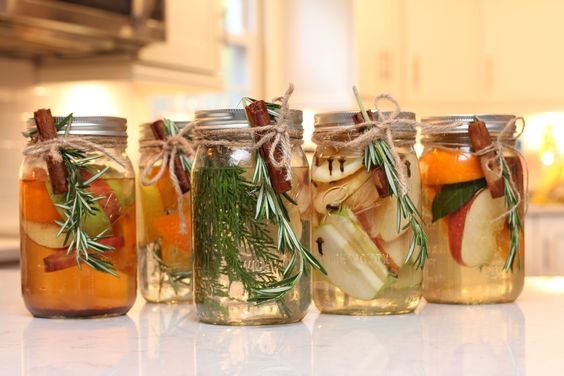 Since the holidays are inching closer, potpourri will be an even greater addition to the home. Potpourri typically consists of different herbs, flowers, and/or fruit to provide an incredible aroma. Consider the different many potpourri scents you can accomplish from apple cinnamon to lavender rose. The types of ingredients you utilize can help you achieve the exact scent you want your home to smell like. Be sure to look up recipes.
Apart from a great aroma, potpourri can look gorgeous when place in transparent mason jars and placed throughout the home. You may wish to tie a cinnamon stick, sprig of rosemary, or even a dry orange slice – similar to what the featured image above showcases.
5 - Herb garden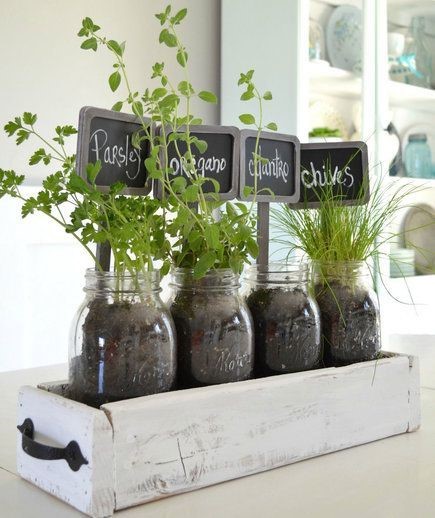 This one is for those who love fresh kitchen herbs. Glass jars are great for growing plants, particularly popular culinary herbs you used frequently such as rosemary, thyme, sage, basil, and/or oregano. You can mount mason jars on a piece of wood to hang or can simply place jars along a window seal or somewhere where there will be enough light flowing through.
Although, because mason jars don't have holes on the bottom for drainage, it would be important to either drill these holes yourself with a rotary tool or to ensure you don't overwater your plants each time, allowing for proper drying between waterings.
6 - Decorative food storage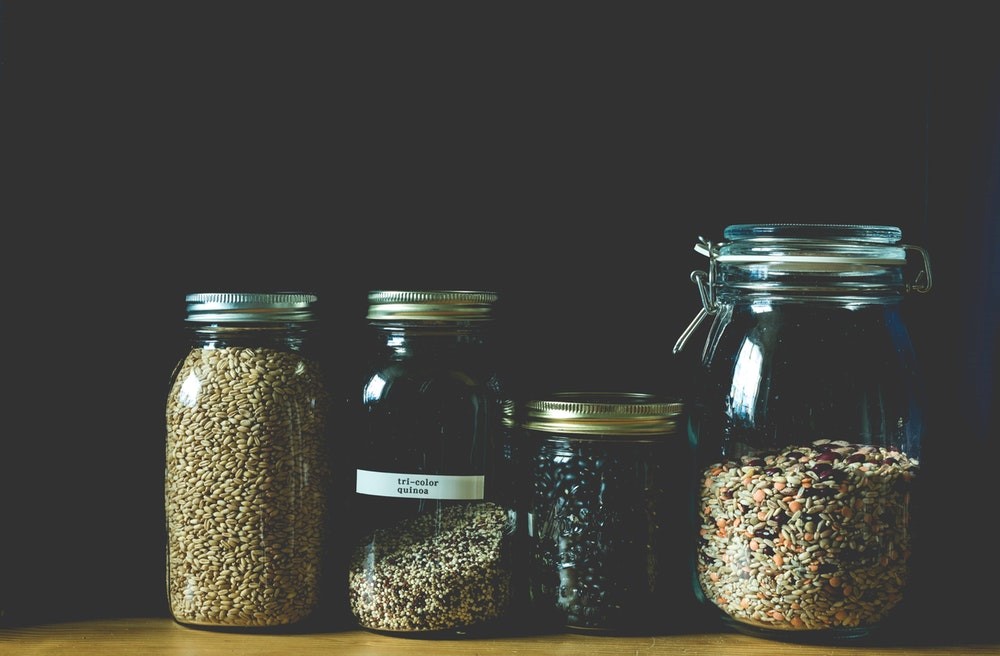 For those who want a nifty way to store dry, non-perishable foods such as pastas, flour, sugar, dry leaf tea, rice, and dry beans, consider using large, clear mason jars to beautifully display them. These mason jars can then be placed on the kitchen counter along the backsplash or on an exposed shelf in the kitchen to add color to your space.
If you like the idea of having food in jars out on display but don't wish to use what's inside of the jars, you can even stack different dried foods in your jars to create a colorful masterpiece. For example, you may wish to add different pastas of different shapes and colors in one jar or even a jar that has layers of different rices and/or beans.
7 - Soap dispenser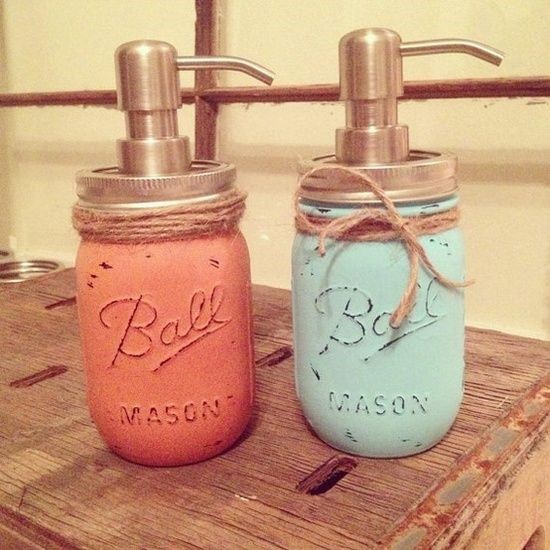 If you have pumpable, liquid hand soap in the plastic containers that you originally purchased the soap in but would rather have something a little classier and more decorative, you might consider storing your liquid soap in a homemade mason jar soap dispenser such as the ones pictured above. You can purchase a pump that will fit certain mason jars online to turn your jar into a dispenser.
But before adding soap to your mason jars (whether homemade or store-bought), consider decking out your soon-to-be dispensers. You might like to paint your mason jars, wrap burlap or another material around them, or tie tweed or burlap string around the top. Others might like the idea of leaving their mason jars plain to provide a simple, farmhouse feel.
8 - Utensil holder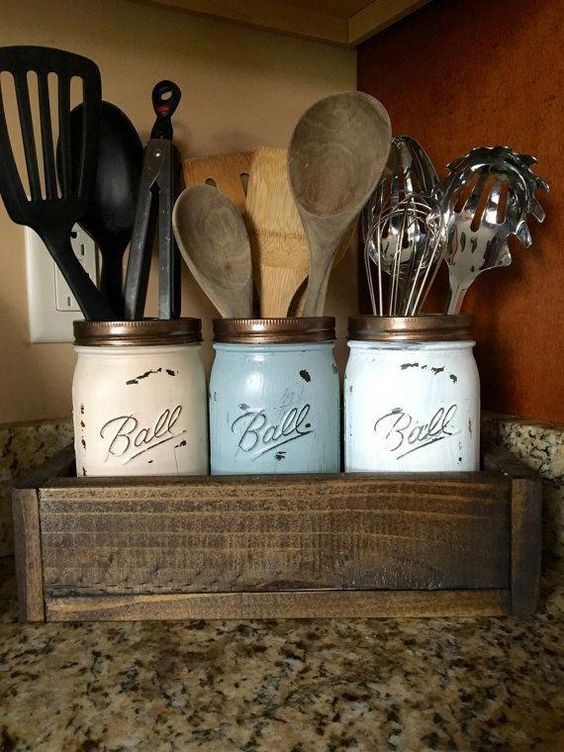 In many kitchens, utensils are typically shoved in drawers. However, for both convenience and aesthetics purposes, you can neatly display your most beautiful and commonly used utensils, from spatulas and mixing spoons to whisks and soup ladles, in DIY mason jar utensil holders.
You can make this project as simple as you want. You may wish to place your utensils in clear mason jars as is or may wish to beautify your jars by adding paint or other decorations to jazz it up. Like in the picture above, you might even want to store your mason jar utensil holders in a wooden box or other fun container to neatly place on your kitchen counter.
Conclusion
Next time you have extra mason jars around the house or spot empty jars on sale at a store in your area, open your mind to the many DIY possibilities you could have at hand with these jars. Apart from turning your mason jars into lovely vases for the home, consider creating a candle holder, lantern, chandelier, potpourri jar, herb garden, decorative food storage, or even a soap dispenser to add some rustic charm to your home.
To amp up your DIY project, make sure to use paint, burlap, lace, and the like to make your mason jars to your liking. Don't be afraid to get creative in how you recreate different DIY projects – or even come up with your own – or arrange your jars in your interior design. Most importantly, enjoy the process as much as you enjoy the end product.
If you need more interior or exterior design-related tips and tricks, check out the rest of our blog posts.
Recent Posts
Modern farmhouse decor is becoming widely popular across the world and is loved for its versatility …

Summertime is going strong and the heat is most certainly upon us. With triple-digit temperatures, k …

You may or may not know, Cocoweb started its roots in lighting. With LED lighting being our specialt …