8 Pinterest Perfect Designs That Make Pendant Lights Pop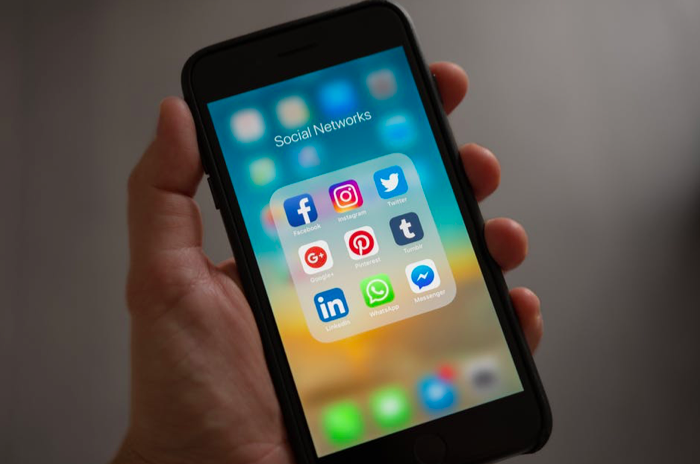 When you're in need of a little inspiration for whatever it may be – recipes, DIYs, parenting hacks, or even interior design projects – where you do go? Pinterest.com, of course!
Today, Cocoweb is looking into a variety of interior designs on Pinterest featuring pendant lights. Even if you're not looking into getting new light fixtures anytime soon, getting acquainted with design is a great way to immerse yourself into the world of design.
However, if you are thinking about opting for a pendant light or few in your home, we also selected some Cocoweb pendant lights that match each Pinterest design we've selected, so you can recreate it yourself if you wish.
Without further ado, let's get going!
1. Dark and Elegant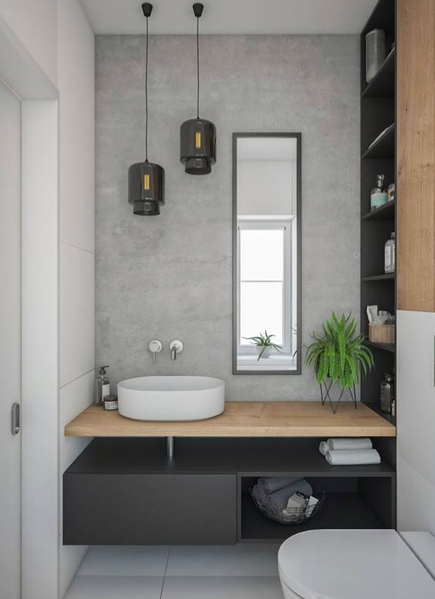 ( Source)
In a bathroom or other room where you want a touch of glam, you can't go wrong with opting for something sleek and modern as pictured in the above Pinterest design.Going black, charcoal, or gray is an excellent option as these colors are neutral, timeless, and sophisticated.
You can see in the design that instead of choosing just one light fixture to place over the single bathroom sink, the designer chose to utilize two pendant lights of different lengths to help add movement and element into the space. Consider something similar over a bathroom, dining table, or toilet.
Below, we've picked out some similar Cocoweb pendant lights in charcoal and black. They each have very different styles; however, all of them have a class and formality tied to them to offer a similar ambience as the fixture pictured in the Pinterest image.
Similar Styled Fixtures on Cocoweb:
| | |
| --- | --- |
| 10" Biella LED Pendant Light in Charcoal | 9" Novara LED Pendant Light in Black |
| 9" Arezzo LED Pendant Light in Black | 15" Enna LED Pendant Light in Black |
2. Vintage-Nautical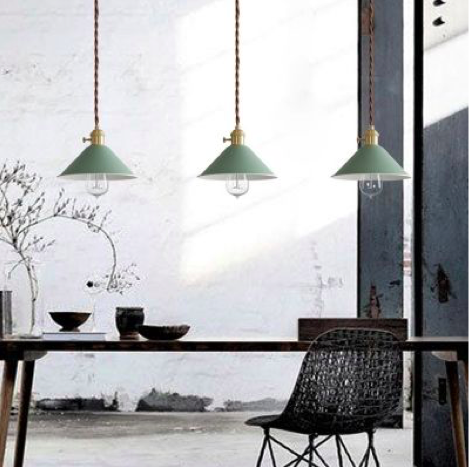 (Source)
Not everything belongs in the past. This Pinterest design features beautiful, old-fashioned, nautical-themed pendant fixtures over an eating area. The vintage colors of the lamps, while pale, add significantly to the overall design in the room.
Notice how the pendants still pop aimlessly; you don't have to always go bold, dark, brightly-colored, or avant-gardeto make a statement.You can implement something similar in your own design in terms of lining up multiple nautical lights in a row, or you can just opt for a single fixture.
The Cocoweb pendants we picked out below are quite similar in design in terms of the shorter, wider, more triangular shades with the bulb poking out. The caged design on the one's we've picked give an extra industrial, beach-y feel.They are also great to hang on a patio, porch, or entry way.
Similar Styled Fixtures on Cocoweb:
| | |
| --- | --- |
| Lismore Nautical Pendant Light in Brass | Sunbury Nautical Pendant Light in Black |
| Devonport Nautical Pendant Light in White | Albury Nautical Pendant Light in Black |
3. Beautiful Barn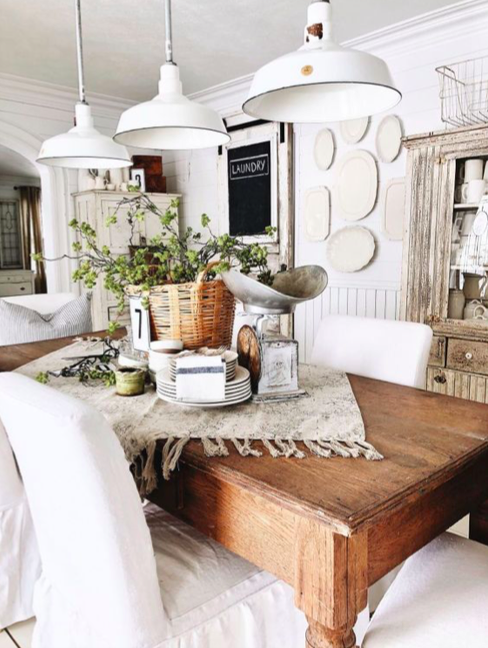 (Source)
Barn lights are all the rage right now.The featured Pinterest photo we have here offers a gorgeous, rustic design while not looking too vintage or outdated.
Bring your attention to the fact that there are white walls, white chairs, and other white accents in the room – yet, the fixtures are also white.While white these light fixtures are still very noticeable as 1) they're large, 2) they're in a group of three, and most of all, 3) they have silver accents to help highlight them.
Barn pendant lights are lovely in many parts of your home, whether over a dining space such as in this Pinterest design or in a living room, entry way, kitchen, or office.
But because some fear that installing barn lights will clash with more modern aspects of their design, we featured barn lights with a slight modern touch below – as noticed by the polished finishes some of them offer.
SimilarStyled Fixtures on Cocoweb:
| | |
| --- | --- |
| 16" Goodyear LED Pendant Light in White | 16" Oldage Pendant Light in Galvanized Silver |
| 16" Goodyear LED Pendant Light in Cherry Red | 22" Oldage LED Pendant Light in Black with Black Downrod |
4.Tiny and Triangular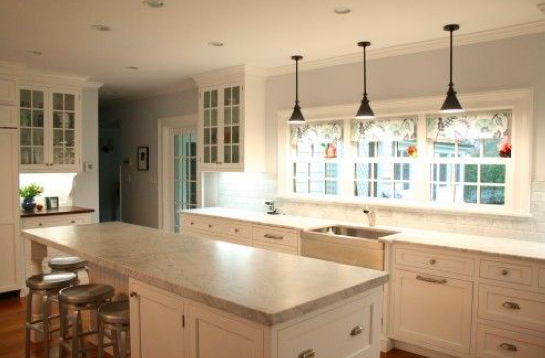 (Source)
For something on a more modest, feminine side, opt for a pendant light that offers a thinner, tinier, triangular shade. It's a great way to add some angles to a bland space.
Triangular fixtures like these are often installed in multiples in kitchens. They can also look beautiful lined up behind a bed, over a vanity, or in clusters over a side table or nightstand.
You can see in the image above that the design is kept fairly simple overall. There's plenty of white and hints of gray, but the black pendant lights provide a contrast that make them stand out despite being smaller fixtures.
Hint: If you plan on hanging multiple fixtures like these in a row, consider opting for different colored ones and alternating between the two – or attempt to make a cluster of different pendant lights of different heights as we saw in the first example in this article.
SimilarStyled Fixtures on Cocoweb:
| | |
| --- | --- |
| 18" Calla LED Pendant Light in Black | 16" Calla LED Pendant Light in Mahogany Bronze with Mahogany Bronze Downrod |
| 16" Calla LED Pendant Light in Jade | 20" Calla LED Pendant Light with Downrod in Galvanized Silver |
5. Sophisticated and Curvy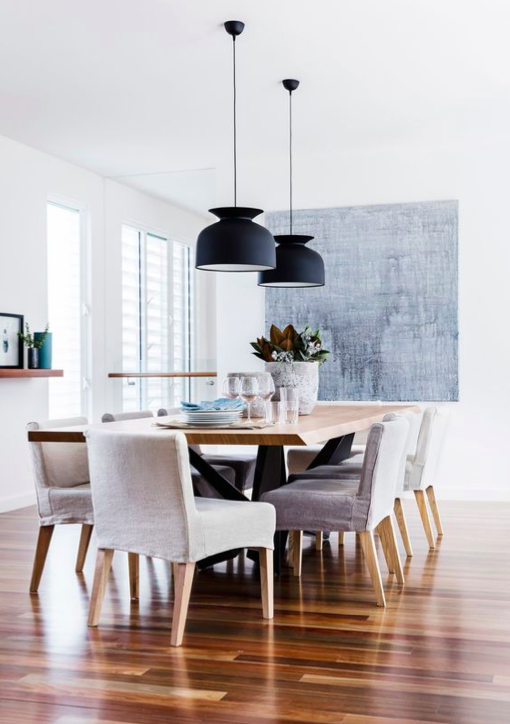 (Source)
Especially if your interior design contains a lot of corners or sharp edges, break it up with a curvy fixture.That's exactly what the interior designer did in the above Pinterest design as we notice that there are plenty of edges and corners in the room – squared-off chairs, an angled-edged table, shelves, and a large squared painting.
The above design receives a different kind of movement when the curvy lamps are introduced into the space.While texture is an important element in every design, adding a different-shaped fixture can in a way make up for lack of texture in an interior design as it quickly draws in all eyes.

Fortunately, Cocoweb also has some lovely curvy fixtures from pear- to more triangular-shaped shades, as you can see below. Going curvy can add beautiful drama to any room from the bathroom, to the kitchen, to the living room, or even the master bedroom.
Similar Styled Fixtures on Cocoweb:
| | |
| --- | --- |
| 12" Cagliari LED Pendant Light in White | 9" Norcia LED Pendant Light in White |
| 9" Norcia LED Pendant Light in Black | 10" Manarola LED Pendant Light in White |
Conclusion
Overall, we can see that Pinterest.com is an excellent source to turn to for both personal and professional interior designs utilizing different light fixtures.
Getting inspiration is important, and it doesn't mean you aren't creative or intelligent enough in design. Rather, getting inspiration is a way to brainstorm, see what we do and don't like, and to picture what our space could potentially look like without yet having it completed.
After checking out other interior designs, check out our Cocoweb.com online store. We have a plentiful selection of pendant lights, barn lights, floor lamps, and other fixtures to complete your indoor or outdoor space.
Recent Posts
Summertime is going strong and the heat is most certainly upon us. With triple-digit temperatures, k …

You may or may not know, Cocoweb started its roots in lighting. With LED lighting being our specialt …

Picture Perfect:The Art of Lighting Your GalleryWhen entering someone's home, your eyes are immediat …