Chances are, you already know what Tiffany lighting is, even if you have yet to associate a name with it. Your own home or even your grandparents' home may have had Tiffany lighting at some point.
To refresh your memory if you're still a little fuzzy with this type of lighting, Tiffany light fixtures are lamps (often table lamps) that offer multicolored, stained glass shades featuring different regular or irregular shapes to form geometric prints or objects such as flowers, dragonflies, or grapes. These fixtures may have rounded-off or squared shades, sometimes offering a squiggled edge. Do these fixtures ring a bell yet?
While Tiffany lighting isn't as popular as it used to be and is often deemed antique, although is still found in many homes today, we're about to dig into the unique history of these elegant lamps. But before we get started, let's look at some gorgeous photos of Tiffany lights – some modern and some old-fashioned – to help familiarize you with these fixtures and reintroduce you to the beauty Tiffany lights have to offer.
1 - Tiffany ceiling sconce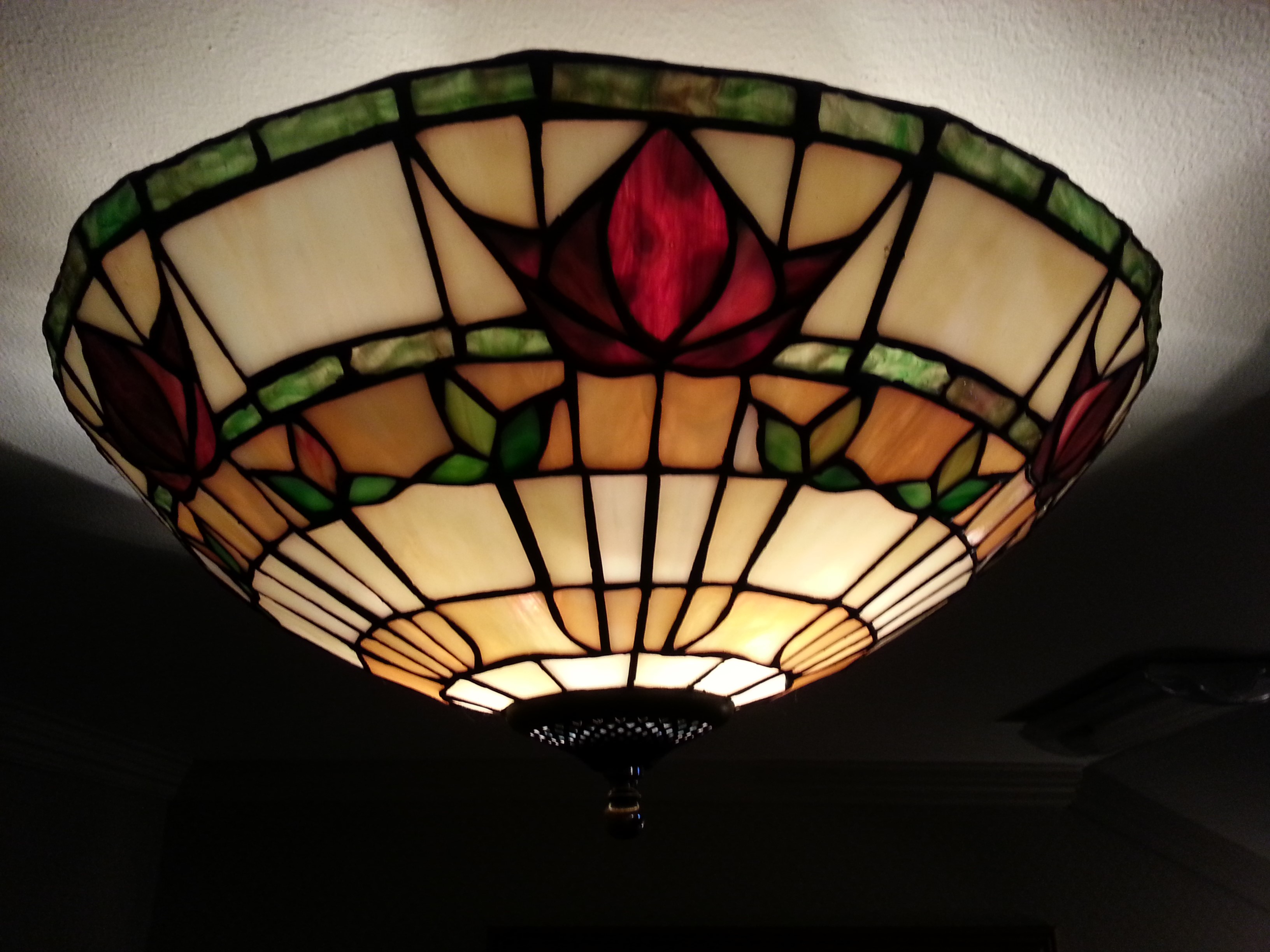 Those who love Tiffany table lamps but don't want to mess with actually placing them on a table and don't want to risk accidentally knocking them over may light Tiffany lighting in the form of a ceiling sconce. While sconces diffuse illumination differently than table lamps, they offer a similar shade style, just with a different installation placement.
The featured ceiling sconce above showcases an Earthy-toned background with fairly simple flowers to add the right feminine touch to an interior design without being too harsh on the eyes. In turn, a fixture like this can merge beautifully into a plethora of designs without clashing.
2 - Tiffany table lamp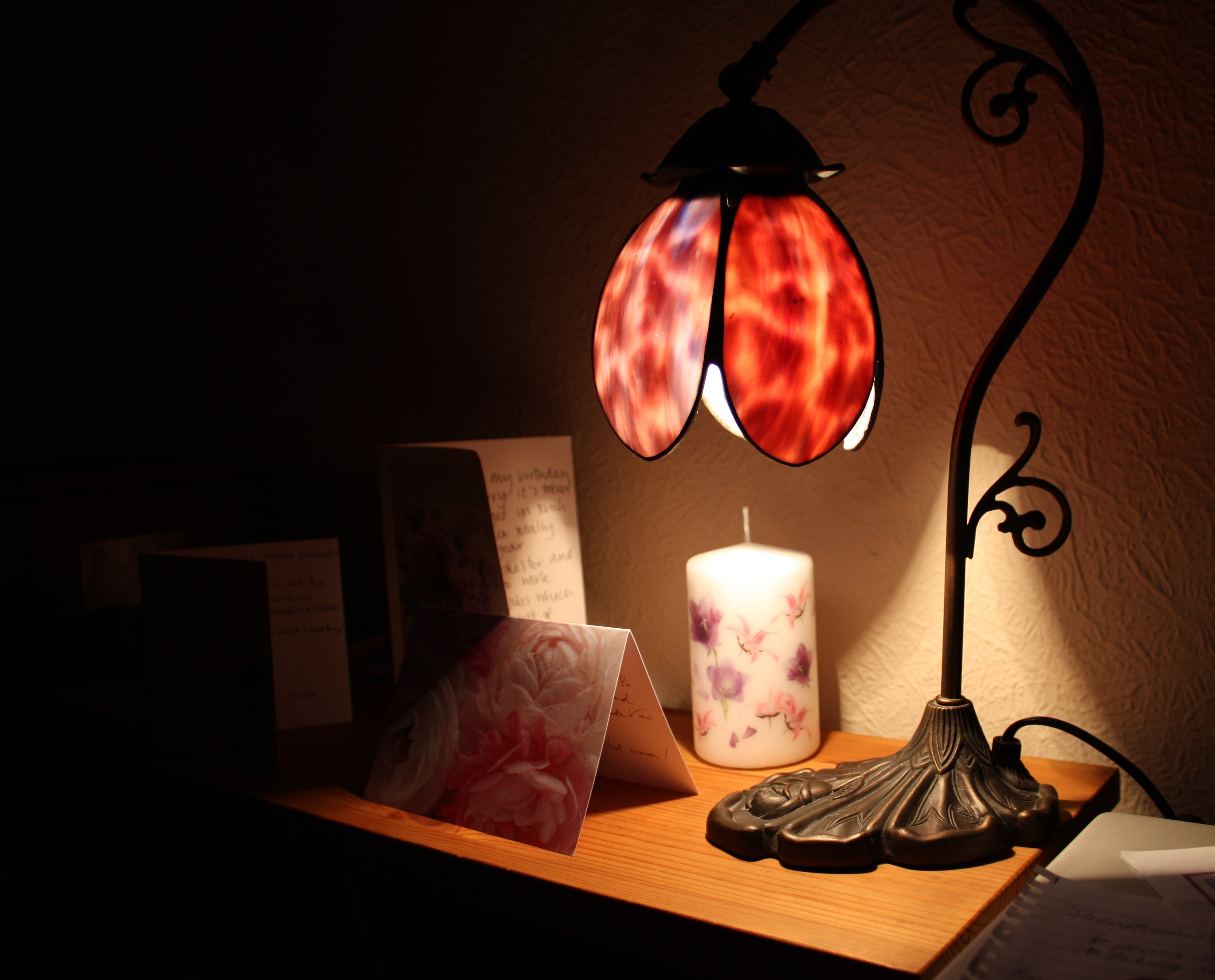 Many Tiffany lamps feature globe or squared lamp shades, sometimes with flower designs on the glass. As for this particular table lamp, the lamp shade itself features a flower shape. The curved base and swirled designs on the neck offer a unique flair most modern lamps don't offer today.
Instead of offering several, tiny fused cut pieces of glass on the shade, this lamp instead offers a different piece of glass for each petal. The petals offer a water-colored appearance with an analogous color scheme and slight opaqueness to offer delicacy and femininity, mimicking that of a real flower in nature.
3 - Tiffany pendant lamp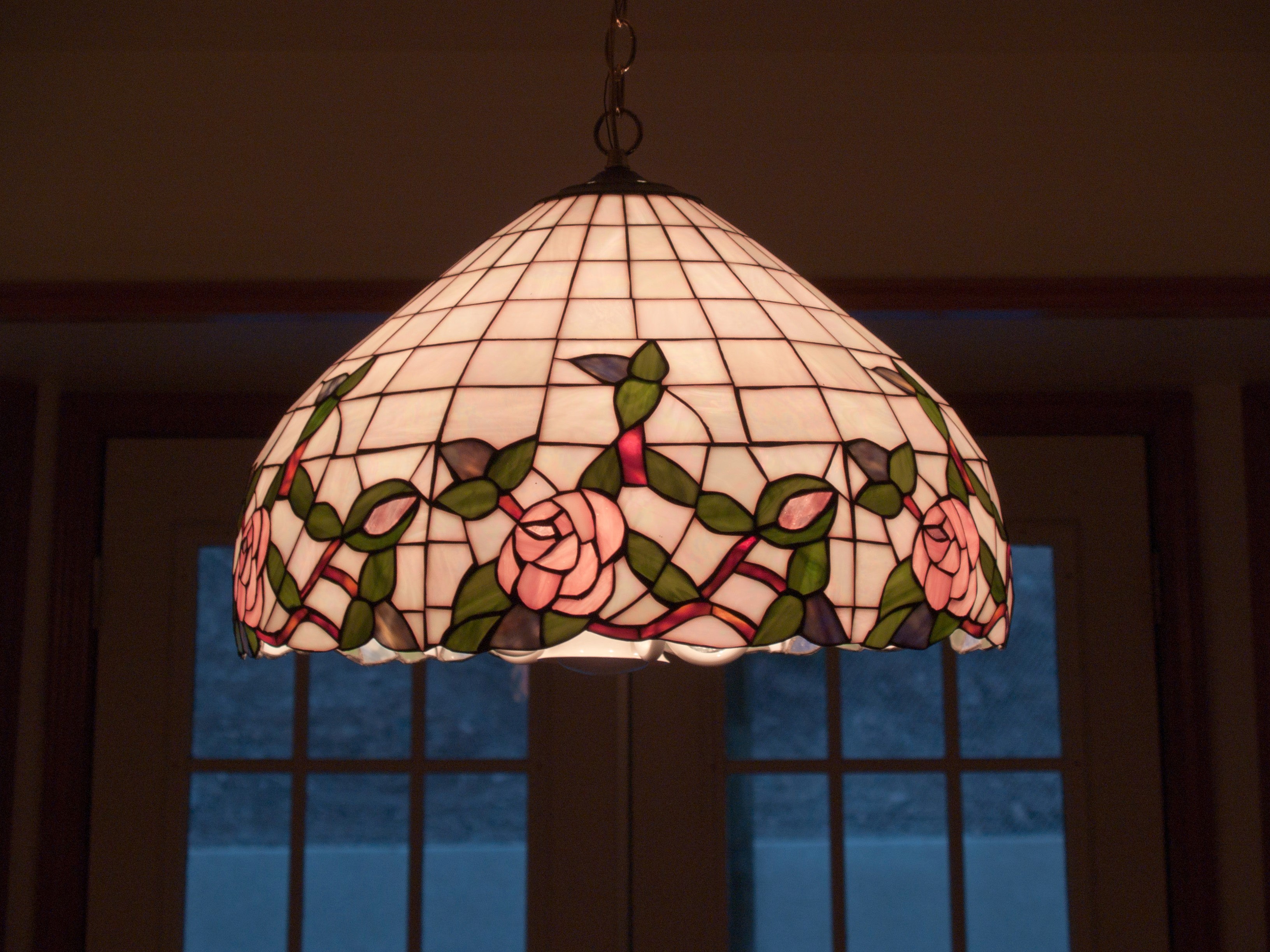 Unlike some Tiffany light fixtures, this Tiffany pendant light features a conservative, neutral background with minimal natural, softer colors to depict a rose garden scene. If you look closely, you can see the light, lobe design on the edge of the fixture. This often is done to mimic the edging of bushes in a garden. Many like Tiffany lights that offer this edge as it is different from most fixtures today that have smooth edges.
Tiffany pendant lights like this particular light fixture are especially stunning over a nice dining table or in an entry way as they offer great downward lighting with a formal flair that can replace that of a traditional chandelier.
4 - Tiffany chandelier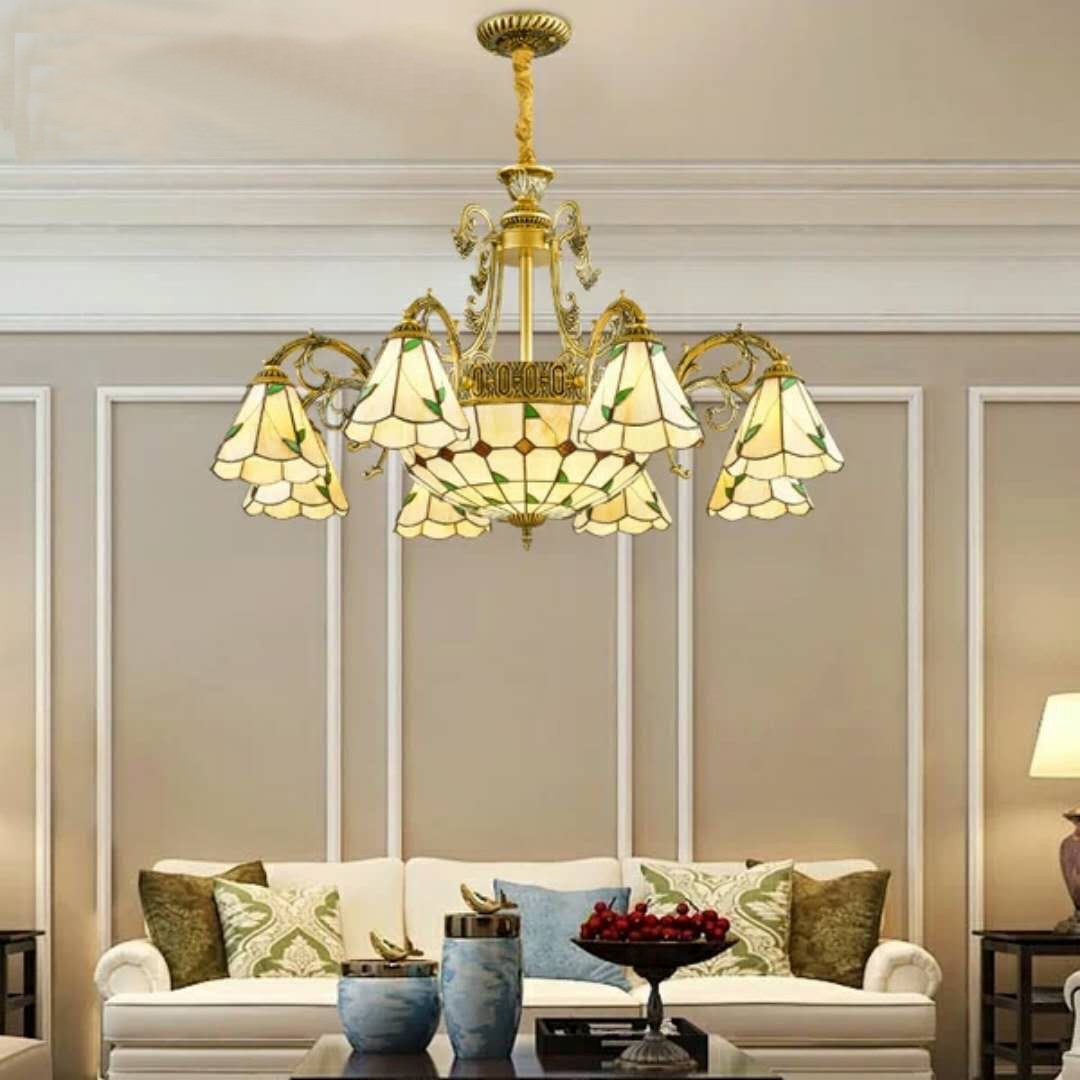 While many Tiffany lamps are colorful, often featuring green, blue, red, and other vibrant colors, this next Tiffany light proves that these glass fixtures can also be more conservative and less "loud" in a design. Notice how the red and green accents on this Tiffany chandelier match that of the accents in the actual interior design, making it a great fit for the space.
Also take note of how this particular Tiffany fixture doesn't feature as many shapes and lines as the first and third Tiffany fixtures we've looked at. The simplicity may be more attractive for those who like glass fixtures and the designs often present on Tiffany lights without the over-the-top stained glass appearance and loud design.
5 - Tiffany floor lamp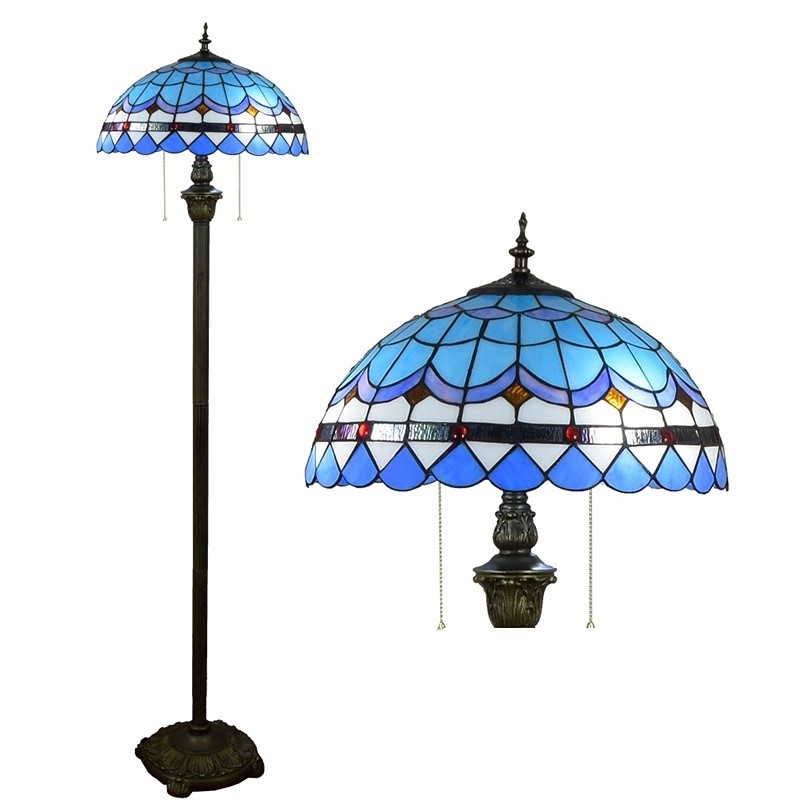 While many Tiffany fixtures may offer a floral design, not everyone may like such as they may deem it too feminine for their interior design. However, with a Tiffany light like this floor lamp, one can enjoy a beautiful geometric print showcasing a variety of both curved and straight-lined shapes to add variety in a space.
While many floor lamps today offer a curved or adjustable neck to make it easier to direct light where it's needed the most, the straight, non-mobile design of this particular Tiffany lamp is similar to that the table lamps, which Tiffany lights tend to frequently come in. The scalloped edge of this lamp add an extra touch of elegance to complete a design.
The History of Tiffany Lighting
The first Tiffany lamps were made around 1895, originally handmade by craftsmen which took several hours. These handmade lamps were a way to return to handcraftsmanship after the Industrial Revolution hit. By the 20 th century, the Art Nouveau movement was at its peak, making tiffany lamps ever so popular throughout the remainder of the art period.
These light fixtures were named after Louis Comfort Tiffany who was born in 1848. Mr. Tiffany was a trained painter, interior designer, and stain glass specialist. Eventually, Tiffany created the Tiffany Glass Company in 1885, which later became the Tiffany Studios. From Tiffany's New York-based company, his signature lamps were created by him and his team from 1878 to 1933.
Tiffany lamps are often divided into seven different categories including favrile, irregular upper border, irregular lower border, flower globe, flowered cone, geometric, and transition to flowers. The many designs of Tiffany lamps can be often credited to Clara Driscoll, who worked at Tiffany Studios for over two decades. "Daffodil," "Wisteria," and "Dragonfly" are some of the most popular tiffany lamp designs.
In replication of the intricate, highly-admired designs of Tiffany lamps, there are many fraud fixtures out there that claim to be made by the Tiffany Studios today. However, for the proper quality, beauty, and value, the only true Tiffany lamps were produced until the early 30's by Tiffany and his team themselves. Authentic Tiffany lamps can run thousands and thousands of dollars. If you want to know if a Tiffany lamp is real or not, you can refer to this useful guide.
Conclusion
While Tiffany lighting has been around for decades, sometimes trends go out of style as new ones take over. Likewise, sometimes trends that lose their flame reignite a spark of interest. Nevertheless, Tiffany lighting is still popular in Europe and loved by art lovers around the globe.
When shopping for your next light fixture, remember that you don't always have to pick what's trendy. Selecting lighting that you personally love in terms of its style, color, shape, and other features is crucial. If you're interested in finding new light fixtures for your space, check out our online lighting store at Cocoweb.com for thousands of great options.
If you need more interior or exterior design-related tips and tricks, check out the rest of our blog posts .
Recent Posts
The Romantic Era, spanning roughly from the late 18th century to the late 19th century, was a period …

There's something magical about the way outdoor lighting transforms a space after the sun sets. From …

Music has always held a special place in the hearts of people worldwide, captivating minds and emoti …