Fresh, natural, and aromatic are three components many enjoy having in their interior design. Having such can turn any home into a more welcoming space in no time. Fortunately, there is a way to achieve all three, along with the addition of beautiful aesthetics, by utilizing dried flowers and herbs in the home. Additionally, drying (or purchased pre-dried) flowers and herbs for the sake of incorporating them in your interior design is very affordable, fun, and simple, all while providing a rustic touch to your home.
Apart from having a bowl of potpourri in your interior design to freshen up the place, there are several other ways you can use dried flowers and herbs in your interior design, such as the following:
1 - Jarred or Bottled Flowers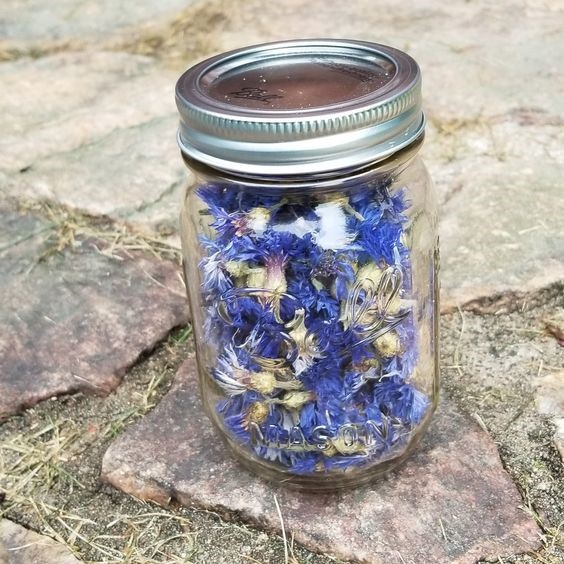 More likely than not, you probably have a jelly jar or olive oil bottle or few around the house just waiting to be repurposed. If so, thoroughly clean and dry the jar or bottle of your choice (preferably one that is clear and not tinted), and fill it up with flowers or herbs you've already dried. You can just add one of a few flowers and/or herbs. You might want to mix them up in the jar/bottle or even layer them in a particular way. You can also add additional essential oils or spices to amp up their aroma if you wish.
It's up to you to decide if you want to place the lid and/or lid ring onto your jar or a cork/lid on your bottle, but it is a good idea to ensure they don't spill out or get dust on them. You may wish to just leave the lid off or even add holes on the lid to ensure a whiff of your jarred or bottled flowers and herbs can occasionally fill the air in your space.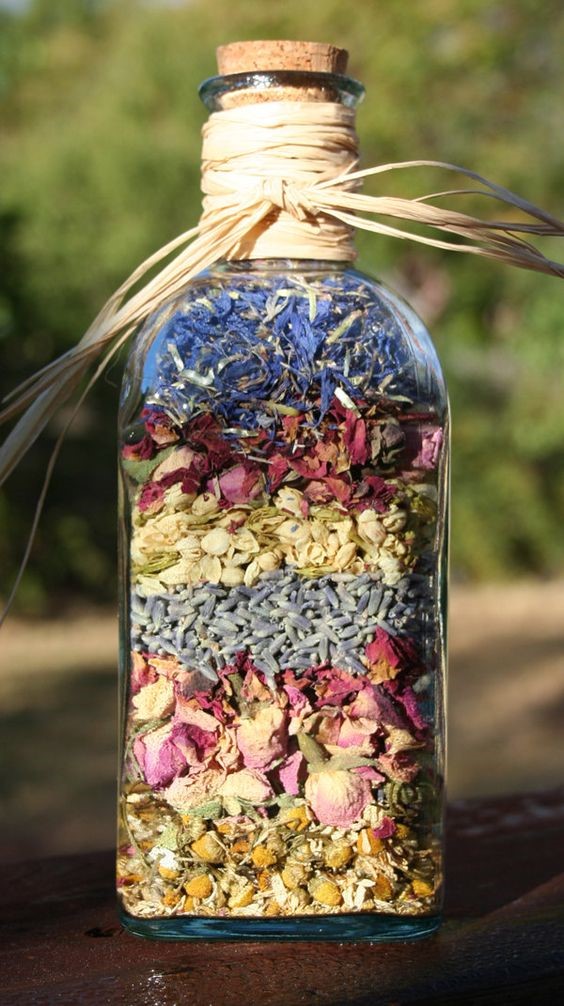 You can place your dried flower/herb jar or bottle on a shelf, side table or nightstand, fireplace mantle, on the back of the kitchen counter against the backsplash, or anywhere else you want a natural, earthy touch. If you want to go all out, you might even wish to create multiple bottles or jars with herbs to either place around the home or to create a fun arrangement of them in a part of your space. Some may even like the idea of creating jarred or bottled flowers/herbs for certain seasons featuring different colors or even scents.
2 - Herb Wreath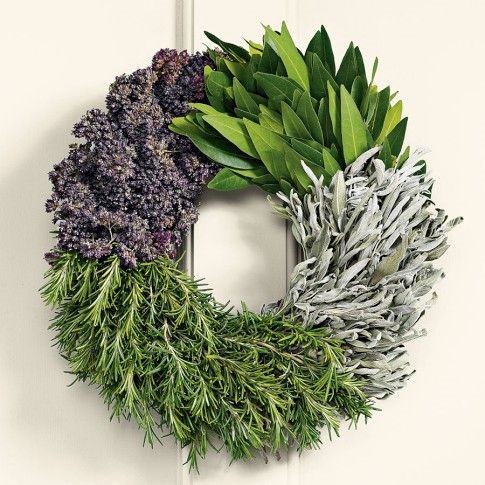 If you're looking for a bit more of a DIY project, something that takes a little more time than adding dried flowers and herbs to a jar, consider creating an herb wreath. If you don't already own a blank wreath frame, you can purchase one from your local craft store in different sizes and sometimes even different shapes. While you're at the craft store, also pick up a roll or two of craft wire to attach the dried herbs and/or flowers you want to your wreath.
Notice how in the featured photo for this section, there are four different flowers, herbs, or leaves used, all separated in their own sections. You can do something like this, or you might instead want to use just one herb as the base on your DIY wreath and perhaps add flowers or other herbs here and there throughout the wreath. The decision is yours. As Thanksgiving and Christmas inch closer, you might love a sage and/or rosemary wreath in particular.
The great thing about herb wreaths or even edible flower wreaths is that you can consume the featured products of your wreath as they as still fresh or even after they dry. That said, herb wreaths can be a great addition to the kitchen, but of course, also look attractive on your front porch. Your friends and family might even ask you to make one for them as well!
3 - Pressed Petals in a Photo Frame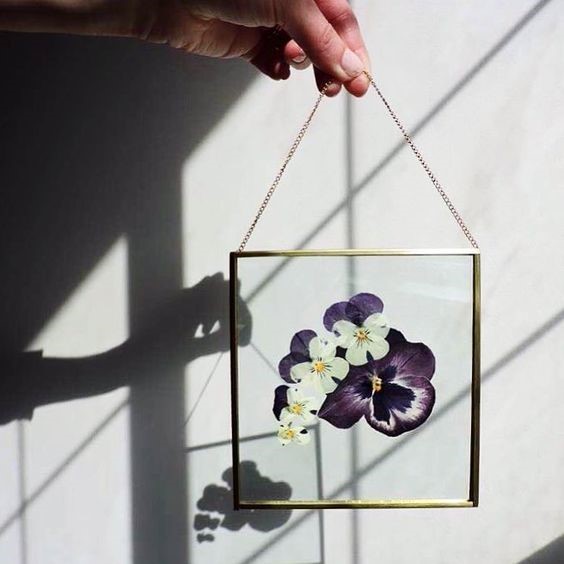 To take up minimal space in your interior design, as well as to fill up wall space, you may love the idea of pressing flowers in a photo frame to use as wall art. Simply select fresh flowers (with or without the stem attached) to press inside the photo frame size you want. Notice how the person who made the above pressed flower frame overlapped the flowers. You might want to do this or even refrain from doing such.
Even the photo frame you choose for your pressed flower frame DIY can make all the difference. Photo frames may be clear on both sides with a thinner frame as featured in the above image or may be traditional in that they have an opaque back and thicker frame. You could even consider pressed flowers in a photo frame that prop up on a table instead of hang on a wall depending on where you wish to place it after completion.
For added texture, leaves and herbs can also be pressed in your picture frame. Ferns look particularly beautiful when pressed in a frame. However, just remember that less is typically more when it comes to a DIY like this. Nevertheless, something as simple as this can add color, pattern, and texture all at once, and it can visually add scent to your space. By visual scent, we mean a perceived aroma that is acquired just by looking at something that appears to smell good, even if one can't actually smell it.
4 - Hung Flowers and Herbs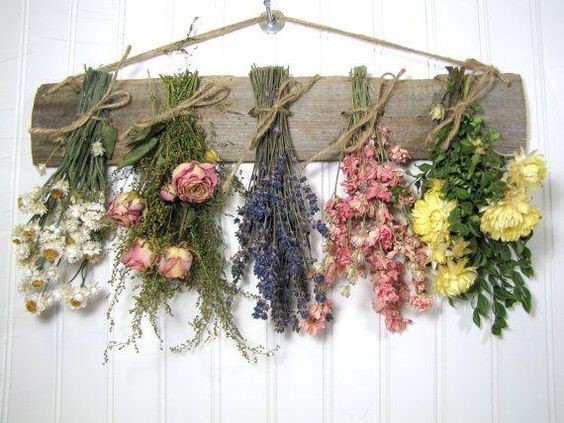 Typically, people dry fresh flowers and herbs by hanging them from the ceiling or on a wall before unhanging them for reuse (e.g., for making potpourri, for cooking with, etc.). This ensures the edible flowers or herbs properly airdry and do not rot in the process. However, why not make permanent hung flowers or herbs a beautiful design element of your home?
Looking at the featured image for this section, you'll notice that the DIYer hung flowers upside-down from a hung rustic, wooden plaque to offer a farmhouse vibe. Others may wish to hang their flowers or herbs vertically once tried or even place them in vases or cans that are mounted on their wall. You can also have special hooks install on your wall (or simply buy a coat rack that hangs on the wall) to handle gorgeous bunches of dried flowers or herbs.
Hung flowers or herbs can look especially great in the kitchen, bathroom, dining room, or breakfast nook. Hung roses can look particularly romantic in the master bedroom or master bath setting. Just remember that no matter where you hang your flowers or herbs, be sure to regularly give them a light dusting every once in a while. If leaves or flower petals fall off, you can collect these to use for potpourri.
Conclusion
Nothing says fresh like flowers and herbs from their beautiful appearance to their enlightening scent. If you just received a flower bouquet from a loved one or have a garden filled with colorful, aromatic flowers and herbs, giving them a new purpose within your interior design is a great way to reuse Mother Nature's byproducts and to add color to your interior design. It's fairly easy to do this too.
To add dried flowers and herbs in your home, you may wish to place them in jars or bottles, press them in photo frames, make a wreath out of them, or even hang them on the wall or ceiling. It's a beautiful thing to be able to add nature's glory into your space and to appreciate it all year 'round.
When it comes to adding dried leaves, herbs, and petals in the home setting, be creative, and consider adding colors and textures that complement the rest of your design or even provide what your space currently lacks. You can use whole flowers and leaves or just bits and pieces of such. There are many ways to go about this, and the choice all comes down to what your specific style is.
If you need more interior or exterior design-related tips and tricks, check out the rest of our blog posts .
Recent Posts
Summertime is going strong and the heat is most certainly upon us. With triple-digit temperatures, k …

You may or may not know, Cocoweb started its roots in lighting. With LED lighting being our specialt …

Picture Perfect:The Art of Lighting Your GalleryWhen entering someone's home, your eyes are immediat …