Summer is almost coming to an end and do you know what that means? That's right! It's time to go back to school once again! The time has come to think about how you can best prepare you and your family for the moment you have to get your children up and ready for school and pack lunch and snacks, to when you arrive home for you to make dinner and for your kids to do homework. Since you and your family will have a busy schedule, it would be a great idea to prioritize and organize – even redecorate your home in order to make that routine transition as easy as possible. Here are some helpful tips to get your home ready for the hustle and bustle of school time.
You may think that only certain rooms and areas of your home are utilized during school time. However, every room of your home is used in some way within a hectic school schedule and therefore, can benefit from a makeover. Starting with the obvious – the kitchen and then bedrooms, the living room and the dining room, are the main areas of the home. You also have to keep in mind that the bathroom, the front or back door area, the laundry room, your children´s closets, playroom and study room are other important rooms that fulfill specific purposes within a household.
Kitchen
The kitchen is considered as the foundation of the home and that's because it is. You and your family come and go in the kitchen throughout the day, especially in the mornings, evenings and weekends. This is the central place for breakfast and dinner, coffee time, family conversations and last minute homework. For this reason, it is crucial to keep the kitchen area clean and organized, and ready to go when "on the go". However, organize your kitchen according to your lifestyle, routine and what works best for you and your family. For your little ones, arrange sections of the pantry and refrigerator for easy to grab lunches and snacks. For your older ones, designate a particular area for their lunch and snacks as well. In addition, take time to gather around the kitchen table for family meals and meetings.
Bedroom
Your bedroom is your own personal space. This is the place you start and end your day everyday. Since you have all of your belongings in your bedroom, it's important to keep it clean and uncluttered. There are some things you can incorporate to both maximize space and add to your decor such as using shelves for your closet, headboard space, or on the wall as well as cubbies and baskets for footboard storage or under your bed, or a chest or ottoman. You can also decorate with hanging hooks to hang bags or jewelry and shelving space to store small items. In addition, make sure your nightstand and desk are properly organized with appropriate task lighting to suit your needs.
Living Room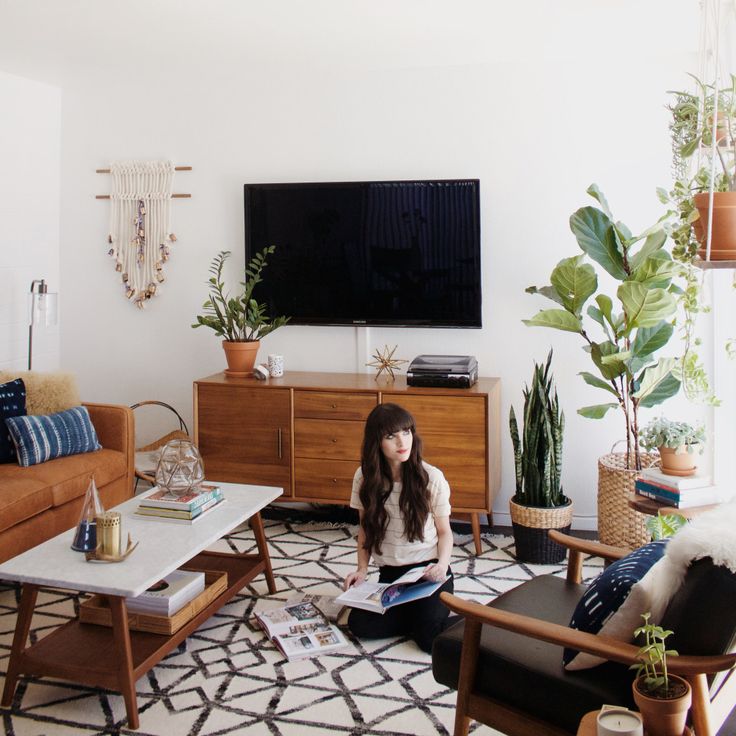 The living room can serve for different purposes such as family-get-togethers, relaxation, entertainment, family discussions and T.V time. Since you and your family´s day is packed with non-stop activities, work and appointments, and your home is probably filled with textbooks, school supplies, backpacks, toys and other belongings, this is the perfect place for parents, kids, their friends and family relatives to simply enjoy some downtime. Make room for video games and entertainment systems, and books and magazines on bookshelves as well as an area for snacks for everyone to kick back and relax in between school and homework.
Dining Room
Whether it´s starting or ending your day, the dining room is the place to come together as a family for meal time. That's why you should keep this area clean and ready for breakfast and dinner time. Since you and each member of the family has his or her own busy schedule, encourage family meal time for sharing and support. You can also use this room for homework space and after-school snack time.
Front/Back Door Area
Determine your point of exit and entrance, whether it´s the front door, the back door or through the garage. This is the area that you and your family leave the house every morning and return home every evening so it's important to include this into your routine and keep this area organized. Establish a place to hang or store your coats and jackets, backpacks and hats. As parents, make sure you have a place to put your personal belongings such as car keys, purse, wallet, cell phone and anything else important to take with you. It would be a good idea for you and your children to get things ready the night before so that your morning outing is smooth and stress-free. A spot for seats would also be helpful to quickly put on shoes or to sit down when coming into the door.
Laundry Room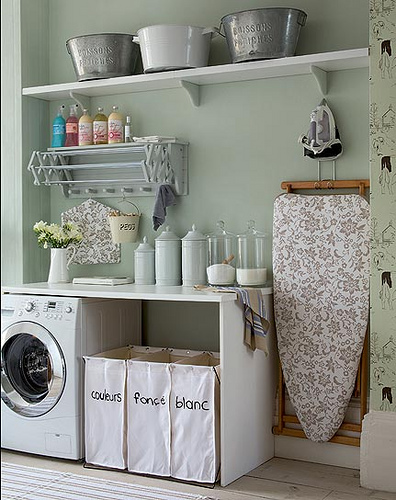 style="width: 511px;">
Besides the bathroom, the laundry room is probably the dirtiest and messiest room of a house. With after-school activities, sports and time on the playground, your laundry room accumulates a lot of dirty clothes. You can organize this room by having a hamper for each family member. You can either keep these hampers in this room or in the person`s bedroom but have each member be responsible to gather his or hers own dirty clothes. You can also create a laundry schedule so that everyone doesn't end up in this room at the same time. Furthermore, keep detergents, cleaners and other related laundry items in cabinets or on shelves. Everyone can lend a hand on separating, folding and storing clean clothes, especially older siblings.
Closets
Going to school, in particular, at the start of school, means going school clothes shopping and ultimately finding the right school outfits. That's why it is essential for your kids to organize their closets. As the saying goes "out with the old and in with the new" - get rid of the clothes that are too small, too old and out of season and bring in the new, fall school clothes. It is a good idea to separate clothes and outfits based on sports, activities, school functions and play clothes in order to easily find them when needed. You can do this by having different organizers, sections for hanging clothes, a shoe rack to organize footwear and areas for toys and other belongings. You can also place clothing in separate sections, one for pants, one for shirts, etc. and color code everything in order to easily find what to wear.
Study Room
Throughout the school year, your children will need to do homework, projects, group work and anything else related to school work. Usually children have their own bedroom and/or desk to do school work; however, if you have a study room, use it. The study room can help to provide a quiet place for your kids to concentrate on homework tasks and to read – to be more productive and creative. By establishing a study room or a specific homework area in your home, it will provide structure, letting the family know that this room is only for homework, not to play. This will also work well in situations where children share a bedroom. They can either use the study room and have each child work in a certain area or have one child use the bedroom while the other child uses the study room. Either way, make sure there are no distractions and that supplies, books and other school-related items are properly arranged in the room to easily find and use.
Playroom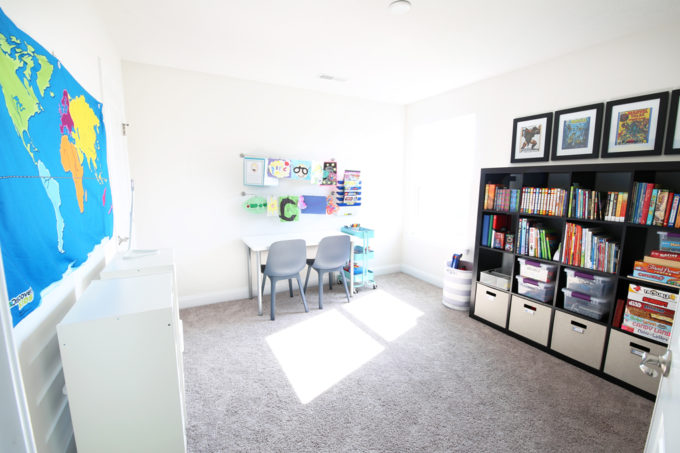 If you have a playroom in your home, make sure your children understand that the playroom is for playtime and that the study room is for studying and completing homework. If you have the playroom and study room as one room, organize it accordingly. Use half of the room for playtime and the other half for studying and homework purposes. Place furniture, accessories and items in their proper place. For example, put a couch and comfortable seatings in the play area but use a suitable table and chairs for the study area. You should also use storage areas such as organizers, shelves and bins for toys, books and school supplies.
Bathroom
Besides the kitchen, the bathroom is frequently used. You and the rest of your family are always looking for all sorts of things such as toiletries, towels, hair brush and other accessories in order to prepare yourself and to look your best to tackle the day. Use cabinets and shelves to organize items separately. For your kids, they can keep all of their bathroom necessities organized in separate baskets or plastic bins marked with their names on them. Your older children can store their belongings on high shelving in closets or on built-in shelving.
Lighting
No matter where you are in your home and what you´re doing, all rooms need a sufficient amount of light. However, the type of lighting required depends on the task at hand and the objective of a room or area. Since your home fulfills various functions such as a place to relax, to watch T.V., to study and read, to make dinner and to have family discussions, you should incorporate different types of lighting. Ambient, task and accent lighting are all vital to meet all of your needs. Ambient lighting is used to light up an entire room. Recessed or track lights, chandeliers and pendants, wall sconces and wall lights are recommended for ambient lighting. They illuminate throughout a room. For task or office lighting, use desk, swing arm, floor or table lamps, under cabinet and vanity lights, and pendant and track lights for concentrated areas. They work well to perform specific tasks such as reading a book, writing a paper or cooking in the kitchen. Accent lighting is used for more concentrated areas and adds style to your home decor. It serves to draw attention to a specific item such as a wall painting or bookcase display. Wall lights, and recessed and spot lighting are used for accent lighting. Overall, there are a variety of lighting fixtures that simultaneously provide light and an appealing decoration to your home such as picture lights, barn lights, piano lamps, floor and table lamps and ceiling lights. The key is to capture your style and apply it throughout your home with suitable lighting to fulfill your needs.
Conclusion

Cocoweb has a variety of high-end LED lighting products to illuminate your home and to provide a sense of style throughout your home. Come and take a look at our lighting collection at our online store at https://www.cocoweb.com/. You can also email, call or chat with us. We have everything from barn lights to piano lamps to picture lights to floor and table lamps – and much more!
Recent Posts
Summertime is going strong and the heat is most certainly upon us. With triple-digit temperatures, k …

You may or may not know, Cocoweb started its roots in lighting. With LED lighting being our specialt …

Picture Perfect:The Art of Lighting Your GalleryWhen entering someone's home, your eyes are immediat …