When thinking of a boy's bedroom, the color blue and racecars are the first things that tend to come to mind. Quite frankly, many boys' rooms are kept simple and are often designed to be clean and functional more so than aesthetic. However, there are still a huge selection of specific room themes for boys that are attractive, fun, and practical all at the same time. In fact, there's a perfect bedroom theme for every boy out there.
For those interested in looking for a specific theme for their son's bedroom, you've come to the right place as we have a list of some of the best bedroom themes for boys:
1 - Pirate Island
For the boys who are adventurous and imaginative, a pirate or nautical bedroom theme can be one of the easiest bedroom themes to implement. This bedroom theme might include shades of blue, red, brown, tan, beige, and/or white. Objects featuring pirate skulls, sail boats or pirate ships, stripes, waves, sea creatures, wood or wood-like materials, or anchors should be your focus.
If you have enough room in the budget, you might opt for a boat-shaped bed frame, a fake potted palm tree, and/or a sail to place on the back of your son's bed like shown in the above photo. For added detail, you might add seashells, a treasure map or fishing net on the wall, treasure or a treasure chest, or a message in a bottle somewhere in the bedroom. Generally, if it has to do with the beach or being out at sea, it might just be relevant for your son's pirate island-themed room.
2 - Camp Out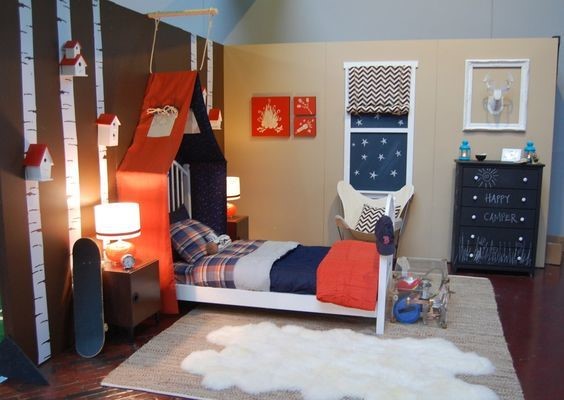 When your son has a heavy love for the great outdoors, it makes sense to bring the outdoors in. You can do just that with a camp out bedroom theme. With a theme like this, one might wish to emphasize darker, warmer, and Earthy colors: red, orange, forest green, dark blue, gray, black, brown, tan, or beige. Natural textures like wood, fur (or faux fur), and cork might be incorporated.
To pull a camp out bedroom together, focus on adding objects with stars, plaid, stripes, bears, antlers, chevron, fish or fishing poles, campfires, or other relevant camping themes. Specifically, a faux fur rug or throw blanket, stack of firewood, birdhouse, camping chair, or even a tent can perfectly complete a camp out bedroom. Adding a large lantern instead of a table lamp on the nightstand(s) of your son's room can be a great addition to the space as well as glow-in-the-dark stars on the ceiling.
3 - Outer Space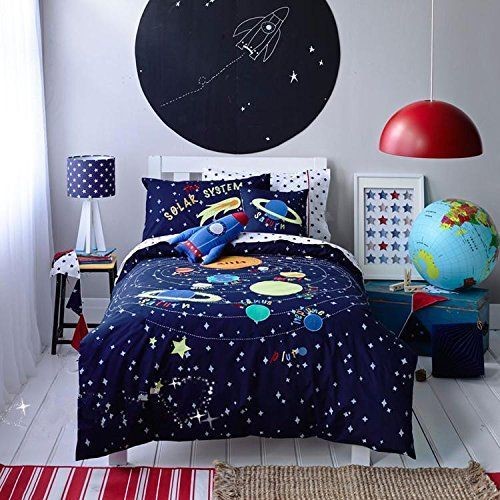 Boys who have an interest in astronomy might love to have an outer space theme for their bedroom. Deep, vibrant colors – specifically dark blue, red, and orange – look stunning in outer space-themed bedrooms, offset with white to brighten up the room a pinch. Some décor relevant to an outer space theme might be more cutesy while other décor pieces might feature a more mature, complex astrological theme. Thus, this is a bedroom theme that can be applied to bedrooms of boys of all ages.
The objects in an outer space bedroom might feature planets, stars, galaxies, comets or meteors, rockets, or even aliens. As for the prints and textures in an outer space bedroom, these can be quite versatile: metallics, cork, polka dots, and stripes. For an added effect, place (or paint on) glow-in-the-dark stars on the walls and/or ceiling of your son's bedroom. Instead of this, you might prefer adding string lighting on the ceiling that act like twinkling "stars."
4 - Super Hero Comic Strip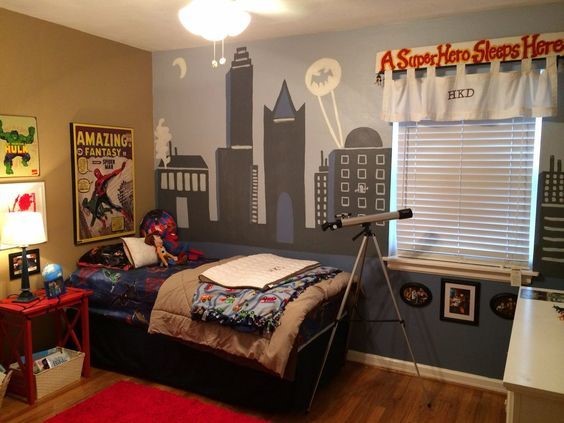 Does you son have a heavy interest in comics or in super heroes on a broad scale? This super hero comic strip bedroom theme might just be the perfect pick for their bedroom. Vibrant red, dark blue, gray, yellow, and black tend to be the colors comics most often incorporate, and therefore, might be the colors you'll wish to add to your son's comic strip bedroom. Décor pieces showcasing your son's favorite super hero(es) or heroine(s) and/or the heroes' or heroines' corresponding symbols would be important to add to the design.
If you're on a budget, you might like the idea of framing old comic books or comic strips to place on the walls of your son's bedrooms. But if you have a greater budget and more time on your hands to get the room completed, you could have a nice wall mural painted like in the above pictured bedroom – whether it be of a cityscape, a certain super hero, or even common comic strip words or phrases (e.g., "kaboom," "swoosh," "pow").
5 - Skatepark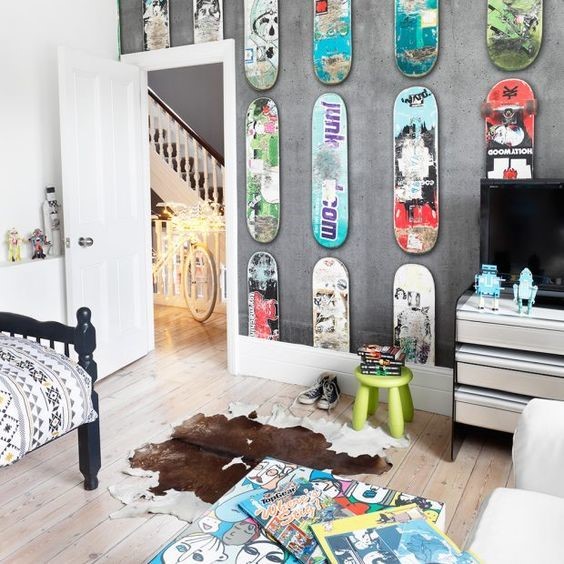 Does your son have an interest in skateboarding? They might enjoy a skatepark bedroom theme. Dark walls with vibrant-colored décor, abstract art, chipped paint and distressed furniture, metallics, graffiti art, and dripping paint are all aspects that would be perfectly relevant for a skatepark theme. Since music and skateboarding often play hand in hand, adding band posters to the space might be an excellent idea depending on your son's taste in music.
A skatepark bedroom theme can be minimalistic or complex depending on how you wish to tackle the design as well as the age of your son and how much they love skateboarding. You can simply hang skateboards on the walls like in the featured image, or you could add a small skateboard ramp to the space and/or posters of your son's favorite professional skateboarders. A brick accent wall and a tin trash can to provide an urban feel can put the icing on the cake for this theme.
6 - Taking Flight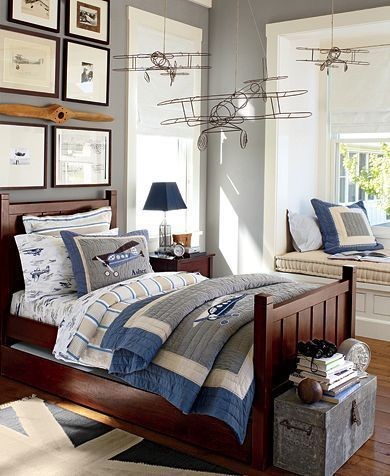 A taking flight bedroom them would be perfect for technical, adventurous boys who are interested in travel and/or methods of transportation. This room theme is also a great pick for those who prefer things more clean-cut and conservative in regard to color. Speaking of color, a taking flight bedroom might emphasize muted blue, faint red, gray, tan, beige, and/or brown. Natural materials like wood, leather, and cork are typically best in an airplane-themed space. Stripes or checkers are crucial for this theme print-wise.
For the décor, consider items that feature airplanes or clouds. Add a chest or luggage to the bedroom or incorporate old plane parts, framed plane tickets, or a world map on the walls. If you really want to go all out, you might like to paint airplanes and/or fake clouds on the upper walls or ceiling of your son's bedroom.
Conclusion
Designing a bedroom for a boy usually means keeping things on the simpler side. This makes sense as the average boy may not be into bright colors and loud prints like the average girl might. Due to the latter, most boys' bedrooms either don't have a theme or are very vague and conservative in how their theme is applied. But fun themes like pirate island, camp out, outer space, super hero comic strip, skatepark, and taking flight are bedroom themes for boys that are quite striking and versatile for the average boy.
Whether your son likes their space to be less obnoxious or doesn't mind the fine details, and no matter what their general personal preferences are, you can find the best theme to reflect who your son is. With a little imagination, you will be able to not only select the most relevant theme for your son but apply it to their bedroom effortlessly while on a budget.
If you need more interior or exterior design-related tips and tricks, check out the rest of our blog posts .
Recent Posts
Summertime is going strong and the heat is most certainly upon us. With triple-digit temperatures, k …

You may or may not know, Cocoweb started its roots in lighting. With LED lighting being our specialt …

Picture Perfect:The Art of Lighting Your GalleryWhen entering someone's home, your eyes are immediat …