Cocoweb is proud to announce it's newest addition to the Cocoweb Living store: a brand new line of innovative, energy efficient ceiling fans. All of our ceiling fans encourage green living, most only use 23W of energy, and none use more than 75W. Compared to central air conditioning, which can use up to 3500W, our ceiling fans are a huge step towards going green. They are also all remote controlled and all come in unique, versatile, and high quality designs. Many of them are equipped with Whisperwillow Technology, which is a patented technology that makes our fans run silently. There's a fan for everyone, no matter what your style is. Here are a few fans for just a few different styles. From here, the possibilities are endless!
The Victorian
Croatan 52" Ceiling Fan in Matte Black $178.00
The Croatan Ceiling Fan has the perfect details to keep any Victorian era lover happy. This ceiling fan embodies the same swooping lines and elegant patterns that Victorian décor offers. Paired with dark wood blades, it creates an even more elegant allure that connects this fan to the turn of the 19 th century. It's the perfect way to cool down while appeasing the Victorian at heart. If dark wood doesn't suit your fancy, you can even choose from other finishes in order to achieve the look you want. No matter what, this fan will provide the style and cooling you're looking for.
The Industrial
Montauk 52" Ceiling Fan in Brushed Nickel $219.00
The Montauk Ceiling Fan would fit perfectly in an industrial loft or a vaulted ceiling home accessorized with industrial décor. It's certainly a far cry from your average ceiling fan – the striking brushed nickel of this fan make it the perfect addition to a home that's looking for its edge. The Montauk, however, still holds on to a bit of ceiling fan tradition through beautifully crafted arms and blades. Pair the Montauk with a palette of black and white in order to really make your home striking. The Montauk also comes with a DC Motor, which makes this ceiling fan particularly green and energy efficient for your home. It only uses 23W of power, while some central air conditioners can use up to 3500W of power. It's the perfect way to go green and save energy while staying cool.
The Minimalist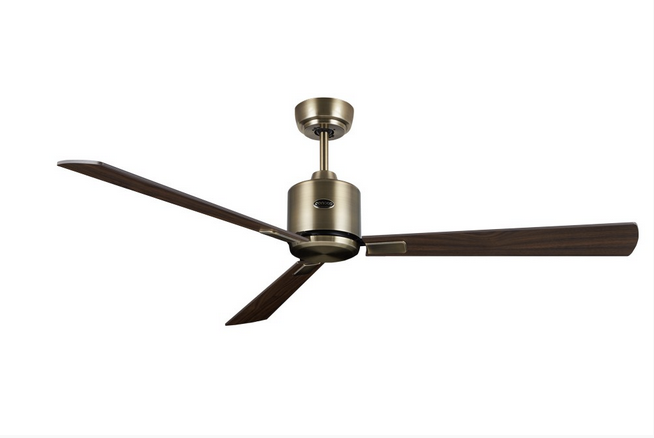 Kitty Hawk 52" Ceiling Fan – Antique Brass $221.00
The Kitty Hawk is our pick for any minimalist out there. We perfected fan dynamics with this particular fan because the Kitty Hawk is just as effective and functional as a fan with only three blades instead of the usual five. The body is sleek and minimal in design, and the blades themselves are sleek and slender. In addition, the Kitty hawk is also a DC motor, so it is as green as it is functional and minimal. The Kitty Hawk would work perfectly in a modern, functional, minimal home, or it could be the perfect kick start on your way to transforming your home into a minimalist abode. The Kitty Hawk also comes in two different base and blade finishes, so the possibilities are nearly endless.
The Beach House
Frisco 52" Ceiling Fan with Light – Brushed Nickel $192.00
With its simple, round light and natural wood blades, the Frisco is definitely our top choice for a beach house fan. This fan would be perfect for a room full of natural fabrics, soft whites, and forest greens. The easy curves absolutely scream relaxation and escaping the heat. The simple breeze of Summer would never end with the addition of the Frisco. Another positive of this light is the addition of the downlight. The Frisco is fitted with the patented Whisperwillow technology, which keeps the fan running as silently as possible.
We have many other style options in ceiling fans, find out which one is perfect for your style!
Recent Posts
Do you know that your brain sees even when you don't? The unconscious processing abilities of the h …

Tis the season for new home upgrades!Let's face it, it can be frustrating when family members come …

It's October 25th, and you've realized, "I haven't decorated for Halloween!" Don't fret! We have fiv …