Engaging in interior design for the very first time can be both exciting and intimidating. For some folks, they may face sheer anxiety and fear. Even if you're not anxious about the process, without much expertise on your belt just yet, it can be hard to make quick interior design decisions, and not to mention, feel confident about each design move you make. Chances are, you might make some interior design mistakes, as most newbies would.
But learning from the best is how you can learn from your mistakes before you even make them. While good ole trial-and-error never hurts and can sometimes be the best way for us to learn, it's always nice to have someone more experienced and knowledgeable show you the ropes.
The following interior design errors are definite mistakes that make interior designers cringe, and thus, are things you should avoid doing when designing or re-designing your space.
1 - Undersized Rugs
Interior designer Stefani Stein is one of many professionals who is not fond of too-small rugs in an interior design: "I'm a firm believer that the rug is a unifying element that pulls a room together and should anchor the furniture pieces. Sometimes finding the perfect rug in the perfect size can be tricky, and going custom isn't always an option. So, if the rug of your dreams isn't quite the right scale, try layering. Just be careful to avoid textural overload."
How do you know if your rug isn't large enough? One key indicator is, if the corners of your rug barely peek out from underneath your furniture or if the rug is so tiny that you almost forget it's there (and your eyes don't even gravitate towards it when peering into your space), it's time to opt for a larger rug. Although it's ultimately your choice what size rug you wish to add to your space, if you decide to add one at all, an undersized rug kind of defeats the purpose of having a rug in your space at all if you aren't able to see it or enjoy it.
2 - Bad Lighting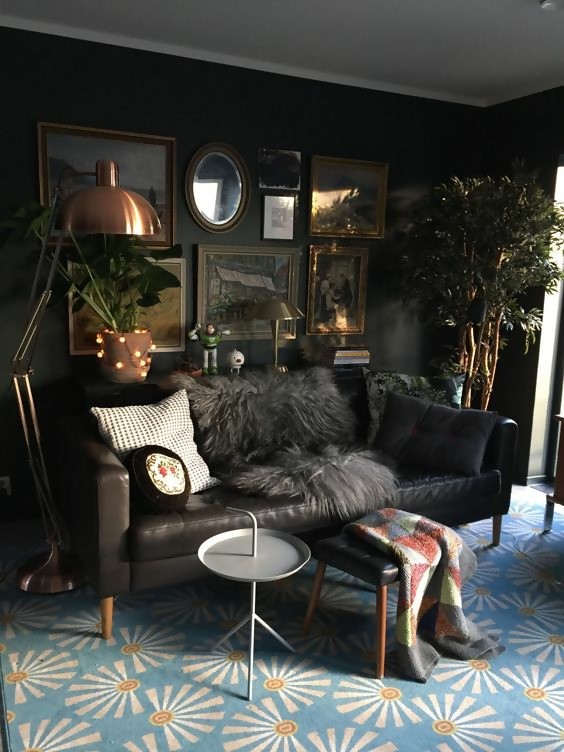 According to Shannon Vos of Vos Creative, "Almost nothing has the power to transform a room like good lighting can," and well, he definitely isn't wrong! Poor illumination can cause great damage in a space, even if it generally has a good design and general layout. Bad lighting can make a home feel grim, small, and melancholy. However, with the right amount of lighting, you can achieve a lively, productive, cheerful space. Clearly, a majority of us would prefer the latter.
A good design doesn't just have recessed lighting or lighting in the form of a ceiling fan. Also opt for other fun ceiling fixtures like pendant lights or chandeliers. Apart from ceiling light fixtures, you might opt for wall lights, table or desk lamps, picture lights, and floor lamps. With the many colors, styles, and sizes of light fixtures out there, it's impossible not to find light fixtures that don't work for your space!
3 - Lack of Layers
Your space is not two-dimensional, so don't treat it like it's flat and vapid. With a three-dimensional space, it's vital that you provide layers, no matter how big or small your space is.
According to interior designer Katie Hodges, "While one piece can certainly transform a space, we often forget how important the sum of multiple parts can be when designing a room. If you have one great piece of furniture without the appropriate supporting cast, the space tends to feel like it's lacking. Instead, look at your design as consisting of multiple layers—base furniture pieces, floor coverings, window treatments, art, and accessories. The balance of these elements yields an aesthetic that's warm and comfortable."
When scanning a room, your eyes should point up, down, side-to-side, and all around. If your eyes stand still or scan around in disgust, something's might be missing in your space, and that thing just might be layers.
4 - Poorly-Painted Walls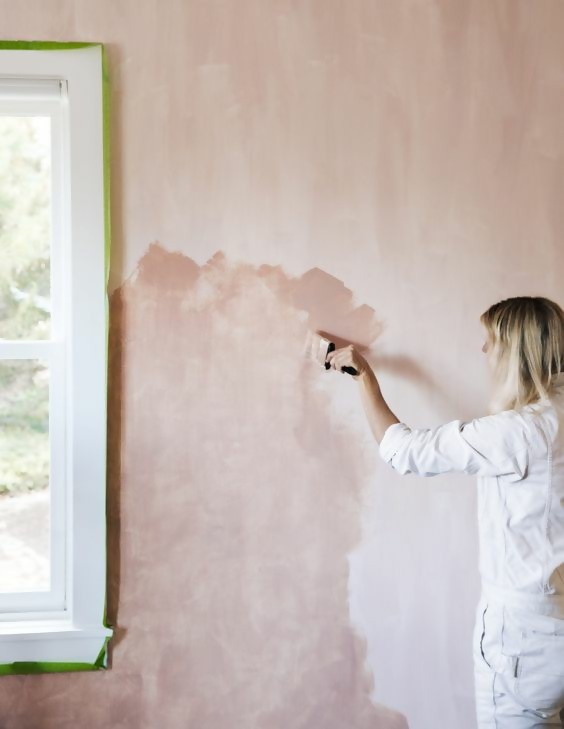 If you're going to paint your walls, do it right! Jennifer Wallenstein of September Workshop would agree: "Wobbly lines and splotchy walls make a room feel unfinished, no matter how much thought was put into it." The good news is, paint is fairly cheap. However, there are of course different types and brands of paint that can dictate how much you might be paying for your paint in the first place. But if you're planning on painting your walls and keeping it that color for years to come, it's going to be important that you select a quality paint.
Apart from quality paint, it's important to opt for the right painting tools. Likewise, it's vital that you paint your walls properly. Applying smooth, easy strokes on clean walls in thin layers and applying multiple coats as each previous coat dries can help ensure your walls aren't splotchy, gritty, or inconsistent.
As well as the latter, it's important that if you will be mixing different cans of paint that you mix the paint in a larger quantity than you need. Failure to do so may result in the need to mix more paint later on, and as some people later find out, having to mixing paint later after you've already applied paint to your walls often results in the second batch of paint being slightly too dark or too light, and often, this is noticeable when you paint it onto your walls. Yikes!
5 - Oversized Furniture
"Our design philosophy is less is more," says Christine Stucker of Brooklyn-based firm, Stewart-Schafer, "Many of our clients want an oversize, cozy sofa in their living room paired with large, bulky chairs for extra seating when entertaining. By being smart about the pieces you buy, you can actually add more seating space without all of the bulk. Daybeds and benches are perfect solutions for expanding seating space while still achieving a refined look. We also prefer sleek, streamlined sofas rather than bulky, oversize seating that adds heaviness to a room and takes away from the actual design."
You'll know if your furniture is too large for your space if, well, there isn't much space leftover once your furniture is added, and things feel cramped. While it's pretty straight-forward, not everyone realizes that their furniture is too large, that is, until they try to add other things to their space, things that will not fit.
Conclusion
Especially when you're new to interior design, it's not uncommon to make a few errors or to have difficulty executing your initial plans. However, these aren't the true issues. The real problem comes when we make mistake and don't even know that we've made a mistake, and thus, our home's interior has to suffer for years with a cringey design error that we may never fix.
Next time you're designing or renovating your space, make it a goal to avoid opting for an undersized rug, bad lighting, lack of layers, poorly-painted walls, and oversized furniture. While there are surely other cringey errors you can make in an interior design, the latter are five of many problems professional interior designers notice as they walk into a home. Don't let that home be yours!
If you need more interior or exterior design-related tips and tricks, check out the rest of our blog posts.
Recent Posts
Do you know that your brain sees even when you don't? The unconscious processing abilities of the h …

Tis the season for new home upgrades!Let's face it, it can be frustrating when family members come …

It's October 25th, and you've realized, "I haven't decorated for Halloween!" Don't fret! We have fiv …