At the end of every month, we enjoy blogging about an amazing interior designer that we have found. This month we have chosen Tamara Avila from Tamara René Designs Inc.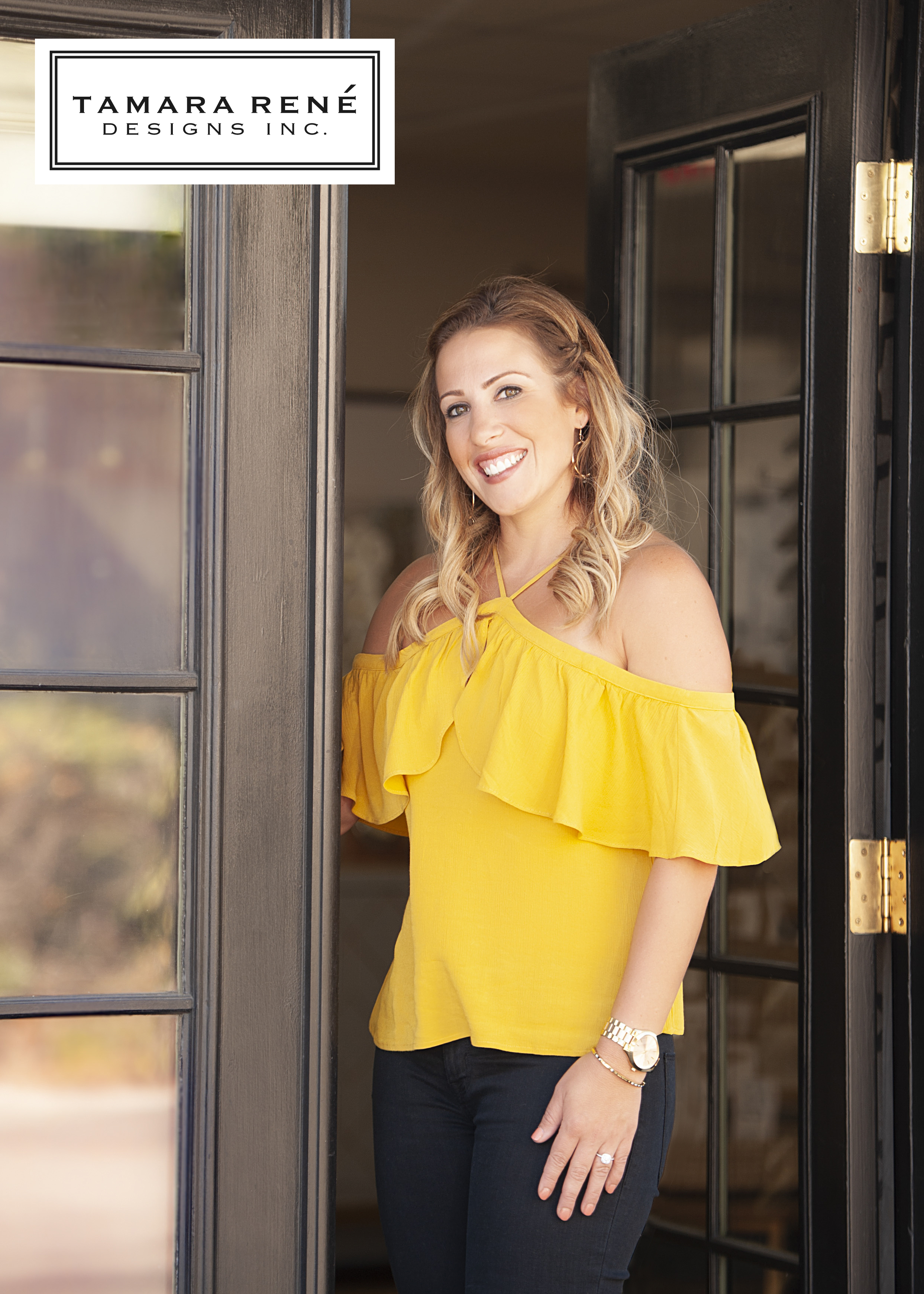 Tamara says that the design style she is drawn to is a classic traditional space, with details in surprising places, this can be seen in the projects she has done. Even though she has her own style, Tamara, still takes into account what her clients want, but adds her own little spin on it as well. To help create the home of your dreams, Tamara René Designs Inc. has a design process that helps guide you to visualize what you want so that you can have an amazing home. Tamara offers both Staging Projects and Home Projects, both which end with a beautiful result. In this interview we learn more of Tamara, as she tells us of life as an interior designer and gives advice on how to make your home beautiful.

1. Tell us a little about yourself.
I'm married to my high school sweetheart and we have 2 beautiful children; a 5-year-old boy, Bryce, and a 1-year-old girl, Teagan. I love to workout, go camping and spend as much time with my family as possible. I've been in the design industry since I was 19 years old and have loved every minute of it. I'm one of the fewer designers that touch all aspects of the home. I enjoy working with clients starting in the construction stage all the way through to the finishing touches. I tackle full home remodels, kitchens, baths and all living spaces.
2. What would you say your preferred design style is?
While I have an appreciation for many different design styles, I am personally drawn to a classic traditional space with clean lines and details in surprising places.
3. What design trends are you currently loving?
There are so many right now. Just to name a few, I'm loving white walls and I'm a huge fan of the patterned and unique shape tiles. However, they are all getting rather trendy, so my goal is to find tiles that are customizable to make them our own. I'm also loving the direction kitchen and bath design is headed. Thanks to social media, our clients are becoming braver and letting us have more fun with color and pattern options.
4. How about your favorite book/magazine on design?
Being that I'm a working mom with two young kids, I don't get a lot of reading time. However, I do love to follow other talented designers and see what they do with their spaces. We all inspire each other in so many ways.
5. Where do you find your design inspiration?
I always give my clients homework and have them send me images of a room that they are drawn to. Once I get a handful of images, I will interrupt what they are loving and then put my own spin on it.
6. Do you have a recent project you are proud of or a
favorite project?
Of course I'm proud of all of my projects; however, I'm currently working on a kitchen and entire downstairs in Seal Beach that I absolutely love. The design style is modern with Spanish influence. We are doing a beautiful black oak stain on the base cabinets, classic white uppers, custom hand painted tile on the island with waterfall edging on the countertop and a gorgeous light wood floor to warm it all up. I cannot wait for this install to happen.
7. What is your biggest design challenge and how did
you overcome it?
As a designer, we face many different challenges every week. I would say my biggest design challenge comes from being a bit of a control freak and there is never enough time in the day to do everything I want and need to do. We have been fortunate to have had an increase with our remodeling clients and have been so much more involved with each project. Through the planning, design and specifying of materials all the way through handing it off to our trusted contractors for installation. I really feel like it's necessary to be there through the entire construction phase to see that our design and all the details come together perfectly. While I'm on top of most all of my projects, I do wish I could clone myself at times to be even more present than I already am. Luckily I have an amazing design team alongside me that really does allow me to do what I do best!
8. Do you have advice for people with small spaces?
Start with a floor plan and make sure the space can handle what you are trying to achieve, then design based off of that.
9. Do you typically design for residential,
commercial, industrial, or hospitality.
Residential
10. Do you do any charity work or have any
involvement in your community? If so, describe your
work here.
We appreciate supporting the community that supports us so we are involved as much as possible. We donate in-home design consultations for auction events to schools and charities in our area. Our largest contribution annually is for WE CARE of Los Alamitos. We host their largest annual fundraising event in our showroom and parking lot every year.
11.What is your biggest achievement?
Other than creating two beautiful children, my biggest achievement has been my design business. I started my business in 2011 when the recession was at an all time low. I almost went bankrupt after the first 6 months. However, I did everything I could to understand the business and my client base. I completely restructured my business plan and we have continued to grow every single year! I take so much pride in being a small business owner and I have done it all on my own! I've had no financial backing or professional business training. I was forced to figure it all out and I think I've done a pretty good job at it. My clients are very important to me and our amazing customer service is something we pride ourselves in. My primary source of business comes from repeat clients and referrals, I think that alone can speak for itself.
12. What makes a happy home?
Home is where the heart is, right? While I know that what I do is a luxury and I'm not solving third world problems, I do believe you can find peace when you can walk into your home and love the space you are in. There is something to be said about walking into your home and being able to relax and separate yourself from the stress of your busy life. I'm often guilty of always being on the go, but I have created a home for myself and my family that gives me peace when I am there. If I can create that for others, I do feel like I've done my job.
13. What is the most rewarding aspect of your job as a
designer?
I love when I can create something that my clients have dreamed of but could never do it on their own. I especially love when I get the calls, texts, and emails saying, "what would I do without you," "thank you so much for making this process so easy for us," "I can't make a decision without you." These are all just little things that make me realize I'm in the right industry. I believe I have developed a way of understanding each and every one of my clients and have created a process that makes the decision making fun! Its overwhelming for most people to remodel or redesign their home. With my process, clients can give their input but let me put a designer spin on it.
14. The most frustrating part of your job?
My team and I struggle with the often lack of communication with outside venders/subs. While we strive to communicate effectively and efficiently with our clients, that communication can be affected when we are relying on others outside our immediate team for information. While we understand everyone is very busy, communication and follow-up is key to making sure a job runs smoothly.
15. If you had no limits (money, resources) what
would you create?
New Builds! I want to be included in every single decision of their projects! Again, that's the control freak in me.
16. What's the best piece of advice you can give
designers today?
Start small! Focus on what your best at and grow from there!
f
Recent Posts
As the air turns crisp and the leaves take on shades of gold, it's that time of year again – Thanksg …

In the realm of interior design, lighting plays a pivotal role in shaping the ambiance, functionalit …

When it comes to designing your dream kitchen, every detail matters. From the color of the walls …