Designer of the Month: Tina and Sandy
As August comes to an end, we are excited to present this month's Designer of the month. Sandy and Tina are from Houston, TX, and started Stylish Décor &More only a year ago. Their style is best described as comfortable with a touch of style. Check out our interview with these talented women to learn some more about their work!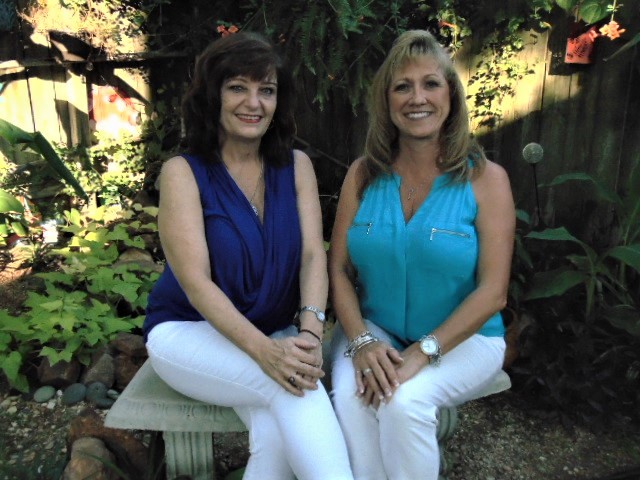 1. Tell us a little about yourself.
Well let's see there are two of us to speak of. We are Tina and Sandy. We have been best friends since 1998. We met working together for a steamship line in Houston. We both had often talked about how we wanted out of the corporate world. We were tired of answering to others and wanted to do what we enjoyed. We have both always loved to design and redesign our own homes.
So about a year ago Tina called and said we need to meet. We met up and she pitched Stylish Décor &More. I was onboard immediately. We have been going strong every day since.
2. What would you say your preferred design style is?
We like to call our designs Stylish Comfort a bit of Farmhouse design, but without the farm, LOL, a mix of cozy homey feeling with a lot of comfortable style, and there you have Stylish Comfort.
3. What design trends are you currently loving?
Open concept has to be my favorite. I love all the open spaces and how it brings the family together. ~ Sandy
I don't really do trends, if it feels right do it, I personally like for a the color to flow throughout the home, not necessarily matchy, matchy, but a good compliment to each other, especially in an open concept floor plan. ~ Tina
4. How about your favorite book/magazine on design?
I guess we are old school we still love Better Homes and Garden, Southern Living and we thumb through Decor. I know it's not a book or a magazine, but I can't get enough Fixer Upper. We are so sad it ended.
5. Where do you find your design inspiration?
More times than not it starts with color, then furniture selection, since furniture is most likely going to be your biggest expense of a redesign you need to love the look and the feel for a very long time.
6. Do you have a recent project you are proud of or a favorite project?
We are very proud of our last two projects. We did a vacant staging for two different clients. We were able to take a blank slate and make it beautiful. We received rave reviews for both jobs.
7. What is your biggest design challenge and how did you overcome it?
We are relativity new to this profession, as our business has only be open less than a year, so our biggest challenge so far is trying to slow down and not get ahead of ourselves. We get so excited about each project, I think we eat, sleep and drink redesign.
8. Do you have advice for people with small spaces?
Have one statement piece. You don't need a lot of smaller items making the home appear cluttered. Use multipurpose furniture and paint the rooms with a light catching white. The room will appear more open and airy. Have a bright accent color throughout. And you have to be organized, everything has a place and it has to be in its place or the rooms will start to close in.
9. Do you typically design for residential, commercial, industrial, or hospitality?
Although we do not have a degree in Interior Design, we do Staging and Redesign for residential clients. Since we typically prefer vacant staging and redesign, we design every day in our projects.
10. Do you do any charity work or have any involvement in your community?
If so, describe your work here:
As a new company we have not yet got involved. We have big plans for when we do. Our community was devastated last year after being hit by Hurricane Harvey we've all struggled to get our lives back to "normal". To work with Habitat for Humanity, the work they do is awesome, working with them has always been on my list of important thing I've wanted to do.
11. What is your biggest achievement?
Our biggest achievement was landing and doing our first project. We were so nervous, but we came out on the other side with rave reviews. As with anything new especially when you're putting yourself out there for the world to critique it can be a bit unnerving.
12. What makes a happy home?
The people that live in it, family, friends and furbabies…and of course Stylish Comfort, lol
13. What is the most rewarding aspect of your job as a designer?
The looks on the clients face when the job is complete, so far it's been an amazing feeling, and we love to see people happy.
14. The most frustrating part of your job?
Seeing the project end, I don't think we've been frustrated yet, lol.
15. If you had no limits (money, resources) what would you create?
I've been around the construction of new homes my whole life, I use to go to work with my grandfather who was a home builder, and I'd love to do a project of a new build from start to finish, and maybe work with Habitat for Humanity and design a fresh new space for a well-deserved family. ~ Tina
16. What's the best piece of advice you can give designers today?
Listen to the client, they know what they want. It may not be what you love but it's what they love. Once you land the job then follow your heart and handle the job like it was your own home.
Recent Posts
Modern farmhouse decor is becoming widely popular across the world and is loved for its versatility …

Summertime is going strong and the heat is most certainly upon us. With triple-digit temperatures, k …

You may or may not know, Cocoweb started its roots in lighting. With LED lighting being our specialt …