Just like in the fashion industry, well before the time even comes, we begin to receive forecasts from interior design experts regarding what the design trends are expected to be in the next months or even year or two. While many of these projected interior design trends do in fact end up being actual trends while others may not at all, it's clear that home décor sales make for more accurate statistics when it comes to deciding what interior design trends are truly popular at the time
Looking at some of Etsy.com's popular home décor items, it will be clearer to us what the recent interior design trends continue to be. While it's not required that we follow the current home décor trends, many enjoy have a fresh, modern space that complies with what's "in the now."
Without further ado, let's check out Esty's popular home décor items!
1 - Calligraphy Art
Calligraphy art has been popular for a while, particularly in the past couple of years. While many may have thought it'd die out by now, calligraphy art is still very much a hit in 2019. The beautiful, cursive lettering many calligraphy pieces of art feature adds a bit of sophistication to any interior design. Other calligraphy pieces of art might not feature cursive but some other sort of popular handwritten lettering. While you may use your favorite quotes or spiritual verses or even come up with your own quote to feature in calligraphy artwork, popular calligraphy artwork sayings include:
"Home sweet home"
"Welcome"
"Home"
"Live, love, laugh"
"Let it be"
"The adventure begins"
"The best is yet to come"
"Don't worry, be happy"
"Love you more"
"Believe in your dreams"
"Stay awhile"
"Good vibes only"
2 - Japanese Flowers in a Bottle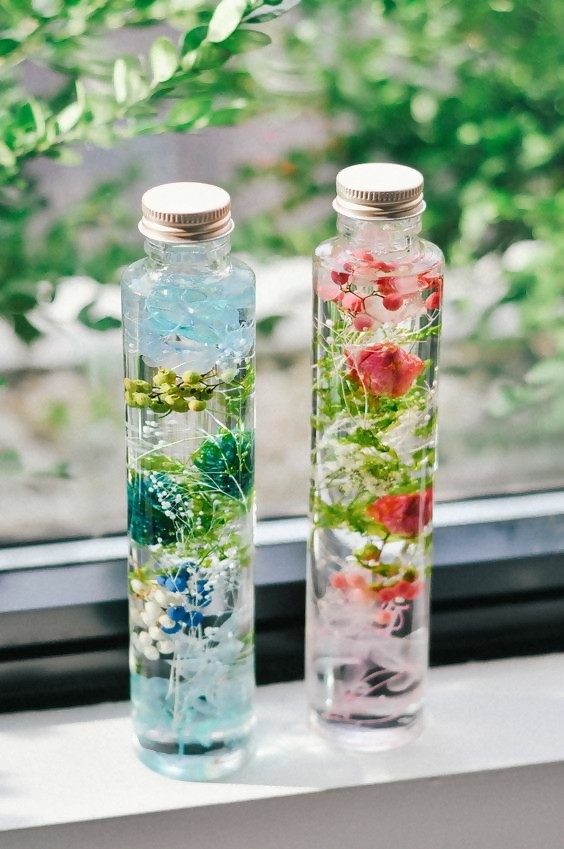 To add something a little different to your home, probably something you don't currently have and may not have even thought of, opt for Japanese-inspired flowers in a bottle, or an herbarium bottle, as a replacement for a traditional bouquet of flowers. The preserved flowers in these glass bottles are excellent in exchange for live cut flowers and surely outbeat their plastic counterparts. These Japanese botanical bottles are certainly a beautiful combination of a flower bouquet and an aquarium and look stunning in any room in the home from the kitchen to the bathroom with their elegant and spring-y appearance.
3 - Hexagon Shelves
While bookshelves and floating shelves are never out of style, hexagon shelves have completely transformed the shelving game once and for all. These geometric-shaped shelving units are definitely different from their traditional counterparts but nevertheless still operate as a means of storage. In a hexagon shelf, one might store potted plants, books, a framed photograph, a clock, a vase, or other decorative objects of their choice. The best part of hexagon shelves is that multiple hexagon shelves can be combined to create a honeycomb-like shelving arrangement for added detailed to your interior design.
4 - Pressed Botanicals
There are too many black thumbs in this world for every homeowner to have live plants beautifully thriving in their home. Still, many of us enjoy plants in some way or another and like the idea of having live plants in our hone. While one solution is to opt for fake houseplants, some of us would rather have something a little more realistic, just without the maintenance and care that a real houseplant would require. Pressed botanicals in frames are particularly hot right now. These pieces of art are simple yet elegant and can even be done by the homeowner themselves. Apart from real plant leaves, stems, and flowers being pressed and preserved in frames, painted botanicals that resemble pressed botanicals are also trending in interior design.
5 - Decorative Stick-On Wall Tiles
Who said tile was only suitable for the floor? While many opt to add tile to their kitchen and bathroom walls, wall tiles aren't as common throughout other parts of the home. But with decorative stick-on wall tiles in a variety of fun shapes, prints, and colors, it's a hard decision not to add gorgeous wall tiles to other places in the home as well, from the home office to your master bedroom. With removable, stick-on wall tiles being trendy right now, the expense, delicacy, and permanency of traditional tile can be avoided. Gorgeous patterns and prints stick-on wall tiles feature can act as one decorative alternative to wallpaper.
6 - World Map Art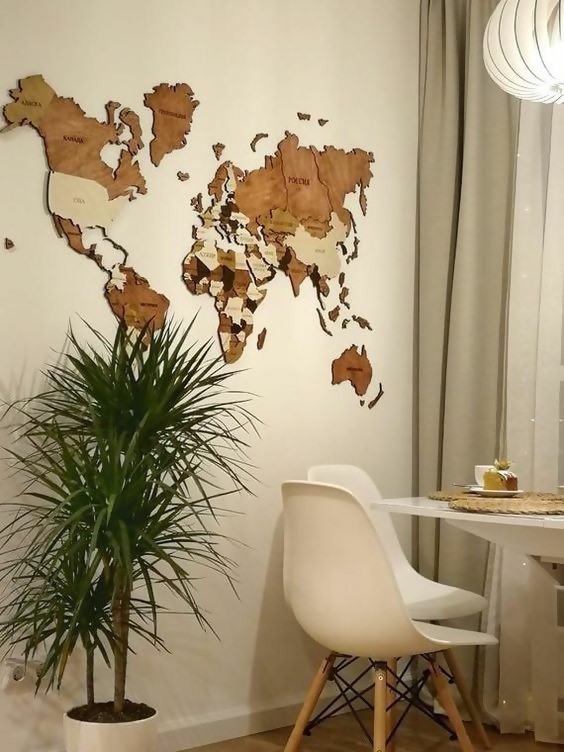 Why travel when you can bring the adventure to your home? Right now, anything with a world map is hot right now: throw pillows, bed comforters, you name it. However, world map wall art tends to be particularly hot according to the popular home décor buys on Etsy. Large, stick-on world map wall decals are especially excellent for rooms with huge walls and tall ceilings yet with too much blank wall space. World map art can also come in form of a poster, tarp, printed or painted canvas, or even a wooden or carved metal wall art piece. Some world map decorations may even feature the ability to scratch off each location you've visited that's featured on the map if you happen to be a traveler!
7 - Large Flower Wall Decals
With botanicals and wall art both being trendy in interior design, it's no surprise that large flower stick-on wall decals are also popular right now, according to what Etsy users are currently buying. Popular wall decal flowers include roses, peonies, and other similar lookalikes. These floral wall decals look especially stunning in bedrooms and bathrooms, however, can be suitable anywhere you want a natural, spring-y, feminine, formal touch. If flowers aren't really your thing, also popular for wall decals are large tree branches, metallic dots, mandalas, tiny triangles, stars, and words or quotes in calligraphy lettering.
Other Etsy Home Décor Trends:
Abstract wallpaper
Stone bowls and pots
Neon lights
Carved wooden monograms
Marble wall art
Yarn tapestries
Faux greenery wreaths
Farmhouse window frame
Painted mason jars
Long wool sheepskin stool covers, throw blankets, and rugs
Ceramic planters
Eco-friendly textiles
Vintage, cultural-inspired rugs
Chunky knit throw blankets
Wood wall letters
Cotton stems in vases
Conclusion
Interior design trends are never required to add to our homes but nevertheless are still fun to engage in. And after all, many of us like spying on the current décor trends because they tend to be eye-opening and refreshing to us when compared to the dated trends we might be currently following. Trading some of our older décor items from our home and exchanging them for new and exciting pieces is a fun way to bring change to our interior design. But how do we know what's trending right now?
According to Etsy shoppers, it's clear what the current interior décor trends are: calligraphy art, Japanese flowers in a bottle, hexagon shelves, pressed botanicals, decorative stick-on tiles, world map art, and large flower wall decals. All in all, we can derive from these trends that natural touches in the form of plants and flowers, geometric shapes, travel and cultural inspirations, beautiful lettering and meaningful quotes, and detailed walls are particularly hot in the home setting to date. When decorating your home in 2019, think clean-cut with big details.
If you need more interior or exterior design-related tips and tricks, check out the rest of our blog posts.
Recent Posts
You may or may not know, Cocoweb started its roots in lighting. With LED lighting being our specialt …

Picture Perfect:The Art of Lighting Your GalleryWhen entering someone's home, your eyes are immediat …

Do you know that your brain sees even when you don't? The unconscious processing abilities of the h …