When we were younger, our parents and school teachers read us fairy tales from "Hansel and Gretel" to "Little Red Riding Hood." Apart from their interesting plots, fun characters, and crystal-clear imagery, these stories entertained us while they delivered valuable life lessons to us.
Best of all, the varying storylines of some of our favorite fairy tales makes many these stories applicable for individuals of different backgrounds and age ranges. Many of these stories can also be interpreted in a handful of ways depending on how the reader wishes to relate to them.
Even in adulthood, you might see us kicking back and watching a film depicting a more gruesome, adult version of our beloved fairy tales like in the movies Snow White: A Tale of Terror (1997), The Company of Wolves (1984), or Maleficent (2014). That said, the love we have for fairy tales may never actually die. While we grow older and wiser, there's just something about fairy tales that are truly magical and meaningful through every stage and problem of our lives.
You love reading fairy tales, you love watching them on the silver screen, so why not essentially live in one? With the following fairy tale-inspired interior designs, your creativity will run wild – so wild that you may even consider fairy tale-izing your own home.
Once Upon a Winter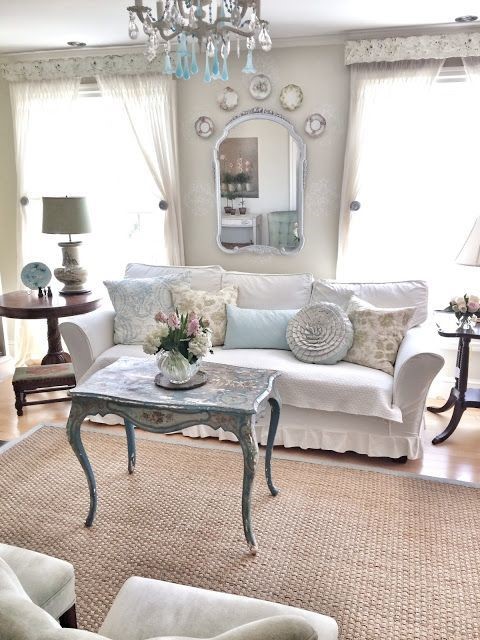 For those who admire a wintry color palette – one that is not too grim nor too gloomy – this might be a great fairy tale-inspired interior design to brainstorm off of. The cool grays and blues with the addition of a lighter tan give this design a chilling yet peaceful and elegant impression. For that reason, a design like this would be particularly excellent for a bedroom or bathroom.
One of the things that makes this interior design relevant for this day and age is that while it's clear most of the furniture and décor have an older vibe to them, they still offer a contemporary feel – with the exception of the coffee table and chandelier that immediately send an antique fairy tale-inspired message. That said, the perceived age of the items utilized in this interior design don't make this fairy tale design seem too different from how one might decorate their home today.
Woodland Dreams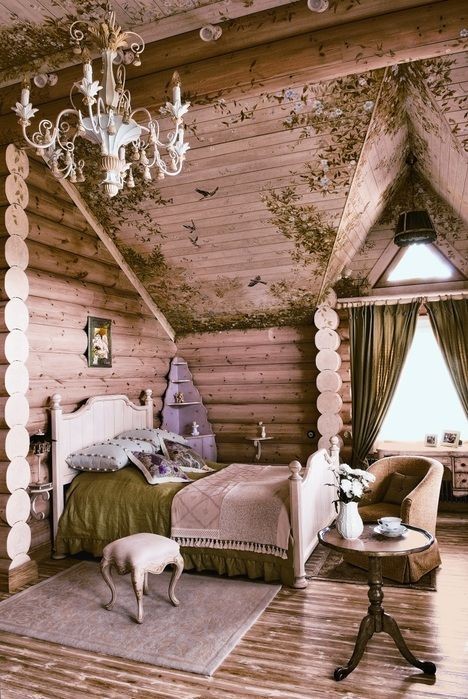 This Siberian woodland-themed interior design is perfect for the folks whose favorite fairy tales might include "Snow White and the Seven Dwarfs," "Little Red Riding Hood," or another fairy tale that takes place in the woods. This is also an applicable interior design style for anyone who loves a good cabin-y feel in their home or generally loves the use of wood throughout an interior design.
The things that stand out in this Novokuznetsk, Russia bedroom designed by Tatiana Rozhkova include the contrast between the wood and the mute forest green color used, the paintings on the ceilings and walls of the room, and of course, the beautiful architecture presented in the space. The big, bold chandelier also makes a grand statement in the space to counterbalance the woodsy, more masculine aspects of the design.
Mirror, Mirror On the Wall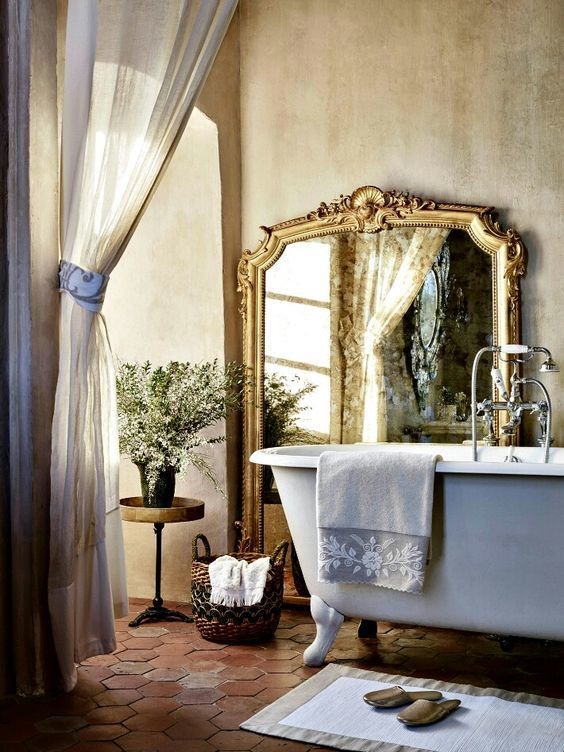 Everyone wants to be pampered like a prince or princess. While you can go out and buy every pampering product on the market from hand-sliced soaps to French face creams, there's nothing that will make you feel more like royalty than treating yourself in an exquisite, luxurious bathroom like the one featured above. The contrast of the darker and lighter colors in this interior design make this bathroom both mystical and uncanny at the same time.
Out of everything in this bathroom, it's clear that the giant mirror behind the clawfoot tub is one of the biggest inspirations to gain from this design. The eyes gravitate right towards it because it is intricate, large, metallic, and reflective. It makes the darker, smaller space seem more extensive. Of course, we also love the tub itself in addition to the sheer, pale-colored curtain that looks stunning as light from the window draws through it. The flowering potted plant, fun basket, and the hexagonal tile greatly add to the fairy tale theme.
Dining in White
For those who hate pale, antique colors and who also aren't a fan of the more Earth-y toned colors often used in fairy tale interior designs, you might instead like a timeless, simple color scheme like this dining room features: mostly white with hints of brown and a touch of pink and green. While for many people, this design might be too white, almost to the point where it is blinding, the point of featuring this design is to show you that there are multiple ways to tackle a fairy tale-inspired design, even with the use of color alone.
What screams "fairy tale" to us in this particular design are the fancy chairs, ruffled table cloth, open cabinetry with antique dishes, delicate chandelier, and candlesticks on the table. It's clear there are several feminine elements in this fairy tale-inspired interior design. It's also obvious that this is a dining room that features minimal color. However, with the addition of some rustic elements and perhaps the elimination of some of the feminine aspects of this space along with more flowers, plants, or even strips of greenery placed on or around the table, it's easy to make a design like this more relevant for you.
Cinderella's Chamber
Everyone has their own idea of what a fairy tale-inspired room should look like. Some like things a little more rustic, masculine, and maybe a little eerie while others like their fairy tale interior design to be neat, clean, and more on the fancy side, kind of like the bedroom featured here. It's hard not to look at this design and feel like a princess or prince. You don't require royalty blood to feel like a royal in this space, that's for sure.
What makes this interior design so luxurious? It's easy: the large, circular window; the elegant tri-fold mirror; the fancy bedding and ruffled skirt of the bed; the architectural design of the ceiling; the long, luscious curtains; the crystal chandelier; the curvature of the bed frame and other furniture; must we continue? There's nothing about this space that isn't fit for a fairy tale!
Conclusion
For many of us, fairy tales played a big role in our childhood. Maybe fairy tales were even the reason you found contentment for reading in the first place. No matter your age, what you look like, where you're from, or what happened in your past or even what's in store for your future, it's safe to say that there's a fairy tale for everyone out there.
Based on the latter five fairy tale-inspired interior designs, it becomes apparent that there are ways to make your home look like it came right out of a fictional storybook without making it look too childish or out-of-place. Based on the designs we've looked, it's clear that fairy tale interior designs can vary drastically from antique furniture and old-fashioned colors to light, bright, and air-y with significant use of white.
Regardless of the design approach you consider, having a fairy tale-inspired interior design means having a space that reminds you of your childhood and has unique characteristics that most contemporary and modern homes don't offer today.
If you need more interior or exterior design-related tips and tricks, check out the rest of our blog posts.
Recent Posts
Modern farmhouse decor is becoming widely popular across the world and is loved for its versatility …

Summertime is going strong and the heat is most certainly upon us. With triple-digit temperatures, k …

You may or may not know, Cocoweb started its roots in lighting. With LED lighting being our specialt …