When it comes to a home renovation, the exterior is often the last on most people's list as they may first wish to tackle the inside of their home. This would make sense since most people would spend more time inside of their home rather than the backyard, but doesn't the backyard deserve some love too?
However, with a tighter budget and bad weather in your area most of the year (e.g., blazing hot summers, snowy winters), it can be hard to convince yourself that your backyard should be beautified. For some people, they may even disprove of how their backyard currently looks to the point where they can't imagine what it would look like if it were renovated. In some cases, they may believe their backyard wouldn't deserve a facelift at all.
But without courage and motivation, it may be difficult to actually make the next step towards a backyard renovation. For that reason, we've come up with some tips to help encourage you to make some much-needed changes to your yard.
Remind yourself the benefits of being outdoors.
If you're not an outdoorsy person or simply don't enjoy spending time in your backyard because it's not quite what you would call a functional yard, remembering that spending time outdoors is important can encourage you to finish your backyard in the first place.
Here are some of the many benefits being outdoors can contribute to our health:
Lower stress and anxiety levels, and thus, lower blood pressure and a reduced chance of dealing with a heart attack
Higher vitamin D levels, which can contribute to the reduction of certain diseases including cancer and type 2 diabetes, stronger bones, better heart health, and reduced levels of depression
Better immunity as inhaling natural chemicals produced by plants known as phytoncides can increase the amount of white bloods cells in our bodies, resulting in our body better able to fight of sicknesses, diseases, and infections
Enhanced creativity by up to 50-percent to help us brainstorm and fight pesky writer's block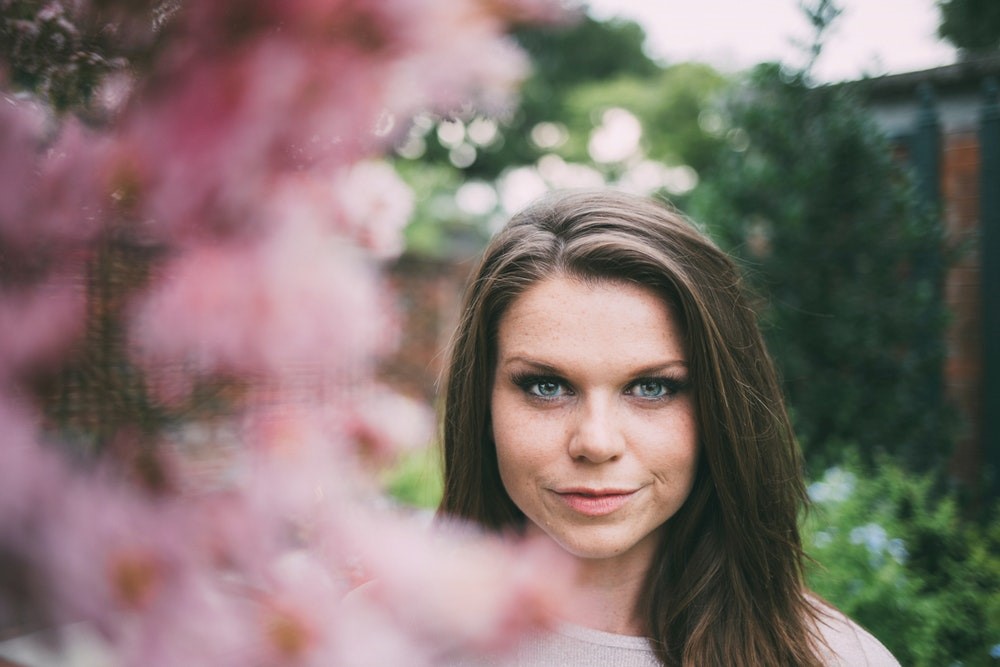 There are many other health and mental health benefits of being in the great outdoors based on the sounds, scents, weather, and colors it presents. Having a renovated backyard may boost the amount of time you spend outdoors at all, allowing you to unplug from distracting technology and stressful life events while receiving many of the latter benefits in the process.
Think about the potential your new backyard could have – particularly when it comes to parties.
Remember that your backyard is an extension of your home, only that it is in the great outdoors. Once you realize this, it becomes clear the potential your backyard could have if you take the time to give it a little renovation. In turn, you may have many new opportunities arise even just with a simple revamp of your exterior design.
For example, if you frequently host parties and other gatherings at your home, having a revamped backyard could allow you to have extra space for guests. In the spring and summer, imagine having barbecues, pool parties, children's birthday parties with an outdoor petting zoo or a bounce house, or even small weddings in your backyard. The types of parties you could host and how many guests you could invite could increase when you make some changes to your outdoor space.
As well as the latter, think of how you could use your new backyard for your own personal benefit. Maybe you've been wanting to start a garden, have a cozy area in the backyard where you can sunbathe in peace, or enjoy a delicious meal surrounded by nature. You can do all of this plus more when you have a gorgeous backyard. As well as this, if your backyard offers lighting whether it be casual lanterns or beautiful, outdoor chandeliers or barn lights , you can enjoy your backyard all year 'round, even in the dark.
Check out backyard before and after pictures online.
If your main reason for refraining from updating your backyard is because you have trouble imagining what the end-product could look like, looking at other backyard renovation pictures may give you the visual understanding you need. In fact, sometimes it is hard to gain perspective of the potential your exterior design could have. It may help you realize that even the worst and smallest of backyard spaces can be revamped into a beautiful outdoor space if the right touches are applied to it.
Many renovation before and after photos are breathtaking, but this doesn't mean you have to replicate them. Rather, it is important to witness through these photos how a backyard can be transformed, even with just the addition of outdoor furniture, a fresh color scheme, or new plants.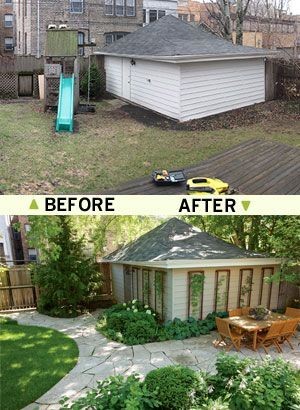 As you look at backyard before and after pictures in exterior design magazines or on the Internet (such as the one pictured above), notice the change in mood that occurs after the renovation. Likely, it will appear more lively, cheerful, and welcoming. Apart from seeing the changes that resulted in the sample renovations you come across, make sure to also realize specifically how these changes came about. For example, maybe the before photo of a backyard was very bland and lacked color, but then the after photo featured calming colors such as blue and green, thus allowing the design to feel more relaxing overall.
Remember that a backyard renovation could boost your home's value.
While a higher home value isn't typically the main reason people seek to renovate their backyard, it's definitely a benefit. To boost your home's value via a backyard renovation, this doesn't mean you have to do anything over-the-top extravagant. Even just installing a deck, adding a built-in fireplace, or adding a smaller outdoor kitchen can do the trick value-wise. Even revamping a pre-existing feature in your backyard – either via an update, add-on, or repair – can additionally increase the value of your home.
Apart from a higher home value, a backyard revamp could potentially make it easier to sell your home if that's your goal. Homes with a finished backyard are deemed more turnkey and put-together than homes without such, even in the eyes of buyers who don't necessary enjoy spending time in the backyard. Buyers may prefer a finished backyard for many reasons, but perhaps the most common are to have a space for their dog(s) and/or for their children. If you have a renovated yard, you may sell your home faster, not to mention, potential buyers may be more likely to stick to the asking price of your property or even consider purchasing your home to begin with.
Conclusion
Admitting that your backyard needs a facelift is hard enough as is, but there are some people who can't bring themselves to actually follow through with the renovation whether it be a problem with money, having trouble deciding what they want, lacking time, or even having difficulty imagining what their new backyard will end up looking like.
To encourage yourself to amp up your outdoor space, remind yourself of the benefits of being outdoors, keep in mind the potential your backyard could have, look at other backyard before and after photos, and remember that a backyard renovation can boost your home's value.
Doing the latter things can help you realize the importance of having a beautiful exterior design. Not everyone loves going outside, but once you create the backyard of your dreams, you'll quickly discover that being outdoors may be the very thing you're missing.
If you need more interior or exterior design-related tips and tricks, check out the rest of our blog posts .
Recent Posts
Summertime is going strong and the heat is most certainly upon us. With triple-digit temperatures, k …

You may or may not know, Cocoweb started its roots in lighting. With LED lighting being our specialt …

Picture Perfect:The Art of Lighting Your GalleryWhen entering someone's home, your eyes are immediat …