As the world population increases so does furniture waste. But what exactly constitutes as furniture waste? Furniture waste is when furniture is tossed that could otherwise be reused, refurbished, or recycled. In fact, an approximate 8.8 million tons of furniture ended up in landfills in the United States alone in 2005, according to the Environmental Protection Agency (EPA).
But part of the issue with furniture waste isn't just that millions of tons of decent furniture are being put to waste but also that much of the furniture being put to waste are made with toxins, environmentally-harmful materials, and/or materials that take many years to break down.
For that reason, let's check out some ways you can incorporate sustainable furniture and décor in your home.
1 - Refurbish your old furniture and décor.
Sustainable furniture and home décor doesn't just have to be eco-friendly and capable of being recycled. A sustainable home might contain refurbish objects. Refurbishing something is all about turning something old and/or run down into items that look brand new or generally refreshed to the current era.
One might refurnish a filthy, stained couch with a tacky 70s print by reupholstering it with clean, modern fabric that better suits the interior design it'll be placed in. A scratched-up dining table and set of chairs might be sanded down, repainted, re-stained, and/or polished. A painting that has long faded by be beautifully restored by a restoration artist (or yourself if you're artsy).
The point is, any piece of furniture or décor item might be able to be freshened up a bit to make it more relevant and look less old. Things are going to deteriorate with time, but it's up to us not only to conserve the quality and ensure proper longevity of these items but to also make sure that we care for them when they do run down. After all, we wouldn't just discard our loved ones when they get sick and old; we care for them more and aim to restore them back to their former glory by giving them extra love.
2 - Rework your old furniture and décor into something completely new.
Some furniture and décor pieces may not be able to be refurbished; maybe they are too long gone. Or perhaps you simply don't want those pieces anymore in the form that they are currently in – refurbished or not.
For instance, maybe you have old rug or coffee table sitting in your basement, but you already have a replacement for those old items in your home. Or maybe you don't want a rug or coffee table in your space at all, and thus, have no use for those items, but they are too poor to be donated, sold, or given away.
A great way to be sustainable regarding your furniture and home décor in this scenario is to recreate something brand new out of these old items you no longer want. You already have the structure and materials you need, so why not revamp them into something you do want and need for your space?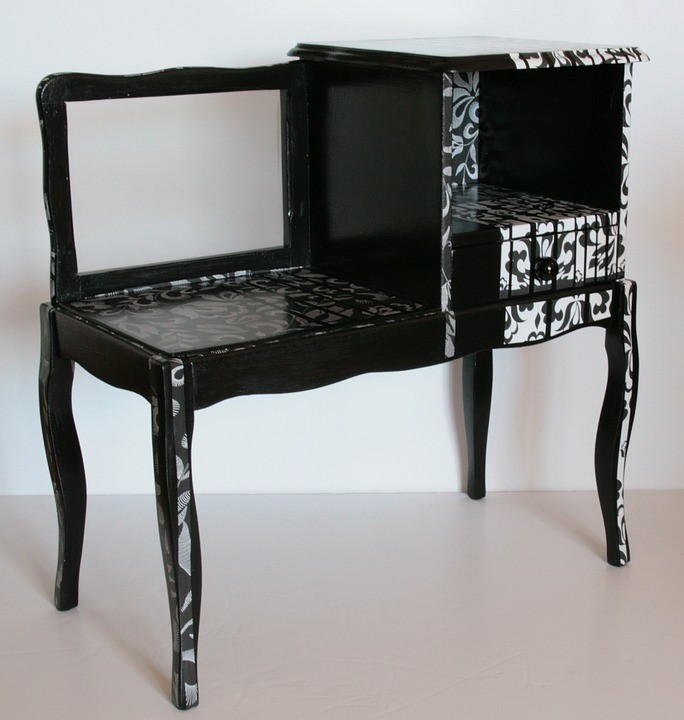 Here are some ways you can turn old items into something new:
Turn an old dresser into a book case, or vice versa.
Create a bench out of multiple chairs.
Place an old mirror on top of a boring table to give it a more attractive surface.
Transform an old window into a picture frame or cork board.
Make yourself a new lamp or light fixture with large jars or vases.
The latter are just examples of how you can turn something old into something different. If you have other old items in mind, make sure to research – or brainstorm – how you can transform them.
3 - If you must get new pieces for your interior design, make sure to properly get rid of your old items.
At anytime you feel that can't or simply don't wish to refurbish or completely rework the items you already have, the next thing you would want to do is rid of these items that you no longer want – the right way.
However, instead of taking old pieces to the dump yard, consider the latter instead:
For items that are in near-perfect or good condition, the most ideal route for many to getting rid of these pieces is to get some cash out of them. With the profit you gain, you can either pocket the cash for a rainy day or use the cash to purchase new furniture or home décor.
You might sell your items on social media, on websites like eBay, at a garage sale or flea market, or even just to people you know. It might even be possible to sell your items at a pawn shop or antique store if they are worth anything.
To donate your unwanted possessions, they don't have to be in perfect condition, but they also must not be entirely run down either. While many donation centers and charities may not accept furniture or certain home décor items, many of them will gladly take your used goods, and in turn, you can get a tax break – although, many love donating merely due to the goodness in their heart.
By donating your older home goods, you're not just allowing these items to be reused, you're allowing them to be reused by those who are in need of quality pieces for their interior design. You're giving the less fortunate something to be incredibly grateful for.
For items that don't feature the greatest of quality, giving your furniture or décor away might be a great idea. This is also a great idea in the case that you attempt to sell your old pieces but are unsuccessful but get turned down at a donation center or charity when you go to donate your items.
For furniture/décor with poorer quality, giving items away to those who are interested in refurbishing or upcycling the pieces would be wise. Even if family and friends do not want your old belongings, placing them on the side of the street with a 'free' sign or asking people on social media if they want the pieces is an easy way to rid of things quickly.
If applicable, you might be able to recycle some of your old furniture and home décor. This is not always the case. But if it's possible, recycling these items is much better for the environment than tossing them.
However, never recycle items that cannot be recycled. Try one of the latter methods if you no longer want the items, before you even consider throwing them away.
4 - Purchase sustainable furniture and décor made from recyclable, eco-friendly materials.
Whether you need new pieces for your interior design because you lack such or because you've properly recycled, gave away, donated, or sold your old furniture and/or décor, a great way to be sustainable is to purchase items that are eco-friendly.
This way, you'll know that the items you place in your home will have been constructed in as eco-friendly ways as possible. Additionally, many sustainable items are recyclable and/or are biodegradable, and thus won't be rotting in landfills for dozens of years.
Some eco-friendly materials include:
Bamboo
Hemp
Cork
Organic cotton
Cashmere / soy silk
Linen
Recycled glass, paper, rubber, or polyester
Aluminum
Felt
Cardboard
Plaster
Earth clay
Finding items for your home with the latter materials can be excellent to ensure your home is filled with sustainable furniture and décor. But to ensure they are able to be recycled, look for the right labels on your products, and ensure your products don't contain harmful coatings or paints that could be harmful to the planet.
Conclusion
Furniture waste is an ever-growing issue. But fortunately, reducing furniture waste can be easy. Giving old furniture to family or friends, selling or donating your old furniture, turning furniture into something new, and amping up your old furniture are all viable options.
Another way to reduce furniture waste is to opt for sustainable furniture and home décor from the start. That way, if and when you do get rid of your old furniture or décor, it will be safer for the environment and may even be able to be recycled rather than just trashed.
No matter the ways you plan on incorporating sustainable furniture and/or home décor into your space, make sure to do it with passion, not only in terms of making things work in your home but also in terms of knowing that you're playing your part in making the environment a little safer in the process.
If you need more interior or exterior design-related tips and tricks, check out the rest of our blog posts.
Recent Posts
Summertime is going strong and the heat is most certainly upon us. With triple-digit temperatures, k …

You may or may not know, Cocoweb started its roots in lighting. With LED lighting being our specialt …

Picture Perfect:The Art of Lighting Your GalleryWhen entering someone's home, your eyes are immediat …