Getting To Know a Designer: Claudia Morales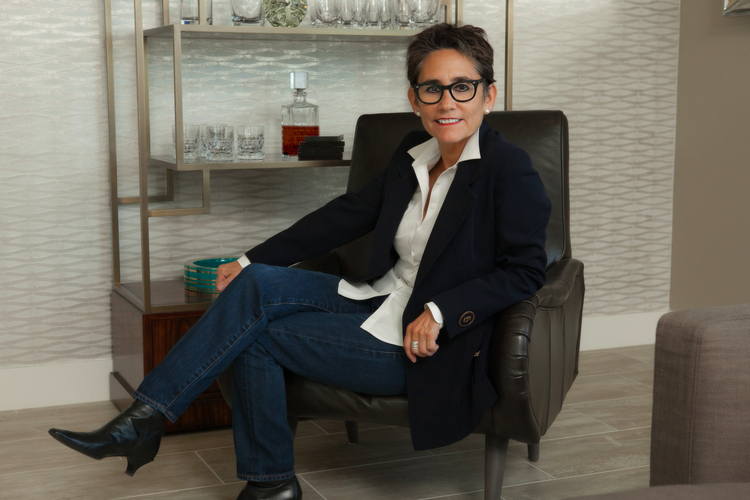 Through the designs of Claudia Morales, we can tell that she has her own unique sense of style, which we adore. Her designs are not overly modern, but are instead just the perfect amount of modern and homey. The lights she uses in her designs are the main focus, as they show her modernist designer side. In all of her designs the lights showcase the rooms that she has designed, and embody her own style; bright, sleek, and comfortable. We had the pleasure of interviewing Claudia, who showed us how she makes any room, in a home, look both modern and chic.
1. Tell us a little about yourself.
I am a residential interior designer, focusing on bathroom and kitchen design. As a German and English speaking U.S. resident, that has lived and worked in Europe, New York and the West Coast, I've collaborated with top creative directors in these areas. I have provided clients with a level of expertise and perspective where I was able to create beautiful built environments that will be enjoyed for their functionality and timeless good looks.
2. What would you say your preferred design style is?
I would say the I prefer the contemporary/modern design aesthetic.
3. What design trends are you currently loving?
That pretty much anything goes, create your own - be BOLD!! Reinvent yourself!!! (if you look at magazines they are all over the place with interior design)
4. How about your favorite book/magazine on design?
I like whatever inspires me, I prefer not to lock myself down to loving anything in particular however, Elsie de Wolfe: The life in the high style is certainly something to ponder about. Albeit dated, it gives one perspective in developing your own style. Take what is out there and do it.
5. Where do you find your design inspiration?
EVERYWHERE. On vacation, driving around, seeing a friends apartment/home, going out with clients...it's really everywhere.
6. Do you have a recent project you are proud of or a favorite project?
All of my projects, if I choose to do them, end up being my favorites at that moment. It's hard to separate myself from being completely ensconced in every project that I do.
7. What is your biggest design challenge and how did you overcome it?
When clients change their minds/design ideas mid project. I work with it, of course.
8. Do you have advice for people with small spaces?
Acknowledge that they are small to begin with and that you will never be able to squeeze a sectional into that small space. Space planning is EVERYTHING to furnish a small space.
9. Do you typically design for residential, commercial, industrial, or hospitality?
Residential only!
10. Do you do any charity work or have any involvement in your community? If so, describe your work here:
I have not, but be definitely willing to do so.
11. What is your biggest achievement?
That after being in the special effects/color world for television/film for 20 years I decided to follow my ultimate passion and get my degree in interior design.
12. What makes a happy home?
It's all about space planning/color and lighting, bottom line.
13. What is the most rewarding aspect of your job as a designer?
In making my clients happy and having them let me know at the end of a successful job.
14. The most frustrating part of your job?
Clients that will never be happy no matter what you do, it's part of the job.
15. If you had no limits (money, resources) what would you create?
Whatever my client wants!!!
16. What's the best piece of advice you can give designers today?
Be BOLD, do not let anything hold you back...ever! Stick to your design guns!
Recent Posts
Summertime is going strong and the heat is most certainly upon us. With triple-digit temperatures, k …

You may or may not know, Cocoweb started its roots in lighting. With LED lighting being our specialt …

Picture Perfect:The Art of Lighting Your GalleryWhen entering someone's home, your eyes are immediat …