Feng Shui, an ancient Chinese principle frequently still practiced today, is all about balance to achieve the right flow of energy, also known as chi or qi (pronounced 'chee'). This practice is often put in place in interior designs.
Generally, whether one is house-hunting or designing their current space, Feng Shui is often deemed an important system that focuses on the particular arrangement, location, or direction of, for instance, beds, desks, doorways, rooms, and the like. Once Feng Shui is achieved, people within those environments can also receive a positive flow of energy that is said to positively benefit their relationships, mental health, success, and more.
Even picking out the proper selection and installation of light fixtures according to Feng Shui is important for those who wish to seek harmony in their home or business. Since we are lighting experts and all, we've decided to help give you some tips on how to create illumination with Feng Shui. Fortunately, Feng Shui lighting isn't as complex as it may seem!
1 - Provide well-lit entrances.
You may think that Feng Shui lighting all starts once one enters a building; however, one of the first tips to focus on when it comes to installing Feng Shui lighting is to ensure the entrances to your home or business are well-lit. You can achieve this by installing lanterns or wall sconces on both sides of your door.
Doing the latter can invite positive chi in and keep the negative chi out, which should be one of your main goals with Feng Shui. But not only do well-lit entrances affect the flow of energy in your home, they can also ensure there is extra safety, security, and convenience for yourself and for visitors of your property.
After all, illumination has many meanings, purposes, and secular and non-secular symbolic messages tied to it. People see illumination as cheerful, warm, inviting, and safe. Darkness if often perceived the opposite, especially in excess. The right balance of light at the entrance of your home or building just makes sense – even for those who won't believe in the power of Feng Shui.
2 - Avoid low-suspending ceiling fixtures.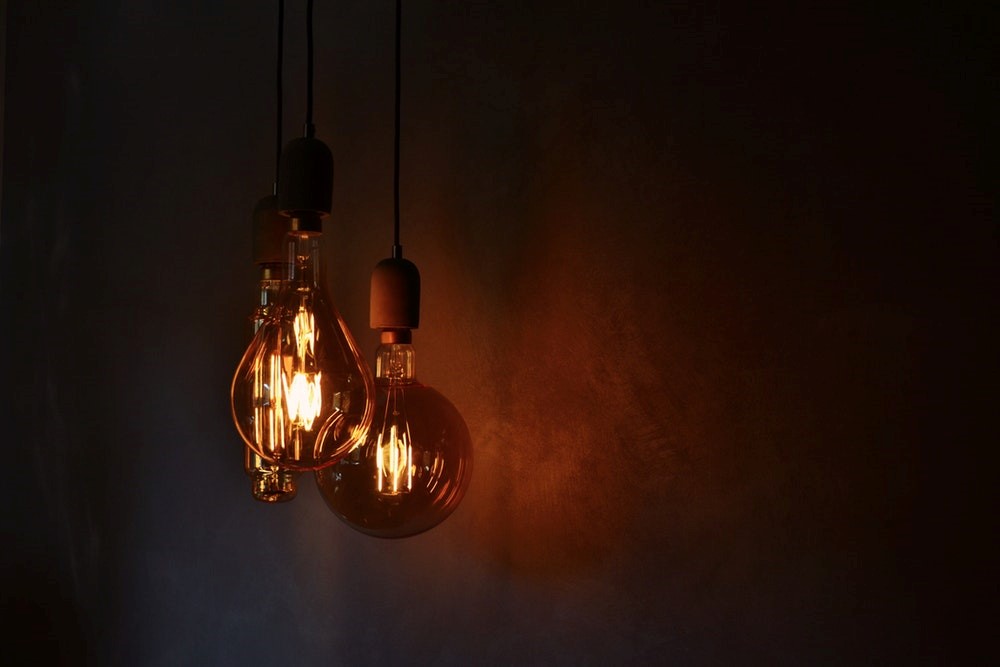 One of the symbolic beliefs with Feng Shui lighting is that low-suspending ceiling fixtures bring bad luck to those within the building or home. For that reason, these low-hanging lights like barn lights and pendant lights should typically be avoided in Feng Shui designs, especially in the bedroom setting. Many find that with low-suspending fixtures, they receive uncomfortable, unsafe energy.
However, low-hanging ceiling fixtures can be useful and can still be considered Feng Shui-compliant if you have very tall ceilings in your space. Low-hanging fixtures in this scenario can help ground and stabilize the energy in design as well as help provide visual balance between the height of your ceiling and the floor beneath it.
3 - Install wall sconces inside your space.
While wall sconces can be beautiful and add much-needed illumination to a space, these fixtures tend to be underrated. In reality, the only major downside to installing wall sconces is that there may be a structural problem that prevents you from installing them in a certain part of your home. For those renting a home, apartment, or building, installing wall sconces can also be an issue. Additionally, wall sconces tend to be more of a permanent installation than, say, floor lamps that just plug into the wall for operation.
However, keep in mind that some of the best illumination must actually be installed either on the wall or on the ceiling. There's usually no way around that, that is, unless you want to have plug-in lamps throughout your entire space!
To comply with Feng Shui, you may wish to install wall sconces on both sides of the door leading to a home or business office to invite positive energy into the place of work. Also install sconces in areas of your space that you need extra lighting the most. Look for areas of your space that are dim or shadow-y; install sconces in these places. Generally, wall sconces can provide great lighting to help set the mood and the energy in a space – especially if your space just needs a little more illumination for the proper balance.
4 - Add lamps for extra lighting in your space.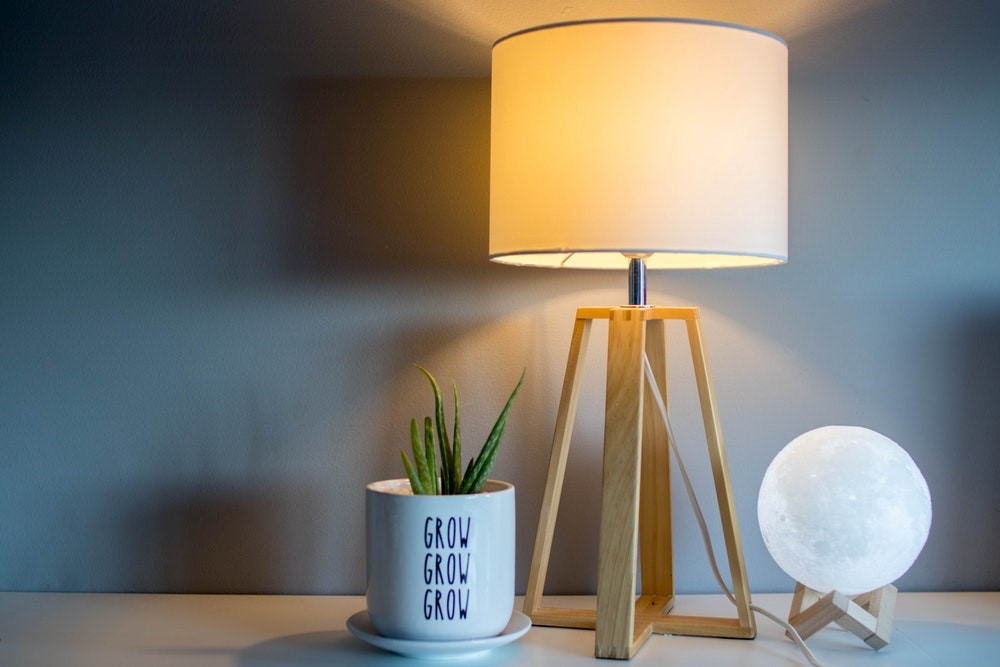 For areas such as near beds or desks, make sure you have task lighting in the form of table or floor lamps . Lamps are very portable and can always be moved to best accommodate your Feng Shui design as necessary. They are also suitable for those who are renting a home or building and wish not to install permanent wall or ceiling fixtures to comply with their landlord's rules.
To bring success, Feng Shui principles recommend that one installs lamps with a rounded shade, illuminating either orange or red. This would be particularly relevant for study or work areas. But to ensure success is not stifled, avoid narrow lamps with a more vertical, linear shape.
5 - Make use of the five Feng Shui elements when selecting light fixtures.
For beginners, the five Feng Shui elements include: wood, metal, Earth, water, and fire. Part of the fire element is lighting, which we have discussed. The proper Feng Shui lighting is about the balancing between yin (calm) and yang (lively) energy. But some of the other Feng Shui elements can be utilized when actually picking out your light fixtures.
For example, to encourage personal growth, go for a wooden light fixture. To stimulate mental sharpness and intelligence, install a metallic light fixture, particularly in an office space, study area, or reading room. The other elements – Earth (stability and balance) and water (wisdom and peace) – can be achieved through different means like, for example, adding plants or other elements from nature along with reflective substances or surfaces such as mirrors to your interior design.
Adding the five elements of Feng Shui may not be relevant for every room in your household or building. Thus, you wouldn't need to implement them everywhere. Use your best judgment.
Other Feng Shui Lighting Tips:
Don't place lit candles in the east or north of your home or building. Instead, place them in the south or southwest region.
To bring good luck to your family, hang a family picture in the south-west region of your home with a lighting shining on it.
If you have a staircase, install lighting on staircase landings to bring luck and prosperity.
For a relaxing balance of light in the bedroom, avoiding hanging chandeliers directly over the bed. Install, install light fixtures that offer a dimmer to bring peace.
Encourage career success by installing a crystal chandelier in the center of your home to energize the south zone. Crystals can also deter bad energy; however, they must be regularly cleansed to conduct their job well.
Boost the fire effect of your illumination by opting for a fan/light fixture.
Always replace broken light bulbs, sooner than later.
Conclusion
While it can take some time for one to understand how to achieve Feng Shui in an interior design, once one gets the hang of it, obtaining such can be quicker and easier the next time around. There are many aspects of an interior design to make sure will comply with the principles of Feng Shui, but when it comes to illumination, it tends to be one of the easiest.
Simply focus on installing wall sconces and table and floor lamps while avoiding low-suspending ceiling fixtures. Additionally, make sure that the entrances of your space are well-lit to invite positive energy in, and incorporate the five Feng Shui elements into the light fixtures you select. With these tips, making sure the light fixtures in your interior design are Feng Shui-friendly doesn't have to be difficult after all.
If you need more interior or exterior design-related tips and tricks, check out the rest of our blog posts .
Recent Posts
Summertime is going strong and the heat is most certainly upon us. With triple-digit temperatures, k …

You may or may not know, Cocoweb started its roots in lighting. With LED lighting being our specialt …

Picture Perfect:The Art of Lighting Your GalleryWhen entering someone's home, your eyes are immediat …