At the mention of the term 'barn lights', the first vision that comes to mind is that of a shade at the end of a long curved neck pointing downward. It is this shape that has earned barn lights the popular nickname of 'gooseneck lights' so much so that the two terms are often treated as synonyms and used interchangeably. However, the beauty of barn lights lies in the fact that they need not always feature a gooseneck and come in simple designs too even though their nomenclature remains the same.
Unlike yesteryears, nowadays barn lights are no longer limited to just barns – in fact these are regarded as being one of the most versatile lighting fixtures that can grace any space ranging from outdoors to a variety of indoor settings. Having been one of the earliest forms of lighting, these are still not just the most effective but also the most eco friendly form of illuminating any space courtesy of their ability to minimize light pollution. So by opting for barn lights, you will have added to the space a touch of old-world charm while benefitting from their efficiency.
Before buying barn lights, it is imperative for you to understand what it actually is and the following infographic will help you to develop an in-depth understanding –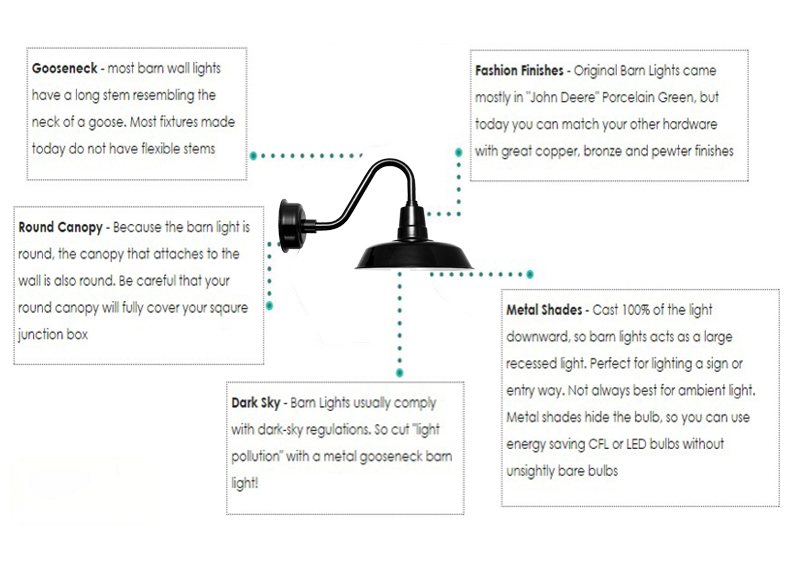 One of the reasons as to why barn lights have endured through the decades is owing to its durability as also ease of cleaning, not to mention low maintenance in terms of insects and dust. While these fixtures ruled the roost for most part of the twentieth century, the advent of the new millennium marked a decline in their usage thanks to the introduction of other varieties in this field. As a result, barn lights that are found today are the reinvented versions of the original design cast in a different metal using modern technology. That said, it is still possible to find original barn lights provided you are willing to spend time and energy in researching dealers who specifically handle retro light fixtures.
Shopping for barn lights is indeed fun but it is equally important to maintain a degree of caution, especially if you wish to use these lights to their optimal capacity. To this effect, listed as follows are guidelines that would enable you to choose barn light fixtures exactly as per your requirements –
What do you need the barn lights for? This is the first and also the most crucial step towards choosing barn lights because it alone would define how useful the lights are for you. Given that there are a variety of barn light fixtures meant to suit different situations, the onus is on you to identify one which is best suited for the space that you wish to illuminate.
For example, if you wish to highlight a business sign or artwork, angle shades are a great choice owing to their ability to direct light towards the wall rather than the floor. Likewise, if you wish to illuminate your walkway or portico, then a model that projects the beam of light downward would be a good option.
Is the space meant for light fixtures adequate to accommodate gooseneck lamp shades? The reason as to why barn lights are also referred to as gooseneck fixtures is because like the neck of a goose, they extend outward and further beyond the wall as compared to other versions. For you as the buyer, this implies measuring the space allotted for fixing the light and accordingly buying a fixture that would fit into this space.
Visualizing a rectangle or a triangle with the wall serving as the base of the figure is the most efficient way of going about the task.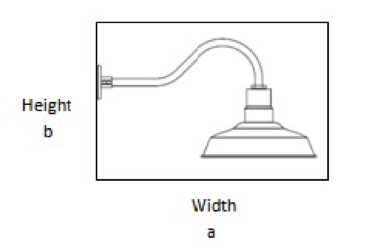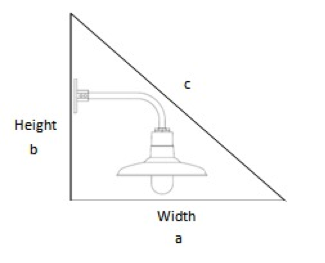 Using a measuring tape, you would need to carve an imaginary rectangle outward from the wall and note down its length and breadth in terms of how far you would like the barn light to extend. With the wall serving as one extreme, the other extreme should mark the point where your shade will be located and this dimension should be free from any kind of interference. In the event of an awning or an eave hanging over the space, your measurement should conform to the height and width of an imaginary triangle. Once you have all the readings, it is just a matter of going to the shop and selecting fixtures that would fit into the space.
Which gooseneck arm would be perfect and what should be the size of the shade? Choice of a perfect gooseneck arm entails being aware of technical jargon, namely projection. When used in context of barn lights, there are two types of projection which need to be borne in mind – gooseneck projection and total projection. The formula which is universally applied in this regard is –
Total projection = Gooseneck projection + Radius of the Shade
As long as you are accurate in determining total projection all that is required at the time of shopping is to ensure that the gooseneck projection and shade size of the chosen barn light add up to the requisite figure.
Because the procedure for choosing optimal barn lights is a little more elaborate and complicated as compared to that of normal lighting fixtures, seeking professional help for carrying out measurements and seeking appropriate suggestions is strongly recommended.
Recent Posts
Summertime is going strong and the heat is most certainly upon us. With triple-digit temperatures, k …

You may or may not know, Cocoweb started its roots in lighting. With LED lighting being our specialt …

Picture Perfect:The Art of Lighting Your GalleryWhen entering someone's home, your eyes are immediat …