One misconception when it comes to interior design is that having limited space means it's nearly impossible to follow through with the design plan of your dreams. As expected, the less space you have available in your home, the less room you'll have to add the furniture and décor items you want. And the more stuff you add to your space, the more cramped it becomes as the place gets filled with various objects. Common logic, correct?
Although many of us admire a spacious kitchen, some of us have really no choice but to work with the smaller kitchen that may be present in our house or apartment. As defeating as this might be for some folks, most don't have the desire or extra money lying around to either physically expand their kitchen, rework their current kitchen layout, or move into a home with a larger kitchen. That said, many must work with the kitchen they currently have, no matter how small it may be.
While it might make sense to conceal your kitchen if you want to detract from its smaller size, the opposite approach – bringing more attention to your kitchen – is a great way to give great quality to your kitchen space.
Go for bold flooring.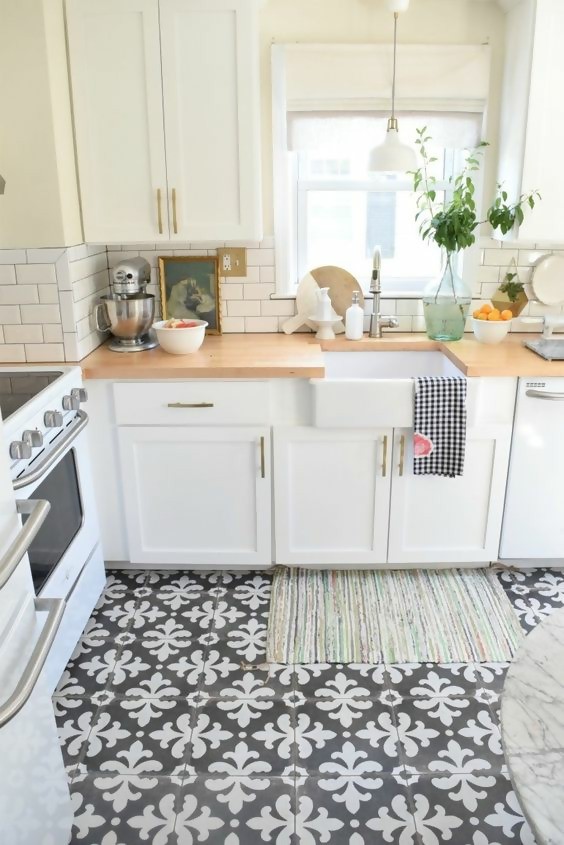 One great way to detract from the tininess of your kitchen is to install bold flooring. You can decide how bold you want to go. To you, bold flooring might mean colorful vinyl, Moroccan tile, rustic wooden flooring, or even painted concrete. Either way, fun flooring makes any tight or bland kitchen look more edgy and exciting than any average kitchen. And since your kitchen is on the smaller side, paying for more expensive flooring shouldn't be much of an issue with less square footage to cover. That said, don't limit your options too heavily if it means spending a little more can give you a bolder, funner form of flooring.
Pick a backsplash that makes a statement.
Backsplashes aren't just designed to protect your walls from receiving damage from splashed water, grease, and other substances present in your kitchen. Backsplashes are also a kitchen element that you can use to bring sophistication, color, and texture to your kitchen space. Think of your backsplash like an adornment for your kitchen. When selecting a backsplash for your space, consider what your kitchen is currently lacking. Does it need shine? Is color missing in your space? Do you need more fine details? Should your kitchen have more geometric shapes? Regardless of what it requires, a backsplash can certainly act as a great solution for what your kitchen might be lacking.
Install a glamorous light fixture.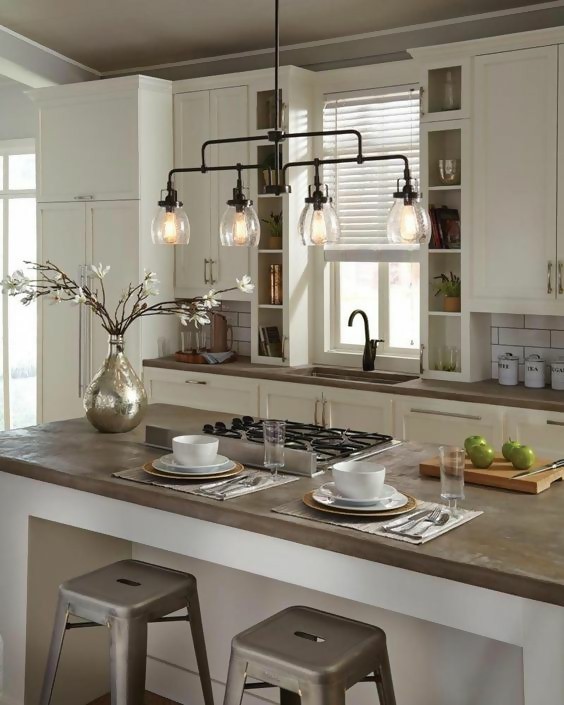 Adding light fixtures to a kitchen isn't just important illumination-wise; the right light fixtures can add elegance and class to your kitchen. A glamorous light fixture, from a rustic barn light to a fancy chandelier, can vary dramatically in style, shape, size, and finish depending on your preferences. Specifically for a smaller kitchen, we recommend going for a light fixture that is colorful and unique in style but conservative in size. And if you have shorter walls in your kitchen, opting for a light fixture with a shorter chain or neck can give the illusion that your walls are taller than they really are.
Add a fun faucet.
Wash your hands and rinse your dishes in style with a gorgeous kitchen sink faucet. Instead of setting for a usual plain Jane faucet, you might go for a faucet featuring a different finish than what you're used to. You may even consider going for a faucet with an antique style with a fun handle rather than a hands-free, modern faucet with fancy sensors. Either way, the goal should be to find a faucet that meets your personal tastes, looks fabulous in your space, and brings an interesting feel to your entire kitchen to make it one-of-a-kind. While you might consider a faucet to just be another functional piece of your kitchen, this simple feature alone can make a major impact aesthetically, especially in a compact kitchen.
Include a bold accent color.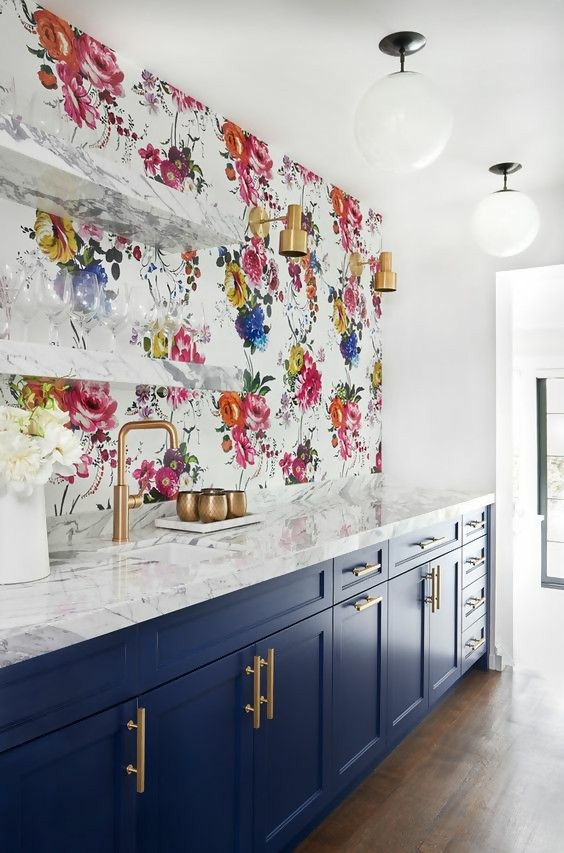 Your use of color in an interior design sets the mood and feel of your entire space. Opting for boring black and white in your interior design brings contrast, but this color scheme can also be quite bland, boring, and unrousing, particularly for a kitchen. For that reason, it's important to select your color scheme carefully. For your kitchen, you might choose to use a lot of neutrals, which is fine – but to only use neutrals is a no-go. Always add some sort of bold accent color whether it be electric blue, sage green, or a bright yellow, for instance. With the right accent color, your tiny kitchen will look confident and bold despite its smaller size. Keep in mind that smaller the kitchen, the more you'll want to avoid darker hues like black, dark gray, and chocolate brown.
Play around with interesting textures.
Texture is an important element for any room in your home. Of course, it doesn't hurt to add some intriguing textures to your kitchen space as well. If anything, utilizing different textures in a tiny kitchen can give it variation that keeps the eyes moving up, down, and all around – which is what you want in an interior design. Applicable textures for a kitchen might include a granite or quartz countertop, heavily-grained wooden floors or cabinetry, or playful artwork. Even natural elements like plants can provide texture for your kitchen to give it some movement.
Experiment with different types of kitchen storage.
Everyone knows that the kitchen typically features cabinets and drawers. As for other forms of kitchen storage, knife holders, pot racks, and spice racks are also common. However, if you truly want to bring distinction to your kitchen space, opting for various forms of kitchen storage is an excellent idea. Don't just add common forms of storage to your kitchen but also less-common or out-of-the-box methods of storage like floating shelves, a bookcase, a chest, retractable drawers, or a cooking utensil pegboard storage system.
Conclusion
Everyone has a different idea of what they believe makes a kitchen a good kitchen. However, many of us prefer a kitchen that is spacious with plenty of cabinetry and countertop space. That's why when we're house hunting, it's usually a deal-breaker for us to come across a home that has a small, tight kitchen. Whether you admire the size of your smaller kitchen or not, one thing is undeniable: spicing up your kitchen with fun, bold elements is the key to bringing the wow factor to your space.
Bold flooring, a statement-making backsplash, a glamorous light fixture, a fun faucet, a vivid accent color, interesting use of textures, and different types of kitchen storage are all things you might consider adding to your kitchen space to detract from its smaller, more compact size if that's what you desire. The main takeaway is, when you're unhappy about something in your interior design, sometimes bringing more attention to it is the best way to take away from the very thing you dislike about your space.
If you need more interior or exterior design-related tips and tricks, check out the rest of our blog posts.
Recent Posts
As the air turns crisp and the leaves take on shades of gold, it's that time of year again – Thanksg …

In the realm of interior design, lighting plays a pivotal role in shaping the ambiance, functionalit …

When it comes to designing your dream kitchen, every detail matters. From the color of the walls …