Lisa P. GoldStein is an artist that offers acrylic paintings that are rich in color with just a touch of whimsy. She has a unique ability to allow the personality of each of her subjects shine through, whether it be an animal or plant. She offers an exciting take on what colors can actually occur within our world. Her story is interesting in the sense that her career as an artist started later in life; its apparent through her artwork that she has found a renewal of life through her vision as an artist. She has captured many pets through her talent and continues to bring happiness to her viewers by showing just how personable the animals of our lives are.
First off, thank you so much for taking the time to do this interview with us. We really appreciate it. Can you tell us a little bit about yourself (your childhood, how you started painting, your inspiration)?
Thank you for your interest!
Well, there's nothing amazing about my story. I have been creating, in one form or another, for as long as I can remember. It's not an option. However, I did not pursue art as a career. I would have liked to, but I received the well-intended message that "you can't make a living in art". Which is interesting, because my mother is very artistic. But I always dabbled. And, no kidding, I loved coloring and working play dough with my kids. You could have glitter and glue in my house! I did learn to quilt, but didn't really spend time creating adult art. This all changed in a big way several years ago. I was in a professional training program where I participated in a visioning exercise: "What would you have wanted to do when you were younger if you knew you could not fail?" I had to draw the answer with my non-dominant hand. An image immediately came to mind: me, with a bird in one hand, and a paintbrush in the other. Creating that drawing was a turning point in my life. Since then I have practiced my art with a new passion and now devote myself to my art full time.
What is your main philosophy behind your artwork?
My mission as an artist is to instill a sense of pleasure or make an emotional connection with the viewers. I want to continue to grow and challenge myself as an artist. I want to share my passion and energy, facilitating the creativity in others, especially those who do not think they are "creative".
How do you approach a painting? What are you initially inspired by?
I am usually inspired by a colorful image or a playful personality. I'm all about nature and personalities. And color. It's just no in me right now to create something that involves a dark image or emotion. Life is challenging enough. I want to do the hard work but when I get home I want to make and look at things that make me feel good!
How did you know that painting was what you wanted to pursue? What was it like changing careers?
I have always created. Since childhood. It was never an option. However, art was not encouraged as a career. My first career was as a health care professional. As my children grew I had time to start focusing on myself. As I mentioned already, I had this "light bulb" moment where I realized how much creating art meant to me. And that I had nothing to loose by pursuing my passion. So I jumped in and gave it my all. I created well over 100 hundred works of art my first year just to prove to myself I could paint, and get the results I wanted.
The hardest part of this journey was identifying myself as an artist. It took me while to say with confidence "I am an Artist" in response to the query "what do you do?". I gave myself a lot of pep talks, and each sale gave me more confidence. Now I own it, and remember that artist are cool people!
I would love to have it all come together by creating art programs with populations in need. I currently serve on the Chapel Hill Public Arts Commission and we have programs that allow artists to work in the schools and with populations in need, and I hope to be involved as the artist soon (as a Commissioner I can't apply for artist placement). But I value helping make these programs possible for the community.
Is there a piece of artwork you have done that has affected you more than others?
I have one of my large (60" x 48") semi-abstract florals in my dining room, and it just makes me feel so GOOD when I see it because it's cheerful and celebrates beauty.
Do different animals have different meanings in your work? How so?
I think with pets I really am moved by the relationship between a person and their dog (for some reason I've only had one cat request, and that was with a dog in the same painting). People who want a pet portrait love their pets, and I think that relationship is very symbolic. I think people who are good and kind to their animals are good and kind people. And most of the people who have commissioned a pet portrait have done so as a surprise for another person, such as their spouse!
It took me a while to figure out why I like painting cows and other farm animals (chickens, pigs). One of my daughters figured it out for me. As a child I used to spend time on a hobby farm with dear family friends and these were fun, carefree times. So I think there was a subconscious connection. And I like to support local farms, so these paintings bring an awareness.
My next animal is going to be a lot of fun. I met "Officer Steffi" just this week in Starbucks. Steffi is a real officer in the military and she's jumped out of planes and helicopters! Her handler, whom I'll call "Officer Shane", let me take her picture.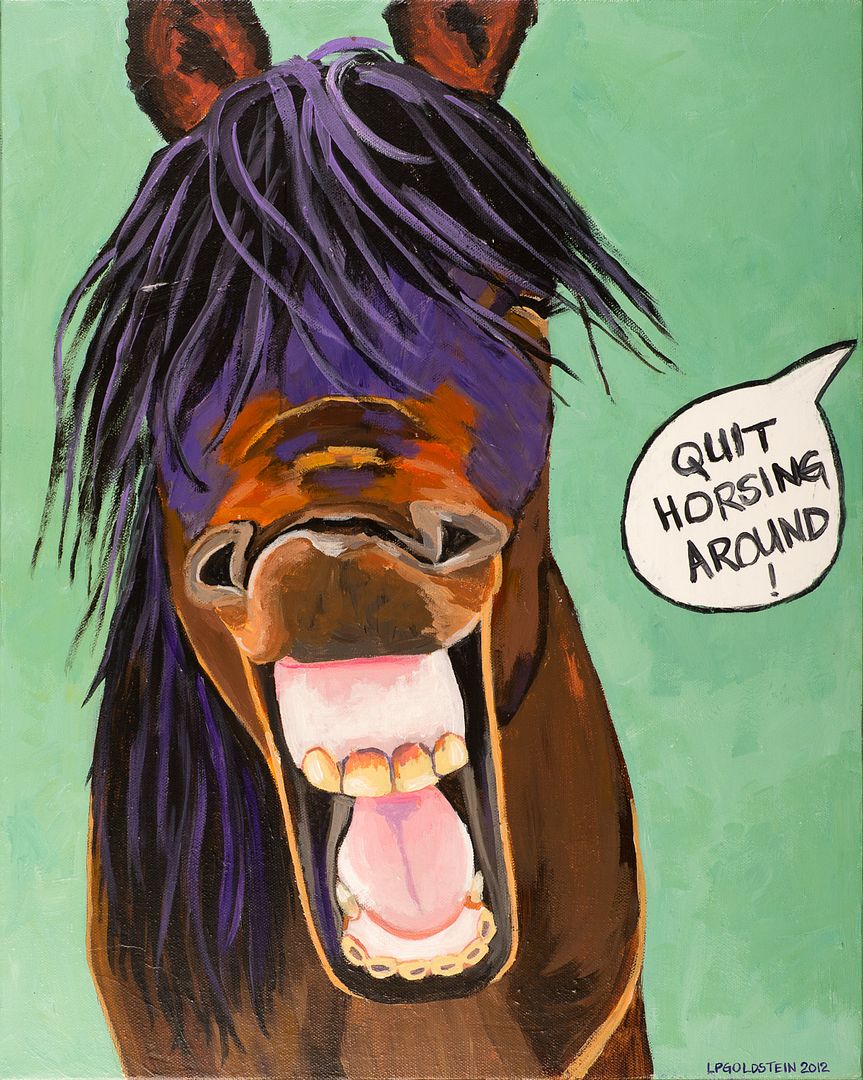 How did you find your style? Has your use of color evolved as you've painted more?
I have taken a few classes but I have no formal art education or training. I am just always drawn to color. Just recently I have decide to actually study color in a more intentional way and am going to use my color wheel to challenge myself to make intentional color compositions, such as a tetradic scheme, etc. That will be fun!
My use of color has indeed evolved a bit. I am incorporating more variances and variety of color into my subject matter and backgrounds/negative space.
You wrote that you have three creative children. Are they following in your artistic path?
My kids are very creative. My oldest daughter, Meryl, is a fabulous painter; it comes very natural to her. She's like me in that she was always making things as a child. My middle child, Becca, used to say she wasn't creative, which drove me nuts, because she is a great photographer. My son, Ben, plays in a rock band, jazz band, and this spring he performed in two plays. Least we forget- my husband is the King of Puns. I don't know how he does it; I'm not that clever.
Bottom line is, there are so many ways to be creative in life!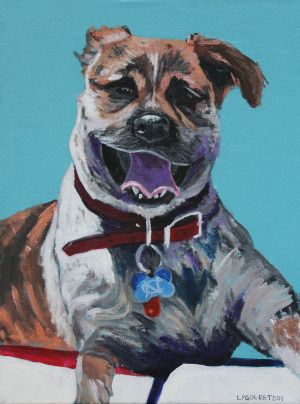 Whose work inspires and is an influence to you?
Again, I've had no formal training, so my knowledge of the Great Master's is very limited. But as I young person I loved Norman Rockwell. My work is nothing like his, but the celebration of the every day life or the meaning in some of his civil rights paintings was very moving. I was also very drawn to the Impressionist, Claude Monet. His use of color is fabulous. I am currently loosening up my style, more toward the Impressionist movement.
There are two artists who live in my area who have inspired me with their use of color and playfulness: Jane Filer and Cathy Martin. Both of these women are creative and giving of their talent, and I adore them.
What would you say to an aspiring artist?
Go for it! You are an artist if YOU say you are an artist. Just keep challenging yourself and connect with other artists. Find out where there are new artists (it may be hard to break in to the community). Learn about the local art guild. Get involved.
Read I'd Rather Be In The Studio by Alyson B Stanfield. It's practical, informative and inspiring, and gave me that kick in the butt to put myself out there.
Share your knowledge, inspiration, techniques, and others will share with you. There's not much new to invent, but what you can bring to it can be incredibly unique.
For other inquiries or to learn more about Lisa P Goldstein, visit her website.
Recent Posts
If you are a person who has artwork displayed on the wall in your home, you likely chose them bec …

Findings from the Pew Research Center show that 71% of employed adults are working from home a …

Modern farmhouse decor is becoming widely popular across the world and is loved for its versatili …