How does one go about lighting something as historically valuable as the Sistine Chapel? Last October, the Vatican worked with lighting experts from OSRAM to develop the ultimate lighting solution. They utilized LED lighting technology to achieve a revolutionary system to illuminate the frescos of the Sistine Chapel. Lighting the artwork by Michelangelo, Botticelli and Perugino requires the utmost attention, and multiple factors must be considered to achieve truly divine illumination.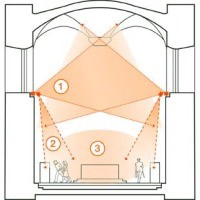 Establishing an optimal environment for the Sistine Chapel called for an LED lighting system. The preferred lighting system had to be minimally invasive and provide uniform lighting. Placing the lighting system outside of the viewer's visual field required engineers to construct specific equipment that was placed so that the artwork would be met with as little glare as possible. The resulting product was a highly enhanced viewing of the Chapel: LED lighting increases luminous intensity up to ten times, and as a result the colors of the artwork were intensified in elegant uniform with a color temperature of 3250 Kelvin. In addition, LED lighting governs the four-color channels: red, green, blue and warm white. With these new improvements, the viewing of the Sistine Chapel is perpetually modified, with the frescos of the Sistine Chapel just as Michelangelo saw them 500 years ago.
The Sistine Chapel holds immense historical and religious importance so prevention of damage to the interior of the Chapel was of the upmost importance. LED lighting allows natural light to be omitted, eliminating the possible damages from thermal, ultraviolet and infrared radiation. LED lighting sustains minimal damage in comparison to all other sources of light; illumination was increased in the Chapel without harming the frescos. The incorporation of the new LED lighting technology allows the Sistine Chapel to be viewed at its optimal state while maximizing protection of the frescos.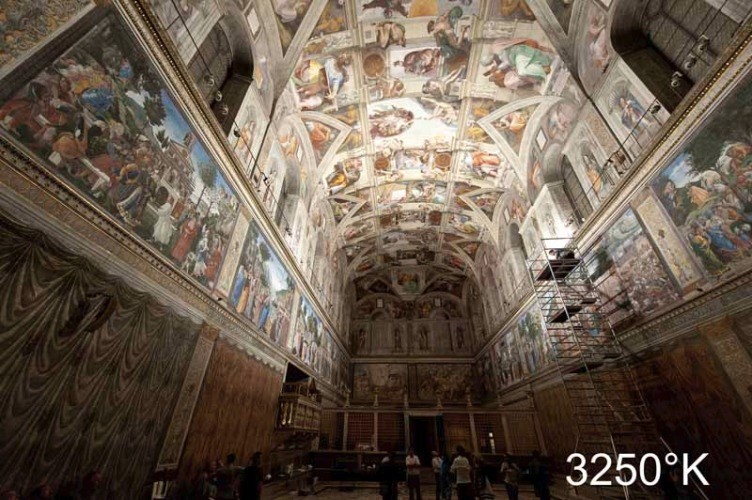 Source: Osram.com
LED4ART demonstrates how LED lighting performs a crucial role in protecting artwork. Their mission is to showcase better light quality and improve energy efficiency; therefore, their choice to install the Sistine Chapel with LED lighting is only appropriate. Ultraviolet lights were fading the color of the Sistine Chapel frescos for 500 years. In addition to its protective qualities, LED lighting provides unrivaled levels of illumination; viewers can now optimally appreciate the artwork of the historic site. LED lighting are not only vital for the frescos of the Sistine Chapel but also in the conservation of artwork in homes. It is the responsibility of the person in possession of any artwork to present their art with adequate lighting and protection. Cocoweb Art Lights use LED technology providing a protective environment, enhancing color, and saving energy. Artwork doesn't have to be part of the Sistine Chapel to require protection!
Recent Posts
Summertime is going strong and the heat is most certainly upon us. With triple-digit temperatures, k …

You may or may not know, Cocoweb started its roots in lighting. With LED lighting being our specialt …

Picture Perfect:The Art of Lighting Your GalleryWhen entering someone's home, your eyes are immediat …