The most popular options in the modern world of lighting are LEDs, incandescent (and the related halogen lights), and fluorescent lights (including CFLs, or compact fluorescent lights). Many of these styles are being phased out in favor for LEDs, which are more energy efficient, longer lasting, and safer.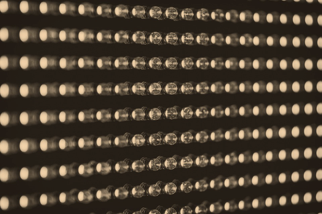 Light Emitting Diodes
A Light Emitting Diode uses semiconductor material to move electrons around and therefore produces light. An LED array can last upwards of 50,000 hours and only need 4 watts of energy. Not only will the light last longer, but it will bring down average utility costs.
Fluorescent lighting is all too common in commercial spaces. This is usually due to its lower cost; however, the health cost for employees may not be so negligible. Incandescent lighting was often sought after for its less harsh, warm glow, particularly in home settings, but the heat emitted, as well as shortened lifespan leaves much to be desired. The heat from two incandescent light bulbs is so substantial that it was utilized in the original Easy-Bake oven toys in the 1960s.
Often praised for its warm soothing color temperature, incandescent lights have been a popular choice for decades. However, incandescent as well as halogen lights are ending their sales due to their inefficiency. Conversely, LEDs at Cocoweb produce a color temperature of 2700k; a soft, warm yellow-orange hue of light and a brightness of 1600 lumen, similar to the warm glow of natural sunlight, without the added temperature increase.
For households with young children or pets, incandescent light bulbs are a lot more fragile than LED lights. Incandescent light bulbs emit an extreme amount of heat, causing rooms to heat up and retain heat, which is extremely undesirable in warm weather, and makes it more likely that the bulb will burn out faster, severely decreasing its lifespan and requiring regular replacement. There is also the risk of burning oneself while handling a still hot incandescent bulb.
Fluorescent lighting has also been slowly phasing out of mainstream use for some time now, owing its growing disapproval in part to companies, individuals, and government agencies becoming more concerned with both conserving energy and saving the planet. Standard fluorescent lights are inferior at conserving energy compared to LED lighting. It can take time for a fluorescent light to achieve maximum brightness after being powered on, with intermittent flickering, unlike LEDs, which are able to be used in tandem with a dimmer so that one's preferred level of brightness can be instantly achieved. Moreover, fluorescent lights, both in tube form and CFL, contain chemicals and elements that are harmful to humans and the environment.
This means that commercial properties as well as households, are losing money and energy during the lifetime of a fluorescent light. Extra precautions and cost must be taken into consideration when disposing of them to avoid environmental contamination.
Compared to fluorescent bulbs, LED lights are up to 80% more efficient. Unlike fluorescent lights, LED lights convert 95% of their energy into light and only 5% is wasted as heat; this is all while still using far less power to provide a strong and consistent output at a lower wattage.
In addition, LED lights are also much longer lasting, with some models having a lifespan of up to 50,000 and even 100,000 hours. This not only saves money on replacement bulbs, but it also reduces the amount of waste sent to landfills.
20% of the world's energy usage is estimated to be consumed by lighting. If we could switch all of the lights to LED technology, this amount could be reduced by over 75%.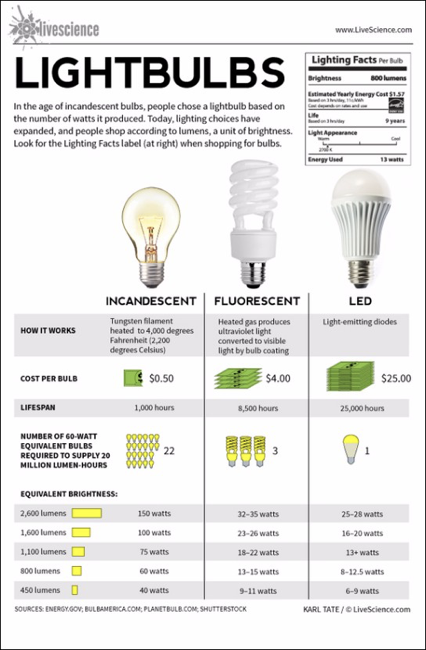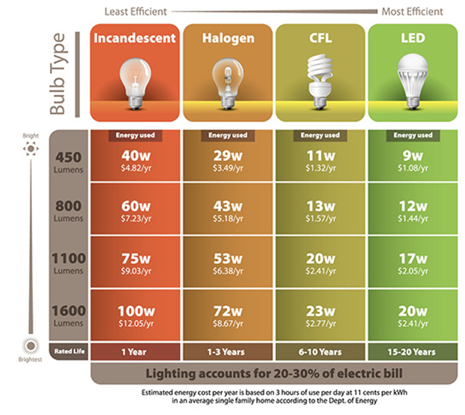 Chart above is courtesy of the U.S. Department of Energy and based on 3 hours of use per day, at $0.11 cents per kWh
While braving the elements outdoors, a properly weatherproofed lighting fixture is of utmost importance. Rain, snow, wind, humidity and heat can quickly take a toll on furniture and décor, and adding electrical components can cause a dangerous situation. The housing of the LEDs at Cocoweb are not only safe and protected from extreme and severe weather, but the fixtures themselves are coated in a powder finish to protect from rust and fading aver time.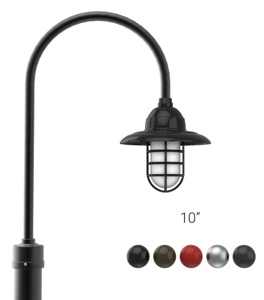 Customizable Pottery Barn LED Lamp Post
Our post lights are a permanent and solid solution for outdoor lighting, strong enough to brave all weather conditions. Cocoweb utilizes an eco-friendly powder coated finish for our barn post light collections for weather-proofing and a beautiful, lifetime finish that prevents cracking, chipping and fading over time. The new Customizable Pottery Barn LED Lamp Post can be tailored to your needs in five different shades and at heights of 8 feet, 11 feet, and 14 feet.
Post lamps are aptly at home in both private home settings along a driveway, or illuminating a garden path, as well in commercial buildings— adding a stylish yet functional component to walkways, courtyards, patios, and parking areas.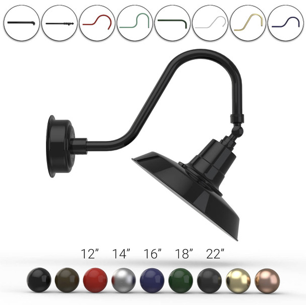 Customizable Vintage Outdoor Wall Light
Our Customizable Vintage Outdoor Wall Light, is flawless for both indoor and outdoor settings. It is available in nine different color finishes for the shade and stem, with eleven different stem styles, and range in shade sizes from 12" to 22" inches.
Traditionally used to highlight a business' signage, sign lights are named for their ability to be repeatedly moved in any direction to highlight a particular area. Indoors, they are charming task lights to highlight a dark corner, vanity area, as well as artwork. Outdoors, their uses range from emphasizing an address, to illuminating a patio area, and can be particularly convenient over an outdoor cooking or other hobby area, enabling one's pursuits of leisure to not be constrained by daylight hours.
Similarly, wall sconces provide ample lighting for areas without infringing on the ground space, both indoors and outdoors. Our Customizable Calla Wall Sconce has a classic, timeless design, coupled with modern LED technology. It is fully customizable with a choice of seven different colors for the shade and stem, three different stem styles, and available in shade sizes of 12" or 14" inches.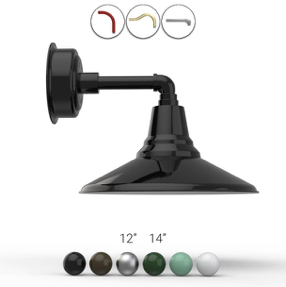 Customizable Calla Wall Sconce
Customizable Dahlia Barn Light
Cocoweb's perennial favorite, the barn light is constructed to withstand the test of time in both durability and aesthetic.
Boasting twelve different stem styles, ten stem and shade color finishes, and shades sizes of 8" and 12" inches, the Customizable Dahlia Barn Light is impeccable in both homes and businesses. The many options allows utmost freedom to fully control the design and ambiance of a space, being equally at home in modern, traditional, and eclectic design schemes, as well as all styles in between and beyond.
All of our lights at Cocoweb are also available with motion sensor or photosensor bases. Our motion sensors have a range of 50' feet at a 90-degree angle, and stay on for five minutes after motion is detected. The photosensor base automatically detects visible light in the surroundings, turning the light on or off dependent on the ambient brightness of an area. The light will stay on until the photocell detects light. Dimmers are another option, to further customize the ambiance of an area.
Recent Posts
The Romantic Era, spanning roughly from the late 18th century to the late 19th century, was a period …

There's something magical about the way outdoor lighting transforms a space after the sun sets. From …

Music has always held a special place in the hearts of people worldwide, captivating minds and emoti …