It's no surprise that in a world where technology has essentially taken over, we turn to social media for advice, support, and ideas. Social media makes accessing the latter easy and fun in many cases. In fact, our Cocoweb team recommends using the power of social media – particularly Instagram – to find inspiration from others when it comes to home décor.
While interior design images on Instagram often depict perfect, spotless homes featuring luxurious, elaborate furniture and décor, there is still a lot you can learn by looking through these pictures. For one, interior design photos on Instagram can help you decide what your interior design style is. These images can also help you come up with ideas for your own home both in terms of matching the latest interior design trends as well as adding a little avant-garde touch to your home.
That said here are six interior design Instagram accounts our team loves:
1: @the_real_houses_of_ig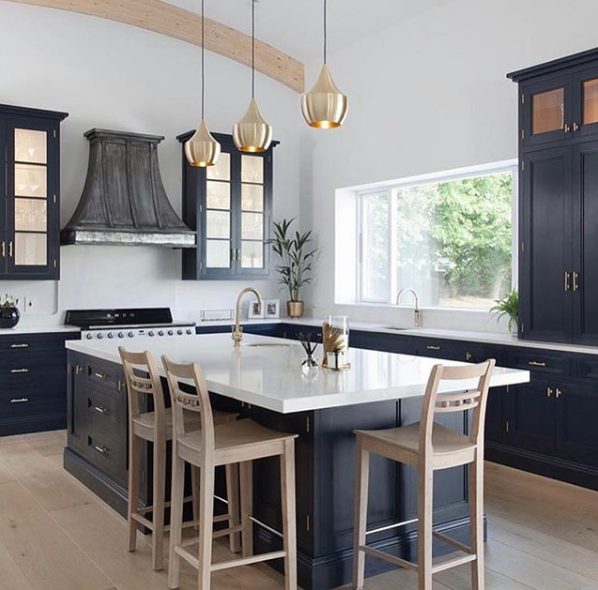 Founded by Kate Rumson, @the_real_houses_of_ig features photos of mostly clean-cut, white, and bright interior designs and the occasional exterior design. Scrolling through the Instagram page, you might notice that there are both modern, farmhouse, and traditional-modern touches. Thus, this might be an interior design Instagram page that you might considering following if you're kind of the in middle of traditional and modern design or even lean one way a little more than the other.
In the featured interior designs on the Real Houses of IG's Instagram page, you might notice that when a hue other than white is used, it is usually ashy brown, gray, and other various gray-based colors along with the occasional navy or medium blue. Every now and then, while the Real Houses' Instagram has many cozy, simpler interior designs, they also feature something luxurious or uncommon like a bathtub enclosed by large, glass walls. In turn, you can gain realistic and more creative interior design ideas at the same time.
2: @globalinteriordesign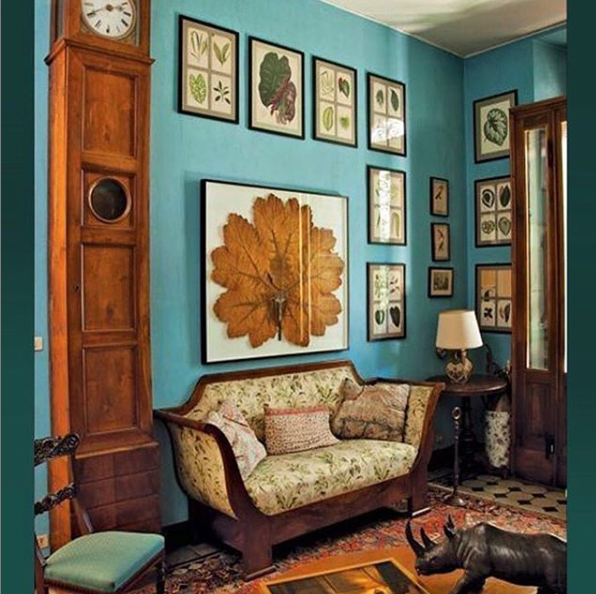 For those who like interior designs that are a bit more exotic and a little more traditional, you will love following @globalinteriordesign on Instagram. This Instagram page is truly like no other. Best of all, who knows what you will find on their page! You might find a photo of a bed with an old-fashioned, blue frame decorated with teal pillows and a unique, crochet blanket featuring circles of variant shades of purple and pink. Or you might an image of a baroque- and gothic-inspired living room in London featuring a dark, blue-based black background lit with romantic candles and gold décor to offset the darkness.
However, this Instagram account is not for you if you prefer a clean, minimalistic space. Most designs featured on this Instagram page are loud and decorated to the max with a plethora of pillows, plants, or loud colors. Many of the designs featured on this page feature intricate architectural touches and detailed wallpaper the average person might not have in their home.
3: @modern_interiordesign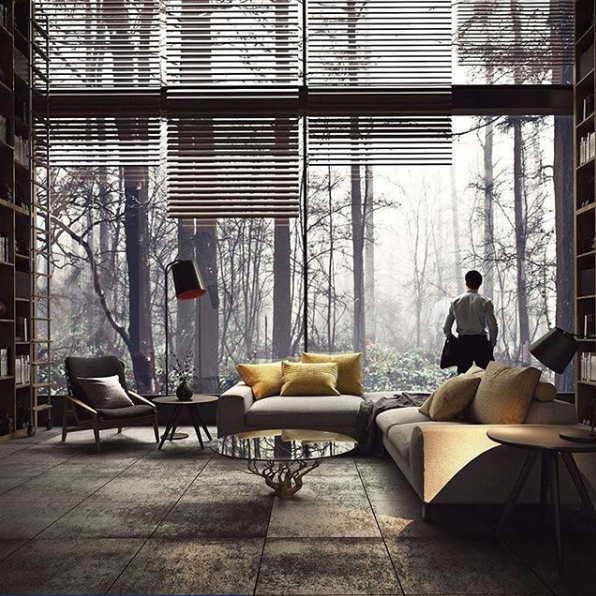 If you're a bit of a dreamer and love modern, clean interior designs the most when they're embedded with nature, following @modern_interiordesign on Instagram is a great idea. Many of the designs featured on this Instagram page contain large windows or glass walls that peer into the simplicity and peacefulness of the great outdoors. Even in the photos where these large windows and glass walls are not present, the designs still make use of touches from nature whether it be reclaimed wood, concrete, marble, or stone.
Gaining inspiration from @modern_interiordesign is quite relevant if your goal in interior design is to make your space simple, up-to-date, and relaxing. However, the interior designs featured on this page go to show that even with a minimalistic design, you can still make a huge statement by selecting the right shapes and materials alone.
4: @interiordesigning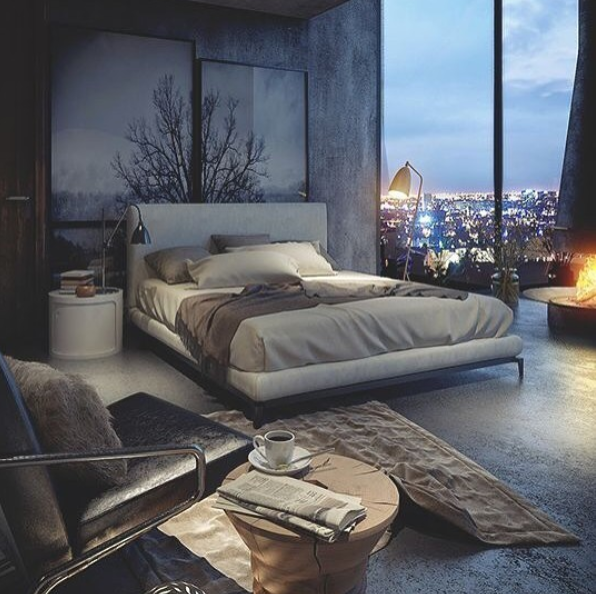 Sometimes we just aren't sure what our interior design style is – and that's okay. On the Instagram page of @interiordesigning, you'll find a wide range of interior design photos that are not limited to just one or a few design styles. In fact, the majority of us do have more than one interior design style. Some of us, however, have a difficult time understanding how to apply our style(s) in our space, thus making it virtually impossible for us to actually push forward and pursue the design we want. That's where @interiordesigning comes in.
On this Instagram page, you'll find images of interior designs that feature unique, avant-garde, modern furniture while you'll also come across interior designs with a more maximalistic-styled industrial design. That said, you can get a taste of many styles and inspirations, color schemes, and even interior design trends. Additionally, they occasionally feature some gorgeous exterior designs as well.
5: @myhouseidea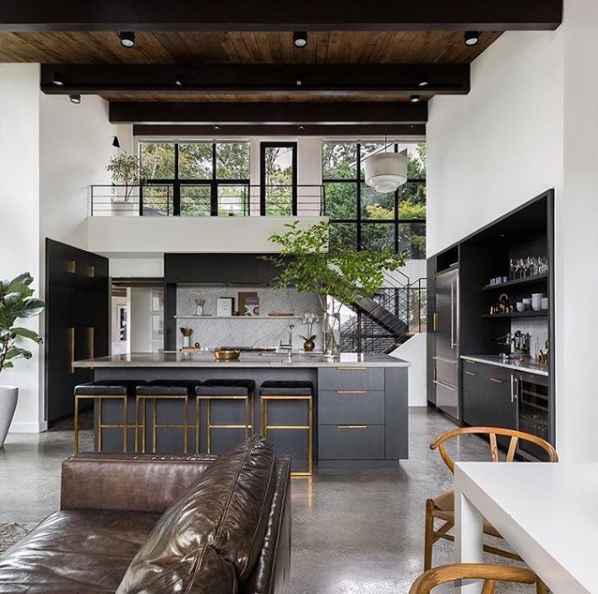 For those who like interior designs that are kind of mid-way through minimalistic and maximalistic and make use of both modern and industrial touches, be sure to check out @myhouseidea on Instagram. Many of the designs are slightly more masculine in nature, often featuring different woods, stone, brick, and metals. Many of the designs on this Instagram page are considered warm, cozy, and mostly neutral.
Apart from featuring masculine, modern, Earth-inspired designs, @myhouseidea also often emphasizes architectural features – both indoor and outdoor. Things like staircases, ceiling beams, arches, columns, and the like are frequently featured, giving followers inspiration for not just decorating their spaces but also for having unique structures installed in their spaces.
6: @inspire_me_home_decor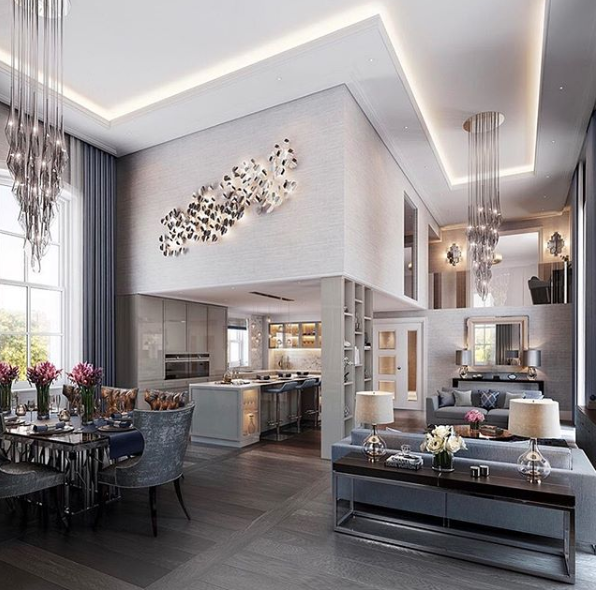 While usually most interior designs (at least the main rooms in the home like the kitchen and living room) tend to have a healthy dose of both masculine and feminine inspirations. For instance, the furniture and materials used in a design are often more masculine whereas the décor items and light fixtures are sometimes more feminine. Sometimes there is also gender neutrality in homes. For instance, in most homes, the color scheme is neither too feminine nor too masculine. But would if you mostly want a feminine design? Can this be done without looking too out of place? The answer is yes!
Following @inspire_me_home_decor on Instagram, you will find that most of the interior designs featured are quite feminine overall. While each design features masculine and gender-neutral touches – and some designs posted are generally more masculine than feminine – the great thing about this Instagram page is that the featured designs go to show that, yes, you can add many feminine elements to the main parts of your home while still making it look stunning! Many of the photos @inspire_me_home_decor posts feature plush throw pillows and blankets, girly chandeliers, feminine mirrors, and the occasional use of pink. That said, if you like glitz and glam, follow this Instagram page.
Conclusion
More than we realize, all of us take inspiration no matter where we go or who we come in contact with. It might seem unoriginal, but the truth is, copying others and being inspired by other sources is part of what makes us human – we are social creatures after all.
When it comes to social media, particularly Instagram, others' images alone can have a massive impact on our imagination and how we develop over time. That's why our Cocoweb.com team encourages you to take advantage of incredible interior design Instagram pages, like the above listed, for inspiration and knowledge pertaining to your own interior design.
If you need more interior or exterior design-related tips and tricks, check out the rest of our blog posts.
Recent Posts
Summertime is going strong and the heat is most certainly upon us. With triple-digit temperatures, k …

You may or may not know, Cocoweb started its roots in lighting. With LED lighting being our specialt …

Picture Perfect:The Art of Lighting Your GalleryWhen entering someone's home, your eyes are immediat …