Another summer is coming to an end. Even though we hate to say "goodbye" to those fun summer picnics, smokey barbecue get-togethers with family and friends, delightful sounds of the melody music coming from the ice-cream truck passing by and hours in a refreshing pool under the hot sun, the time has come to welcome those beautiful hues of autumn, those chilly nights that create a more cozy and restful place in your home and that wonderful aroma coming from the kitchen oven. With that said, take out your warm wardrobe and accessories, prepare for fall activities and most importantly, redecorate your home for shorter days and longer nights.
The amazing thing about the season of autumn is that it fills our lives with a wide range of colors and tones, and marks the onset of the glorious holidays that we have long been waiting for. For this reason, with the surroundings of a world of colors that we see and live outside, it only makes sense to enrich our homes with these same appealing shades too. Rearranging and redecorating our living environment will set just the right mood for a more comfy, warm fall. And it's not just about the different tones of reds, oranges, browns and yellows, it also involves warm textures and the proper furniture, decorations and lighting to spread the feeling of autumn throughout your home.
Here are some terrific ways to revamp your home with a fall of colors and a more warm interior decor:
Colors:
With so many amazing fall colors, choose a desired color or two and simply use them to accent your home. Balance out some accessories or additions in these colors throughout your home without creating a tacky ambiance. It's quite easy to overdo it and splash a rainbow of colors so remember to establish a minimalistic look and feel.
Bring in some small touches of fall colors to season your home with warmth and comfort such as a modern red vase or bright orange curtains.
Use neutral colors in addition to vibrant colors. In fact, neutral colors such as beige, gray, white and brown are perfect to highlight bright colors.
Fall reminds us of how the outside suddenly brightens up our lives when the leaves change colors and cover the world around us into a beautiful landscape. Bring this natural feeling and decor into your home by integrating elements of nature such as a decoration of leaves, colorful pebbles, stylish branches in a vase or a stack of wooden fire logs.
Use natural sunlight to brighten up your home. You can also create a scenario of warm light by painting a wall with a touch of yellow or incorporating a red furniture or displaying dark orange throw pillows or blanket.
Furniture:
There's nothing more home-like than "granny´s" armchair or rocking sofa chair. Use an old yet stylish piece of furniture or bring it up to times and use a modern, cozy sofa chair to snuggle with a warm blanket and an exciting book for pleasure reading.
The most comfortable and welcoming place in a home is the living room. That's why you should decorate your living room with cozy furniture for a family gathering or a special occasion with guests. Improvise with a hearty approach and add throw pillows and blankets for decoration as well as for comfort. It's even better to use a neutral color and to change the accessories and decor around it in order to blend in with any season of the year. Colorful slipcovers are also a great addition.
A threshold rug works great to enhance a particular area of a room especially in the living room or kitchen. You can either use a neutral color to create a feeling of peace and relaxation, or a more vivid color or a printed style for extra flair.
Whether in the kitchen, living room or dining room, a suitable table centerpiece is perfect for an added visual focal point. Welcome fall with a modern wooden-style table and maybe a chair or two, depending on the location and purpose of the table. Actually, any wooden furniture is definitely a fall and winter element like a wooden rocking chair on the front porch with white cushions.
If you are fortunate to have a fireplace in your home, showcase it along with the seasonal decor of your home. It's great to sit in front of a warm fireplace and enjoy a savory chicken-noodle soup or a creamy hot chocolate after a long-day from being outdoors.
Store away lighter curtain fabrics that were used for summer and take out heavier, deeper-colored curtains to stay warm in the fall - and winter. This will certainly state a foundation for a fall setting.
Lighting:
Indoor artificial lighting is what unites everything by enhancing the seasonal-theme of your home and fulfilling certain tasks. With shorter, chilly days and longer, dark nights, you want to illuminate your home, especially in those rooms that you spend most of your time. Evaluate your home and incorporate the right amount of lighting ensuring that it serves a purpose, provides an interior style and creates warmth and comfort.
In those rooms or areas that require more bright light, use directional spot lighting to reflect light off of a wall and towards that area, a pendant lamp for over a table, or floor and table lamps to lighten up an area for studying or reading.
The biggest mistake that most people do when it comes to lighting is that they don't use a wide- range of lighting solutions in their home. Dimmer lighting fixtures is the perfect solution to control lighting in a room since their purpose is to create a certain mood depending on the level of lighting. Dimmer lighting creates a soft, serene feel for a romantic or quiet moment whereas brighter lighting creates an upbeat, exciting moment.
When considering your lighting options, think about what you want and need it for. Lighting may need to be used for a functional reason or to create ambience or to add style to home decor. Make sure you use enough lighting without overdoing it. Fortunately, you can always find a wonderful selection of lighting solutions to choose from. There´s floor and table lamps, barn lights, picture lights and ceiling lights, among others, to shop around for. All of these can be used for accent, task and ambient lighting.
As you may already know, home interior lighting is not only utilized to lighten up your home. There are a variety of beautiful designs that can be incorporated into the season. From barn sconces to chandeliers to wall lanterns to pendant lights, the options are endless. Pick the right fixture style and color to bring in the fall season.
Decorations:
When fall comes around again, it's that time to redecorate your home. Decorations and accessories do just the trick to add "pizzazz" to your home decor.
Decorate a wall or entrance-way with rustic fall colors of orange and yellow or artful paintings or displays to welcome the season as soon as you step inside your home.
Decorate your front porch with pumpkins, corn stalks, leaves, straw and colorful ribbons.
For display interests, fill glass jars or candy dishes with candy corn, colorful dried beans or other vibrant-colored items. And the best part is that you can arrange this decorative display anywhere in your home, outside or inside.
Don´t forget to place a welcoming fall-like wreath with a harvest of berries, pine cones, corn husks and leaves. You can also do the same as a table display.
For a traditional look and feel, place decorative, colorful candles on your porch or on a table to set the mood for those cold nights.
Decorations and accessories can be used for any room at any time of the year. For this season, add fall colors to pillows, blankets, rugs, bath and bed linen.
Woolen, velvet, and flannel are just some of the common fall-like textures that give a warm feeling and make a fashionable statement to your interior home design. Experience these unique textures with a natural stone fireplace, a soft leather sofa, a flannel blanket and an elegant armchair. Play around with sizes and colors to get just the right visual weight of objects. A huge wall painting or an area rug are two examples to add depth and visual appeal to a room. In addition, a heavy quilt or a wooden novelty creates balance in a room.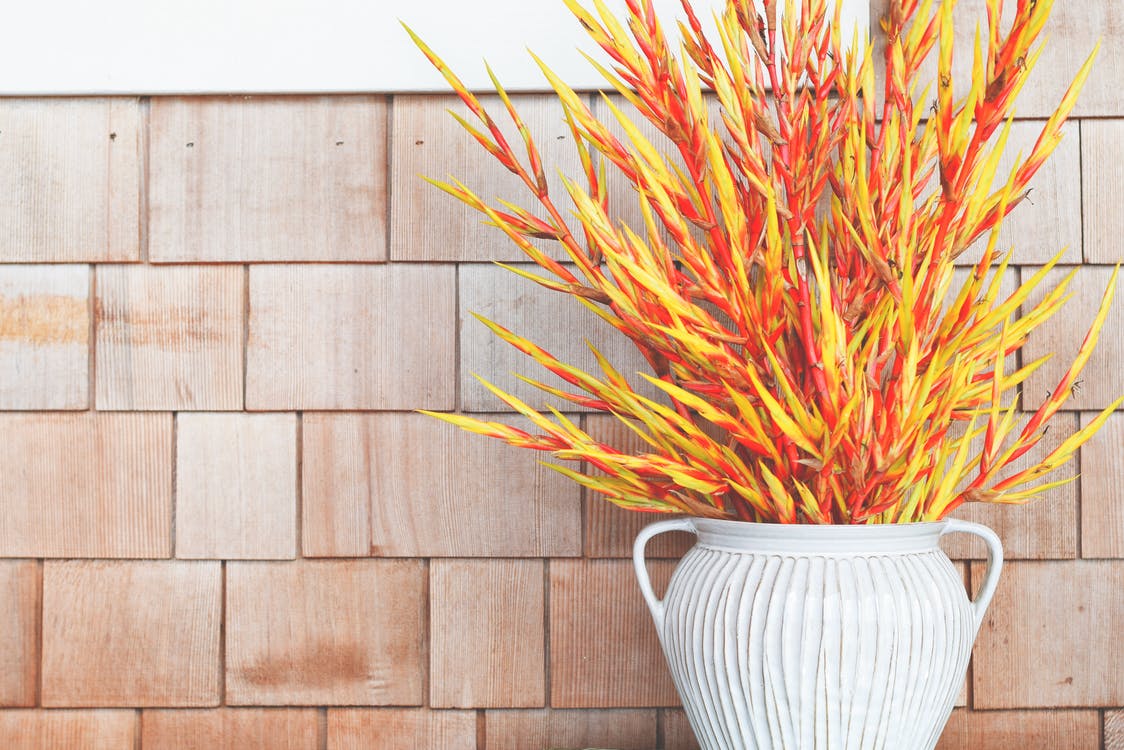 In conclusion, there are many things you can do to spice up your home in the fall. By incorporating a multitude of colors, furniture, lighting and decorations, you shape your home into a wonderful scene of the autumn season. So what are you waiting for! Start packing up those summer items and take out and shop for things to release the season of autumn!
Cocoweb provides a selection of lighting products for your home. Come to our online store at https://www.cocoweb.com/ to shop around for piano lamps, barn lights, picture lights, floor and table lamps and much more! Any of our lighting fixtures will add a special touch to any room of your home for any season of the year.
Recent Posts
Summertime is going strong and the heat is most certainly upon us. With triple-digit temperatures, k …

You may or may not know, Cocoweb started its roots in lighting. With LED lighting being our specialt …

Picture Perfect:The Art of Lighting Your GalleryWhen entering someone's home, your eyes are immediat …