We here at Cocoweb always keep our customers' needs close in mind, in order to best serve you with whatever kinds of high-end lighting products you may need. In keeping with that trend, we would now like to offer a preview of a product we know that many of you have been clamoring for. Introducing our Battery-Operated Picture Lights, a fully cordless modification to our existing lines of Tru-Slim and Classic Art Lights. Optimized for maximum versatility to best support your gallery lighting needs, our Battery Pictures Lights promise a convenient new way to make your art shine.
Both our lines of Tru-Slim and Classic Art Lights have been retrofitted to operate with new battery-powered systems, but still offer the same specially-tailored display lighting that Cocoweb Picture Lights are known for. Both lights are powered by 50,000 hour LED lighting technology, shining at 90+ CRI in order to bring the fullest color to your painting's palette. A color temperature of 2700 Kelvin also ensures your painting is met by only the most natural of light, an illumination equal to the early morning sun. A full spectrum of finishes are available: cool satin nickel, antique brass, and oil-rubbed bronze.
The Tru-Slim Battery Picture Light is offered in 12" and 21" sizes, and runs on 4 C-cell batteries installed in its each of its two base panels. The ultra-slim shade offers a completely modern lighting experience, containing numerous LED nodes arranged in its sleek tube frame that cast your artwork in a contemporary light. In addition, the multiple base panels also allow the Tru-Slim to be mounted on both walls and directly inside your picture's frame, enabling the widest range of display lighting versatility we have to offer.
If you're looking for a more vintage aesthetic, however, be sure to check out our Classic model. Available in a single size of 14", this elegant art light captures the style of classic lighting with a rounded shade and clean finish. Additionally, this light fixture is fully functional as a frame light, attaching directly into the frames of portraits and paintings, and requires only 4 C-cell batteries to operate. The Classic exhibits a sophisticated elegance, a grace only available to the most prestigious of lights.
In order to promote the absolute highest level of display lighting versatility, all models of our Battery Picture Lights also include a convenient infrared remote, which you can use to completely control your light's operation. The remote works best within 30 feet of your light, and uses a unique wireless syncing system to make sure other electronics won't interfere. The device also enables you to set your light to run on a timer of up to six hours, as well as adjust the brightness from anywhere between 10% and 100%.
All-in-all, the future definitely looks brighter with our upcoming line of wireless Battery Operated Picture Lights. Available March 30, 2015, you can pre-order now at Cocoweb.com!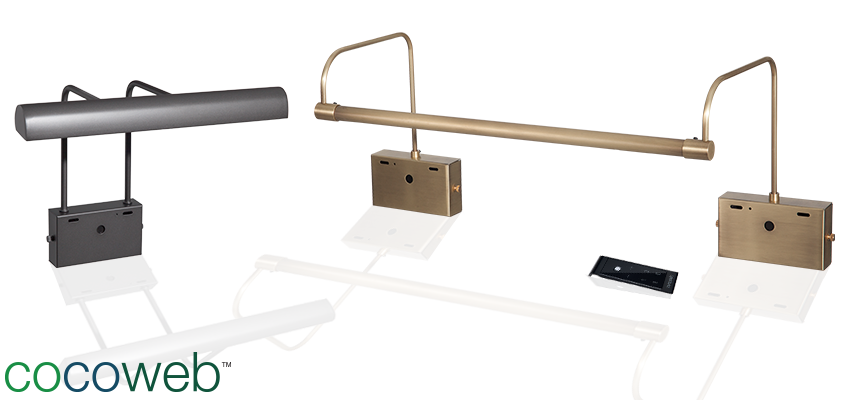 Recent Posts
Summertime is going strong and the heat is most certainly upon us. With triple-digit temperatures, k …

You may or may not know, Cocoweb started its roots in lighting. With LED lighting being our specialt …

Picture Perfect:The Art of Lighting Your GalleryWhen entering someone's home, your eyes are immediat …