Texture and material are two important aspects of an interior design. Carpet and a fluffy rug can give the impression of comfort, softness, and warmth while metal can add a rough, industrial feel to a space. Wood, on the other hand, is a material that brings both roughness and comfort into a home interior at the same time. The variation of textures and finishes different woods features make wood one of the most versatile materials to use in a home setting.
Whether your space already contains wood in some form, you might be considering adding more. However, if you're a little stuck on how you can incorporate wood in your design, besides adding wood flooring and/or furniture, the following ideas can help get you a head start.
1 - Coat Rack
A wooden coat rack is one of many simple additions for a home setting that doesn't take too much cash out of your wallet. Coat racks also don't require that you compromise too much of your space when adding them to your home; yet, they can still do wonders when it comes to filling out empty corners in your interior. If you like the idea of a coat rack but don't really have the floor space necessary to add one, a wall-mounted coat rack or set of wooden hooks can be a suitable alternative, especially if it is wall space that your interior design is lacking. Besides coat racks, you can also find wall-mounted key holders and other organizers.
2 - Floating Shelf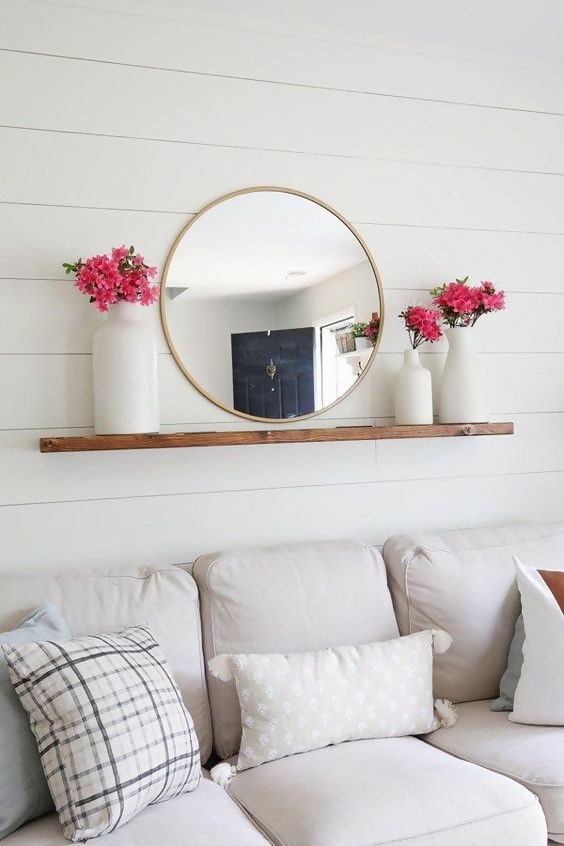 When thinking of wooden items that would be ideal to add to your interior space, a bookcase might be one thing that comes to mind. However, when you don't quite have the space available to place one, you've got yourself in a pickle. But a simple, wooden floating shelf can be a great substitute for a bookcase as it doesn't require floor space nor does it require a lot of space in general. If you don't have a lot of money at the moment, floating shelves can be easily constructed right at home quite affordably. In an interior space, a floating shelf can house plants, books, photographs, kitchen supplies, vases, candles, a lantern, figurines, and just about any other décor item you could dream of.
3 - Wall Art
An integral thing to remember when it comes to interior design is that it's not just the floors that need to be filled up but also your wall space. Even if each room in your home is adequately filled out, are your walls still blank and boring? If you answered yes, wood wall art can make a beautiful statement. Wood wall art can come in the form of carvings, mirrors or picture frames featuring wood, or paintings painted on wood panels. For some people, a shiplap wall can also be considered wall art. Online shops and marketplaces are filled with wood wall art as are many flea markets. However, if you can't seem to find a suitable piece for your design, getting crafty is always an option, even if you've never worked with wood before.
4 - Coffee Table Tray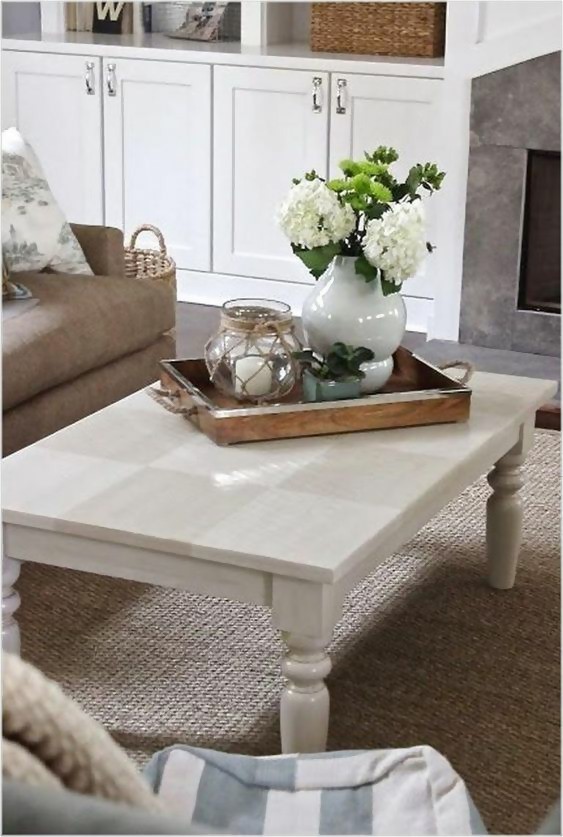 Not everyone wants additional décor in their space that's just pretty to look at. If you're looking to add a functional piece to your home setting, you can do it with a wooden coffee table tray, which doubles up as an aesthetic and functional item. If your coffee table is wooden, we suggest going for a tray for darker or lighter than the wood of your coffee table. It's completely fine if the wood on your coffee table has a different finish or texture than your tray. The goal should never be to match or clash your coffee table to a wooden coffee table tray but instead to ensure they complement one another. Once you've found the perfect coffee table tray, you can add candles, decorative pottery, plants, books, a vase of flowers, or magazines to it to amp it up.
5 - Planter Box
Wooden planter boxes are beautiful, timeless, and simple. These gardening boxes can be placed indoors or outdoors depending on where you live, the current season, and your gardening style. Large, tall, square boxes can beautifully house small trees, shrubs, and tomatoes while shorter, rectangular boxes are more suitable for herbs and shorter plants. Apart from adding light plants to wooden plater boxes, you may also use empty wooden boxes to display lanterns, flowers in vases, and other decorative items. While plain, wooden boxes are stylish as is, you may opt for one that is painted if your space is lacking some color. Planter boxes can be placed on your fireplace, on your porch or patio, on a countertop, or in the center of an elongated dining table.
6 - Carved Figurine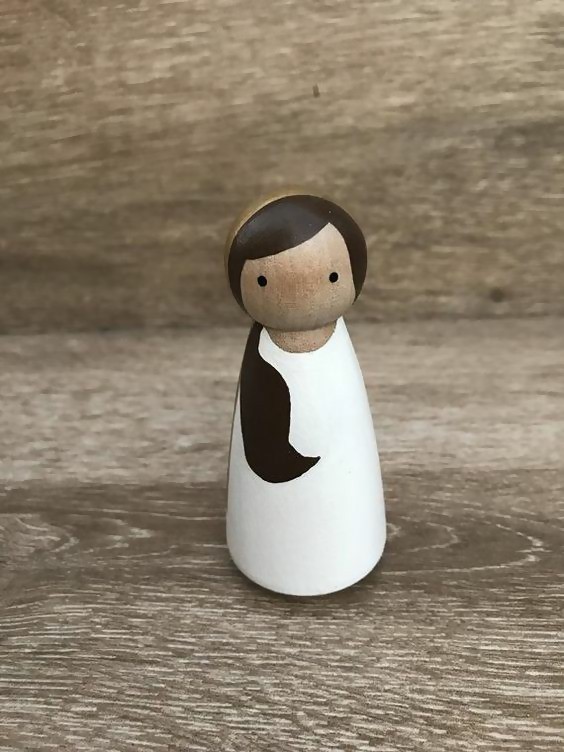 Statues and figurines can make a bold statement in any interior or exterior space. Wooden figurines can add three-dimensional shape to a space where it is needed the most. Some figurines are playful and feature imaginative, avant-garde features like a cat with an oversized head or a human head on an animal body – or they may more accurately representative of the thing, person, or animal that they aim to embody. Wooden figurines can be painted or plain, can be horizontal or vertical, and can be big or small. Some carved figurines and statue can also be representative of a certain culture, group, or religion. If you decide to opt for a carved figurine or statue, these are great pieces to add on a fireplace mantel, on a table or countertop, on a shelf or bookcase, or on a nightstand.
7 - Farmhouse Sign
Although some might consider a farmhouse sign to fit in under the wood wall art category, there's something very special about hanging a sign in your interior design like no other wooden wall piece. The farmhouse style is not only very trendy at present, but pieces like rustic farmhouse signs can also be very inviting in an interior design. These signs featured carved or painted words, quotes, or phrases that are positive and bring comfort and joy. A simple, "Welcome home" or "Home sweet home" will do. However, farmhouse signs might also read, "Today is a good day for a good day," "Let's stay home," or "Gather." Farmhouse signs are especially great to place on or near your front door (e.g., in the entry way), in the bathroom or laundry room, or in a guest bedroom.
Conclusion
In just about any interior design, there is almost always wood present whether it be in the form of flooring, a coffee table, or ceiling fan. Regardless of a home's overall style, there are always a handful of ways to bring wooden accents to your home's interior in an attractive, functional manner.
Apart from wood flooring and furniture, our Cocoweb.com team suggests opting for a wood coat rack, floating shelf, wall art, coffee table tray, planter box, carved figurine, or farmhouse sign. Based on these recommendations, it should be evident that wood can be incorporated in an interior design in endless ways, some of which are very easy and affordable to execute.
If you need more interior or exterior design-related tips and tricks, check out the rest of our blog posts.
Recent Posts
Throughout history, before the advent of electric piano lights, pianists would practice and perform …

Outdoor illumination keeps homes and businesses visible at night, while helping to dissuade crime …

Sign Lights, with their classic gooseneck design, differ from traditional wall mounted lights, in …