Not everyone has the same interior design style, which is why we are all given the opportunity to select from dozens of design styles from rustic farmhouse to timeless contemporary. However, as we all know, some interior design styles are more popular than others. An African-inspired interior design, though, is not one of them, making it highly underrated to say the least. Nevertheless, African design composes of beautiful prints, fun décor pieces, and delightful color schemes that aren't too loud, so it's shocking to think that African-inspired design wouldn't be as common as it would be in American homes.
That said, if you're looking for a unique yet still relevant interior design style to apply to your home in the upcoming future, we suggest considering adding a plethora of African inspirations – even if you decide not to make your design predominantly African. Consider the following when bringing the beauty and wilderness of Africa into your home setting:
1 - Bamboo Décor
If you know anything about Africa or have even had the opportunity to travel there yourself, you may know that Sub-Saharan Africa features the perfect climate for growing bamboo. This wild, woody grass is not just food for both people and animals; it's also great to use in interior design.
When it comes to bamboo, there are numerous options to incorporate it into your home whether it be in the form of furniture, wall art, a light fixture, a picture frame, a pot or other container, or even a plant. Bamboo's cultural diversity, transformative versatility, and strength and durability make it lovely for even non-African inspired home settings as well.
2 - Earthy Tones Along with Warm Accents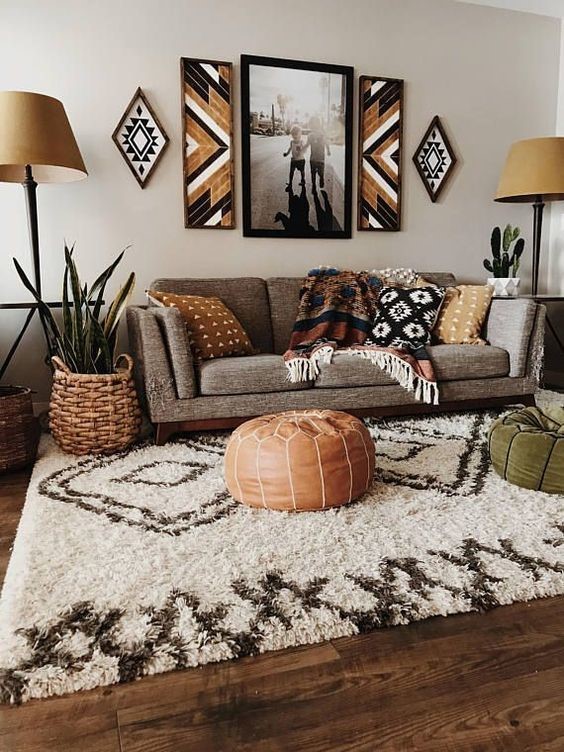 When people picture African interior design, they presume it's going to be filled with loud, vibrant colors. Therefore, they begin to picture that their home will be too busy for their eyes if they followed through with the design style. But truth be told, modern African-inspired interior designs feature mostly Earthy shades like browns, beiges, and olive green along with a few warm accents like red, orange, and gold and the inclusion of black.
Looking at African-inspired interior design photos on the Internet, you'll notice that there are many examples that feature all or mostly neutral colors – and still, it's clear to most people that the design has African influences. That said, there's no need to fear that your interior design will have to have loud colors just to be considered African-themed, but certainly, if you want to go on that route, you could make that work as well.
3 - Animal Patterns
The wildlife Africa has to house is certainly something you'll want to show off in an African-inspired interior design. There are many African animal prints at hand for you to pick from including that of a giraffe, zebra, cheetah, leopard, tortoise, crocodile, snake, the list goes on. Even if you're going for a subtle African interior design, the best part about incorporating animal print into your home is that it's not reserved just for homes with African flair; you can still feature such if you decide to change your interior design style later down the road.
Bring animal patterns into your interior design via rugs, furniture, wallpaper, or artwork. Feel free to mix-and-match various animal prints to your liking – or you can merely use just one or two prints if you prefer to keep things a little more conservative and less wild.
4 - Pottery, Wide Bowls, or Woven Baskets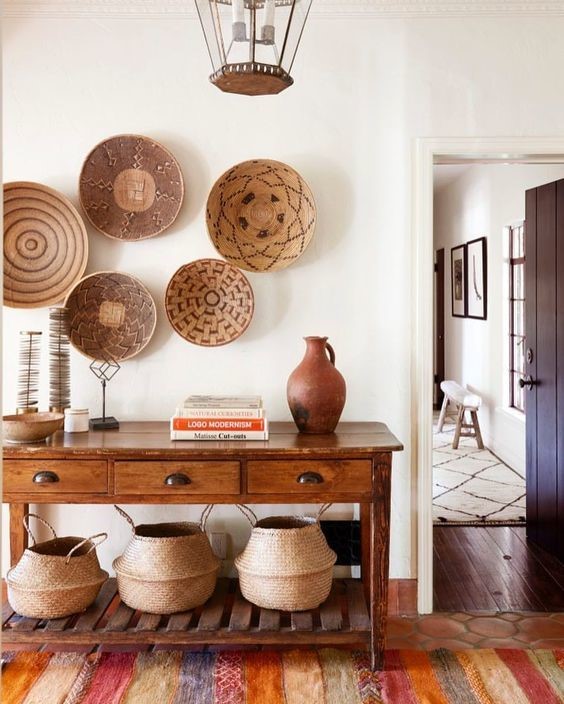 Like in many cultures, pottery-making has and continues to play a prominent role in African culture. Even in modern times, Africans make traditional pottery and use them to transport water and beer. Likewise, traditional and modern Africans make woven baskets or bowls for decorative purposes. These items are usually very short and wide or tall and skinnier, feature coils, and/or have geometric patterns and various colors (e.g., beige, black, gold, and/or red). Each tribe typically has its own basket-weaving style.
Utilize pottery, wide bowls, or woven baskets at various places in your African-inspired interior design. Place them items on your fireplace mantle, side table or coffee table, in the center of a dining or breakfast nook table, or if they're large enough, on the ground in the blank corner of your space.
5 - Animal Figurines
Again with featuring animals in your African interior design, you may also do so in the form of animal figurines or statues. This is a great alternative for those who want to feature Africa's wildlife in their interior design but aren't a big fan of doing so with animal prints.
Apart from animal figurines, one can also hang various animal masks on the wall if they want to really bring out their love for African tribal culture. You may choose to opt for masks, figurines, or statues that are very realistic – or you may prefer abstract or avant-garde animals with extra-elongated necks or statues featuring a playful color pattern like gold and red.
6 - Plants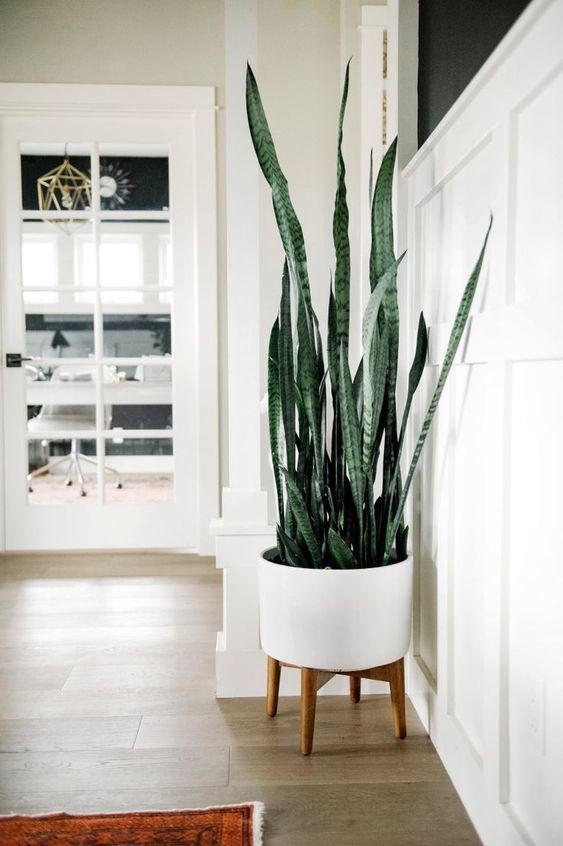 Apart from animals, plants are another major component of African wildlife that we should strongly consider adding in an African interior design. Some currently popular houseplants with African roots (no pun intended) include snake plants (sansevieria), wild banana, emerald palm or the ZZ plant (Zamioculcas zamiifolia), string of pearls (Senecio rowleyanus), zebra plant (haworthia), and aloe vera.
The plants you include in your interior design can be real or fake depending on whether your thumb is green or black, and of course, depending on your personal preferences. For added African flair, place these plants in African-printed pots or woven baskets.
7 - Mix-n-Match Prints
A major component of African-inspired home designs is the use of mix-n-match prints. These patterns are unlike your traditional polka dots or stripes; they typically feature geometric or abstract shapes along with vivid colors like red, green, and orange. Due to their wilder nature, many like to only feature a touch of these patterns in their home here and there rather than all over.
Some of the best ways to incorporate African prints in your interior design to be as subtle as possible is to include a rug, piece of pottery or woven basket, artwork, or throw pillow or blanket that features these wilder patterns. If you have trouble finding furniture and décor with African prints, you may have to do some of your shopping online or may even upholster your own furniture or make your own curtains or rug featuring your chosen pattern(s).
Conclusion
Those who love to travel, like subtle yet bold accents, are generally adventurous, and/or want to stand out in the crowd might be the perfect candidates for an African-inspired interior design. After all, this design style isn't normally an average American's first pick, making it unique. This style of design is also perfect for those who want to bring culture, custom, and history into their home.
Making an African interior design work isn't as difficult as it might be. In fact, many of its inspirations can already be found in American furniture and décor shops. Truly, it's less about what you pick but how you combine the things that you select to place in your home. Bamboo décor, Earthy tones and warm accents, animal patterns, pottery and wide bowls or woven baskets, animal figurines, plants, and mix-n-match prints are all things that go perfect in an African-inspired interior design, whether you want things subtle and minimalistic or wild and bold.
If you need more interior or exterior design-related tips and tricks, check out the rest of our blog posts.
Recent Posts
Throughout history, before the advent of electric piano lights, pianists would practice and perform …

Outdoor illumination keeps homes and businesses visible at night, while helping to dissuade crime …

Sign Lights, with their classic gooseneck design, differ from traditional wall mounted lights, in …