Imagine a room bathed in the warm comforting glow of incandescent lighting, but with the energy efficiency and eco-friendliness of LED technology. What does this room look like to you? Do you enjoy the airy, neutral colors and minimalist décor of Scandinavian interior design? Perhaps the brick walls, exposed pipes, and columns associated with the industrial aesthetic are more suitable to your palette. Possibly you are an old soul who enjoys the clean lines and warm hues of mid-century modern, or an eclectic bohemian, whose passion for creativity and adventure extends into your boldly curated living space. Maybe you're an admirer of modern and contemporary design, valuing a room that is functional and intentional, a marriage between efficiency and sophisticated simplicity. Your dream room may even encompass the charming nostalgic beauty of modern farmhouse design, balancing rustic and vintage appeal with a modern lifestyle. For all of these styles and more, Cocoweb has an immense selection of barn lights to perfectly pair with the living space of your dreams.
While barn lights are an iconic style that originates from the farms and homes of the early 20th century, they remain a timeless choice for their versatility. From the wall mounted sconces to graceful hanging pendant styles, along with the many varieties of moveable floor models and stationary post lamps, barn lights have evolved over the years to seamlessly blend style and function to suit a wide variety of tastes. Wherever your home or business is in need of illumination, the elegant chalice-shaped, downward facing canopy of a barn light is a perfect addition to any area.
Wall mounted sconce style barn lights brighten a room while allowing ample floor space, greatly benefiting smaller areas. Placed throughout a windowless or dimly lit hallway, sconces permit movement throughout an area without constraint, and lend a clean look to the room without wires and cords as a distraction. Additionally, they can be mounted outside to provide lighting for a patio, porch, or to complement a front door. Many of our styles are fully customizable, from the shade sizes, to the finish of both the shade and stem, along with stem style variations. The variety of sizes and shapes enables you to place them virtually anywhere, including the slanted walls of vaulted ceilings and archways.
The warm radiance of our lights are similar to that of the soft glow of candlelight, making wall mounted barn lights suitable for bedrooms and bathrooms. Our lights can be integrated with your home's dimming technology to further control the brightness in your space.
The elegant gooseneck variety of lights resemble the graceful necks of their namesake. This particular design harks back to the original barn lights of the past, offering charm and character reminiscent of idyllic farms and spending time amid beautiful weather, creating memories with loved ones on porches. This particular design also has the ability to swivel, giving you endless options on the angle of your light source.
Our classic, Dahlia Wall Sconce barn light in Matte Black matches well alongside the stucco and stone of Mediterranean-style abodes, as well as the brick and wainscoting of traditional colonial homes. The Calla LED Barn Light could be utilized in a modern farmhouse theme, or add an air of vintage glamour to a den or home office.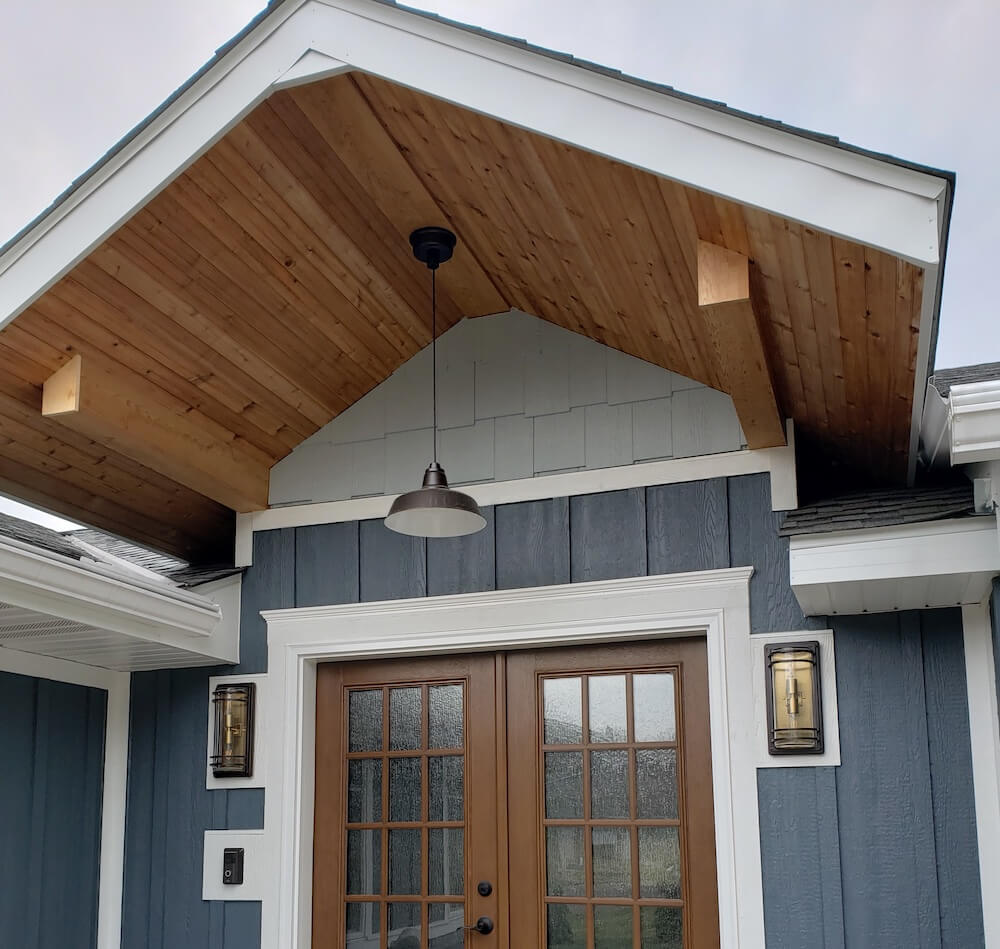 Pendant lights are often utilized as a statement making focal point of a room. Whether solitary or presented in multiples, they offer a look that breathes sophistication into any room.
Used in the kitchen, a single hanging pendant lamp over a table is impeccable for showcasing a meal shared with friends and family. Several placed over an island counter brightens the room while allowing space for all of your culinary endeavors. If desired, we offer downrod kits to secure the lights and remove any visible cords, allowing the lights to merge effortlessly into the room.
Pendant style barn lights are a modern take on the chandeliers of the past, and can be incorporated into a wider range of interior design styles. Depending on the style and color chosen, this variety of barn light can either blend into a room or bring an interesting, unexpected splash of color. Our Blackspot LED Pendant Light in Cherry Red brings a touch of classic Americana to a kitchen, while the Oldage LED Barn Pendant Light in Mahogany Bronze or Galvanized Silver are perfectly fitting for an industrial loft.
Floor lamps allow the freedom to easily rearrange your living space. Placed behind an armchair, a barn light lamp provides an excellent source of light for reading and studying. They can be adjusted to brighten an entire room or only the darkest corners and recesses. Our lamps are fully customizable to suit the color scheme of your home.
Our Peony Industrial Floor Lamp with a White shade finish is a highly suitable option for those seeking a modern minimalist approach to décor.
Finally, post lights are an ideal choice for the outdoors. Placed along driveways and walkways, they provide both a welcoming path for visitors as well as additional security for your home or business. Our collection of post lights are available in 8' or 11' heights, and many styles feature customizable shade sizes and finishes. The lights are weatherproof and shatter resistant to withstand the elements.
Cocoweb's collection of lights are dark sky approved by the International Dark Sky Association. Our lighting fixtures offer a soft 2700k glow to illuminate the interior or exterior of your home, while minimizing glare and the amount of blue light in the nighttime environment. The modern technology utilized in LED lights allows for a classic, vintage style without contributing to light pollution. Dusk to dawn photocells can be added, so that your lights are only used after dark, saving additional energy. Likewise, our lights can be customized with the addition of motion sensors to detect movement within a wide range of 50 feet, thus providing extra security.
The possibilities are endless, and the wide selection of barn lighting options at Cocoweb will give you the freedom to pursue your dream space and make your home or business truly you.
Recent Posts
Houseplants add a fresh breath of life inside and bring us closer to nature. From the cascading v …

As the bright long days of summer come to an end, the crisp, cozy nights of autumn usher in the n …

Imagine a room bathed in the warm comforting glow of incandescent lighting, but with the energy …