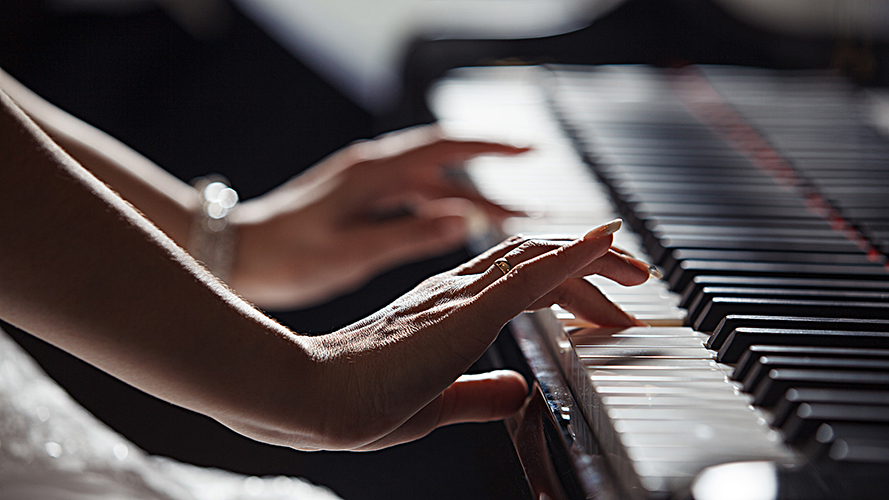 1. Berklee College of Music in Boston, MA

Berklee focuses on contemporary music and is the largest independent music school. The piano program is designed around the view that the piano is an expressive instrument and its study can be focused on the student's career projection and is offered through individualized instruction

Alumni includes Jan Hammer, Makoto Ozone, Cyrus Chestnut, Bob James, Bruce Hornsby, Joe Zawinul, Jeff Lorber, Danilo Pérez, and Rob Mounsey.


2. Oberlin Conservatory of Music in Oberlin, OH

Oberlin Conservatory of Music is the oldest conservatory in the country and offers dual registration with Oberlin College. The dual registration culminates in a Bachelor of Arts from the College and a Bachelor of Music from the Conservatory.

With a 25 percent acceptance rate, the Observatory has a student population of six hundred students on its rural campus just outside of Cleveland. The piano program at the Conservatory offers master classes, performance opportunities, and mentorship with visiting artist in residence. The program's national acclaim is mainly focused on its excellence in contemporary and baroque styles. Many alumni proceed into their careers playing for major ensembles throughout the country.


3. Colburn Conservatory of Music in Los Angeles, CA

The Colburn Conservatory of Music is one of the newest in the country and provides full financial scholarships to all of its students. The scholarships include tuition as well as room and board on campus for students in its Bachelor and Master of Music degrees.

Located on Grand Avenue in the cultural district of Downtown Los Angeles, the Conservatory's campus is next to the Museum of Contemporary Art and across the street from Disney Concert Hall, the home of one of the country's best ensembles. The campus includes Jascha Heifetz's studio that was rebuilt on-site and was designed by Lloyd Wright.
The alumni network is still growing as the conservatory is only ten years old. Students regularly place in competition's including First Prize in the 2014 Bradshaw & Buono International Piano Competition and First Prize in the 2015 Virginia Waring International Piano Competition.


4. Juilliard School in New York, NY

The Juilliard School is the most competitive music school with an acceptance rate of 6%. Located in Lincoln Center, Juilliard sits in the epicenter of New York cultural alongside the New York Philharmonic. Julliard's piano programs offer Classical and Contemporary styles of studies. Faculty includes some of the most admired pianists, including Emmanuel Ax, Yoheved Kaplinsky, Hung-Kuan Chen, Julian Martin, and Yoheved "Veda" Kaplinsky.

Juilliard alumni have an exceptionally high rate of successfully jumping into a career. Emmanuel Ax is also an alumnus of Juilliard, as are Simone Dinnerstein, Garrick Ohlsson, are Conrad Tao. Currently, seventy-seven alumni play in the top orchestral positions in the country and world, including the piano principles of San Francisco Symphony and New York Philharmonic and San Francisco.


Preparation for Applying

Preparing to study at a music conservatory begins with perfecting your practice and finding mentors. Daily practice begins with a minimum of 60 minutes on a 66+ key acoustic piano with ample lighting. Using a light that mimics natural sunlight and can be adjusted for your and your piano's height is ideal. We recommend our grand piano lamps for their versatility. Finding a mentor may be more strenuous, but worth the effort to find the perfect relationship for understanding your practice.
Recent Posts
Summertime is going strong and the heat is most certainly upon us. With triple-digit temperatures, k …

You may or may not know, Cocoweb started its roots in lighting. With LED lighting being our specialt …

Picture Perfect:The Art of Lighting Your GalleryWhen entering someone's home, your eyes are immediat …