Storage space matters a lot in a home. Not only is storage essential for storing clothes, shoes, and the like but also for stowing away portable home appliances, exercise equipment, children's toys, groceries, the list continues. For some folks, you can never have too much storage space. If anything, most homeowners might find that they currently don't have enough storage based on the number of belongings they own while others might find that they have just the right amount of storage at present.
No matter what side of the spectrum you're on, surely, we can all come into an agreement that storage space is vital for any home setting no matter how small or how large it is. But something else that's important is having a closet that you love: one that not only has the right amount of storage you require but also one that you find attractive and generally suitable for your interior design.
Regardless of whether you have a walk-in closet or a reach-in closet, know that there are some pretty nifty ways you can turn that basic, white closet door into something more exciting and unique for your space.
1 - Glass French Doors
Those who love French country design will fall in love with the idea of using double glass French doors in replacement of their original closet door. However, using transparent, glass doors means you'll have to love the current arrangement and organization of items in your closet as they're going to be put on display, assuming that the glass on your French doors is transparent. If you still love the idea of opting for glass French doors for your closet but want to keep your belongings a little less concealed, we recommend frosting or tinting them to add more privacy. French doors with mirror glass are another great option for added privacy – or simply opting for French doors without windows at all.
2 - Pocket Door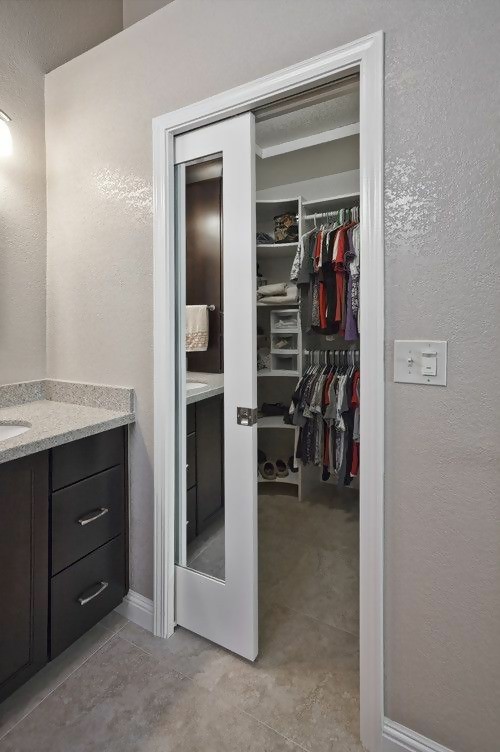 We especially recommend pocket doors for smaller, tighter spaces where opening a traditional door would be a bit of a challenge. With pocket doors, you don't have to worry about there being spacing issues when open your closet as doors slide horizontally rather than out. Likewise, pocket doors completely disappear into your wall, making it easy to hide whenever you'd like. However, keep in mind that because adding pocket doors requires a change in how your walls are structured, it's best that you get in touch with a professional for proper pocket door installation.
3 - Curtain
Some may not like this closet door alternative, but using a simple curtain with the color or print of your choice is a fun and simple way to keep the items in your closet concealed. Additionally, curtains can be quite affordable when compared to doors, potentially saving you a decent chunk of cash. On top of that, curtains not only come in various colors and prints but also in different thicknesses and levels of transparency. Depending on how much privacy you prefer your closet to have, you may prefer a thick, solid curtain to use as a closet door, or you might rather have a thin, sheer curtain instead. For an added touch, you might consider a curtain that features sequins, beads, gems, or sparkles. You may also amp up your curtain closet door with gorgeous string lighting.
4 - Bifold doors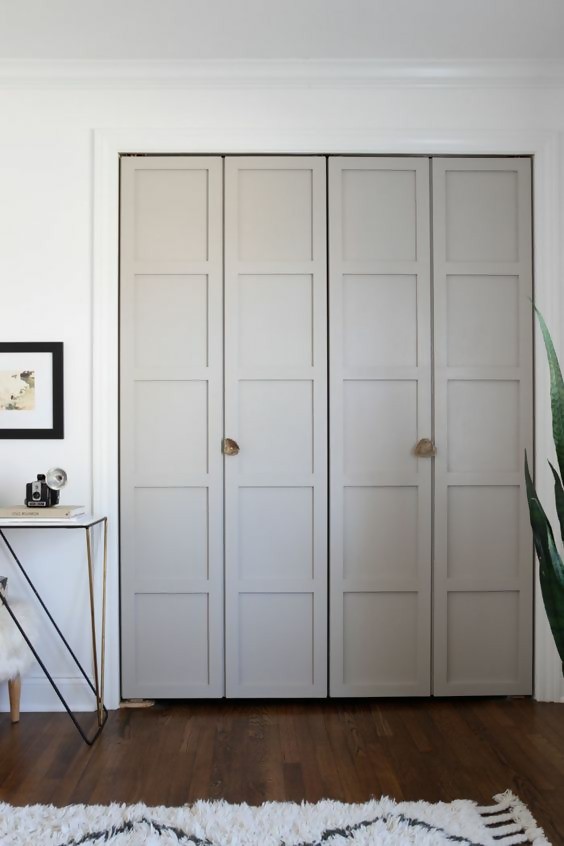 While some may consider bifold doors to be a little dated, they are exceptionally rare in homes today. Some like that bifold doors have a semi-wardrobe feel to them. However, do note that because bifold doors open outward, you'll have to ensure that space isn't an issue first, but for the most part, they are relevant for a majority of interior designs. Bifold doors can look like traditional doors, but instead of opening like a regular door, they fold inward as you pull them outward. Bifold doors can also look like shutters if you prefer a non-traditional door appearance. If you want to take your bifold doors to the next level, we recommend painting them a fun color or even using wallpaper or fabric to give them a unique touch.
5 - Sliding Barn Door
Sliding barn doors comes in two main styles: a door that slides into the wall (i.e., a pocket door) which will require that your walls are restructured – or one that slides horizontally against your wall, however, without actually disappearing into your wall like a pocket door would. In the latter option, your sliding barn door and the hardware it's attached to that it glides on are completely external, allowing for easier installation than its pocket door counterpart. Sliding barn doors are very trendy right now and are especially suitable for rustic or farmhouse interior design styles. The type of sliding barn door you opt for depends on your aesthetic tastes as well as the ease of installation you prefer.
6 - Beads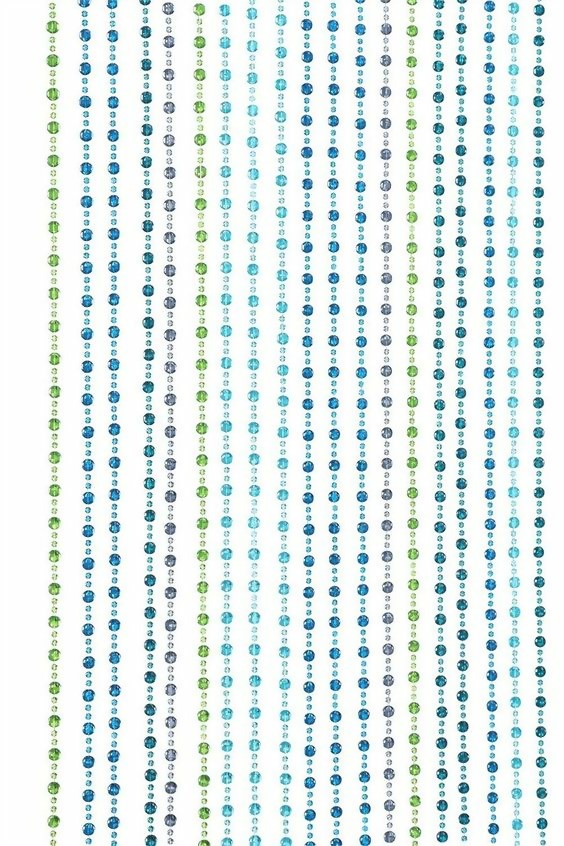 Beaded curtains, which originated in Asia, were primarily popular in the 1960s and 1970s. Those who are fans of beaded curtains love the simplicity yet intricacy such a feature has to offer for any space. The various hues beaded curtains come in – and even ones that feature a fun design – quickly add color to a bland interior design. Likewise, beaded curtains also add subtle texture for a space. Today, some might consider beaded curtains bohemian, but nevertheless, they are significantly more exotic than your average closet door, that's for sure. Beaded curtains might feature plastic, metal, or glass beads. Some beaded curtains might instead feature long, wooden beads or even macramé.
7 - Room Dividers
It's clear to see at this point that your closet door doesn't have to be a door at all. Even a room divider will do when it comes to blocking off your cluttered closet. Room dividers are completely portable and super versatile, so if you decide later that a room divider isn't the best alternative for your closet door, it's not a hassle to get rid of or even utilize somewhere else in your home. Room dividers can come in various styles, shapes, heights and lengths, colors, designs, materials, and level of transparency. One of the greatest things about a room divider is that it is essentially a way to turn your reach-in closet into a walk-in closet depending on how far your place your room divider from your actual closet.
Conclusion
If you're over your bland and boring closet door, our Cocoweb team completely understands. Sometimes you just want to refrain from the basics and go for something more exciting. Fortunately, there are a handful of closet door alternatives you can pick from to include in your interior design. These include glass French doors, a pocket door, a curtain, bifold doors, a sliding barn door, beads, or even room dividers.
Truthfully, we are so set on the idea of have a regular closet door that we forget that we aren't limited to just this option. By picking an alternative closet door, you're opening yourself up to a wider range of possibilities that might be more suitable for your interior design than any ole plain, white door. There's truly nothing like thinking of usual, out-of-the-box ideas to utilize in your interior design to make it unique from the average design!
If you need more interior or exterior design-related tips and tricks, check out the rest of our blog posts.
Recent Posts
You may or may not know, Cocoweb started its roots in lighting. With LED lighting being our specialt …

Picture Perfect:The Art of Lighting Your GalleryWhen entering someone's home, your eyes are immediat …

Do you know that your brain sees even when you don't? The unconscious processing abilities of the h …