When entering anyone's living room, you're pretty much guaranteed to see at least a few items including a couch, coffee table, and a television. In living rooms that are a little more spacious, it's not uncommon that you might also see a side table next to a couch, recliner, or other chair. Although side tables can be used merely to take up extra space or display a décor item like a vase or a fake houseplant, others might have a specific intention for their side table like displaying a table lamp so they can read or having a place to set their coffee in the morning as they watch the news on TV before work.
Regardless, there are many side table alternatives that may peak your interest more so than an actual side table. With the following alternatives, you can still have the "side table" that you've been wanting all while giving your interior design a little extra pizzazz in the process:
1 - Floating Shelf
If you love the idea of having a side table in your living room but tend to have limited space, it might be in your best interests to instead opt for a floating shelf as an alternative. A floating shelf is also a great side table alternative if you don't want unnecessary table top space. You can hang your shelf from the ceiling or may instead simply mount it onto the wall at your desired level. For extra storage space, you may install multiple floating shelves.
A wall shelf is particularly ideal for an apartment or dorm. If your landlord has strict guidelines when it comes to hanging things from the walls or ceilings of your rental, you can opt for a stick-on shelf or sticky foam strips that will allow you to mount a lightweight shelf without the need for nails.
2 - Chest Or Trunk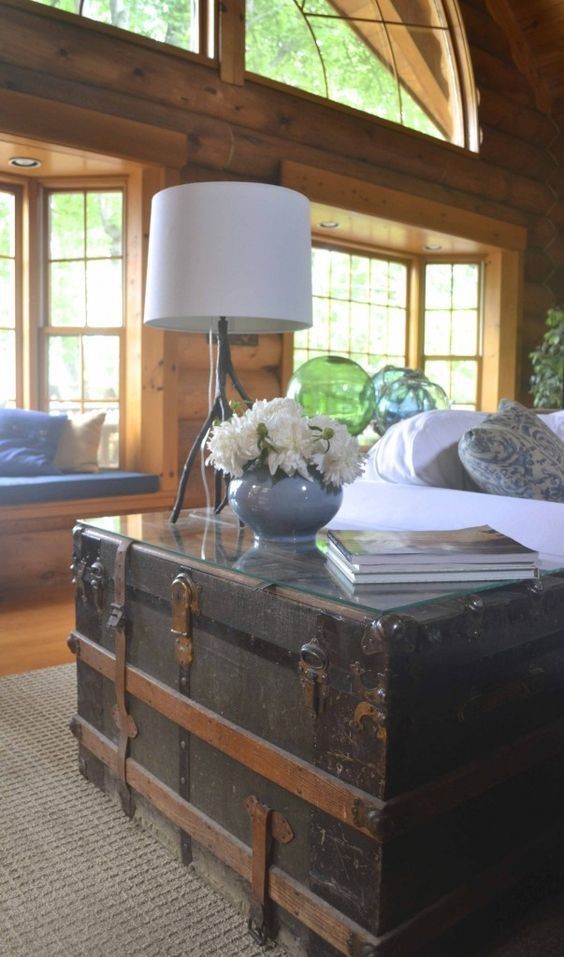 Some of us are old souls and love anything antique. For many, even those who prefer a more contemporary style of design, they might like the alternative of using a chest or trunk as a side table in their interior design as it adds character and reminiscence in their home setting. After all, chests and trunks date back to pre-medieval times.
Many consider chests or trunks to be an integral part of history as they were not only used for storage but for travel, typically while immigrating. Some folks may even have an antique chest or trunk from an old ancestor that gets passed down through the family.
That said, having one in their home and using it as a side table can bring special memories to those spending time in their living room. Chests and trunks contain both table top space as well as storage space inside, making them great for not just displaying décor and offering plenty of space for setting down snacks and drinks but also for storing away blankets, throw pillows, extra books, and the like.
3 - Stool
Stools are not just for sitting; they can also be used as a side table alternative. Considering stools are often already the perfect height to place next to a chair or couch, usually a stool will not require a height modification prior to being used as a side table, making them an easy alternative.
The best stools to used as a side table are cushion-less stools featuring a flat top either made of metal or wood. Opting for a stool "side table" is most relevant for very slim, tight spaces. When not in use as a side table, your stool can also be used for seating as it is intended, that is, if you have extra guests over. That said, a stool "side table" is essentially a two-in-one piece of furniture.
4 - Bar Cart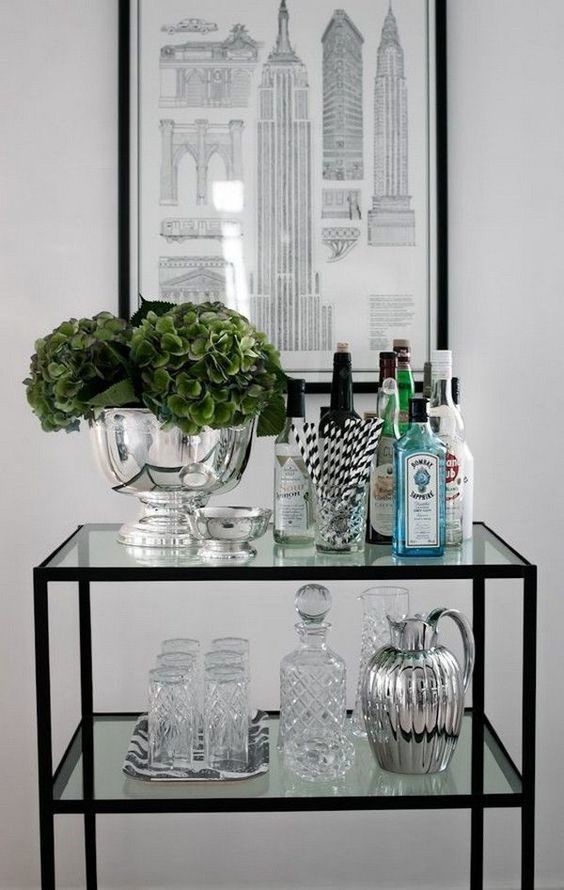 You don't have to drink alcohol to know that bar carts can be functional and cute in an interior design at the same time. Bar carts are usually pretty short, making them the perfect height to set next to a chair or couch. They also don't tend to take up a lot of space in general, thus making them suitable for interior designs that tend to be smaller.
The colors and styles of bar carts drastically vary. Some of them might have three tiers while others might only have two. Some bar carts might feature a matte black finish while others might be decked out in a fancy gold finish. Additionally, some of these carts have transparent or even mirror-finished shelves while others have solid shelves instead. However, what most bar carts do have in common is a set of wheels, making them incredibly easy to transport from point a to point b.
Besides storing alcoholic beverages and glasses, bar carts come in handy when it comes to displaying décor items like flowers or plants, vases, or framed photographs.
5 - Crate Or Barrel
If you like things a little rustic, opting for a crate as your side table in your living room is an excellent idea. Some might enjoy the idea of stacking multiple wooden crates next to their couch or chair. Others might prefer to opt for one taller crate instead. You may paint your crate or leave it in its original form.
For those who want a "side table" that features a non-cubic or -rectangular shape, opting for a barrel is a viable option. You may stack your barrel vertically, or you might wish to lie it on its side, slice it in half, place wood or glass over the sliced area to create a table top, and then put legs on the bottom of it if you're into a little DIY project.
Using a crate or a barrel in your interior design is especially a great idea if you have a farmhouse or rustic Tuscan design.
6 - Dresser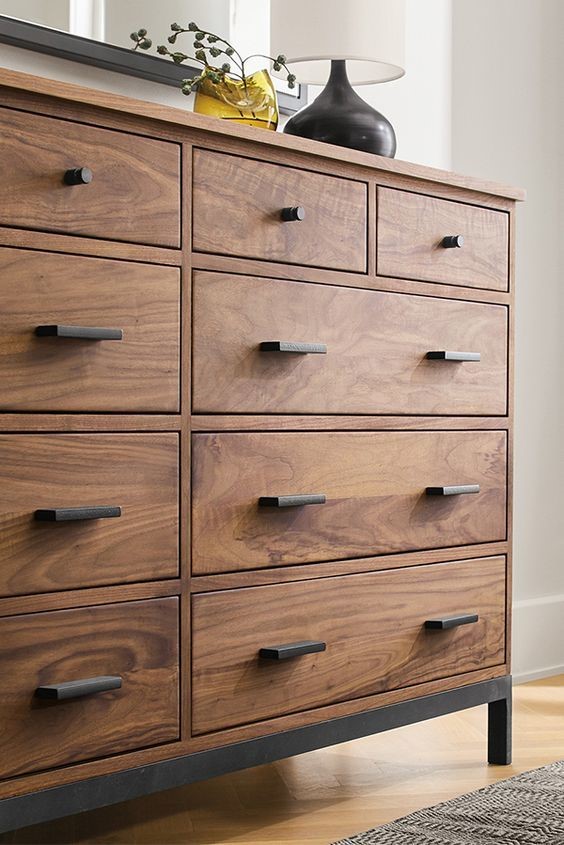 For those who have a larger, elongated space between their couch or chair and their wall, it might be a good idea to opt for a dresser as a replacement for a traditional side table. Specifically, opt for a dresser that is the same height or just slightly taller than the couch or chair that resides next to it. Dressers come in all different lengths and heights, so you should have a plethora of options to select from at hand. However, if you can't find the perfect size, you may wish to construct your own dresser from scratch.
Considering a dresser as an alternative to a living room side table means you can properly fill up awkward blank spaces in your interior design. It also means you have plenty of table top space in addition to drawer space that can come in handy for storing magazines or books, board games, or even snacks for your guests.
Conclusion
While there is nothing wrong with having a side table in your interior design as many homes have one, there are also great alternatives to the beloved living room side table that you might be more interested in. These alternatives include a floating shelf, chest or trunk, stool, bar cart, crate or barrel, or even a dresser.
The great thing about some of these alternatives is that you may be able to save money by opting for them over a traditional side table. Additionally, with side table alternatives, you can achieve a different style and add unique character to your interior design that the majority of homes may not even offer.
If you need more interior or exterior design-related tips and tricks, check out the rest of our blog posts.
Recent Posts
As the air turns crisp and the leaves take on shades of gold, it's that time of year again – Thanksg …

In the realm of interior design, lighting plays a pivotal role in shaping the ambiance, functionalit …

When it comes to designing your dream kitchen, every detail matters. From the color of the walls …